NPC Template
Name:
Demon Bell
Age:
only 6 months old.
Gender:
na
Personality:
Demon Bells are a pack related hunter. If you see one you batter thing more are around somewhere. Normally being 5 or more to a pack. Demon Bells lack emotions as that are only a tool suzu makes to keep her land safe. And keeping the unwanted out. That being said that are extremely aggressive attacking any living being. Demon Bells are mentally linked to the other members of their pack so to not talk at all. This lets them seeming preform synchronized attacks ant any given time.
Appearance
Demon Bells have a couple different appearances.
walkers
Commanders
Flyers
composite bell.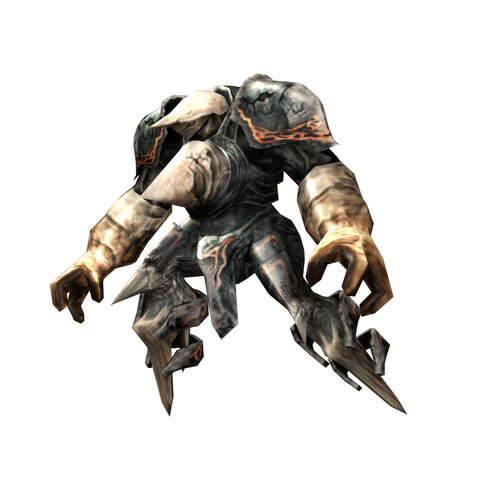 Tier:
2-1 if composite bell. 4-1 other.
Applicable, Position:
What Race: of demon/hollow blood but mechanized.
Brief History:
all of these monsters were made by suzu when she was playing with demon and hollow blood. This experiment was considered a frailer as it did not make an ultimate warrior like she hopes for. But suzu did still find a use for them as they make grate guard dogs. Demon bells retain no memory for emotions that suzu knows of as she performs a parcel lobotomy on each one to insure this before they can leave her lab.
Associated Character:
Suzu
Basic Powers:
Form composite bell. When 2 or more bells are killed the other bell can join with the dead one and become a composite bell, this is normally done by the commander bell as it sits back as does not attack waiting for the right time, but it not limited to commanders. This is the demon bell's from of Body Manipulation
composite bell Powers:
Reaitsu Drain: This ability goes hand and hand with Za Koa's Influence. With this technique, our two tier can constrain the flow of reishi and reiatsu within an area in order to make opponents somewhat weaker as reiatsu is energy in use, this can also lead to canceling out attack on some levels, overpowering attacks if there is a major gap in power and for advanced users and up being able to control the reiatsu they constrain. However, please note, reaitsu drain does NOT mean you will simply go around consuming energy until you level up.
The energy you collect, for intents and purposes, will only be able to be utilized for one thread if you are on adept level or lower, while advanced will be able to keep it for two threads, Masters being be able to retain it for three threads and Grand Masters for four threads. This means that during that thread or threads, it's benefits will only qualify there (This means that if you make ANY new thread with your character following the events of where you consumed energy, it will count). In addition to that, this does not always mean you get a tier increase as only those on Master level are able to obtain TEMPORARY boost in their tier if they are able to consume enough power. (I.E. someone like Mana or Abaddon performing this on a large scale such as Karakura Central or the Gotei 13; to give you a measurement of how much power you need to collect with Reaitsu Drain and skill needed to gain that temp tier boost.)
With all of that stated, the main benefits of this Reaitsu is that it is used to increase anything on a demon that deals with power. For instance, a demon could have FAR faster attacks then before if reaitsu drain was performed successful, their attacks would have much more stopping force and it may even have additional benefits. Another example would be their spells being further increased with all of the extra energy being generated within them from the drain. One final example is that it can also be broken down into energy for strength to increase their physical offensive power, increase their defense and advance their durability. So, with that said, these are examples of how reaitsu drained is used.
Black Inferno Blast: Black Inferno is a massive burst of destructive energy a demon can unleash if they have Adept or higher on Za Koa. It starts by gathering energy from Za Koa along with the Demon's Blood and any type of darkness. From there, it will form into a ball of darkness that can be used to unleash serious damage upon anything it hits; resulting in a black explosion that is similar to a cero in destruction and can be broken down like a bala as well. Though, unlike a cero or bala, The Black Inferno Blast does alot more then just simply explode. When it explodes, if trapped within the blast, the opponent will begin to feel extreme amounts of heat generating from their skin; so hot, in fact, some believe they are actually on fire from the strain on a person's will. However, this does more then that. That's simply the sign of a dangerous demon parasite entering a person's body. If a direct contact is made or even partial contact, there will be a strong rush of parasites, demon magic and Za Koa's force entering a person's body. From that point, over the course of five post if there was a direct hit or three for a indirect, this will begin to heavily tax an opponent. It will force them to drain extreme amounts of energy until they are somewhat weakened, slowed or damaged if they are unable to extract it from there bodies.
Along with that, if they get hit enough with Black Inferno Blast they even run the risk of dying if it begins to suck the life energy out of them if there is nothing else to extract. The effects also vary from level to level. Adept Za Koa users will be able to do all of the above, while the higher you go, the more quickly, effective and longer the effects will last along with doubling in strength for each skill increase. Therefore, it is highly wise to stay on your toes when a demon opponent is firing this Black Inferno Blast. It could be your last time doing so if you fail to separate this from a regular energy type attack. The
Kage Chōkyō-shi: Kage Chōkyō-shi is the ability for most demons with adept Za Koa users to travel through different dimensions, travel throughout the battlefield or even use it for defense. By channeling Za Koa's energy in addition to the various seals throughout their body in addition to their Shadow Movement, they are able to create many different holes in the area's around them that can range from small to extra large depending on their Za Koa skill. These can lead to other realms, can be used to shield against attacks if they are not more powerful then the demon and be used on the offensive by attempting to create these holes to slice someone's head off.
Shadow Movement: This is what some MIGHT call the Demon's Answer to flash step: Shadow Movement. It allows them to move at quick burst of speeds on most occasions to allow them to travel very far distances in short amount of times, that is for certain. Though, this is where some similarities come to an end. Unlike most other races, Demon's get many nifty benefits then just Super Speed. Take this for example: from the seals on a demon's legs and feet that generate insane amounts of energy from all of the sources of power they collect; it will be able to give yourself temporary boost of intense speed called "Shadow Burst". Shadow Burst is a period of time where your demon will double their speed on average if they are at least adept. It will transition into how fast their attacks are created or launched, the demon's reaction time to increase the odds of evading, countering or noticing a person, object or anything else within a vicinity that has a prense in order to do something about it, it increases their mental awareness to more alert levels and it even goes into their natural powers.
walker,flyer,commander,
Racial Skills
• Za Koa Skill: Beginner
• Demon Magic: Beginner
• Shadow Movement: Adept
• Akuma Kyōdo: Adept
•
•
General Skills
• Durability: Adept
• General Speed: Adept
• Strength: Beginner
• Weapon Skill: Beginner
composite bell
Racial Skills
• Za Koa Skill: Adept
• Demon Magic: Adept
• Shadow Movement: Advanced
• Akuma Kyōdo: Adept
General Skills
• Durability: Advanced
• General Speed: Advanced
• Strength: Adept
• Weapon Skill: Adept