Name:
Meido Gaeshi, Heaven Canceller
Age:
Mid-sixties
Gender:
Male
Personality:
Heaven Canceller's personality is a rather interesting one, as there is generally only one side of him shown. The one side of his personality that is most obvious is his 'work' attitude. Heaven Canceller is a man who loves his work, he loves the job he does and he is very, very good at it. Due to this fascination with the medical world, he has generally been found to be in business mode twenty four hours a day. He is a man who loves to be relied on by his patients, which in turn makes him happy to fulfill their requests. After taking the Hippocratic Oath, which is an oath that is performed by doctors around the world, promising to practice medical procedures practices honestly, no ill intentions behind their work, he has been considered one of the best doctors in modern medicine. Residing in Karakura for a small portion of his life, he was recently transferred to the hospital due to the high number of people and 'supernatural' powers. Which then again shows the curiosity that Heaven Canceller holds, one of the reasons he became a doctor in the first place.
The main purpose for his life as a doctor is simple: the curiosity side of his personality is strong. He finds the human anatomy interesting, adapting to new and unique ways in which a person may be injured and patching them up so they can return to their full health. Allegiance or 'side' does not apply to Heaven Canceller, he does not care about who someone is nor why they need medical attention. His duty as a doctor was to help those in need. So even if a demon of Shadow Fall somehow waltzed into Karakura Hospital and demanded aid, he is the type of person who would help them without a second thought. This was the type of man he was, the type of person most should strive to be.
Heaven Canceller generally tries to stay 'pure' as possible. He is not a man corrupted by the darkness and experiments he could be doing, nothing but a simple doctor who wants to help others in need. However, this being said, he has taken to being the personal doctor of Shadin Yuudeshi. This means that whenever Shadin is in need of medical attention, advice, aid or even so far as to fix his cybernetic implants, Heaven Canceller is called upon to analyse and aid in the automatic fixing that his body would complete. This also goes for other Yuudeshi members as well, as Heaven Canceller has been known to do work on Zin Yuudeshi in the past as well as Kakine Yuudeshi. Determined is probably the best word to describe him overall, determined to not be the best, but determined to fix the mistakes and cracks in people. He thinks of himself as the 'cleanup' in a sense. As he is not directly involved on either side, he does not align himself, Heaven Canceller deals with the aftermath of either side.
Appearance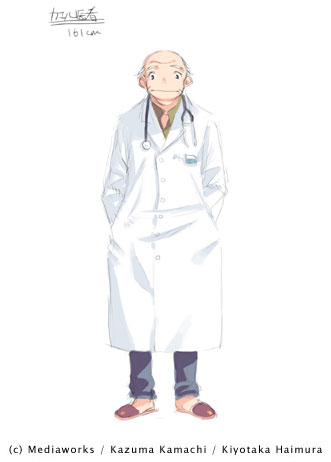 Tier:
6-0
If Applicable, Position:
Chief of Medicine/Head Doctor of Karakura Hospital
What Race?:
Powerless human
Brief History:
The history of Meido is generally not widely known, most of the information about him being either lost in time or not said. The main thing that is known about Heaven Canceller is that he has seen many hardships in his life. He has gone through places of pure darkness and has come out, somehow, a better person and not broken by these scenes. Be it scenes of war, scenes of kids being experimented on, he has seen most of these harsh realities and even helped break some of them. However, beyond all of his dark past and visions, Meido grew up in a small village on the outskirts of Tokyo, in one of the most secluded places. Ever since a young age he was considered a prodigy, much above his normal intelligence even in his school. Once he reached the age of twenty, he had already graduated from Med-school as well as his engineering course at his local university.
As a whole, he spent a lot of time travelling and on the road for the first few years. He helped aid those in need wherever he went, being titled as 'The Wandering Doctor' and 'Heavenly Nomad'. Yet wherever he went, he did not demand payment for his efforts, he simply continued on with his life after his resources were used to analyse and help the patient. From years on end, he was put into darkness. This means that he had helped people who lost limbs in war, children that were murdered right before his eyes, even helping in some of the experiments in his youth. Since most of these scenes are now blurs to him, he took the Hippocratic Oath and vowed to live his life as a honest doctor. At around the age of forty, he had heard about Karakura City and about the people within them, their 'talents'. With people associating themselves with abilities, there was bound to be people to aid and heal.
After a while, he eventually established a hospital within Karakura which now has the title of 'Karakura Hospital', him being the head of it. His first encounter with Shadin was during the year of 2412 where much strain had been put on Shadin's body, being forced to come to the hospital for rehabilitation. Most of the work done to heal Shadin was completed by Heaven Canceller, allowing him to heal himself rather quickly in comparison to other doctors. From then on, he always acted as the Yuudeshi families personal doctor, anyone within the family coming to him would pay no charge for aid. One could almost call them friends, Heaven Canceller and the Yuudeshi family.
Associated Character:
Shadin Yuudeshi, The Yuudeshi Family, Citizens of Karakura
Basic Powers:
Advanced Medical Knowledge:
Over his life, ever since a young age, Heaven Canceller has taken a deep understanding to the medical and scientific side of the world. Being a trained physician as well as grasping a solid understanding of cybernetics and machines, he is at the utopia of Modern Medicine. Most of his methods are unknown to most other doctors, however with his wide knowledge of different types of virus', both cybernetic and human body virus', he has been able to adapt and counteract against different bodily harms. Thought it may take some time and natural progression, there is almost no wound in which Heaven Canceller could not heal with his vast array of knowledge in these areas. An example of this would be if someone had their arm severed in a fight, completely cut off. As long as he could recover the arm, Heaven Canceller has been able to preserve it, even hours after the decay had started and speed up the cells regenerating again then reattach the arm to the patient. His advanced medical knowledge also means that Heaven Canceller is capable of counteracting most poisons and long-lasting effects. In some cases, it has got to the point where he is capable of using his resources and knowledge, along with the machines within Karakura hospital, to stop cellular aging in small sections of the body. A true master of medicine, indeed.
Renown engineer:
As mentioned, Heaven Canceller has a rather advanced knowledge when it comes to cybernetics and machines in general, most of the equipment he uses in Karakura Hospital designed by him for almost any need. Not only this, but Heaven Canceller is advanced to the point where he is capable of understanding the Yuudeshi Network and even maintaining it to some extent. Whilst he cannot utilize it like Shadin or Kakine can, the Yuudeshi Network can be temporarily shut down, reset, cut of sections of access and even perform maintenance on it. So say someone was to try and hack into the Yuudeshi network and gather data from them, Heaven Canceller has the ability to reroute most hackers paths into either worthless information or a dead end, depending on the severity and level of the hacking. If it comes to that point, he can shut down a small section of the network for a short moment, almost like chopping off the arm that was attacking you, rendering the hacker useless as their program is stuck in nothing but blankness until they are forced to retreat from the hacking process.
Genius level intellect and analysis:
As mentioned, he is at the utopia of medical advancement and even all forms engineering. This means that his intellect is far above the average humans, being able to think wittingly or on his feet in any situation. Atop of this genius level intellect is the analysis that comes along with it. With his brain, Heaven Canceller can analyse most poisons, diseases or injuries without relying on machines to do it for him. It some cases, poisons and injuries are beyond him and he needs the aid of machines, but when it comes to worldly known problems, he generally can analyse and deal with them as seen fit. The Machines for analysis are generally only needed when it has come from a person creating it or artificial. To understand injuries better he uses machines to analyse, but once he knows the source, he never generally forgets and therefor does not rely on anything else but his own mind to diagnose these issues.