001. basics
Name:
Royce Lucchese
DOB/Age:
March 21st, 2397 | 18
Gender:
Male
Ethnicity:
Italian-American
Languages:
Italian. English.
Affiliations:
Lucchese Crime Family | The Kokuryuteshi
Occupation:
TBA
Appearance:
The one capable of bringing just about anything into the world through data isn't a unique person one could ever come across. He can be considered handsome, though that really does depend on the person, but one would have a hard time picking him out from a crowd of people and the reason for that is simple. Royce doesn't look different from any other generic boy with black hair, red eyes, and pale skin. Heck, the best way to identify him is by his attire but even that cannot be relied upon for sometimes, but rarely, he changes up his outfit. And again, there's no guarantee that there isn't some other black hair, red-eyed boy running around in the exact same outfit.
Royce is fairly tall, though so are many of the other males that are of his family, having a height of one hundred and eighty centimeters. He weighs sixty-two kilograms and has an athletic build, saying that he was muscular would be the biggest lie of the century since he doesn't possess any signs of being muscular. As stated beforehand, his hair is black and short, only long enough to the nape of his neck. His bangs are somewhat long, swept to either side of his face with a portion being directly in the center, away from his red eyes that give him a rather cold and menacing look whenever he glares at somebody or something.
When encountering Royce, one shall usually see him in one outfit and mainly that outfit which is rather simple. For starters, he wears a simple black t-shirt underneath a short-sleeved jack; the body of the jacket is red though the sleeves, collar, and outline of his pockets are white. Upon his hands is a pair of black, fingerless gloves, the portion of the glove that covers his wrist and a little more is white. Jeans are worn on his lower half, usually dark in colour though sometimes they may be lighter. On his feet, a pair of black tennis shoes with white soles and red detailing. Lastly is his hat which is primarily red with the front being white. It should be noted that there're several variations of his hat and jacket and if any such variation is worn, it shall be mentioned in the topic.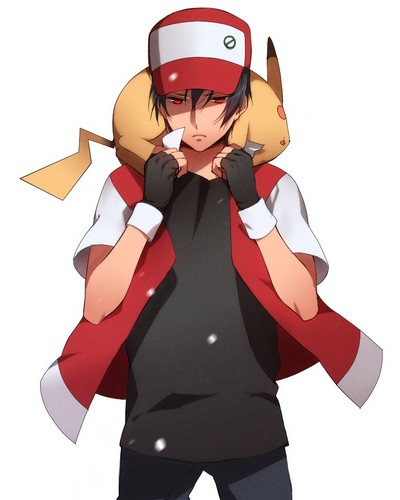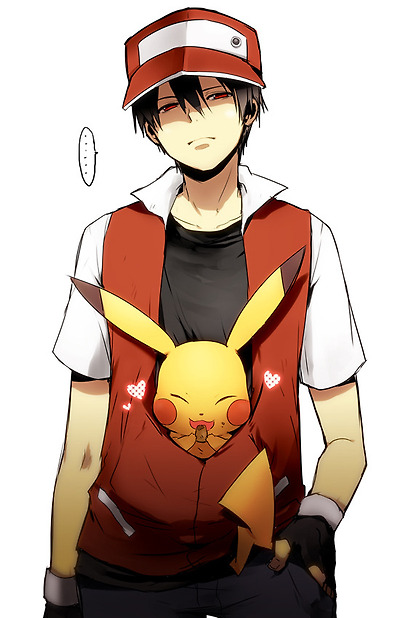 002. personality
Royce is a boy known throughout the mafia world and to his companions as a calm fellow who isn't prone to random and unexplained burst of emotions. He isn't an apathetic person at all, quite the opposite when one sits him in front of a computer or engage him in conversations that pertain to technology, he's simply a boy of few words. He's the sort of person who only speaks when spoken to, but he shall also speak if he has an idea to offer up or wants to be heard by those present if only for a little bit. Otherwise the boy keeps his mouth shut and simply observes the world around him, recording data with either his phone or through his power and sending it to the MEDUSA network - a network owned and maintained by members of the Genovese, Gambino, Lucchese, Bonanno, and Colombo family. With him speaking very few words, the boy comes off as reserved and when he does speak people note that he's also soft-spoken. Despite this, Royce commends a certain degree of respect for he carries himself with pride and knows what he's talking about.
He is easily excited when it comes to doing anything that may involve technology of any kind though he becomes especially excited when he gets to work with computers. Being tech savvy, the boy is the primary caretaker of the MEDUSA network, feeding the system information and keeping that data up-to-date whilst also programming new security measures for the network. Royce is pretty daring when it comes to computers, the boy having hacked into various systems to gather up information, test their own security as a side job, or just to borrow their processing power whilst he performs a task that would put strain upon the system. Other than playing around with every piece of technology that lands in his hands, Royce also enjoys collecting data which he stores in the network, the boy seeing it as a hobby that forces him to keep up with the events occurring everyday. Besides gathering information on people, locations, and events as well as keeping that information updated, the boy simply enjoys the task.
Believing that knowledge is very important, Royce cannot conceal the disdain he has for those who are blissfully unaware of what is occurring within the world. He believes everyone should remain up-to-date with current events and have at least a small degree of knowledge on past events. He also can't help but feel rather irritated with those who speak on a subject they know little about or just simply misinformed on for he's a boy who doesn't say anything unless he's a hundred percent certain that his information is accurate. At least, he won't say anything with certainty if he believes that there's a small chance his own information may be wrong and he's quite willing to admit when he's wrong.
He isn't a boy prone to violence, it taking a great deal of effort to provoke the boy to take action against someone and even then he isn't the one doing the fighting. Royce isn't one to jump into the middle of a fight unless it benefits him or his associates in someway and so he typically avoids getting involved in conflict unless he's ordered to do so. He rather watch other people get into it than participate directly for he sees it as an opportunity to gather up some information that can be added to the wealth of data MEDUSA already has. A humble boy, Royce is not prone to stating that he's better than somebody. Speaking of his exploits is just something the boy doesn't do, seeing no reason to divulge such information to anyone who would listen and he isn't sure why others do it. He doesn't see much use in showing off what he's capable of, the boy putting a minimum amount of effort into whatever he's doing when in the presence of others so that they may be surprised when he shows them that's he's capable of much more. Secretive, the boy has plans of his own that he won't divulge to anyone, new pieces of technology that he's working on, and several projects that may or may not be of any real importance. And though he may seem uninterested with becoming the boss of the Lucchese crime family, Royce is gunning for his father's position though he needs to work on his leadership skills before her overthrows the old man.
003. backstory
tba
004. assets
tba
005. natural and racial abilities
his natural and racial abilities
006. power
his power
007. releases
all his releases
008. skill sheet
his skill sheet