THE PUPPET MASTER
Artist: Mogeko Castle - Song: N/A - Word Count: N/A
IV. Demon Abilities
Demon Abilities:
Za Koa's Influence:
Utilizing this racial ability, your average two-tier demon is capable of spreading this technique across an average battlefield in order to taint the surrounding vicinity around her in order to gain the upper hand in combat. These advantages include that all of her stats are typically doubled if the influence is not sealed away or fought with magic. So, going back to our two tier demon, he would be able to obtain a doubled increased in his abilities, powers, speed, endurance, reaction time, mental thinking, knowledge and so on and so forth. Users whom are Master in this skill can usually get triple benefits, and Grand Masters quadruple.
Along with those enhancement boosters, another advantage of Za Koa's Influence is that it can also alter the area around a demon in order to give them the upper hand. For example, our two tier demon will be able to dim the area around him into darkness in order to make himself even more formidable as demon's are naturally inclined to become more useful in the shadow's, being able to generate various toxins in the air in order to gradually wear someone down, create harsh acid rains, for the terrain they are on, turn an ocean-type battlefield into pure fire and things of this nature.
Knowledge Of Environment:
Another trait gained from spreading Za Koa's influence throughout any given area is that typically most demon's are given knowledge of their surrounding vicinity. For example, if our two tier demon had performed this within Karakura Central, it would be able to detect various hidden sources in the immediate fighting area such as hidden barriers, seals , spirit beings within the area and things of this nature. On a master level, this would allow some demon's to even detect various elements within in a being. This can be from a persons Zanpukto Spirit, to scanning JUST how much energy they have in total left in them, searching for any unusual traits about their body such as abnormal defense or offense and things of this nature that CAN be detected. This knowledge ability, however, only gives you the knowledge to beat something. Actually beating it, however, is another story.
Reaitsu Drain:
This ability goes hand and hand with Za Koa's Influence. With this technique, our two tier can constrain the flow of reishi and reiatsu within an area in order to make opponents somewhat weaker as reiatsu is energy in use, this can also lead to canceling out attack on some levels, overpowering attacks if there is a major gap in power and for advanced users and up being able to control the reiatsu they constrain. However, please note, reaitsu drain does NOT mean you will simply go around consuming energy until you level up.
The energy you collect, for intents and purposes, will only be able to be utilized for one thread if you are on adept level or lower, while advanced will be able to keep it for two threads, Masters being be able to retain it for three threads and Grand Masters for four threads. This means that during that thread or threads, it's benefits will only qualify there (This means that if you make ANY new thread with your character following the events of where you consumed energy, it will count). In addition to that, this does not always mean you get a tier increase as only those on Master level are able to obtain TEMPORARY boost in their tier if they are able to consume enough power. (I.E. someone like Mana or Abaddon performing this on a large scale such as Karakura Central or the Gotei 13; to give you a measurement of how much power you need to collect with Reaitsu Drain and skill needed to gain that temp tier boost.)
With all of that stated, the main benefits of this Reaitsu is that it is used to increase anything on a demon that deals with power. For instance, a demon could have FAR faster attacks then before if reaitsu drain was performed successful, their attacks would have much more stopping force and it may even have additional benefits. Another example would be their spells being further increased with all of the extra energy being generated within them from the drain. One final example is that it can also be broken down into energy for strength to increase their physical offensive power, increase their defense and advance their durability. So, with that said, these are examples of how reaitsu drained is used.
Black Inferno Blast:
Black Inferno is a massive burst of destructive energy a demon can unleash if they have Adept or higher on Za Koa. It starts by gathering energy from Za Koa along with the Demon's Blood and any type of darkness. From there, it will form into a ball of darkness that can be used to unleash serious damage upon anything it hits; resulting in a black explosion that is similar to a cero in destruction and can be broken down like a bala as well. Though, unlike a cero or bala, The Black Inferno Blast does alot more then just simply explode. When it explodes, if trapped within the blast, the opponent will begin to feel extreme amounts of heat generating from their skin; so hot, in fact, some believe they are actually on fire from the strain on a person's will. However, this does more then that. That's simply the sign of a dangerous demon parasite entering a person's body. If a direct contact is made or even partial contact, there will be a strong rush of parasites, demon magic and Za Koa's force entering a person's body. From that point, over the course of five post if there was a direct hit or three for a indirect, this will begin to heavily tax an opponent. It will force them to drain extreme amounts of energy until they are somewhat weakened, slowed or damaged if they are unable to extract it from there bodies.
Along with that, if they get hit enough with Black Inferno Blast they even run the risk of dying if it begins to suck the life energy out of them if there is nothing else to extract. The effects also vary from level to level. Adept Za Koa users will be able to do all of the above, while the higher you go, the more quickly, effective and longer the effects will last along with doubling in strength for each skill increase. Therefore, it is highly wise to stay on your toes when a demon opponent is firing this Black Inferno Blast. It could be your last time doing so if you fail to separate this from a regular energy type attack.
Kage Chōkyō-shi:
Kage Chōkyō-shi is the ability for most demons with adept Za Koa users to travel through different dimensions, travel throughout the battlefield or even use it for defense. By channeling Za Koa's energy in addition to the various seals throughout their body in addition to their Shadow Movement, they are able to create many different dimensional holes in the area's around them; each of them being able to range from a small vicinity such as a few inches, to the size of a city block depending on their Za Koa skill. These can lead to other realms; while there is also the possibility it can be used to shield against attacks if they are not more powerful than the demon and be used on the offensive by attempting to slash the opponents attack in half by creating one of those opening in the center of their assault.
Although, it's also worth noting that this is mostly a passive skill to allow demon's to travel through different areas on the site; such as moving back and forth through the Soul Society, Living Realm and so forth. Those with advanced and Master in Za Koa Skill will begin to see ways to utilize it in battle; such as creating waves of blackness meant to consume limited attacks. Even more than that, the few of these people who do manage to master it will only be able to use it a limited amount of times in battle in association with their energy. So if one were to try and use it more than two or three times per post, they'd tire themselves out.
The Art Of Demon Magic:
What exactly IS the Arts of Demon Magic? In a sense, you COULD call it the Demon's Kidō, but you'd be wrong as well. Why? Well, Demon Magic actually works like real MAGIC is suppose to. Of course, Kidō like spells, summons and barriers can be created with Demon Magic. That's a given. However, it can be taken MUCH further then that application. For instance, an advanced user in Demon Magic could use this in order to gain Telekinesis on a more light level. Even combat standards, if he were to look at an attack and see it coming, the Telekinesis would kick in and attempt to change it course if enough was generated from The Demon to negate it. Other example would be gaining Gyrokinesis in some cases in order to actual make it seem like they are toying with gravity itself; which in fact they are. Within a contained area, this demon could remove the gravity of some things, make it heavier in other places or even apply it to more focused objects like their attacks to cause more impact force.
Not only that, but an even higher example of that is that some demon's with a Master in this would be able to even create things out of thin-air with no explanation what so ever. For example, a Master in The Art Of Demon magic could defy the laws of physic's by actually making energy cease in something and remove it. This may not seem like much, but it's actually an amazing feat as the laws of physic's clearly states energy can never be erased. However, in terms of combat, in order to do this they would need to overpower it. Another situation in which you could get a taste of Demon Magic would be them turning your energy attack into a batch of living snakes, them creating fields of anti-spiritual barriers around them or just making themselves plain invisible.
Now, performing magic is vastly possible thanks in part to connection most Demon's have to Za Koa. However, thanks to the varying seals scattered throughout a demon's body at birth by Touketsu's DNA, it is possible for them to even use the Magic without Za Koa's connection. You see, these seals are constantly gathering energy from their surroundings. From every attack, from every environment, from every power increase; these seals gather and store power for a demon to use. There is even an ascended state to unleash all of this collective energy, but that is not in this section. Instead, this is about how demon magic works in general. As stated previously, Demon's can perform magic with or without Za Koa. But, for some demon's, they are able to merge both of these together in order to double the strength of all of their spells or anything having to do with demon magic.
Despite all of this wonderful stuff, however, its biggest drawback in demon power is the power itself. What does this mean? Well, if you don't have resources, power, sacrifices or anything else to carry out your spell, it will in turn cause great damage to you for however much energy you tried to perform. An example of this would be a weakened demon who drained his resources trying to perform a large scale demon spell, only succeeding in heavily wounding himself along with producing a very weak version of whatever spell or magic technique he was trying to perform. Another drawback is that is can sometimes be countered with other types of magic such as Kidō, Chaos Energy or Sugiura Spells.
Akuma Kyodo:
Thanks to the full body seal most demon's have on their bodies from birth, Akuma Kyodo gives most Demon's a layer of defensive skin that is similar to an Arrancar's Hierro. This will be general defense, though if have a high Za Koa Skill, you can temporarily double your defense. Masters can do it for ten post, Advanced for seven, adept for four and beginners for two. All come with a three post cooldown. But that's where the similarities end, and the differences begin. What makes a demon's Akuma Kyodo: so different? Well, for instance, this layer of skin is not just applied physically like Arrancar's are or any other races natural defense. What makes a demon's defense stands out is that it applies to magic, spiritual attacks, their environments, how resistant they are to poisons or toxins and even how much their mental state improves.
You see, thanks to having so much magic being pumped into their bodies, their defense is MUCH more wide spread then any Shinigami, Arrancar or even Iramasha. Basically, the higher your defense is, the most attacks, barriers or ANYTHING in general; the more resilient you are to anything offensive being thrown at you. So a demon's Akuma Kyodo: is not something to scoff at, ignore or consider the same.
Shadow Movement:
This is what some MIGHT call the Demon's Answer to flash step: Shadow Movement. It allows them to move at quick burst of speeds on most occasions to allow them to travel very far distances in short amount of times, that is for certain. Though, this is where some similarities come to an end. Unlike most other races, Demon's get many nifty benefits then just Super Speed. Take this for example: from the seals on a demon's legs and feet that generate insane amounts of energy from all of the sources of power they collect; it will be able to give yourself temporary boost of intense speed called "Shadow Burst". Shadow Burst is a period of time where your demon will double their speed on average if they are at least adept. It will transition into how fast their attacks are created or launched, the demon's reaction time to increase the odds of evading, countering or noticing a person, object or anything else within a vicinity that has a prense in order to do something about it, it increases their mental awareness to more alert levels and it even goes into their natural powers.
For instance, one could use Shadow Burst together with The Art Of Demon Magic in order to create burst of accelerated healing in order correct injuries to your body at insane rates of speed during this period. Another example would be using Shadow Burst mixed with Za Koa in order to consume an area within it's presence much more quickly along with all of it's sub-abilities being accelerated. Finally, one last example would be for their special powers. For instance, if a demon could control fire they could generate, fire and reload it at double the speed they could before if they were adept. And, with that, that goes into their rates of speed in which they can perform these things.
If you were a beginner, you could only maintain this for one post only and would have a five post cooldown. Go to the next level and a demon will be able to double their strength, increase the amount they maintain this form to three posts and they typically only have a three post cooling period. Progress pass that to advance and a demon will be able to main this form for four post, triple their effects and will have about a two post cooldown. Along with that, at this level, they gain a new ability to Shadow Movement called "Force Speed" where they are able to effect the area around them on some levels. This includes being able to speed up objects, increase allying forces speed somewhat or even increasing the force of wind around them to do more critical damage.
From that point, if one should become a master in this, they will obtain a five post limit for how long they can maintain it, quadrupedal the effects and only have a one post cool down period. Additionally, the Force Speed technique they learned before will become much more widespread. Now, instead of the immediate area around their body, it will be able to effect more large scale areas. Take this for thought. A Demon who is a Master in Shadow Step will be able to generate vicious storms of gust that can cut through steel, and on a more extreme level, spiritual based attacks. This is something which could be used for offensive means by cutting up energy attacks, slashing down Kidō or even creating thousands of small burst of energy to cut right through some energy based moves. Lastly, the last thing they gain from having a master in Shadow Movement is that they have the power to suck the speed right out of some things. For instance, within a small field, a demon could zap the speed clear out of an attack to make themselves faster, their attacks faster or even break it down into energy to apply to other areas until it burns out in one post or two such as physical, spiritual or whatever else have you.
Lastly, and the more rare case, is Grand Master. If a demon should have possess a Grand Master in Shadow Movememnt, they will quintuple the effects of this move, they will have NO cool down period; they will simply rely on how much their body can tolerate and all effects before will be increased. Now, Force Speed has increased to the point where it is able to be performed on a devastating scale. It is no longer confined to a small fighting area or somewhat large area; it can expand upwards of two miles in some cases in order to form domes of Force Speed. Within this area, with their Force Speed, they can utterly decimate and destroy objects on a microscopic scale with it; rather it be physical, spiritual, natural or unnatural. Though, this gets harder to perform the larger you make it and makes a demon burn through more resources.
Additionally, at this point, they even gain a power known as "Phase Speed" where they generate an insane amount of Speed Force around their body that they are able to simply phase through solid and sometimes spiritual objects. For instance, a Demon Could use Phase Speed to simply fade through rocks, water, fire or even through the Earth itself until they reach the core of it. Along with that, if it's spiritual or energy wise, they can even phase through certain attacks if they are more powerful. So, to put this in prospective, if an energy attack didn't have enough force to rival a demon's power, they would use Phase Speed to simply blow pass it unharmed in some cases. Phase Speed can even be used to propel Demon's through Astral Planes, cause them to go through dimensional warps or even create their own small wormholes that can be used in combat to surprise an opponent.
Now, with those powers aside, the demon's gain one final benefit from Shadow Movement that is related in the origin of their name. Whenever a demon is placed within an area of darkness or shadow's, these skills will typically double in strength. They'll even have the ability to travel through a shadow world and come out of different shadow's throughout many different realms, worlds and universe's even on Master Levels. This makes it extremely hard to detect demon's in some instances if they figure out a way to bring out this shadow realm's presence to the field once they reach advanced level. Therefore, it is highly wise to never fight a demon at night as they can quickly gain the upper hand with this set of abilities.
Affinity For Hell:
If a Demon ever gets the chance to foot into hell or has the skill level and power to summon it's presence on the battlefield, they can potentially increase their power by five times just by having it around them. In some instances, in fact, Demon's can even rise one tier level if enough consumes them for the duration of the thread they are in. This is due to the fact that there is a large amount of hellish energy within that place for Demon's to thrive on and it's filled with many hidden elements that were designed to overcharge a Demon in times of crisis. But, in addition to that, the presence of hell augments not only their power abilities but the inherent and magical abilities of said demon; giving improved versions of their abilities or completely new ones altogether.
Sacrificing Incantation:
Sacrifices are something that are very unique to demons as there are thousands upon thousands of them that have many different effects, methods and steps. For instance, a small scale Sacrifice would be something like a demon spilling human blood in order to get a slight increase in his power for a short time. While on the other hand, if a demon were able to slaughter a mass population center, they would be able to gain more power such as in KQM Mana's case. Though, Sacrifices are NOT just for power. They can be used to increase intelligence, increase will, unlock hidden talents, give untold riches to the demon and so on and so forth. (There will be a list of available sacrifices as a demon can do very soon to accommodate this new power.)
Curse Effect:
Curses are a natural to a demon and work somewhat like a decaying system. For instance, when a demon uses their Curse ability they can inflict sickness on any type of living or spiritual being which in turn can bring about illnesses within them, gradually drain them of their power and ultimately make it very hard for fighting due to the fact that this Curse Effect can eventually begin to heavily weaken the persons Reiygoku, Reaitsu and Physical body to the point where it would be well advised to seek medical attention before too long. However, that is not the only use of Curses. It can also be inflicted on a mental level depending on the persons Will Power Skill Sheet and can eventually begin to inflict insanity, madness, distracting thoughts and some succubus class skills.
Not only that, but curses can also be applied to the area around them. This is usually done by using this curse to containment the flow of reaitsu within an area to make it very unstable to use for non-demon races; causing their bodies to react violently by spewing out blood, causing malfunctions in their powers or their bodies outright rejecting this flow of additional power and sometimes even canceling out attacks. Or, another example of this on a less spiritual level would be a demon using their Curse Effect in order to taint the air around them to make it very toxic to most races apart from demon to breath in order to make them sick from the inside unless they figure out a way to cure themselves or overpower it in some means.
Examples such as these are usually how curses work with demons. Despite that, this cursing skill varies from level to level, though. The more advanced your tier is, the more powerful your Curses can become. So a four tier cannot perform the same type of heavily effecting curses as a 0 tier could possibly do with theirs. Therefore, it requires a bit of common sense to use curses. Your curses will not always be auto-hits or successful, but they can do pretty amazing things.
Body Manipulation:
This is a natural ability that all demon's possess if they wish to activate it or perform it. Most Demon's have full control over every aspect of his physical make-up, able to stretch themselves to obtain insane heights such as being thirty foot tall, being able to change their skin color, having the ability to shape-shift into different people that they are able to remember and, on much more powerful levels, being able to even detach, generate or fuse body parts together in order to increase odds of surviving. Though, this does not occur until at least one tier, and even then it's weak compared to the 0 tier version.
Additionally, it can even be used for offensive or defensive purposes. For example, a demon can use Body Manipulation in order to generate a layer of steel-like skin around their body in order to increase their defense and block out outside sources from entering their body by clogging every pore on it. Or, for another instance, they could use it on the offensive side by hurling body parts at their opponent that are extremely hot and turn into acid blood, using their increased height to smash down on most opponents and the same may even apply for some more powerful demon's attacks; or finally, in an avoidance way, more powerful demon's could even control their body in order to be broken down into a liquid, wind or fire type form in order to gain more ways to escape or evade attacks.
There are more ways to use this ability, but it's all up to the user of it to figure out.
Demon Magic:
Pulse of Death:
Due to its powerful effects, this spell costs a good amount, with even more energy to increase the span or hasten the rate of the spell. Upon the completion of the prayer, the floor right in front of the user shall shift into a deep shade of crimson, shaped like a cylinder of light, the area shaded spanning a minimum 5 meters diameter, and towering up towards the sky. The loud beating of a heart can be heard in the center of the shaded area. The closer one is to the shaded area, the louder the heartbeat is. In between beats, the shaded area shifts itself equivalent to its diameter foward. The rate is 2 beats per second (2 beats ber half second being the max rate). If anyone so happens to be inside the shaded reigon, whether in the air of in the ground, they will suffer intense damage fom the inside out, the worst case scenario being that their organs implode if weak enough. The victim shall end up spewing blood out of their mouth as their body undergoes gut-wrenching pain. Their vision will be fully obscured in an opaque, blood red. The red will slowly fade away in a matter of ten seconds. There is a minimum of ten beats per cast.
This spell has no effect on machinery whatsoever. The spell cannot be destroyed by physical means. It is best to avoid the spell, ratherthan attempt to destroy it. The light emmitted from this spell, even if deflected through any means, would not affect anyone it comes in contact with. The light only serves to signify the spell's zone. The power of the spell is relative to the power of the caster, and thus, 0 tiers would most likely to cause significant amount of damage to other 0 tiers, with 1 tier severe damage, and 2 tier a high chance of death. The visual effects happens to all who get inside of the shaded area, including the user (although the user won't be efected by any other of the spell's effects.
Shattered Existance:
This spell is very costly in energy, and is reserved for the strongest of the Demon World to use. only tier 0-3 and up will be capeable of using it without any risk of it backfiring. Upon completing the prayer, little jagged, luminous white lines shall elrge out of the palm of the user, moving in a jagged patern, creating angles and elbows for every foot, in similar fashion to how glass cracks. The sound of glass cracking can be heard from up to 50 meters away. The cracks are surrounded in dense darkness, fully obscuring anything that comes close enough to the cracks. This makes the spell t appear to be a black line, laden with smaler, jagged, bright white lines. The cracks can only span up to 30 feet in length, 2 meters in width. Any longer than that then the cracks will fade away from the back of the line to maintain the proper length. The cracks expand/travel for 2 meters per second, which is significantly slow.
The cracks are sensitive. Anything that makes contact with a single crack will, proportionately, result in all of the cracks exploding in a burst of intense, white light, the blast spanning double the proportions of the initial foray of cracks. Little shards, white on one side and black on the other, will be flung out of the explosion from all directions, although these shards are benign. The sound is similar to a large quantity of glass shatering. The sound is so loud that it can be heard from many miles away. The entire vicinity where the thread is occuring shall, in an instant, flash into an inverted color, in which black is white and white is black. This lasts for only a second before everything fades back to normal color. Anyone who so happens to be nearby, or directly made contact with the cracks would be fully obliterated by the sheer power of the attack. This excludes anyone who is of equivalent or higher tier than the caster, which would still suffer extreme damage from this attack, and be launched away from the blast like a puny little pebble. All attacks that were nearby, or made contact with the cracks would be destroyed by the blast, unless high amounts of energy were used to make it by an opponent of equal tier or higher compared to the user.
This attack can effect the user, so it is dangerous to be near it. This makes it especially dangerous to stick around when the spell has just been casted. Anyone below 0-3 will put themselves at risk of causing the cracks to backfire, by making contact with the user immediately, which can bring about a near fatal outcome for the user. The chances of the spell working being 1/4. Anyone below 1-1+ will have a 100% chance of the spell backfiring. The proportions of the cracks can be re arranged, meaning that instead of being thirty feet long, the line can be condensed to become wider in span, the wider the arrangement of cracks are, however, the slower the cracks shall move, and vice versa. (An arrangement of a single crack would move as fast as a rocket, a wide, yet thin wall of cracks would move half a foot per second.)
Necroflame Shot
This spell only requires a moderate amount of energy to cast. Upon finishing the prayer, the user points a finger at the desired location. A small, green, spherical light will begin to glow in the selected area for 3 seconds, After the three seconds are up, the light shall explode in a powerful blast of green, haze-like energy, the blast usually spanning 12 feet in diameter. But that is now all. A multitude of small, green fireballs will shoot out of the explosion from all dirrections, each fireball making a smaller exposion of the same type wherever it ends up landing on. The blast radius, as well as the quantity of fireballs shot out can increase with more energy.
The sensation given off by the flames and explosions are not of heat, but of something similar to acid burn, that isn't to say that the spell itself is acidic. This spell can effect the user, if close enough.
Fatale Flash:
This powerful spell is reserved for the higher ups in demon world, due to its ridiculously high cost, and devastating power. 0 tier is best fit for this. Once the prayer is said, the user points at the desired location. The very instant the finger is pointed, the Aftermath of the spell (but not its victims) will be displayed in a fraction of a second. The sight revealing a deep, blackened crater made from the attack, dense, black fog surrounding the vicinity, and a ring of smaller, blackened craters surrounding the center crater, each small crater with a pillar of black smog trailing upwards into the sky. All of this will disappear as fast as it appeared, and nothing shall happen for ten seconds afterwards. After the ten seconds are up, a large explosion of black, smoggy energy will occur at the spot pointed at, the blast radius being 12 meters minimum. The smog is highly corrosive, to the point that even steel will melt. If one has been exposed to the smog for long enough, even the strongest armor of skin shall melt away from heavily prolonged contact with it. The smog will quickly travel out from the center as the explosion occurs. From this explosion, a large, black fireball composed of said energy will shoot up towards the sky, splitting into twelve, smaller fireballs just as it is about to fall back down. Each of the fireballs will move outwards from the center, landing onto the earth in unison, creating a ring of smaller explosions, causing a lesser amount of fog to scatter from the explosion, as well as a pillar of smoke to rise up from the crater. The distance between the center and the ring is half a mile minimum, the distance being proportionate to the size of the center's blast radius. The time it takes for the ring of explosions to occur from the initial one is one post. The fog will last for three posts, before dissipating. The highest sources of damage are from the explosions, with anyone who is caught in the first blast having a high likeliness of fully vaporizing due to the attack
Anyone who is below 0 tier, and is somehow able to cast this spell, can be subject to injury from the spell, not to mention that the use of the spell would me more than enough to exhaust the user beyond any ability to fight. The size of the initial explosion, the amount of fog emitted, or the longevity of the fog increases with the use of (much) more energy. The flash in the beginning is completely benign, even if one is right in the center of the initial blast during the primary flash. Due to timing, the fog from the ring expires one turn later than the fog from the center.
V. Natural Abilities
» Natural Abilities:
Crushing Spiritual Power:High-Speed Combatant:Highly Perceptive and Analytical Combatant:
» Unique Abilities:
Fate's Thread:Summoning Scrolls:Human Puppets:Living Doll:
VI. The Art of Puppetry
The Armor:
Appearance:
Usage Difficulty:Abilities:
The Inquisitor:
Appearance: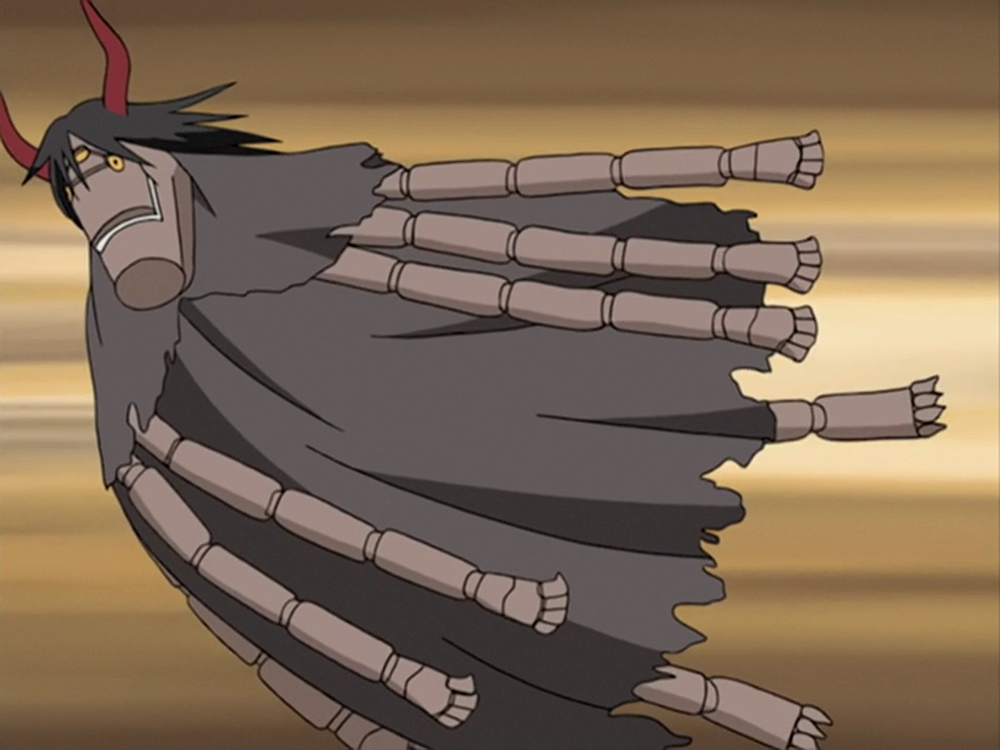 Usage Difficulty:Abilities:
The Soldier:
Appearance:
Usage Difficulty:Abilities:
The Stone:
Appearance: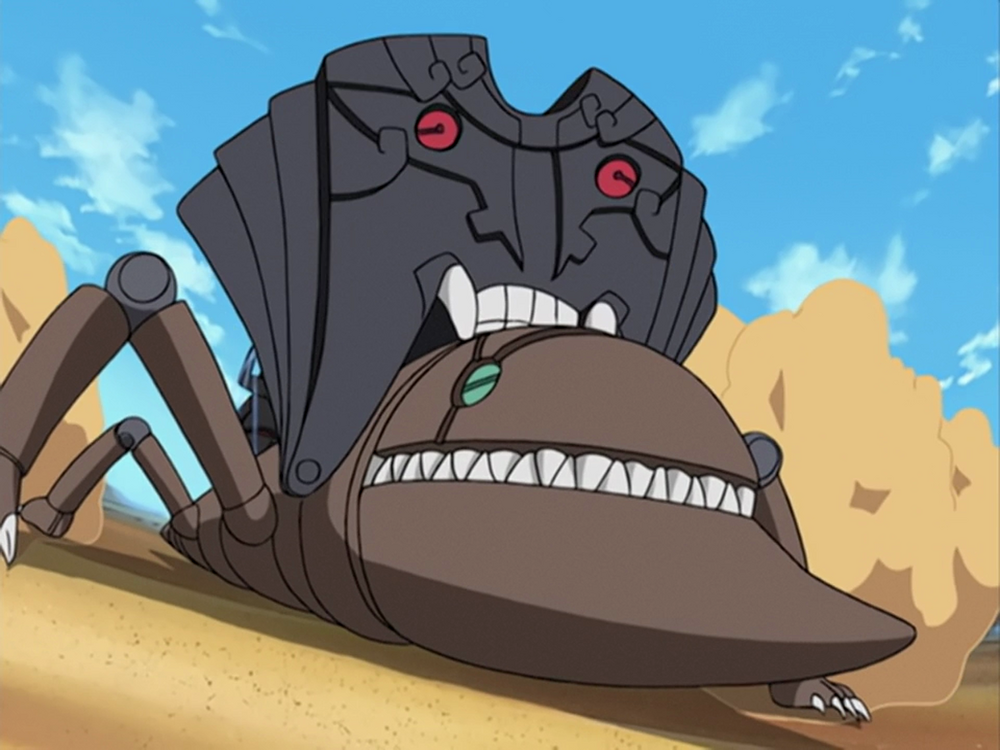 Usage Difficulty:Abilities:
The Lovers:
Appearance: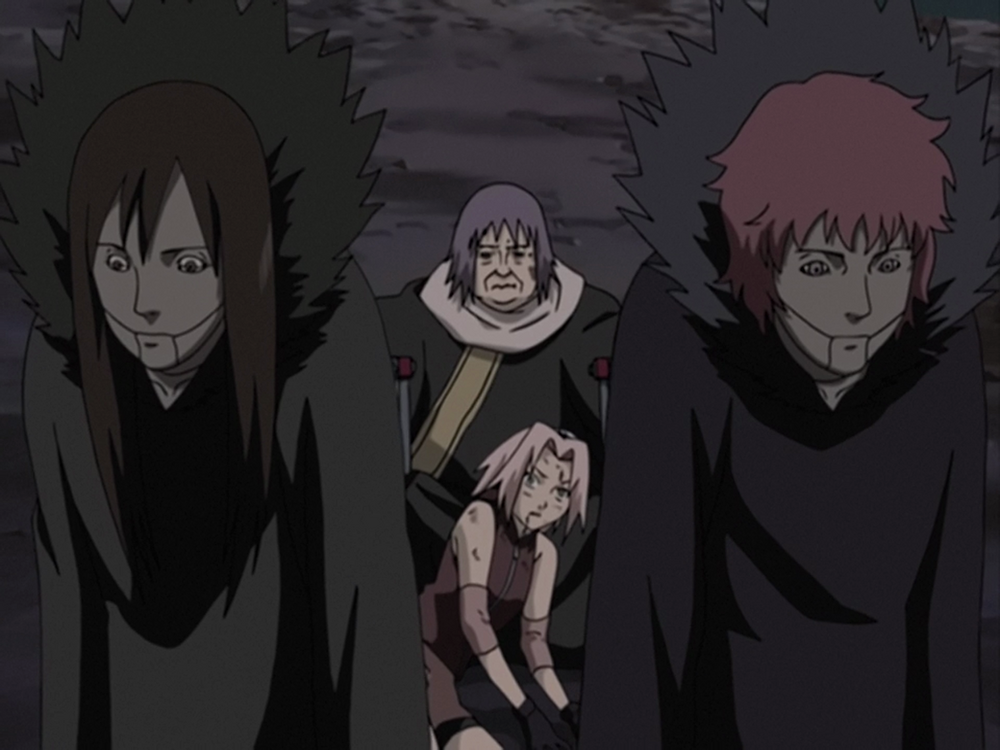 Usage Difficulty:Abilities:
The Boy:
Appearance:
Usage Difficulty:Abilities:
The King:
Appearance: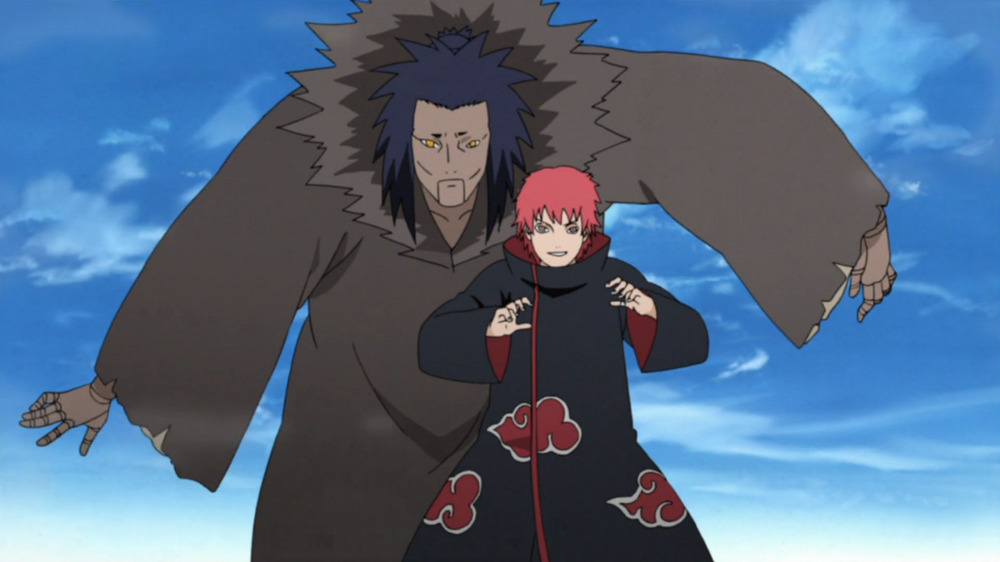 Usage Difficulty:Abilities:
The Legion (Event Only):
Appearance: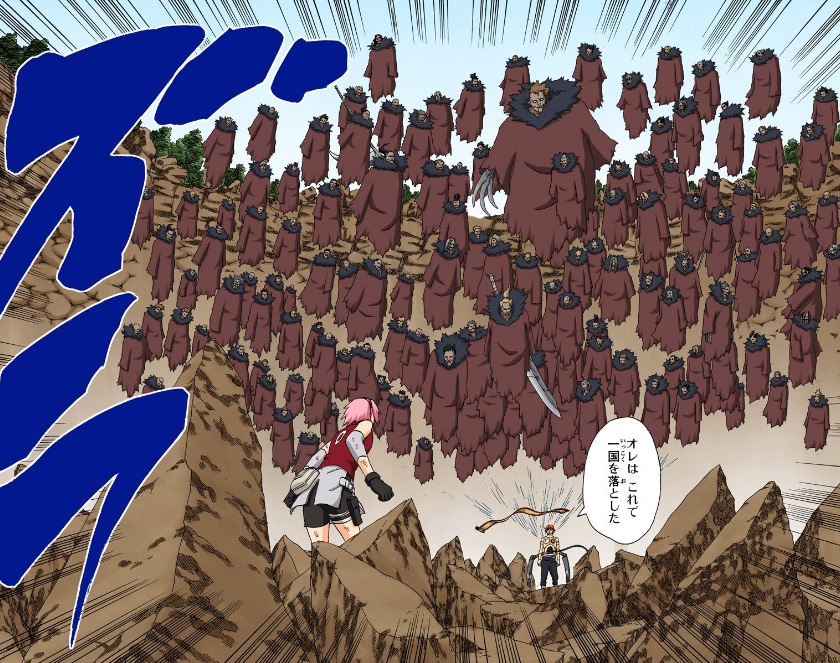 Usage Difficulty:Abilities:
The Divided (Event Only):
Appearance: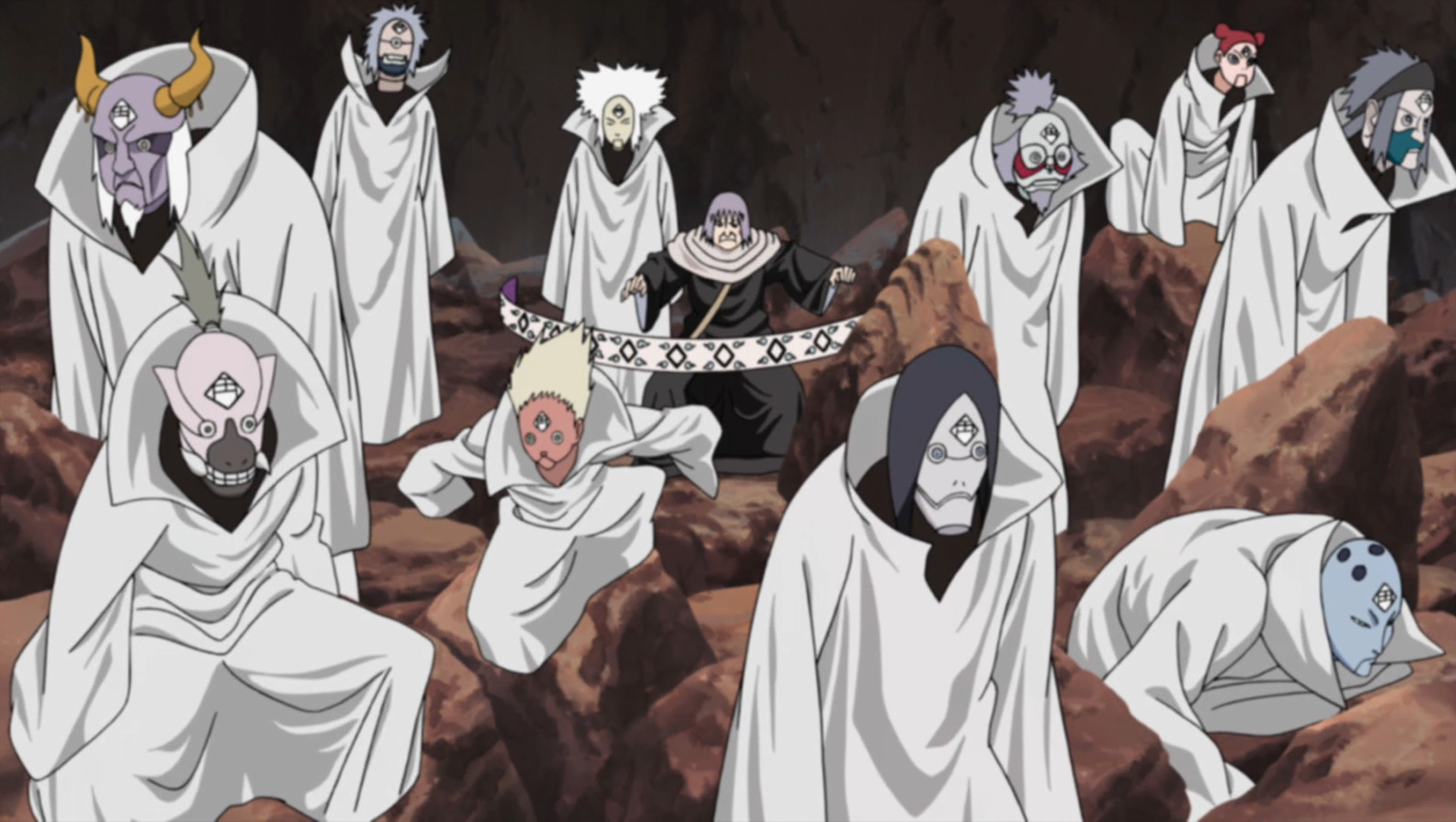 Usage Difficulty:Abilities:
VII. Adjustable Form
VIII. Skill Sheets
Racial Skills
Za Koa Skill: Master/Advanced/Adept/Beginner

Demon Magic: Master/Advanced/Adept/Beginner

Shadow Movement: Master/Advanced/Adept/Beginner

Akuma Kyōdo: Master/Advanced/Adept/Beginner

General Skills
Durability: Master/Advanced/Adept/Beginner

General Speed: Master/Advanced/Adept/Beginner

Strength: Master/Advanced/Adept/Beginner

Weapon Skill: Master/Advanced/Adept/Beginner