THE BASICS OF SOR'VN
» Name/Titles:
Sor'vn is the name that the Sugiuran of Storms goes. However, is it the name that has always been his own? No one knows. The man is very mysterious. Some say that his name means something more than just plain out being there as a name. It is truly unknown if this is fact or fiction.
He not only goes by the name "Sor'vn", but also by titles that people have given him over time. He has been known by many names, such as "Raiden", which translate to Thunder and Lightning. This is due to his abilities in electricity, which has lead to him gaining many nicknames and titles that have related to the word electricity. One of these are "Raiu", which stands for "Thunderstorm". The reason he is called this is because of the destruction he causes with his powers and also, the signals that one could see if Sor'vn were approaching. He is known also as the Oncoming Storm, since his wrath is not to be taken lightly. At any moment he could snap.
Another title that he has gained from his travels and destruction has been the title "Blood of a Dragon". Why is he called this if he looks nothing like a dragon? The answer is very simple. The destruction he causes, as well as his Guardian Beast's power has given him that title. He is sometimes able to lay waste to entire cities with his immense power. The reason the title is "Blood of a Dragon", is that his ruthless nature sometimes, as well as his abilities resemble those of the mythical dragons. Dragons were said to be beasts of terrible destruction, able to lay waste to entire towns, and, possibly, even lay waste to continents. This is all myth, however, and none of this is proven true with Sor'vn's full power. Not only is this reason why he's called Blood of a Dragon, but his Guardian Beast is a dragon as well. Another title that he has earned through his time of travels is King of Storms. This is very heavily earned due to one of his favorite abilities, which revolves around thunderstorms.
» Age:
No one knows this man's true age, but he looks relatively young, with many guessing that his physical body's age is around the ages of 18-20, but his true age is a mystery to many. It is said that if he trusts someone to such an extent, he would reveal to them near all of his mysteries to them, but at the cost of forcing them into a blood oath to keep these secrets, well, a secret. Sor'vn has kept many things about him a secret, not including his age. Most of these he has actually forgotten, since he has so many of these secrets, that most of them are hard to remember, so, naturally, the brain would make them forget about some of these things.
» Gender:
Male
» Appearance:
The first thing you would notice about Sor'vn is his white hair. His white hair is very strange for some, and has lead to some recommending that he dye his hair, but he refuses, since he's proud of his hair and will not change it in the slightest. The color of his hair is not the only thing that people have recommended him to change, since his hairstyle is very odd as well, since not only is it long, but his hairstyle is very wild. His hair is parted in several places, making the tufts of hair looking as if they are stacked on top of each other. Due to his hair being parted, a small portion of his forehead is revealed from this, while a large tuft of hair curves down his face towards his left eye, just above his nose. The back of his hair is curved to the right of his head, while the sides sort of part outwards slightly, giving more to the "wild" look.
Not only is his hair strange, but so are his eyes. They are a deep crimson red, almost evil color. This gives Sor'vn a very menacing look, which makes many afraid of him. This only counts for his irises, since his pupils are a jet black, giving him an even more menacing look. His eyes also seem to glow whenever put in the dark, which is very strange. His eyes always seem to be filled with determination, which is why his eyes are always seem half shut most of the time.
His outfit....is nothing short of completely random. It's very hard to say WHAT they are. From a first glance, it would seem like a tight-fitting battle armor. This is true, but it is also false. The outfit that Sor'vn wears is similar to a suit of armor, with the durability of it being immensely high, giving it the impression of it actually being a suit of armor. No one knows if this is just enhanced clothing, or some sort of battle armor. But now, onto the actual design of the outfit on Sor'vn. The outfit is very rigid, with many grooves on the arms of it, which leads all the way to the wrist area of the outfit. There are grooves on the leg area of it, but there are a drastic reduction of them. The outfit resembles steel, with it's immense durability, as well as the glistening shine it produces. However, the outfit is not completely a silver color. A small portion of the midsection of the outfit is jet black, near where the sternum and abdominal muscles would be.
Something else that you would notice from looking at Sor'vn is that...he...doesn't wear shoes. He always walks around barefoot. No one knows the real reason for this, but many assume that he does it to make himself faster. But the real story is much more bizarre. As a child, he...never enjoyed wearing any kind of footwear. He always loved running around barefoot. No matter what you did, he would never wear any kind of footwear. He would always be barefoot, no matter what he wore. Even if it was a suit and tie, he would never wear dress shoes. Always barefoot. A very strange enjoyment for someone like Sor'vn.
Something else that you would see very clearly on the outfit is a cape. The cape is blue, but the way it is attached is very odd. A single large ring is attached on the midsection of the outfit, which holds the cape, which wraps around his body diagonally. The cape is a very odd sight on the armor-like outfit that Sor'vn wears. However, this cape is very useful as a scabbard for his Sacred Weapon, to which, he stores on his back. However, to add to the strangeness on his outfit, there is a collar on it. A collar that would bloom outwards around his neck. The is a very strange sight on his outfit, since it resembles a type of armor, with the durability and the looks of it, but it has very....casual items to it.
FULL BODY IMAGE: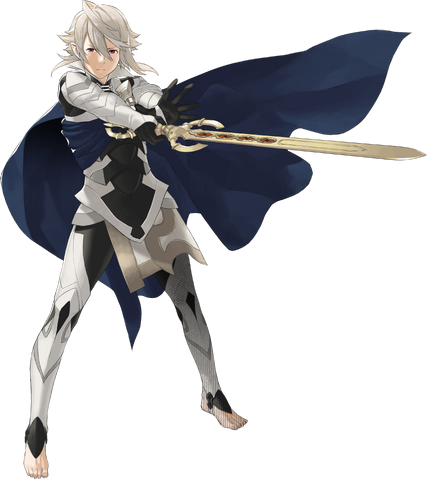 » Kingdom:» Affiliation/Rank:

THE MIND OF THE KING OF STORMS
Personality:» Quiet:
When it comes to general conversation, Sor'vn will be the last person one could find making much of a statement if it is not necessary. What does this mean? Well, to put things simply, it means that he is a very quiet person, and does not always react well to conversation. But, when push comes to shove, he can be seen being a bit more social than he would normally like to be. He doesn't like talking, but he does have the social skills necessary to converse with others if the time calls for it. However, any other time, he will usually keep to himself, and stay out of matters that he has no business getting involved in.
» Quick to Anger:
Sor'vn...has always had a bit of a temper problem. Normally, he can be seen as a very calm, and gentle person. But, everyone has their own level of patience. If someone were to
» Serious:» Daydreamer:» Destructive:

THE LIFE OF A KAMIKAZE
History:
Prologue
Chapter One