THE ARRANCAR TEMPLATE
Enter The Rage
非再生可能
I. Basic Information
» Name:
Yammy Llargo
» Age:
At least 450, unknown true age
» Gender:
Male
» Birthday:
April 3rd
» Height:
230 cm (7'6½") (Increases depending on his rage, has been easily over twelve feet tall when angered)
» Weight:
303 kg (667 lbs.) (Increases depending on his rage as well, has hit 1,500 pounds without an upper limit being shown)
» Association:
Ex-Espada
» Appearance Image:
Spoiler:
» Appearance Written:
By far the largest of Aizen's Espada, Yammy is a giant Arrancar with tan skin, a powerful build, and a ridge-lined cranium. He has brown eyes, black hair, long, bushy sideburns, and a thin ponytail reaching his upper-back. Aside from this, he is bald. He has orange eyebrows, and red markings under his eyes. He wears the standard Espada uniform, with the only difference being his jacket is always open.
Like all Arrancar, he has a large hole signifying his previous time as a Hollow, his is located in the center of his chest. What remains of his Hollow mask is the jawbone (complete with 8 teeth), which rests on his chin. A tattoo of the number 10, signifying Yammy's rank, is on his left shoulder. In his released form, the 1 melts away, leaving just the 0. Yammy is extremely muscular the point of ridiculousness, and combined with his massive size in general his body is aggressively intimidating.
Yammy's colossal size varies dramatically even before he releases his Zanpakutō and goes into Ressureccion. When he first entered Karakura Town he was about seven and a half feet tall, which is usual average size, but by the time he killed Rudbornn Chelute and attacked the invaders in Los Noches, Yammy was already over double that and weighed in at nearly two thousand pounds. At this point he towered over both Rukia Kuchiki and Yasutora Sado,
II. Personality
» Personality:
Yammy is arrogant and overconfident in his abilities. He is quite brutal - when a medic Arrancar reattached his arm, he smashed his fist into her head, killing her instantly, simply to test his arm's strength. When Yammy first entered Karakura, he tore one of Yasutora Sado's arms off completely without a care in the world. In battle he very often does things like this due to not only his savage personality but his Aspect of Death too, as well as his brawler combat style. According to Szayelaporro Granz, Yammy has a habit of shouting "suerte" (Spanish for "luck") when he comes across opponents which will amuse him, such as when he first encountered Ichigo Kurosaki in Karakura Town.
Yammy relies greatly on Ulquiorra to give him instructions and orders, acting somewhat as his enforcer, though he functions well without him during a Karakura Town raid. Rather than using tactics in the battlefield, Yammy prefers to just fight with his brute strength, and seems to take joy in killing and hurting others. Unlike some of his Espada brethren though, Yammy doesn't seem to specifically prefer making people suffer prior to killing them as every time he's killed someone it was in a single hit. To grow stronger and kill more efficiently, Yammy eats and rests in his spare time. Though usually it only takes a couple months to get enough strength to power up completely, Yammy has actually spent the last four hundred years consuming and sleeping as much as possible simply because he had nothing better to do.
He respects Ulquiorra to some degree, wanting to aid the latter during his final fight with Ichigo. He displayed slight surprise after Ulquiorra's death at the hands of a Hollowfied Ichigo, but seemed more shocked at his defeat and disappointed at not being able to participate in the fight than actual concern. Other than Ulquiorra, Yammy has no regard for his allies, referring to the other Espada as "trash" (including Ulquiorra), and even going as far as attacking them without warning: he killed the medic who reattached his arm just to test its strength, attacked Menoly Mallia without an apparent reason, and attacked Rudbornn Chelute while he was fighting against Rukia Kuchiki (though in Rudbornn's case, Yammy may have blindly struck him because he was angry at Uryū Ishida for making him fall from the tower).
III. History
» History:
Arrancar arc
Yammy is sent to Karakura Town along with Ulquiorra Cifer to scout out the Human World. Their mission is to collect information on Ichigo Kurosaki. Shortly after arriving, several ordinary Humans gather at the crater which Yammy and Ulquiorra had made with their arrival. Assuming the Humans are staring at him, Yammy, not knowing most Humans are incapable of seeing spirits, sucks out the souls of every nearby Human out of frustration. Only Tatsuki Arisawa survives the encounter. Arriving, Yasutora Sado and Orihime Inoue attempt to fend off Yammy, but he defeats Sado easily. He is not even remotely harmed by Orihime's Koten Zanshun, grabbing Tsubaki and crushing him to pieces with his bare hands.
Arriving at the scene, Ichigo, activating his Bankai, blocks a punch from Yammy before slicing off Yammy's arm in revenge for injuring Sado. Losing until Ichigo has to battle his inner Hollow for control of his body, Yammy, taking the opportunity to gain the upper hand, repeatedly punches Ichigo, beating him heavily. He is stopped by Kisuke Urahara and Yoruichi Shihōin, who, proceeding to make short work of Yammy, deflect his attempts to attack them. Before they can inflict any major damage, Ulquiorra, stepping in, forces Yammy to retreat. The two return to Hueco Mundo with their mission completed.
Having his arm reattached in Hueco Mundo, Yammy heads off to Karakura Town along with Grimmjow Jaegerjaquez, Luppi Antenor, and Wonderweiss Margela as part of the second assault on the Human World. After a short conversation with Tōshirō Hitsugaya, where he notes they both are somehow related to the number ten, Yammy fights against Hitsugaya, and breaks the ice of his Shikai, but his opponent is taken on by Luppi, leaving Yammy with no one to fight.
Later, he performs a devastating surprise attack on Urahara, but Urahara remains unharmed, which confounds Yammy. After an exchange of blows, Urahara, gaining the upper hand, reveals he is using one of his inventions - a portable Gigai and has been switching places with it the entire time. Getting angry, Yammy, claiming Urahara is looking down on him, is taken back to Hueco Mundo by a Negación beam before the fight continues.
Hueco Mundo arc
After Ichigo, Sado, and Uryū Ishida invade Hueco Mundo, Yammy sits at the end of the table with the other Espada as they are briefed about the situation. Sitting between Aaroniero Arruruerie and Baraggan Louisenbairn, he complains about the intruders along with Aaroniero, Baraggan, Szayelaporro Granz, and Nnoitra Gilga.
Fake Karakura Town arc
Leaving his quarters after eating, Yammy decides to act on the invasion of Las Noches. After Loly Aivirrne and Menoly Mallia begin torturing Orihime, Yammy, appearing during Ichigo and Ulquiorra's fight, hopes to help Ulquiorra fight Ichigo, knowing the latter got stronger. Refusing help, Ulquiorra tells Yammy to either go back to sleep or deal with the invading captains. Noticing Loly and Menoly, Yammy, knocking the latter through a wall, moves in to kill Loly as well, but she, drawing and releasing her Zanpakutō, tries to attack Yammy, threatening to kill both him and Ulquiorra, but Yammy, defeating her, rams her through the wall and, dropping her body, mocks her for dying so quickly.
Done with Loly and Menoly, he asks Ulquiorra if he can kill Orihime, but Uryū, arriving, shoots him in the shoulder, knocking Yammy down. Uryū's arrows fail to pierce Yammy's Hierro. As Yammy moves to attack Uryū, Yammy triggers an anti-Arrancar landmine, given to Uryū by Mayuri Kurotsuchi, which Uryū had deployed on the ceiling of the floor below.
Following the explosion, Yammy hangs onto the edges of the hole created by the explosion, but Uryū breaks his grip, revealing he destroyed all of the lower pillars on his way up to the throne room, and states Yammy will fall to the bottom. Cursing Uryū, he falls through every floor of Las Noches.
Emerging in the desert of Las Noches, he interrupts the fight between Rukia Kuchiki and Rudbornn Chelute by punching Rudbornn. Cursing Uryū for defeating him, he, smashing the ledge Rukia and Rudbornn are on, is noticed by Sado and Renji Abarai. Remembering Yammy, Sado notes Yammy is somehow much larger than when he invaded Karakura Town with Ulquiorra. Along with the invaders of Las Noches, he notices the massive increase in Ichigo's Reiatsu.
After sensing Ulquiorra's Reiatsu fade away, he is upset at being unable to help him finish off Ichigo. As Renji states Yammy's Reiatsu is the weakest among the Espada they have encountered, Yammy releases his Zanpakutō. As his 10 tattoo transforms into a 0, he reveals the Espada ranks do not run from 1 to 10, but from 0 to 9, and he is Espada 0.
Some time later, Yammy, having knocked out both Sado and Renji, holds Rukia. As he tries to hold back from crushing her, Rukia hits him with Hadō
#33
: Sōkatsui. Sarcastically saying it hurts, he throws Rukia at the ground. Shocked when Ichigo, having saved Rukia, appears, Yammy charges a Cero, which explodes in his face when it is hit by a Getsuga Tenshō from Ichigo. Punching at the ground where the two are, Yammy, angered when they move to another place, yells at Ichigo to stop "scuttling around". Swiping at Ichigo and stomping after him as he flies around, Yammy is taken farther away from Rukia and the others. As Yammy yells for Ichigo to stop "scuttling around", Ichigo reveals his true reason for running is to leave the area. Confused, Yammy is slammed into the ground by Ichigo's Bankai-enhanced Getsuga Tenshō, powered by his new mask.
Recovering, Yammy attacks Ichigo with a Bala, showing Ichigo his tattoo, and reveals he views all of the other Espada as trash. Slicing through the Bala barrage, Ichigo states regardless of how strong Yammy is, he will still defeat him, and while he did not expect Yammy to have any respect for his comrades, he is disgusted with Yammy referring to them as "trash". When Ichigo tries to summon his mask and fails, Yammy, taking advantage of Ichigo's distracted state, grabs him, pleased at how Ichigo cannot summon his mask again, and compliments Ichigo's strength in comparison to his other opponents. He is attacked by Byakuya Kuchiki, who fires a Hadō
#33
. Sōkatsui at him. As Yammy turns to retaliate, Kenpachi Zaraki, arriving, cuts off one of his legs. Yammy recovers, and when Kenpachi's attention is focused on Ichigo, Yammy, knocking him into a building, threatens to kill Kenpachi and the others there. When Kenpachi launches a large rock at him, Yammy destroys it. Complimenting Yammy, Kenpachi, saying he has got a nice punch, states he needs to put some more effort behind it.
Growing tired of fighting the "weak" opponent, Kenpachi asks Byakuya to finish off Yammy. While the two argue over who should finish the job, an enraged Yammy, getting up, fires an extremely large Cero at them, prompting the two captains to take the giant Arrancar down together. Surviving the combined attack of both captains, Yammy becomes frustrated with them, which causes his body to increase in size and his Resurrección to change form. After transforming, he, telling the captains making him angry is the last thing they want to do, reveals his release, Ira, increases in strength the angrier he becomes. Taunting Byakuya and Kenpachi, he says if they make him even angrier, he will make sure their deaths are humiliating and painful. Despite injuring the captains, Yammy is defeated, and Byakuya and Kenpachi leave him dying. Briefly regaining consciousness when his pet approaches him, Yammy, wondering why it followed him, succumbs to his injuries and dies....or so was thought to have died by the Gotei Thirteen.
After the tremendous fight against two Gotei Captains, Yammy very nearly died. However, instead he merely fell unconscious and reverted back to his sealed state. This state of unconsciousness lasted nearly a week as his special ability to gain power from sleep brought him back from the brink of death and healed the remaining wounds from his battle. After waking, Yammy noticed his pet Hollow dog had remained by his side the entire time. Though he still felt tremendous anger about losing to the two Captains, the dog was actually able to keep Yammy calm enough to think about things. Instead of just Hulking out again, he tried to find out what happened to the Espada and the current state of Hueco Mundo.
Apparently the surviving Espada had all gone their separate ways so Yammy decided to as well. Having absolutely no idea what to do now, he just wondered about for a while until he eventually returned to Los Noches with his pet and just relaxed by eating endlessly and sleeping upwards of fourteen hours a day in order to regain his strength and get even stronger than before. Yammy's rage remained as he merely bided his time until he was powerful enough to destroy the ants that took him down. During this time the leadership of Hueco Mundo and Los Noches changed repeatedly but due to each leader thinking they could use Yammy as Aizen had, he remained untouched throughout these last 400 years. However, he saw them all as trash just as he'd seen the previous Espada so he really didn't give a shit about any of them or their plans.
IV. Equipment
» Equipment:
N/A
V. Racial Techniques/Abilities/Skills
» Racial and General Abilities:
Hierro:
When Yoruichi Shihōin knocked Yammy unconscious for a brief moment, she sustained injuries to her left arm severe enough to force her to wear a cast for over a week as a result of his Hierro. Yammy's Hierro is strong enough to resist an arrow from Uryū Ishida's recent bow, and allowed him to survive the explosion of Mayuri Kurotsuchi's anti-Arrancar landmine with no critical injuries. He withstood Uryū's Sprenger technique with no actual damage. While Yammy's Hierro isn't the most powerful, due to his Espada-level Spiritual power and brute force combat style it is easily enough to block attacks from Gotei Thirteen captains without suffering noticeable injuries.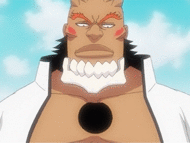 Gonzui:
Yammy can use a unique suction ability called Gonzui to absorb the souls from the living. He considers this a form of eating, for the ability is activated and the souls are collected through his mouth. People with low levels of Reiryoku have a horrible taste to him. Its effect encompasses a wide area, but people with even slight Reiryoku are able to resist it. Using this ability in heavily populated areas allow Yammy to absorb pretty significant amounts of spirits in a single go.
Cero:
He can fire red Cero blasts from his mouth, like many other high-class Hollows and Arrancar. His Cero is quite powerful, creating a fissure many yards wide, even when it was dissipated by Kisuke Urahara's Nake, Benihime. It's full destructive capabilities are enough to take down entire buildings in a single go and can one shot weak Gotei Vice Captains and almost anyone below that level.
Bala:
Yammy can fire red Bala blasts from his fists, which, while weaker than Cero blasts, are much faster. He can fire a multitude of these in quick succession. When firing many at once Yammy can take down entire groups of enemies. When something enrages him he is very prone to piling on dozens of Bala aimed at a single target to compound the destruction, but against stronger enemies this tends to just make him even angrier when they survive.
Descorrer
(解空(デスコレール), Desukorēru; Spanish for "Drawing Back/Opening", Japanese for "Loosed Void"): A technique used by Espada-level Arrancar, and sometimes others, to open a Garganta between the Human World and Hueco Mundo. Yammy used this ability during the first Arrancar invasion of Karakura Town. It tears open the dimensional fabric separating the worlds, revealing a tunnel of whirling, torrential energy which must be focused and solidified to create a discernible pathway.
Immense Strength:
Yammy possesses superhuman strength so high, even his simplest actions create damage and destruction. He overpowered Yasutora Sado's initial Brazo Derecha de Gigante by ripping his arm off and breaking it completely in two. He knocked Menoly Mallia aside a few hundred feet, breaking through the wall inside the dome of Las Noches, by simply backhanding her. With minimum force behind it, he was able to break through the walls of Las Noches. His strength is so great it took a single enraged punch to kill Rudbornn Chelute, a non-Espada Arrancar who had merely been toying with three Gotei Vice Captain level fighters. Attempting to overpower Yammy with strength alone rarely ever results in anything remotely similar to success, and usually just leads to an even angrier and more powerful opponent.
Immense Spiritual Power:
In his sealed form, Yammy's Reiatsu is great enough to register as an Espada-level Arrancar. His Spiritual Pressure is enough to terrify Gotei Vice Captains and bring lower fighters to their knees. Also due to his rage and extremely aggressive fighting style, Yammy's Reitsu is rather chaotic and uncontrolled not unlike Zaraki Kenpachi's. Equivalently powerful enemies may not suffer injuries from his Reitsu but they are likely to have difficulties dealing with it due to these reasons.
VI. Sealed Powers
» Zanpakutô Name:
Ira (憤獣 (イーラ), Īra; Spanish for "Anger", Japanese for "Angry Beast")
» Zanpakutô Appearance:
The handle is red, and the guard is a rounded rectangle with two protrusions on each side. Yammy very rarely actually used his Zanpakutō as he is a brawler type fighter instead relying on brute force and his fists to take down his opponents.
» Unique Power:
Rage Empowerment:
Yammy is the Espada who represents the Aspect of Death having to do with Rage. Yammy is the only Espada who can conserve his Reiryoku by sleeping and eating, which takes a considerable amount of time and inactivity. In doing so, the reserves of power build up over time, and he can enter his Resurrección, causing his Espada number to change and his true power to be realized. As his anger increases, so does his overall physical mass, allowing the instantaneous alteration of both his size and strength to greater levels. The difference between a "slightly" angry Yammy and an "extremely" angry Yammy is like night and day. When he is at his standard, aka relaxed, level of power Yammy used to barely be able to keep up with Gotei Captain level fighters. However after enraging and eating, he is able to one shot an Arrancar in Ressureccion capable of toying with Vice Captains, with a single punch. His upper limits have yet to be displayed though it can be assumed there actually isn't one and staying in an enraged state would just increase his power endlessly over time or until he was defeated.
The most dangerous part of Yammy is what he's capable of in extended battles. Even without releasing his Zanpakutō his power and physical strength continue to increase as he remains enraged and every time someone does something to anger him further, he gains even more power immediately. This ability is simultaneously one of the most formidable as well as the weakest powers out there as an extremely enraged Yammy who's had time to amp up is one of the most dangerous foes out there, but after he's been defeated and hasn't had time to rest he is little more than a bundle of muscles.
VII. Resurrección
» Resereccion Name:
N/A
» Resereccion Release Phrase:
"Be Enraged, Ira"
» Release Actions:
N/A
» Resereccion Appearance: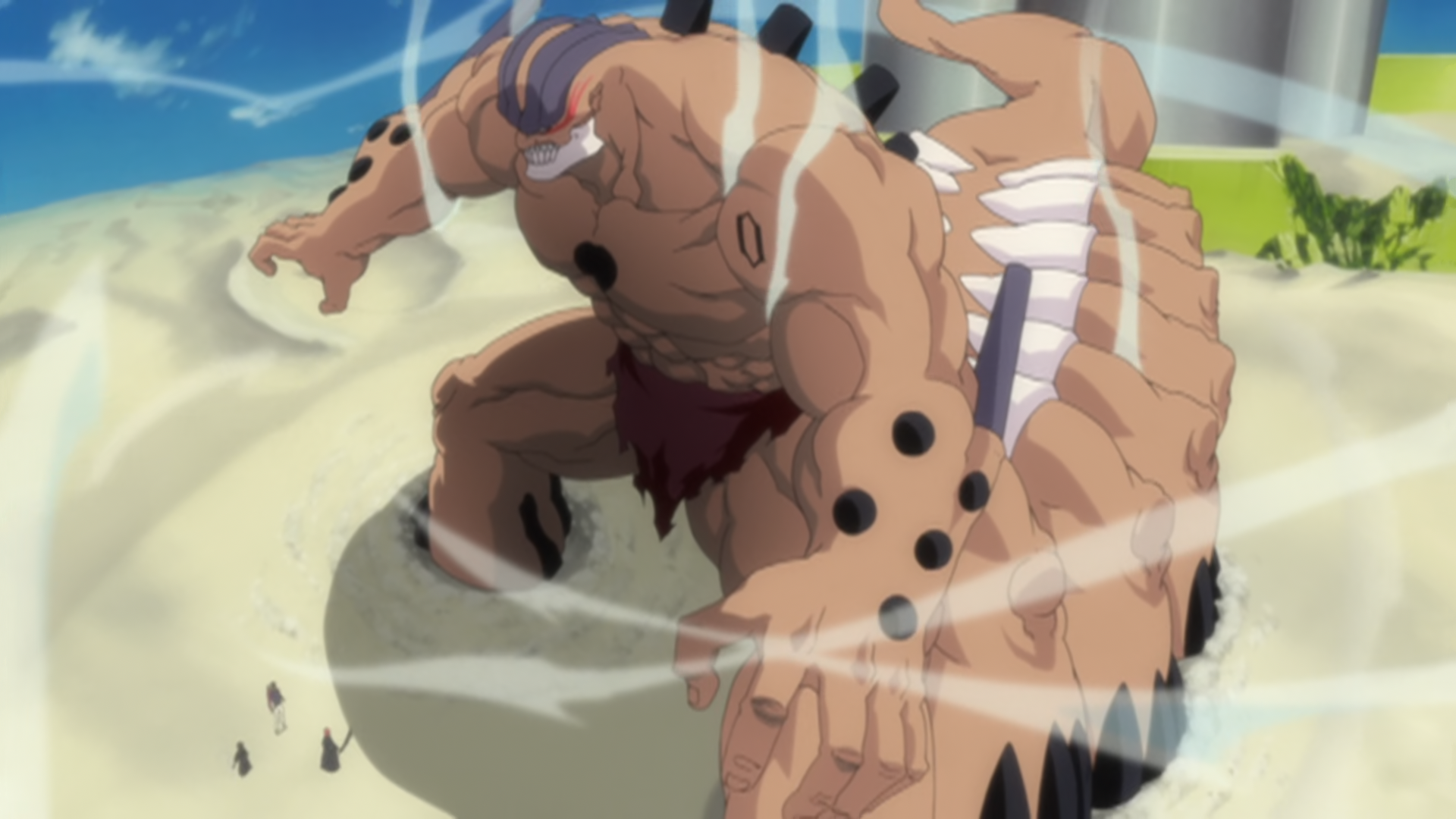 Upon release, Yammy's Zanpakutō explodes in an outpouring of spiritual power, and Yammy grows to a monstrous size, reminiscent of a Japanese kaiju. His skull ridges become more pronounced, taking on the appearance of two large purplish-gray head coverings, extending to the back of his head. His white mask fragments fuse to his face, becoming his actual lower jaw. His red markings extend back from his face into two long flame tattoos. The majority of his body is tan in color, with his thin ponytail becoming longer. His body transforms drastically, with his torso remaining largely the same, but growing eight large elephant-like legs on each side of his lower body, which extends back from his torso. These legs are connected to his body by white carapace-covered joints, leading up to the base of a bony tail club, similar to those of an Ankylosaurus. On each leg, he has three large toes, which extend backwards from the front to the back of the leg.
Large purplish-gray cylindrical tubes form on his elbows, which can be used as piston-like rams. He gains five large, black cylindrical tubes on his back about half of the length of the tubes on his elbows. He has six black rounded nodules along the length of his forearms. While activating his Resurrección, Yammy's number changes from 10 to 0. Overall, Yammy becomes extraordinarily monstrous and intimidating after releasing his Zanpakutō. For exact measurements, Yammy is about eighty feet tall after unleashing his Ressureccion and weighs in at over a hundred and fifty thousand pounds making him more comparable to a blue whale or building than a man in size.
» Resereccion Abilities:
*His physical abilities increase at an indefinable rate when released.*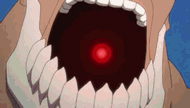 Enhanced Cero:
While in his released form, he can use a much more powerful Cero, which he charges in front of his mouth. Its range is extremely wide, in proportion with Yammy's increased size after releasing. To put it in perspective, 400 years ago his Cero was large enough to completely engulf all of Los Noches and then some. This means that if Yammy had been in Fake Karakura Town during the Winter War, he very likely could have taken out the entire town with a single Cero while in his Ressureccion form. Along with it's size, Yammy's Cero possesses incalculable destructive power to the point of being able to tear through essentially any material and break most defenses people are capable of possessing.
Enhanced Bala:
In Yammy's released form, his Bala can easily hurl Ichigo away from a large distance, destroying part of the battlefield at the same time. It is proportionally bigger and stronger in accordance with Yammy's increase in size. Multiple Bala focused on a single point or against an individual opponent can cause destruction even greater than what his Cero is capable of.
Enhanced Hierro:
His Hierro is further enhanced in this form. He remains completely unharmed after his fight against Sado, Rukia Kuchiki, and Renji Abarai. He only received minor pain from a Hadō
#33
. Sōkatsui fired at point-blank range, which he mostly ignored. It's actually more realistic to say Yammy was entirely unharmed by this attack as his statement afterwards was sarcastic. Though somewhat dazed, he survived with no damage when a Cero he was charging exploded in his mouth because of a Getsuga Tenshō Ichigo Kurosaki fired to counter it. When hit by a Getsuga Tenshō from a Hollow mask-enhanced Ichigo, Yammy received only a minor cut on his neck that didn't even cause him to bleed. He took a La Muerte attack to the face from Sado's Brazo Izquierda del Diablo with no damage. His Hierro in this form is a direct result from the Spiritual Pressure he possesses, which is the greatest out of all of Aizen's Espada.
Enhanced Strength:
While in his released form, Yammy's already enormous strength further increases. He dispatched two of his opponents with little effort. When he threw Rukia to the ground, she could not recover due to the force of the throw being too hard on her body. He can bite through buildings made out of steel and heavily reinforced concrete with ease. He outmatched Sado's strongest attack when he was using his Brazo Izquierda del Diablo with no difficulty whatsoever. When Zaraki arrived Yammy sent him flying hundreds of meters with a single back hand hit, destroying a massive building in the process. Yammy's physical strength is so immense just being in the vicinity of one of his punches is enough to send even the most stable beings flying backwards. Attempting to block one of his punches directly is
never
a good idea as even the strongest of fighters would suffer significant injuries from attempting to do so.
Enhanced Spiritual Power:
While in his released form, his Reiatsu increases explosively. Yammy states he is the strongest among the Espada. What this essentially means is while his Zanpakutō is sealed his power was comparable to one of the weaker Espada, but after releasing he is even more powerful than Coyote Starrk, the Primera Espada, at his maximum level. His full power was above any captain in the Gotei Thirteen outside of Genryusai Yamamoto, and even then it could be said Yammy was capable of pushing him to his Bankai a feat no individual besides Ywach has ever been capable of against Yamamoto's prime. Of all the beings in Hueco Mundo only Aizen outclassed Yammy, which was the sole reason he followed the Shinigami. It's very likely if Aizen had been any weaker then Yammy would've seen him as trash along with the rest of the Espada. His Reitsu is so potent it was used it as a shield and Yammy expanded it out as an explosion, which affected the surrounding area to a significant degree. To put it into words if Ulquiorra's Spiritual Pressure in his Segunda Etapa is reminiscent of an ocean, Yammy's is more like a planet crashing down upon his opponents. His Reiatsu is orange-red in coloration.
Rage Form:
Yammy's release increases in strength as he becomes angrier. When Yammy's anger reaches a certain level, he can alter his Resurrección form, increasing his bulk. Upon taking this form, his damaged mask is restored, and all previous injuries are healed. The black piston-like protrusions on his back become more like extensions of his vertebrae, and he gains two massive horns on his back. He gains multiple horns on his head, with some covering his lower jaw, and crack-like markings frame his eyes. His arms are positioned in knuckle-walk position, and his legs are hairy, ending in short, stubby toes, giving Yammy an ape-like appearance. His tail becomes more hairy and ape-like, losing its large club. His extra sets of legs are lost as well.
After assuming this form in battle against Zaraki Kenpachi and Byakuya Kuchiki, Rukia Kuchiki was frozen with fear despite having witnessed the power of some of the strongest beings alive at the time. Outside of just generally dwarfing his previous state in both size and power, Yammy's Enraged Form is special because it increases the speed of all his actions making him capable of actually hitting foes he usually wouldn't be able to due to his gargantuan size. This fact tends to catch people off guard as suddenly he is able to hit them despite a mere moment previously not possessing that capability. His durability in this form nearly matches that of Nagato Tengan's, who boasts the greatest Hierro, and his strength can only be described as planetary in scale. He is capable of lifting and throwing Titanic-sized structures with little difficulty and even high level Bakudo used by skillful practitioners tend to have difficulty defending against his attacks. Even without considering his Anger Empowerment, the true potential of this form has never been shown in any capacity which leaves much of it's power a mystery. However, what
is
known is that to even use this form Yammy must remain in his Ressureccion for at least 5 consecutive posts in a thread. Also, while in this state Yammy's "rage" continuously increases without requiring a cause. What this ends up meaning is his power will continue to increase endlessly until he is defeated, killed, or everything around him is completely and utterly destroyed. It should be noted this scaling, barring severe stress (aka something that would
really
piss him off) his power scaling is slower by quite a wide margin compared to normal simply due to not requiring actual causes to increase his anger.
VII. Resurrección: Segunda Etapa
» Segunda Etapa Name:
Oto Ira (Primal Anger/Rage)
» Segunda Etapa Release Phrase:
To unleash his Segunda Etapa Yammy must also reach a new level of anger, which results in him screaming in pure rage extremely loudly.
» Segunda Etapa Appearance:
When Yammy's anger in his Rage Form peaks, his ire-filled scream causes a massive eruption of vibrant crimson Spiritual Energy that engulfs his massive body and spreads outward in every direction, creating a blast zone even larger than what's left in the wake of one of his Ressureccion-powered Ceros. After the energy cools off and dissipates, Yammy's Segunda Etapa form is finally revealed. The single greatest difference between his Rage Form and second Ressureccion is size. Previously having been larger than even many
buildings
, the contrast between the two forms is stark as Yammy is at his smallest after transforming again. With a height of a flat six feet and a weight of two hundred and forty, the Cero Espada appears to have been hit by a shrink ray.
Outside of the size difference, there are few other changes after assuming his Segunda Etapa form. While he does still have crimson fur covering his legs, now he stands straight up without being bent at the knees. Also, his toes have switched back to being more human as they no longer look like fingers as ape feet tend to have. All of the bone-like protrusions across his body are also thinner and longer in comparison to the rest of his body, unlike in the Rage Form in which they are the opposite. Also his body is in general more human-like as his arms are shorter and his hands now rest at his sides instead of reaching all the way to the ground. His head is more fitting for the size of his body too, not being hilariously small compared to the rest of him. Finally, Yammy's hair has switched from a long braid to a single knot at his head and the rest flowing free (though his head is still mostly bald).
» Segunda Etapa Abilities:Primal Rage Cero:
Yammy's Cero hits it's peak while in his Segunda Etapa, being on a level far above what he is capable of in his previous forms. The difference between this Cero and his Rage Form Cero lies primarily in sheer overwhelming power as well as how quick he can use it. The Primal Rage Cero's destructive capabilities are above that of any other Espada from his time, including Coyote Starrk. To put it in perspective, the resulting explosion and fallout of this technique while in his Segunda Etapa form is multiple times more dramatic than Ulquiorra's Lanza del Relámpago Segunda technique. This is despite being much, much smaller than his physique while in his Ressureccion and Rage Form. As for the speed in which Yammy can charge them, while in his Ressureccion it usually takes a couple seconds to charge up and fire a Cero, the Primal Rage Cero can be summoned and launched exponentially faster as well as used in rapid succession, making it a highly dangerous ability.
Unconquerable Hierro:
While in his Segunda Etapa form Yammy's Steel Skin gets a boost to go along with his general power up. While previously his Hierro had been very tough and above average for his level of power, in his Segunda he is even more difficult to injure or pierce. Though durable in general, even trying to cut Yammy presents multiple problems for enemies. First and foremost, the difficulty to do so makes it so many fighters can't even harm him. Second, those who
do
try to harm him tend to injure themselves in the process. His skin is actually so tough and reinforced that Yammy can also, as part of his fighting style, slam his body and fists into things that he usually shouldn't be able to, such as extremely tough metals like Spiritually enhanced armor, sharp objects like Zanpakutō, and elements such as fire and ice without taking damage.
Colossal Strength:
It cannot be said enough just how physically powerful Yammy is while in his Segunda Etapa. This is the absolute peak of his might, dwarfing what he was capable of in his old forms and what the vast majority of people he comes across are. Yammy is easily capable of brute forcing through even high level Bakudo used by some of the greatest practitioners in history, including even Bakudo 99: Kin and Bakudo 99: Bankin. It is extraordinarily difficult to use one's Spiritual Weapon, such as a Zanpakutō, in battle against Yammy due to the simple fact that by brandishing it in battle the risk of him snapping or shattering it is significantly higher than what almost anyone else is capable of. Every movement this Arrancar makes seems to cause destruction, including just moving from one place to another. Due to the chaotic nature of his Segunda Etapa, all of his attacks use maximum effort which ends up resulting in disasters on a dramatically large scale. Part of the reason Nagato Tengan doesn't allow Yammy Llargo to enter his self-made Moon in Hueco Mundo is because if they ever came to blows, Yammy could potentially destroy the entire celestial body using nothing but his physical strength alone if maxed out.
Uncontrolled Brawler:
While in his Segunda Etapa state, Yammy Llargo's personality and combat style become even more brutal and destructive than at any other point. This is due to his Segunda being the very representation of primal rage to the point of being pure instinctual anger and hatred. Not only does this make him even more dangerous than other Arrancar in equivalent forms simply because he absolutely never holds back, but also because he doesn't try to make his victims and opponents suffer as he just tries to destroy them in an instant. He fights without the skill and knowledge of practiced hand-to-hand combatants which, while a weakness in one way, also ends up meaning he is entirely unpredictable and unreadable in battle. Attempting to copy or predict his movements and attacks is essentially impossible, making powers that do that very thing irrelevant. Also, it can very well lead "friendly fire" as Yammy doesn't try to avoid hitting or killing people there to assist or support him. Anyone on his side, if that's even possible, is vulnerable to being caught up in whatever battle he is participating in while in his Segunda Etapa without restraint from yammy.
Titanic Reitsu:
While the Spiritual Pressure of Yammy's Rage Form can be described as "
celestial
" in nature, that term cannot also be used to describe his Segunda Etapa. Every iteration of the Rage Arrancar is overwhelming in power, strength, and loudness but this transformation brings it to a whole entire other level. Man-made materials simply cannot exist in the vicinity of Yammy Llargo as entire buildings crumble and disintegrate before him. Like Nagato Tengan, Yammy's very Reitsu is enough to cause destruction on an apocalyptic scale. Attempting to gauge his power is extremely difficult, though he can be sensed from hundreds of miles away by anyone even remotely aware of Spiritual beings. Also, the very nature of his Reitsu is oppressive as all the truest rage and anger is represented by it. His Spiritual Pressure itself seems to be wrathful, causing meek individuals to flee from him in fear. If Yammy was capable of using this form when he served Aizen Sosuke, a direct assault of the Gotei Thirteen would have been possible as he would have been able to distract the captains long enough to fulfill his objectives, to put the power of his Segunda Etapa in perspective.
IX. Skill Sheet
To Find Out about what these skills are for, please
READ THIS THREAD
before you try doing anything to it. After you have read it, do not feel your skills out until a staff member has graded your thread. We will also do your will sheet for you upon grading your application.
Will Skills
Willpower/Determination: Master

Mental Deduction: Adept (Beginner in Rage Form)

Pain Endurance: Master

Focus: Adept (Master in Rage Form)

General Skills
Durability: Master

General Speed: Beginner (Master in Rage Form)

Strength: Master (GrandMaster in Ress and past)

Weapon Skill: Beginner

Racial Skills
Perquisa: Adept

Sonido: Beginner

Cero/Bala: Advanced (Master in Release)

Hierro: Master






IX. Role Play Sample



» Roleplay Sample: [Please show us how you role play by either posting a previous post from another site or creating a new one. We do this so we know your RP skill. If you already have an accepted, you need not do another RP sample]