FORCED PERFECTION
Artist: deadmau5 - Song: Sometimes Things Get, Whatever - Word Count: N/A
I. Basic Information
» Name:
Hiroko Masuya
» Titles:
The Weaver of Life, The Puppeteer, Master of Ceremonies
» Gender:
Female
» Age:
Nine-hundred and eighty-seven years old.
» Date of Birth:
November 7th, 1429
» Zodiac Sign:
Scorpio
» Orientation:
Bisexual, Aromantic
» Spouse:
N/A
» Association:
The Golden Sands Espada
» Aspect of Death:
Emptiness
» Appearance Image:
» Height:
5'7"
» Weight:
143
» Eye Color:
Grey
» Hair Color:
Teal
» Reiatsu Color:
Silver-Grey, almost like Fog
» Hollow Hole:
Hiroko's hollow hole is located on her chest, just below her collarbone in the dead-center of her torso.
» Bone Fragment:
The remaining evidence of Hiroko's previous self exists in a series of small diamond-shaped pieces of bone that are connected to each other in such a way around Hiroko's neck that they might be mistaken as a necklace or choker by those who do not look close enough or know hollows well enough to recognize the bone.
II. Personality
» Personality:
"Do you know what punishments I've endured for my crimes, my sins? None. I am proof of the absurdity of men's most treasured abstractions. A just universe wouldn't tolerate my existence."
- Brent Weeks
Hiroko is a very cold, callous, and dispassionate figure, and is rather aloof, brooding, and indifferent, willing to harm both her comrades and enemies should they get in her way. She refers to anyone she does not find interesting as "without purpose", and treats them as expendable. Despite this, she is not particularly violent, and will typically only fight when provoked.Her cold demeanor allows her to stay completely calm and in control in most situations, and she is not easily surprised or caught off-guard.
She does not seem to comprehend a good number of emotions or the decisions that people make based on emotion alone. For instance, the concept of "fighting against all odds" or the concept of the heart as something symbolic beyond simply being a blood-pumping organ are things that Hiroko has trouble grasping. This doesn't mean that Hiroko is stupid by any means, as the opposite is actually true. Hiroko is highly perceptive, cunning, and analytical. Her ability to read people and situations can border on seeming precognitive as she's one of those types that always seems to be two steps ahead of those around her.
While she prefers not to dirty her hands, Hiroko is fully capable of committing truly abhorrent and inhumane actions without feeling any shred of remorse or hesitation. Despite her demanding nature, Hiroko is not vain like a number of other arrancar could be characterized as being. She maintains a cautious and cool demeanor, being always in control of her actions. She holds herself with decent dignity and finds those without manners or refinement to be repulsive and vulgar. As she usually is not the talkative one, Hiroko spares her words and only speaks when necessary or for those she finds worthy of them. She is emotionally detached from all materialistic things but shows a stubborn reluctance to admit the existence of anything immaterial.
Hiroko is known harboring a manipulative and very dangerous nature due to her detachment. In truth, she cares very little for her underlings (both past and present), and is willing to use almost everyone around her as pawns in a twisted game of chess. In her own words, Hiroko claims to be unaffected by any form of morals or ethics as she views them as mere restrictions on her potential. She is, therefore, willing to stop at nothing to further her selfish ambitions, including manipulating or killing anyone if she deems it to be necessary. She is fond of long, complicated, and somewhat convoluted plots, and frequently appears to toy with underlings for amusement.
At a glance, a dominant trait to Hiroko is an air of intimidation. It is of the greatest pleasure to the sadistic creature to see another in pain and a way to inflict scars that run far deeper than the flesh is to scar the heart or the mind. In this way, the arrancar not only provokes the people she meets, but she toys with them as if wedging her way deeper and deeper into their psyche. Each comment, even those that are subtle or off-putting, is spoken as if it is law. This does perhaps give her an air of authority, but it all goes back to her sense of arrogance. It was not evolved through, but instead made more deformed and penetrating a quality.
Upon first meeting, one may judge Hiroko to be similar to rebellious royalty. she speaks confidently, she seems to have a lackluster poise and she says what she wants regardless the thoughts this may provoke in those around her. It is as if she is well versed but ignorant of manners in a way. Like a crocodile smile, it seems as if she is with-holding something important even when speaking a lot - as she often does. This can all make her a confusing creature to meet. The sort you feel you have pegged and then she says something that throws off the entire analysis. Again, the roots here lie in arrogance, for it can cause her to misportray herself, but this also touches onto another penetrating trait of Hiroko's personality. her lack of sanity.
Many who lack sanity find themselves without understanding or perhaps confused by their own random meanderings, but Hiroko's personality does not support this type of being. Instead, the arrancar could be called crazy not for ignorance, but for how she seems so assured and satisfied with even the most dismal and out there conclusions. The only stipulation is that the conclusion must not conflict with her values. Luckily for Hiroko, who dislikes the notion of normality, her sense of values is so distorted that it is not difficult to match up her conclusions to them.
If you saw a crying child, would you be saddened or want to help? This sort of thing is what shapes the heart of one's values. A hollow-born creature like Hiroko, however, is a creature of darkness, a being who detests weakness and hungers for destruction. So what kinds of values could such a creature possibly formulate? To put it simply, questionable ones. For this arrancar, these questionable morals and values lie not with kindness but more-so with a degenerate degree of respect. To acknowledge another, that is respect. To question what they believe, that is respect. These two notions do apply to Hiroko's beliefs but like a shallow pond - this is where it hits bottom. The arrancar respects creatures only to the degree that she would give them the time of day or perhaps allow her name as their executioner to be known. she, however, does not respect any sense of life.
This creature believes her life was stolen and forsaken by the gods of death and humanity at large and she sees the 'do-gooder' attitude to be a flagrant disregard for reality. Life is hard and death is natural where there is life. Because of this, Hiroko kills indiscriminately once she's started and sees any who would not kill to be an insult on the battle field. This viciousness superceeds her normal attitude on occasion and becomes more relevant as one learns of the way she fights. Aside from all of this, Hiroko could be an interesting creature to have a conversation with. As long as one does not spark her fuse and is careful to keep her amusement she would ignore who or what they were, for a while at-least
III. History
» History:
[Everything has a history. Even if it's just a mindless creature spawned by an org, someone had to of created it. So please put at least a paragraph or two of thought into it.]
IV. Equipment
» Equipment:
Throwing Needles:
One of the tools Hiroko uses for stealthier, more assassination-geared combat is a set of a thousand needles that Hiroko has held in two seperate containers tied to her biceps. She can fire up to five at a time from each, which she will then catch in her hand before throwing them in the direction of an opponent. For these to be effective, she mostly relies on her speed, incredible aim, and knowledge of pressure points and vital spots on the body to do any real damage.
In casual conversation, she might use one of these to playfully stop someone from doing something stupid, e.g. flicking one into a pressure point on the arm to stop the arm from moving if said person was about to smack someone else. These kinds of applications are far from malicious, and are different than her sending five into different spots to paralyze a target before using a very well placed one to stop said target's heart. This is why these can become a threat in combat if the opponent is not durable enough to resist the needles.
This is their primary drawback however. Combined with Hiroko's lack of distinct physical strength, the weakness of the needles' composition means targets around her strength or even weaker targets if they had unusually strong defenses could effortlessly block a good number of these, or find that they have no effect even if they make contact. These are mostly for use against weaker opponents, such as NPCs or opponents whom Hiroko is more training or sparring with than seriously fighting.
Summoning Scrolls:
As Hiroko's powers don't involve creating the objects that she controls, despite how much she would love to be able to do that, she instead carries a number of Scrolls on her person, each inscribed with a different set of symbols and patterns to symbolize a different masterpiece in her collection. She has one for each, and each scroll will collapse down in size when not in use, being only about two inches long. This is for convenience of travel as Hiroko is able to carry them all in a small pouch she carries on her hip instead of having to lug a basket full of full-sized scrolls to every mission she undertakes.
V. Racial and Natural Abilities
» Racial and Natural Abilities:
Frightening Natural Intellect and Analytical Ability:
Hiroko has always had a natural inclination toward knowledge in all its forms. She had built her first working puppets by age 5, and was putting on shows for her family by age 6. The degree to which Hiroko seems to just instinctually understand the inner workings of the objects around her can border on frightening. This analytical prowess is especially useful in battle, as she is gifted at divulging the strengths and weaknesses of opponents, and selecting the best tool for the job.
Gifted Craftsman and Engineer:
Tying into the above, Hiroko is a master at a workbench. Her ability to craft the most ingenious of devices is formidable. Each and every one of the puppets she controls was hand-crafted by her, every trick up every sleeve purposeful and specifically tailored to give her what she considers a "perfect" collection. Some have likened her works to being reminiscent of Renaissance artists in terms of style and meticulous detail.
Abundant Spiritual Energy:
Hiroko's spiritual pressure is nothing to be taken lightly, as the dense lavender energy has been known to put enormous strain on those who aren't prepared for it. The arrancar's reserves are impressive, boasting an endurance and longevity in battle that makes her a fierce opponent in combat due to the sheer size of the pool of energy that she can pull from for her techniques.
Low Durability:Overwhelming Speed:Underwhelming Strength:Swordsmanship Adept:Descorrer:
Weak Hierro:High-Speed Regeneration:Highly Tuned Pesquisa:Bala/Cero Master:Sonido Prodigy:
VI. Sealed Powers
» Zanpakutô Name:
Susurro Gris
(lit. "Grey Whisper")
» Zanpakutô Appearance:
Hiroko's Zanpakutō is worn on her right hip, as Hiroko is ambidextrous and prefers starting fights with her left hand wielding the blade as a way to psych out opponents who are used to right-handed challengers.
» Unique Power:
[What is your Arrancar's power? Try to make it related to what embodiment of negativity they represent. For example, if you had an Arrancar whose sin in their previous life was laziness, then you could make a power which induces lethargy on other opponents. Be creative.]
VII. Resurrección
» Resurrección Release Phrase:
[What do they say to release their sword? If any]
» Release Actions:
[What do they do to release their sword? If any.]
» Resurrección Appearance:
[Describe what their resserecion looks like. It can be written, or you can use an image. You can also use both if you want]
» Resurrección Abilities:
VIII. Segunda Etapa
» Segunda Etapa Name:» Segunda Etapa Appearance:
» Segunda Etapa Abilities: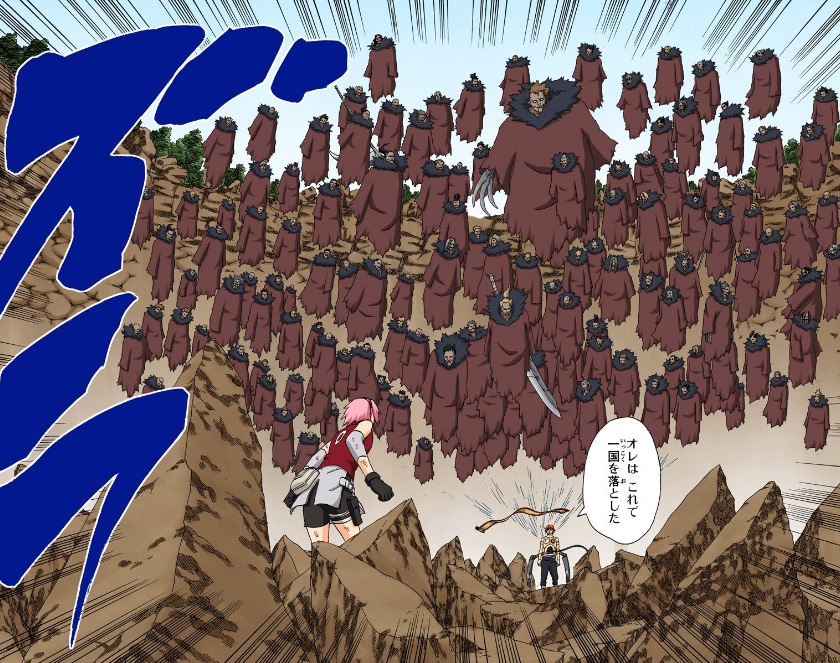 IX. Skill Sheet
Will Skills
Willpower: Master/Advanced/Adept/Beginner

Mental Deduction: Master/Advanced/Adept/Beginner

Pain Endurance: Master/Advanced/Adept/Beginner

Focus: Master/Advanced/Adept/Beginner

General Skills
Durability: Master/Advanced/Adept/Beginner

General Speed: Master/Advanced/Adept/Beginner

Strength: Master/Advanced/Adept/Beginner

Weapon Skill: Master/Advanced/Adept/Beginner

Racial Skills
Perquisa: Master/Advanced/Adept/Beginner

Sonido: Master/Advanced/Adept/Beginner

Cero/Bala: Master/Advanced/Adept/Beginner

Hierro: Master/Advanced/Adept/Beginner