THE HOLLOW TEMPLATE
Enter The Hollow
非再生可能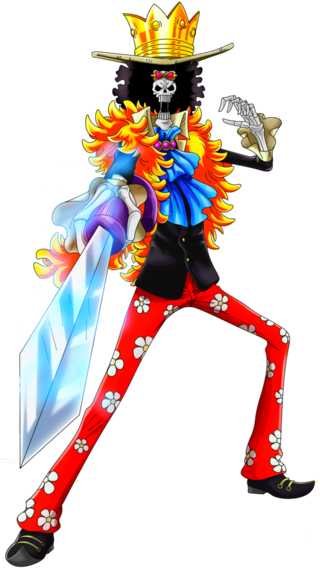 I. Basic Information
» Name:
Vrael Umaroth
» Name:
The Frozen Soul
» Age:
Unkown, suspected to be at least thirty years of age.
» Gender:
Male
» Race:
Hollow (Adjuchas)
» Association:
n/a
» Appearance Written:
Initially the main thing one notices about Vrael is the height of his skeletal form. Towering over the normal height of most beings Vrael stands at nine feet one inch tall, that is further enhanced by his choice of hat. Next one would likely notice that somehow, the skeleton that is Vrael appears to possess a full head of hair, specifically quite the afro. Generally Vrael can be seen wearing one of two different styles of clothing. The first being a gentlemanly style as he would say, while the second being Vrael's representation of a 'rock star'.
The more gentlemanly style of clothing Vrael possesses consists of mostly black, with only the coat showing a difference in color via its inner lining of orange coloration. Aside from the coat Vrael's attire also consists of a black pair of pants, a black top hat, and black dress shoes. Alas because of his years of isolation and neglect the outfit has become a bit tattered.
The 'rock star' style that Vrael has chosen consists of brighter, more colorful, high end clothing. Heart-shaped sunglasses, a yellow feather boa, a top hat with a giant crown on the brim, and orange red trousers with a floral design are what this particular outfits includes.
» Appearance Images:
One
,
two
,
three
,
four
,
five
,
six
,
seven
, and
eight
.
II. Personality
Yohohohoho!
» Personality:
Bad mannered, yet polite



Enjoy the simple things



Extreme patience... Usually



Hollow instinct
III. History
» History:
Date:
Saturday, July 9th 2416.
Location:
Unknown body of water.
Gazing into the reflection of the waters before himself Vrael could only look back on his past.. Or at least as much of it as he could remember.. He could only sit in contemplation as memories rushed through his mind.. Memories of his life as he could remember it...
--- --- --- --- --- ---
Date:
Unknown, 2386 - 2390.
Location:
Somewhere in Hueco Mundo.
The first memory that Vrael could recall was darkness, and nothing else. Time was meaningless wherever he was.. If he was anywhere. All Vrael knew at this point was simply that he
was
. Nothing more. Nothing less. He didn't even know how long he had
been
for. For an unknown span of time, four years in the world outside of Vrael's current reality, Vrael's existence in the darkness continued even as he could feel others. Eventually one day, the patient soul that was Vrael, would finally feel an overwhelming sense of accomplishment, success, and power. Following these feelings Vrael would see the light of the world for the first time that he could recall.
The next memory Vrael could recall from the same time frame was seeing his appearance for the first time. And discovering, or realizing, he wasn't quite sure which yet, just what he was. To say that seeing his reflection in a glassed section of Hueco Mundo had surprised him would be an understatement. Upon seeing said reflection the form of Vrael stood motionlessly for a time, its gaze locked onto the glass before him. In the reflection Vrael saw for the first time just what he looked like. Looking back at him Vrael saw something he wasn't expecting.. A skeleton.. Tall as fuck. But still a skeleton. Something within him had almost expected himself to appear monstrous for some reason.
Gazing at his reflection Vrael could only wonder
how
. This was because the form he now bore was nothing but bones, and an afro. There was no flesh, no muscle, no nerve tissue to hold him together.. So how was his form held together.. He just didn't understand. But that wasn't all that confused him. The most confusing thing, at the moment, was his sight. As far as he could tell from his reflection he had
NO EYES!
So how was it that he could see? Just thinking about it hurt his head..
--- --- --- --- --- ---
Date:
Unknown, 2400.
Location:
Somewhere in Hueco Mundo.
Nearly ten years would pass by as Vrael continued to struggle with his new appearance. It wasn't that the Hollow didn't like it, rather he just didn't
understand
his form, and it was that which bothered the Hollow. Discomfort with his form aside Vrael spent his days wondering Hueco Mundo, clashing with opposing hollow time and time again, such was life within the endless reaches of the white desert. And from this life Vrael was quickly learning one thing, to survive was to grow stronger, and growing stronger meant the hunger gnawed at his soul ever more.
--- --- --- --- --- ---
Date:
Unknown, 2405 - 2408.
Location:
Somewhere in the Sahara Desert, Earth.
--- --- --- --- --- ---
Date:
Unknown, 2413 - 2415.
Location:
Somwhere in Hueco Mundo.
--- --- --- --- --- ---
Date:
Saturday, July 9th 2416.
Location:
Unknown body of water.
IV. Equipment
» Tōketsu Sōru:
Tōketsu Sōru, or Frozen Soul appears to be a simple purple cane at first glance, this is because the weapon is a prepared cane, or a shikomizue. The handle of the cane serves as the hilt and grip of the blade hidden within. Impeccably sharp on its own Tōketsu Sōru is capable of cutting through even the most durable of materials, including Sekkiseki. When enhanced by Vrael's reiatsu cutting through most things is as if taking a hot knife through butter.
V. Racial Techniques/Abilities/Skills
» Cero:
Cero, a highly explosive energy based attack that serves as the staple ability of hollow-kind. While Vrael shows the ability to use the normal Cero that all Hollow are capable of the Adjuchas has also shown the capability of utilizing several variations of Cero by using Yomi no Reiki in combination with it. As of now the variations seen include the following;
Glacial Combine:
This first variant is one that launches several cero's at once. Usually utilizing 5-10 cero's at once this variant focuses around creating cero infused needle-like shards of ice. Upon doing so Vrael will then launch these shards at the target. No matter the spread of the shards they will always home in upon each other, an inherit intent to 'combine' for an even more explosive result being built into each shard. Initial injuries from this variant can be akin to being pierce by nails, broken branches, etc, depending on the size of shards created. The follow up injury is where the damage truly comes in, especially if any shards end up in internal locations. Whether or not the shards manage to close in on each other enough to merge all shards will erupt soon after impacting the target, causing an explosion of icy shrapnel and deadly energy. If all shards manage to combine the explosion is multiplied in power by roughly ten times.


Frostbitten Spear:
By channeling Yomi no Reiki into his cero as it forms Vrael can form this particular variation which works in a similar manner to Hyōga no Tatchi. When launched this cero has the appearance of an ice-like spear formed from pure energy, and as it travels it appears to freeze all it passes over/through. Upon reaching the target this cero erupts into an explosion of extremely cold temperatures that can flash freeze most things caught in the blast. In the case of foes caught in this cero they would not only suffer the usual high energy explosion of a cero, but would also suffer the chilling effects of Yomi no Reiki seeping into their form attempting to freeze them at the molecular level. As with most abilities the true effectiveness of this cero depends upon the strengths of the foe Vrael faces.
» Garganta:
Garganta is how Hollows and Arrancar move to and from Hueco Mundo. Though, due to recent discoveries by Zin Yuudeshi, it has been advanced to where it can even be used for speed-like purposes. For example, some advanced Hollow are now able to use this trait to form Garganta's for combat uses such as trapping attack's in them, unleashing hidden attacks or modifying the path that leads to Hueco Mundo to different realms. Therefore, as you increase your Garganta skill, these skills will come to your Hollow. Along with that, for each higher skill level, you will eventually be able to summon them much more quickly to use them for combat or defense.
» Lack of Flesh:
An obvious fact from his skeletal appearance is that Vrael lacks any sign of flesh, muscle tissue, and even nerves. Because of this skeletal form that he has taken Vrael has gained several traits, listed below;
Ageless:
The first trait that Vrael gained by his lack of flesh is physical agelessness. As long as he maintains this form Vrael will never show signs of growing elderly, nor is it possible to discern his true age from his physical appearance.


Inherit Immunities:
Second on the list of traits gained is an inherit immunity to a few things that would normally plague those with flesh and blood bodies. One of these is that Vrael is immune to any poison, etc, that would need to have contact with flesh in order to do its work. Whereas any that can effect the bone structure, or are inhaled, can still infect Vrael.

The second is an immunity from things like frostbite, or burns. Without flesh to grow colder and freeze Vrael will never feel the effects of frostbite, though even if he had a flesh and blood body his control over ice/cold temperatures would allow him a degree of immunity to the cold. And without any tissue to burn he would never feel the effects of the early burn stages, though a powerful enough flame could definitely char his bones and cause a high degree of pain similar to the effects of 3rd/4th degree burns on a normal body.

The final immunity of sorts that Vrael's lack of flesh grants him is an immunity to flesh wounds. Essentially this is exactly how it sounds. Wounds that would normally cut flesh, muscle, etc, and cause a foe to bleed are useless against him. Though this is not to say he wouldn't feel the pain from an attempt to cut him. Nor is it to say a powerful enough slash couldn't cut into his skeletal form. All this means is that in combat Vrael is free of the limitations, and pains, that having flesh and blood can cause.


Lightweight:
The final boon granted by Vrael's lack of flesh is any extremely lightweight form. Because of his skeletal form Vrael is capable of feats such as leaping vast distances with a graceful ease that not even the Hulk would posses, jumping incredible heights to land atop massive buildings, and even running across large bodies of water with just his natural speed. Furthermore in combat his skeletal structure grants Vrael startling agility and speed, shown by how he can effortlessly flow from motion to motion, dodge attacks with impeccable ease in compared to most, executing lightning fast strikes, etc.

» Regeneration:
This is the ability that allows a Hollow to heal most injuries very quickly, with the exception of the destruction of the head or vital organs. With that said, the higher your level is with regeneration, the more quickly and efficiently your hollow will heal. Eventually, if you reach a high enough level, you will discover new ways to enhance this such as regeneration limbs, some fatal blows and things of this nature.
*Will be editing this one depending upon tier/level of regeneration skill after approval*
VI. Powers
» Yomi no Reiki:
Vrael's primary ability, known as the Chills of the Underworld in the English language. As far as Vrael can tell at this point this ability grants him temperature manipulation to some degree, as well as the ability to manipulate and create ice through the use of his reiatsu.
At this point in time Vrael has only displayed a preference to utilize this ability in combination with Tōketsu Sōru first and foremost. Although he has also displayed the ability to quickly alter the temperature in an area around him, as well as alter his
Acidic Touch
to create something new that utilizes some similar properties.
Because of this the true capabilities of Yomi no Reiki are unknown, and will remain so until Vrael either experiments further with the ability, or is simply forced to use it in newer ways.
Hyōga no Tatchi:
A sub ability of Yomi no Reiki, and Vrael's unique alteration of a Hollow's racial ability Acidic Touch Hyōga no Tatchi means Touch of the Glacier in the English language. While Acidic Touch will burn someone at a touch as if acid contacted them, Hyōga no Tatchi is capable of that and more. Through but a touch of his bony finger Vrael is capable of inducing the effects of frostbite upon a foes flesh. The more contact, and longer the contact is for, the worse and more prolonged the effects become. With enough exposure to the touch of Hyōga no Tatchi one could even find their limbs/body being frozen at the atomic level.
VII. Skill Sheet
To Find Out about what these skills are for, please
READ THIS THREAD
before you try doing anything to it. After you have read it, do not feel your skills out until a staff member has graded your thread. We will also do your will sheet for you upon grading your application.
Will Skills
Willpower: Master/Advanced/Adept/Beginner

Mental Deduction: Master/Advanced/Adept/Beginner

Pain Endurance: Master/Advanced/Adept/Beginner

Focus: Master/Advanced/Adept/Beginner

General Skills
Durability: Master/Advanced/Adept/Beginner

General Speed: Master/Advanced/Adept/Beginner

Strength: Master/Advanced/Adept/Beginner

Weapon Skill: Master/Advanced/Adept/Beginner

Racial Skills
Acid Skill: Master/Advanced/Adept/Beginner

Garganta : Master/Advanced/Adept/Beginner

Cero/Bala: Master/Advanced/Adept/Beginner

Regeneration: Master/Advanced/Adept/Beginner

[Click the Spoiler for details on each skill section]
Spoiler:
VIII. Role Play Sample
» Roleplay Sample:
[Please show us how you role play by either posting a previous post from another site or creating a new one. We do this so we know your RP skill. If you already have an accepted, you need not do another RP sample]