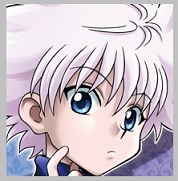 WC: 879
And so there Kiyah Nobachi was. Unlike his usual hang out, the male would find himself in a very unusual spot. His current location was in Antartica, of all places. The reason for his placement here was not any kind of deep meaning or anything of the sort : he just wanted to get away from a certain loud mouthed red head. The being known as Gattling Galeon and him never saw eye to eye when it came to moral standards. So he was certain that if he stuck around for too long the two of them would end up fighting, and he had not the energy. She'll probably end up tailing him if he goes anywhere else, but she won't end up following him here. No, that spunky little red head as a strong hatred for the cold. Here he's safe, here he should be okay.
A yawn escaped his lips as he looked around to notice the layout of the area. It's namely just snow that he's trotting in. His large and puffy white jacket was bringing more warmth than he probably actually needed but just his luck, none of his summons would be able to warm him up in this area. So he's essentially just left wadding around with the hood over his head, looking like a walking snowman from a distance.
Peace and quiet is what he was getting on the bright side. If nothing else there was a sense of tranquility, and he could appreciate that. Even if he's running lower and lower on vacation money, maybe he could put in a bit of "overtime" for the hunting scene. So he continued the seemingly mindless tread in the snow filled lands. That was until the young Ziamichi's spirit decided to finally speak up.

"Kiyah."
A frown all over her usually smiling face.
"This area. It's cold."
The male is only left to frown at this point at hearing such a thought. His spirit was well aware of their reasoning for leaving in the first place and he wasn't all that sure if she could even feel the cold. But she was obviously just worried that something might happen to him if he stays out here too long, and a worry like that was very much so warranted.
"Yes, it is a little chilly out here. Hopefully it warms up soon..."
He shrugged.
"I kinda just wanted to get away from that red head. She's got too much energy, and that's coming from me. Everything with her is, "JUSTICE THIS", and "JUSTICE THAT" and asking me when I'm going to take the side of justice. I kill monsters, get paid, train, and sometimes go out to meet up with people. I don't plan on getting into a life style like that, especially since I don't think I"m nearly as paragon as her."
Hikari is easily able to sense the negative energy coming from him and is only left to sigh at his responses before speaking up herself.
"While that's all fine and makes sense, my bigger issue is that we're not wandering in a snow wasteland. You have some practice in this field of battle, but it's not ample enough to survive whatever dangers could be up ahead. I'm just worried for you as you know I can get because I don't want any ill will to befall you."
He sighed, just cracking a smile.
"I know, don't worry though. We'll be alright, I don't think it's gonna be getting ugly any time soon."
But that peace didn't last for long. As when he said that he noticed two pieces of rope seem to rise up out of the snow. It's when purple eyes were seen and fangs were bared, he was able to tell that the pieces of rope were actually monsters of some sorts. Seeming to taking on the form of snakes.
"Look at that, ain't even been at the party for forty minutes and we're already getting the warm welcome."
He goes to pull Thriller from it's holster and cocks the gun back, as both of the "snakes" lunge at him with their mouths open.
BANG, BANG.
The sound of gunfire could be heard in the distance by anyone who was near, as he managed to kill both of the snakes in just two skillfully placed shots to their heads. With that being done he would go to put his gun back up.
"Wow, this place is actually dangerous. We should explore a bit more and try and get some help."
The spirit's face was red in anger.
"T-THAT'S WHAT I WAS SAYING TO DO IN THE FIRST PLACE!"
She shook her head, going to monologue a bit to herself now.
"We wouldn't be in the middle of this issue if you knew how to understand a woman's heart. You're supposed to be a gentlemen."
He shrugged, scratching the back of his head nervously as he continued to walk in the distance.
"I definitely try my best and all. But for what it's worth, chivalry is dead."