Basic Information
_____________________________

• Name:
Savannah Sophia Simmons
• Titles:
"Pink Eye" (Infamous and greatly disliked.)
• Age:
16
• Gender:
Female
•Affiliation/Rank:
N/A
•Character Themes:
1.


2.


•Appearance Description:

Savannah stands at a fairly short 5'6, though visibly has a rather athletic looking build despite the light weight appearance. The female has a set of purple hues which are viewed as strange wheres he grow up ( a trait that her parents note only her auntie and great grandparents share). Along with this her hair is equally oddly colored, seemingly a mixture of two blues and rather "wild" looking. It is usually seen flowing just past the female's shoulders.

When it comes to actually dressing up, her attire is usually composed of whatever allows her to move as freely as possible. She's known for wearing tank tops that show off her flat stomach that she happens to take a lot of pride in. She occassionally wears jeans, but it's much more common to see her in a pair of shorts (usually blue) as she is not fond of feeling restricted. A pair of headphones are almost always dangling around her neck if they aren't covering her ears also. Foot wear wise she prefers wearing tennis shoes and high tops above all else. To top if all off, she's rarely ever seen without her signature purple tinted sunglasses.



[b]• Appearance Picture:
_____________________________
Personality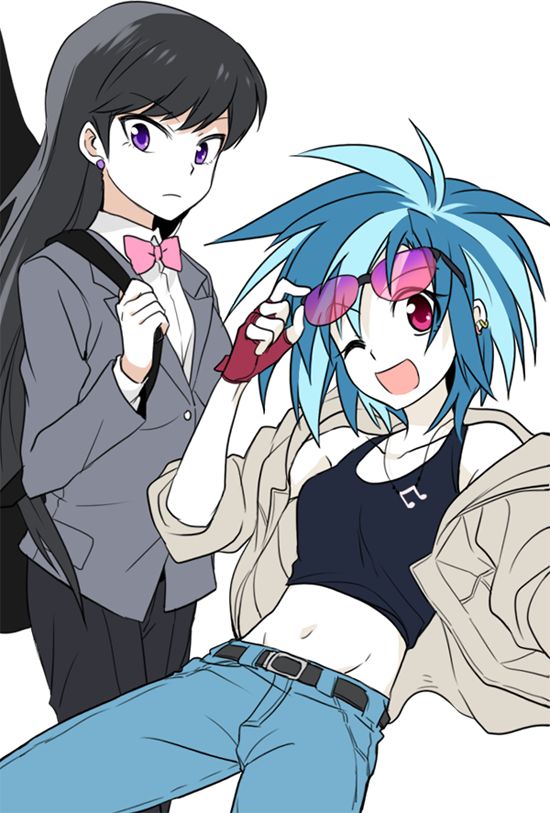 • Personality:
Savannah's personality is rather easy tell soley by the way the invidiual is known for dressing. For one, the female has a rather big obsession wtih music. Though she loves music of all forms, she usually prefers rap,metal, and anything with a fast beat. That being said, just about anyone who seems to have a distaste for music she makes a mental note from the jump and marks them down as a bad person. The female is very friendly and is not shy about trying to start a conversation with a stranger in the slightest, as she loves meeting new people. At the same time, she's not fond of anyone who gives off a boring vibe to her. Such as bookworms,depressing, and all in all uninspired people who have no sense of direction for where they're going or what they want to be but down. But anyone who is able to become friends with her can rest assured, she is very loyal to those whose company she generally enjoys.
On the plus side, she is a very hard worker. She believes in success from the grind, and this means when it comes to training routines she never skips a beat. It's in part why she has the physique that she's very proud of and can sometimes be a bit of a show off about via the way she dresses.
She has a innate hatred for anything she deems as evil, and will generally try to keep a distance from anyone who gives off the impression they're into things like bullying, stealing, and of course killing. She's had to deal with a few of these things in the past, and it's a past she does not like to think about.
If there is anything that can make the female feel or act awkward, it's a sense of "family". Due to a bad past with her old one, she can feel a bit indifferent when the mention of it comes up. Though she has a new and loving home, it has not erased all of the terrible memories she had of the past. At the same time, seeing a brother and sister bond or a father hold up his child, the nice things like that do bring a smile to her face for reasons she cannot explain herself.
Morally, she is not all that perfect. She had a bit of a scrappy attitude that she's left dormant for the most part that was a resultant of how she used to be. Lately, she's known more for being very sharp tongued and witty when needed, but not backing down from a fight if she needs too ( and sometimes, just to prove a point.)
Relaxing is also a big thing on her list, as she believes that one cannot work hard without playing just as hard. So she's all for sleep and music, though she wouldn't ever let it distract her from her many goals. To be able to share her love with music with others, to ensure that none of the youth of today has to go through a fraction of what she did. Even if it starts out small, she feels like any kind of difference helps.
Within all those good dreams she has, she's nothing like a saint. She can still be judgemental and sometimes play pranks on people, though only does so in good fun.
_____________________________
Natural Attributes & Supernatural Powers
• Natural Attributes:
-Acrobatic: Though nothing like a super human, Savannah is a very acrobatic individual. She's able to do backflips,front flips, and the like without needing to build up as much momentum as other individuals. Along with this, the female is naturally fast and agile. Though as far as strength and durability goes, she's lacking in both of the areas. She's also rather flexible.
-Firearms: Savannah was taught the basics by her "mentor" that she befriended. This came from reloading and firing while under pressure, shooting from different angles, aiming, all the fundamentals. She has only ever used these skills in two actual situations: One in order to stop a couple of criminals who tried to break into her home, and another where she got into a shootout when trying to prevent a bank heist.
-Close Quarters Combat: Savannah has a basic understanding of CQC as well, though is by no means an advanced user. This was learned for combat when she has no bullets and not enough power to shoot off a eye blast. Unlike her other skills, she's never really needed to use this in a serious situation.
-Sing Along : More of a skill, she has a rather beautiful singing voice. And it's one of the few things that when complimented she can get a bit flustered about. Naturally, she is an amazing dancer as well.
• Powers:
Progenitor Virus [PASSIVE] - The 1st level of the gene she inherited. Thus far, the only supernatural ability it has granted her was the ability to shoot beams out of her eyes.
Crimson Auge Explosion [Crimson Eye Blast]- The ability that earned the girl the nickname "Pink Eye" is actually her lone reiatsu ability. This ability in short allows her to fire energy blasts from her eye balls . She can control the intensity and speed of the blasts rather easily.
[Blasts at highest output (currently): speed and power equal to a cero]
[Blasts at lowest output (currently): speed and power equal to a bala. ]
*High output can only be fired once a post and has a single post cooldown.[8 MAX a thread]
*Low output can be fired at up too 9 in a single post and has a 2 posts cooldown. [ 20 MAX a thread]
• Pure Abilities:
N/A
Inventory:
[Finger less Gloves]
Worn must of the time. Nothing special, she just likes them.
[Attachment Case F]
A side pouch that is used to store spare magazines and ammunition.
[Klondike]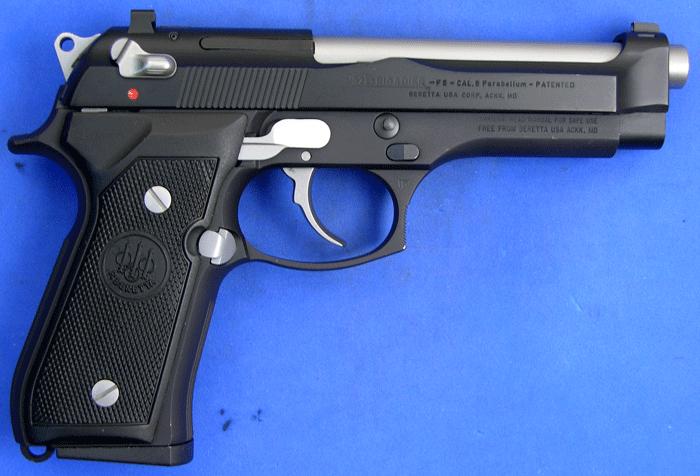 A customized Beretta built by Darrel Rose a gun smith. It uses 9mm rounds. It is carried in the Attachment Case, or is kept in a holster she wears on her thigh.
[Ammunition Totals]
x40 9mm bullets a thread.
[Magazine holds 10 bullets]
[Cutters]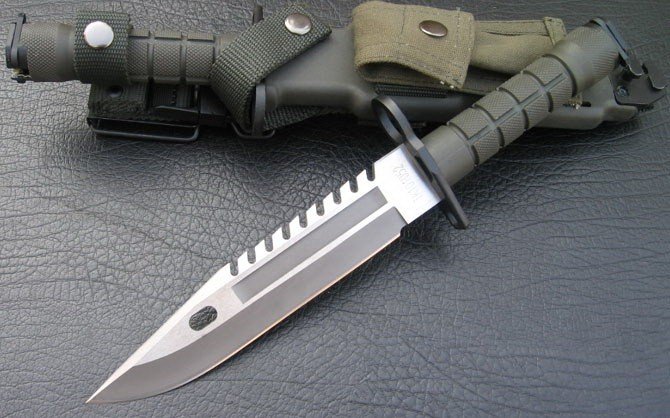 A basic combat knife. Nothing special.
[Head Phones]
What she's usually seen wearing whenever she's listening to music.
_____________________________
Sacred Release

• Sacred Release Appearance: (Describe what your human looks like when they release their spiritual power. This is essentially equivalent to a Shinigami's Shikai.)

• Sacred Release Powers: (Does your human get any additional powers from this transformation? For instance, if you had the power to control Fire in your base, could you control heat and magma in this state? Or would you gain something else?)

_____________________________

Ascended Sacred State

•Ascended Sacred State Appearance: (Describe what your human looks like when they release their spiritual power. This is essentially equivalent to a Shinigami's Bankai.)

• Ascended Sacred State Powers: (Does your human get any additional powers from this transformation? For instance, if you had the power to control Fire in your base, could you control heat and magma in this state? Or would you gain something else?)
_____________________________
Background History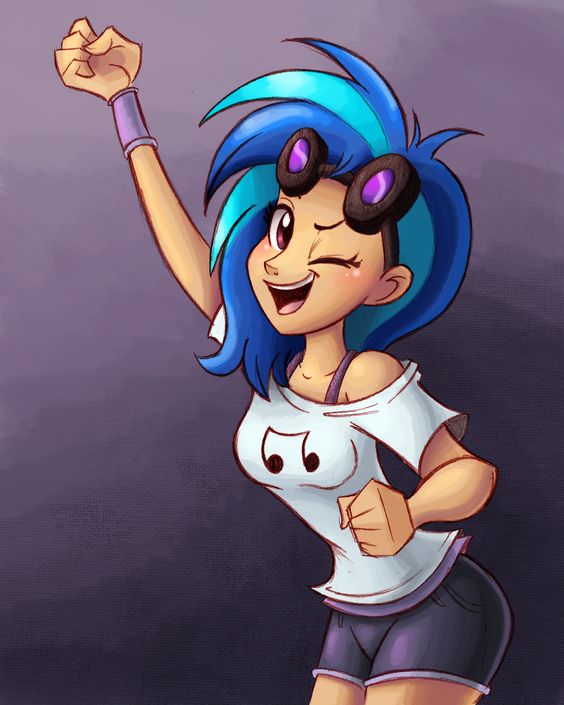 • Background:
The Progenitor virus or "gene" was a gene that was said to hold great power and give users the vague ability to "defend oneself" in pressing times where enhanced humans were threatening those who had no powers. Because of the aggressive people around them, many were pressured simply by more hostile environments to try out this virus that was developed by a scientist no one in the town really came to know the name of. For some, the powers weren't all that helpful. Glowing in the dark, being able to flow water in a certain direction, making yourself slightly warmer..
But for others, the changes were a bit more drastic.
In the case of one individual in particular, Selina Simmons was one of the few who could use the gene to the best of it's potential. As far as what her power was, it was assumed to be a mix of enhanced strength, speed, and the ability to use ice. Selina Simmons offered herself up as a test subject and was marked down as a "success" and was able to fend herself off throughout the trying times. Though as she finally started to have children, the gene did not seem to ever carry down. While she was afraid, her descendants seemed happy. They hated the usage of powers and believed anyone who had them was a freak, so naturally they were all very thankful the powers had skipped them, or so they thought.
Savannah Sophia Simmons was the first individual in her family in over fifty years to be born with the gene. This was evident by the odd color in her eyes, though her parents were not able to realize it. Her father who came from that bloodline cursed it, and vowed to never let Savannah see her great grandmother since he didn't want to speak to her after numerous encounters with enhanced users.
Savannah herself would not discover her powers until the day she was getting bullied. She was still around the age of only eight years old, though she recalls it vividly. She had been picked on often by a number of individuals who had unique gifts of their own, yet she never really spoke up or told her parents. Up to a point they had never done much to hurt her, only haze her. But when one of them finally changed stance and punched her in the face, she was overcome with the rage that she had been keeping buried within her for a while.
Her eyes glowed for a brief moment, before red beams of energy were fired right at the female that punched her face. The female cried out from the searing pain, as the other bullies seem to scatter. Savannah quickly ran home with tears in her eyes as she tried to explain the entire situation to her parents. How she didn't mean to hurt anyone, how she didn't know what she had done, how she wished she could take them back.
Unsurprisingly, they were not understanding of her. They hated that she was like this, and told her lies to her face that it would all be okay. When they believed the female was sleep, they begin to speak down on her. Unknowing to them, she was listening to every word.
"A monster."
"I can't believe I gave birth to it."
"Well, what do we do?! It's got to be someone's problem."
"We could send her to that great grandmother of yours, it's her fault anyway."
"Hell no. I don't speak to that freak and I don't want too anymore knowing what she's done. Because of her insecurity our daughter is a...a freak! What will the rest of the family think?!"
"..I guess we don't have much of a choice."
Savannah's heart had dropped, and immediately after already having had stopped crying, she broke into tears again. She cried softly into a pillow, not wanting them to hear her. Subconsciously, the female reached for the headphones she had been given as a birthday present and just listened to music. Music was there for her, it was soothing right now. Even if she was hurting really, really badly at the moment. She thought she was a really good kid, she thought she did everything right. She wasn't disrespectful, she made good grades, but she couldn't help what she was in the people she loved the most eyes..
A freak. That's all she'd ever be, that's all she can amount too. If it wasn't for the music, she'd be swimming in a sea of despair. So she just let it play, and play, and play. Until she was eventually tired enough to drift into sleep.
The next day, her parents had decided to put her up for adoption in the oddest way that she could imagine. Of course at that time, she felt as if she had no control over what their decision was. That there was nothing she could say, nothing she could do to get them to not let her go. Savannah was adopted rather quickly by a middle class family.
Gary and Melissa Grudge happily took her in and understood the girl's issues as she told them too her. Gary decided to help by letting Savannah know that rather than disregarding her gift, she should take pride in it as it is part of what makes her special. While staying with them, Savannah made friends with a person she calls her "mentor". This mentor taught her all she needed to know about survival, how to defend herself, and even further embrace her gift. He was part of the reason the female turned out to be what she is today. Coupled with the new happy familial life that she lives and the mentor who's always seem to be there whenever he was needed too, Savannah sees little reason to be sad and linger on her past.
The only dreadful reminder of it that she holds is her last name, as she recalls someone whom she cannot remember instructing her to do so. What the female can remember is that she felt as if there was no reason to disobey the order.
_____________________________
General Skills
Durability: Master/Advanced/Adept/Beginner

General Speed: Master/Advanced/Adept/Beginner

Strength: Master/Advanced/Adept/Beginner

Weapon Skill: Master/Advanced/Adept/Beginner

Will Skills
Willpower/Determination: Master/Advanced/Adept/Beginner

Mental Deduction: Master/Advanced/Adept/Beginner

Pain Endurance: Master/Advanced/Adept/Beginner

Focus: Master/Advanced/Adept/Beginner

Human Reiatsu Sheet
Power Control: Master/Advanced/Adept/Beginner

Energy Usage/Regeneration: Master/Advanced/Adept/Beginner

Energy Resistance/Endurance: Master/Advanced/Adept/Beginner

Physical Augmentation: Master/Advanced/Adept/Beginner
_____________________________
Human Reiatsu Sheet
Power Control:
Master/Advanced/Adept/Beginner
Energy Usage/Regeneration:
Master/Advanced/Adept/Beginner
Energy Resistance/Endurance:
Master/Advanced/Adept/Beginner
Physical Augmentation:
Master/Advanced/Adept/Beginner