B A S I C I N F O R M A T I O N
Name:
Byakuya Kuchiki
Gender:
Male
Age:
Unknown
Appearance:
His physical appearance is rather renown, his eyes are a slate grey while his hair is a vital pitch black, along with five hair pieces known as kenseikan. They hold the hair in a certain shape and keep a good positioning as well as showing his rank as head of a noble clan. The scarf is a family heirloom that is handed down from generation to generation and is given to each Kuchiki family head. The scarf alone is worth enough to buy ten mansions in the Seireitei.] He also wears fingerless white gloves that cover only the back of his hands.
His shihakusho (shinigami outfit) is that of being very formal and polite due to his image of being captain and head of the kuchiki clan. His hair is a pitch black colour, but however in it he has three rather interesting hair pieces which hold his hair in place called a, kenseikan, which was also a symbol of his rank of the kuchiki cla
__________________________________________________________________________
P E R S O N A L I T Y
Personality:
Byakuya strongly believes in law and order. As the head of one of the great noble families and as a captain in the Gotei 13, he always works hard for a peaceful society. He seems to hide his emotions quite well, making him a very sensitive yet concealed man. If one thing is set out of order, he will either get it fixed and/or replaced. As a kid, his family always enforced the rules of Soul Society and Seireitei into him, most likely making him the way he is now.
As such being the 28th noble head of the Kuchiki family, Byakuya shows extreme self centred and well kept attitude. Abiding the rules and beliefs of the Kuchiki family and the beliefs of soul society/seireitei. Due in part to his status in Soul Society, he generally acts indifferent, bordering on arrogance, to most situations that he is faced with as seen from how he rarely views his opponent worth his time. Despite this trait, Byakuya is a very perceptive man and is fully aware of the limits of his abilities and usually anything he states in comparison to an opponent is justified. Byakuya is popular among the female Shinigami of Soul Society, and was voted number one in the "captain we desire to release a photo book for" poll taken by the Shinigami Women's Association. He likes Japanese cherry blossoms, night-time walks, spicy food, and bananas, but he does not like sweets.
Byakuya has shown open disdain for those who have been disgraced or who he finds to be annoying or overconfident. This is shown when he uses unnecessary force against Ganju Shiba, who was little to no threat to him, just because he was a member of the formerly noble Shiba family.
__________________________________________________________________________
B A C K G R O U N D
History/Background:
Byakuya was always brought up into the noble families, the Kuchiki family, one of the four noble families. He would spend countless hours training, in preparation of taking over the leadership of the Kuchiki family and the 6th Division from his grandfather, Ginrei Kuchiki. During his younger days, he was always seen to be rowdy, quite ironic due to his current personality, he was always being smart towards people especially Yoruichi Shihoin, however she was good friends with byakuya from an early age and would constantly visit the Kuchiki family to muck around with Byakuya and just have some pure fun.
During his younger years, he would always be very playful and constantly practice zanjutsu in the kuchiki clans yards. However, so little is known about his past as it is never explained in the anime or manga. Byakuya was preparing to take over leadership of the clan, although his grandfather was worried about his rash and hotheaded attitude which has since now changed since becoming captain and head of the clan.
It is implied that Byakuya Kuchiki became captain of the 6th division about 50 years before the main Bleach storyline. Gin Ichimaru would commonly start pointless, for no reason, conversations with Byakuya during times they walked across each other paths or even met each other. In spite of his icy and regal manner, Byakuya cares for and protects those important to him. After the events of the Aizen incident, he admitted that law isn't perfect and became more lenient, as well as more protective. Especially of his adoptive sister, Rukia Kuchiki. Fifty-five years ago, Byakuya married Hisana Kuchiki, who was a commoner from Rukongai; therefore, he broke the rules by accepting her into the noble Kuchiki family. Five years later, she became sick and was near death. Shortly before her passing, Hisana asked Byakuya to find and adopt her biological sister, Rukia, whom she had abandoned as a baby. She also made him promise that he would not tell Rukia about her real family, for she believed that by abandoning Rukia when she was younger, she was not worthy to be called her sister.
Due to the lack of history behind Byakuya, it makes it difficult to get more information.
Natural Powers:
Shunpo:
Spoiler:
a movement technique that allows the user to move faster than the eye can follow.. The focal point that determines the basis of this technique is speed. As speed is the main point of the technique the method is best characterized by how fast one can get from point A to point B in the least amount of steps. Training and skill are what determines how fast a user of Shunpo can move; those of little skill in the technique or those who haven't used it an extended amount of time would obviously be out of practice, causing those individuals to be considerably slower, which requires the use of more steps to move the same distance and become winded far easier in a shorter amount of time.
Senka
Spoiler:
A special Shunpo technique where one moves to their opponents back. Directly attacking and sealing one's "Saketsu (鎖結, Chain Binding)" and "Hakusui (鎖結, Soul Sleep)" in one strike. The movement is so fast that an opponent may not be able to tell whether he was attacked from the front or the back and even an outside observer may find it impossible to tell what the movements are.
Utsusemi
Spoiler:
It allows for a movement at great speed leaving an afterimage behind. The afterimage may even appear to have taken damage
Kidō
EXAMPLES OF Kidō, BYAKUYA KNOWS HIGHER THAN THESE HOWEVER.
Spoiler:
The technique that Shinigami use to focus their Spiritual Energy into a wide variety of magic spells that can serve many purposes, such as healing, defense, or combat. According to Sōsuke Aizen, it is one of the four basic Shinigami combat forms.
__________________________________________________________________________
Zanpakutô Spirit Name:
Senbonzakura
Appearance:
Inner World:
N/A
Sealed Zanpakutô :
A regular katana, with a simple cross guard, which is a simple open frame, much like a four-pane window. It has a white-colored hilt and white sheathe.
Release:
Scatter, Senbonzakura.
Shikai Description:
His shikai really only has one ability, the blade scatters across the entire battlefield revealing purple flower peddle's scattered across the entire battlefield. However, due to the fact of them being flower peddles, they do not act as flower peddles. They appear as flower peddles because they are so fast and so many they take the appearance of peddles where in actual fact it is like a thousand blades floating around in the air. However, if the release completes itself, then Senbozakura is rendered near-unstoppable as a result. While the blades are supposedly too small to see normally, they reflect light in such a way as to appear as cherry blossom petals. He can control them in his mind, making this technique almost unstoppable.
Bankai Description:
While his bankai is rather similar in ways to his shikai, it has different forms and one main ability. Saying bankai, he drops his sword which goes into the ground and raises up on either side of him a flurry of swords which at the words, 'scatter senbonzakura kageyoshi' they all break down into flower peddles like it does in his shikai. Ultimately, his bankai is a massive boost from his shikai, instead of having a thousand flower peddles he has now over a million floating around, ready to slice the enemy at any given time.
Senkai: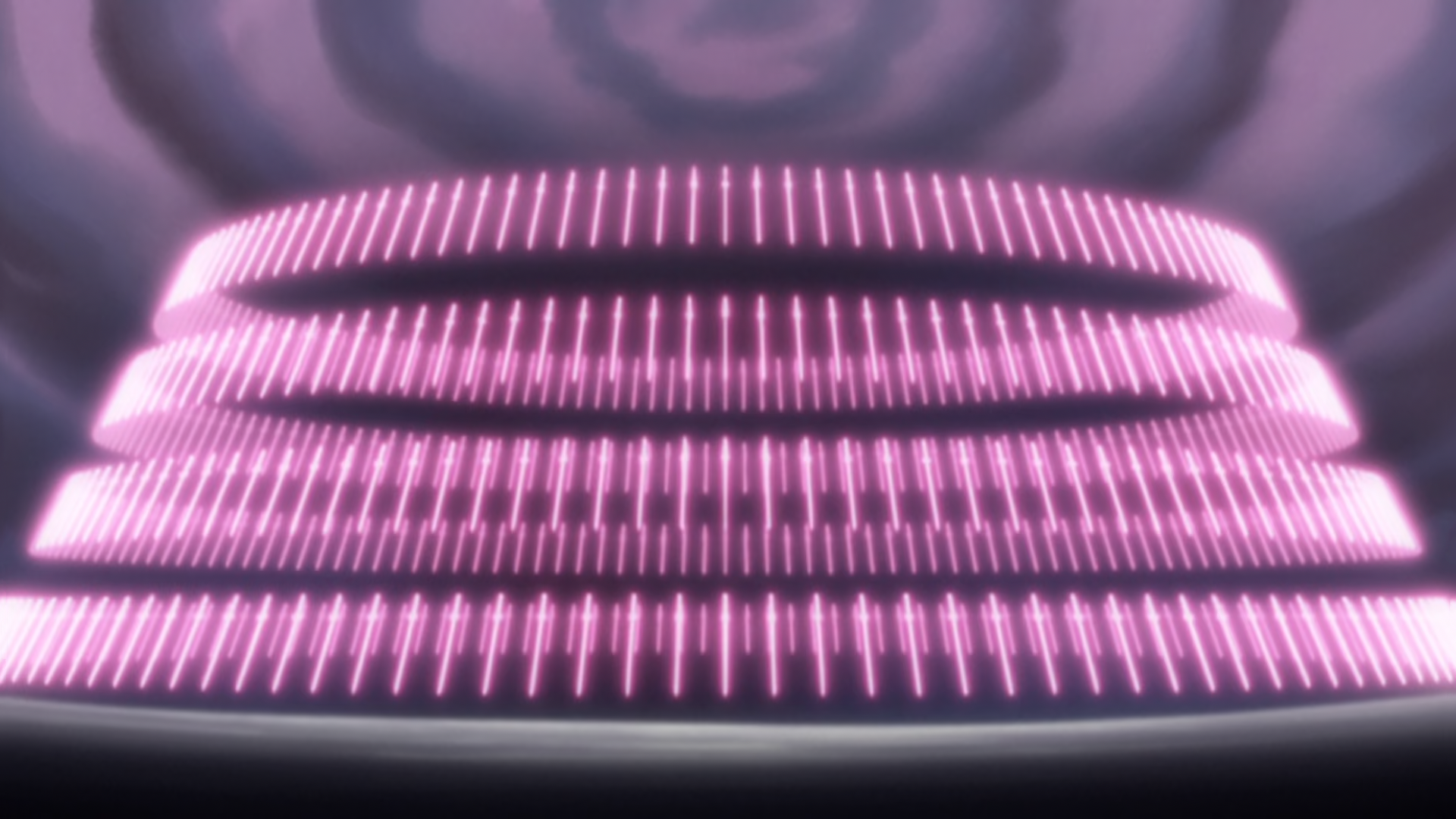 A large number of sword grows around the entire battlefield in which they are both fighting in. While Byakuya can mentally control these swords as he does his regular blades, he commonly calls them to his hands for actual melee combat. When in his hand they lose their glow, and take the form of his sealed Zanpakutō. The most effective use of the Senkei form is that it allows for use of all the swords at the same attack level, making it highly versatile as a way to effectively defeat an enemy unaware of the danger of the situation.
Gokei:
This form increases the number of tiny blades immensely. It creates a spherical formation of over 100 million tiny blade fragments, which swirl around the opponent like a cloud. It then flies into them from every possible angle, leaving no blind spots and no possibility to escape. It was strong enough to completely obliterate a very large building from the inside out, and the resulting shockwave generated by the attack is so powerful that Byakuya himself has to Flash Step away (Byakuya is normally immune to the cutting effects of his own Bankai, evident by the fact that he could wield the swords generated by its Senkei formation with bare hands without cutting himself).
Shuukei Hakuteiken:
This technique is used as a final resort for byakuya, he only uses this technique when his opponent is extremely strong and to show his appreciation in that they had got him to the point in which he had to use it. The spiritual energy and pressure of this form released is immense. The blade appears bright white and its aura takes the form of a bird, earning it the name Hakuteiken. Pure white wings form on Byakuya's back, as well a halo-like circle, made of concentrated spiritual energy. Using his entire arms and body, he charges towards them and slices them, often ending very bad for the opponent.
__________________________________________________________________________
R P S A M P L E
Roleplay Sample:
Like normal, no expression was all the way over Byakuya's face. It was pretty much is trademark face, a face that was full of expressionless emotion. His arrancar opponent, Takashi, stood tall, at a clear 7 foot height, towering over him, however, his opponent seemed almost to over confident for it's own good. Charging in, the tall arrancar advanced, swinging his blade from right shoulder to bottom left hip. Within a single motion of byakuya's right arm, he raised it, the Arrancar blade slit down the shinigami's sword sending an abundance of sparks at both metals connected, his opponent was to reckless with his attacks it was obvious. Byakuya, quickly but steadily, retaliated once the blades had finished making contact swung using both hands a chop aimed at the Arrancar right shoulder. The hit connected! Slicing right down the enemies shoulder, blood seeped through the wound, the hurt arrancar stumbled before noticing a hand pointed at his gut, Byakuya saying the words, "Hadō 4 "Byakurai". The electric lighting launched off his finger, travelling its way into Takashi's gut planting a rather heavy chock into him. From behind, a trail of blue light could be seen flowing from the centre of Takashi's back, blood seeped out from the wounds on the arrancar, however he would not be taken so lightly, or be killed so easily. Seeing as Byakuya was now close, taking a step forward, he latched onto Byakuya's left hand with his own palm, not letting go before charging up a red cero in the same hand that was holding the shinigami's.
Appearing 20 metres away now, Byakuya looked at his hand. It was clearly incinerated by intense power of the cero, not even making a sound of pain or contempt he acted as always, oblivious to it. The only thing was, he was lucky it wasn't is right sword wielding hand, it would make things a lot harder if that had happened. "You're weak and petty moves will not get you anywhere. Try harder if you want to defeat me." Once again, lashing out Byakuya assumed a fighting stance he readied his sword for an attack, but decided he would get the upper hand here. Slipping right past the opponents eye sight, Byakuya continued past as if it was an ultra fast shunpo, also known as senka, once he reached behind the arrancar, he swung his sword slicing all the way up his back. Blood flew and pored out everywhere, it escaped from the wounds on Takashi, his weak, now motionless body dropped to the floor, a heap of blood following after him. Sighing in disappointment, the ex-6th division captain sheathed his sword on his waist, it seemed his opponent was to weak to continue with their battle... it was now pointless to continue if they can no longer move. "Not worth my time..." Byakuya said as his slim, tall body walked off into a now open senkaimon.
_______________________________________
S K I L L S H E E T
{Please do not fill out the following until your character has a tier}
General Skills
Durability: Advanced

General Speed: Advanced

Strength: Advanced

Weapon Skill: Master

Racial Skills
Hoho: Master

Kidō: Advanced

Zanjutsu: Advanced

Hakuda: Advanced