[THEFROST]
Head Admin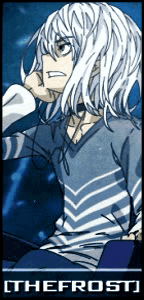 Joined

: 2010-06-03


¥ Yen

: 521113571


Posts

: 4346


Karma

: 94


Age

: 20


Location

: Purgatory

Member Info
Awesome Bar:





(1000000/1000000)


Tiers:

Subject: The Power Of Chi: The Enlightened Humans Sun Apr 17, 2011 12:42 pm

---

[ E n t e r || C h i ]

Chi Itself: What is Chi? Chi is basically a simple term for the universal energy, or the energy that radiates everything around us. This feng shui term applies to the energy inside your body, as well to the energy inside and outside of buildings. However, in the past few centuries, humans have learned have to manipulate this energy to their own needs. Thanks to them awakening to the spiritual world around them, their bodies have evolved where, through enough training, can harness this energy. For example, with Chi energy, humans can easily walk on the air like Shinigami and other races do with manipulating the spirit particles. Another more powerful example is that they can generate enough Chi energy to create a whole new sit of abilities similar to cero and kidou.

As a result, many different power types can arise from this ability. It has even gotten to the point where some humans have "Awakened" and have used these skills in order to create new forms, stages or bodies that can even keep up with the other more powerful races that have invaded Earth.

Learning How To Use Chi: There are a variety of ways of learning how to use this Chi. For example, some people are just born with the gift from the new generation of humans that have adapted to this chaotic world in which the need to a new power is demanded to protect thyself. If you are not born with it, you can also train for it by meditating and working on channeling Chi to through body. Sometimes, though, Chi can also appear randomly such as in a crisis situation arises and the users life is in danger. For a brief period of time, if this happens, the user will attain a great amount of Chi energy to use in order to escape or eliminate the threat. From there, their body will then be able to use the Chi around them with more experience.

Another way to learn how to use Chi is the scientific route. With the advancements in the 25th century there have been many devices, facilities, academy's, methods, studies, body simulations and hypnosis used to unlock a person's powers. So, as you can tell, there is a variety of ways to learn how to use this Chi. The method which works best is up to you.

Awakening: An Awakening refers to a human that has transcended to a higher state of being with enough Chi mastery. When this happens the user typically achieves a state of understanding, enlightenment, and balance. This enables them to go on and develop a completely new level of power. With this new mastery of Chi, the user will be able to craft their body, powers and weapons however they see fit. This simply means you get to choose the route your powers go down. You are in complete control at this state and are the master of your fate. You choose how you look in this state, your abilities that are within reason and attack's.

Not only that, but Awakened Humans typically have an extended period of life compared to Regular Humans. It is not known yet, but most awakened humans have the ability for living for hundreds, if not, thousands of years. And, even if they are killed, their soul will be able to maintain these powers in their new body. It may take some time to remaster them in a Shinigami or Soul-type body, but it is doable.

Fully Awakened Humans: These are EXTREMELY rare, but if a person is able to achieve a 0-2 or 0-3 tier level and somehow attain semi-immorality, the caster's life force would possess an infinite amount of Chi, granting them access to tremendous and powerful techniques on large-scale that they create themselves; Thus allowing them to become a semi-divine being. And, at this stage, they would have the potential to become a full Angel once the requirements are made.

Universal Tools: Chi Energy can be transfered into objects following complicated spells, rituals or other methods which can give birth to miraculous items that posses massive spiritual power on their own. For example, previous Fully Awakened Humans have created powerful weapons, items and tools for new generations to use that can have many different abilities, powers and effects. It's all up to the user how they create the tool.

Yang Surge: Most people on Earth call it this, but a Yin Surge is a powerful blast of white light that is released from your body's life energy. It can take any kind of shape you wish, however, upon hitting something it will not only do large scale damage similar to a Grand Rey Cero, but it can even accelerate energy across a 2000 meter area in order to make some people or objects more vibrant, bright and a general sense of upward energy is felt in the effected area. When this happens, it can increase the users own powers for a period of three post. Not only that, but if a soul is killed by this, the chances of them becoming a hollow is lessened greatly.

Yin Surge: As to be expected, a Yin Surge is the exact opposite of a Yang Surge. When this attack is used a powerful blast of black light that is released from your body's life energy. It to can take the shape of whatever you wish and cause massive damage, but in it's effective area of 2000 meters it can cause a mass silence within the area, deep darkness to be visibility seen and an overall slowed feeling. When this happens, the users abilities will be boosted just like the Yang Surge.

Geppo: Being that there powers somewhat evolve around the Yin and Yang, moon step would be their form of flash step, high speed movement where in the case of tier you will be able to keep up with the Shinigami's flash step. Yuèqiú bù thought does have one thing that is different from the Shinigami's flash step because it makes no noise.

Vindeca "Heal": Using Chi in order to get their bodies to the best shape as possible, using the chi flowing in there own bodies they are able to regenerate faster then the normal human beings this doesn't mean their bodies heal instantly, it's almost like the Shinigami, there bodies can heal faster then normal humans can, this doesn't pertain to any injuries like a cut off limb, they cannnot regenerate a arm or a thumb or anything, these are flesh wounds to the body.

Tekkai "Iron Mass": Training themselves as much as possible along with the Chi in their own bodies they have formed a almost 'perfect' body where their muscles are so close together that they have higher endurance then the normal human, also with using this they are able to form Chi on their own skin, this is constantly active, and is a lot like the Arrancar's own Hierro.