B A S I C I N F O R M A T I O N
[center]
Name:
Konomi Osanka
Gender:
Female
Age:
300
Appearance:
Standing at 4 feet tall and 7 inches tall, She has long purple hair and light violet eyes, but the most distinguishing characteristic she holds are the horns on her head. They are something not many within Soul Society have, and for some reason, Konomi has them, yet she isn't shut away because of them. Most just ignore her horns since they once had a giant dog for a captain in the Gotei, so anything is possible! She weighs 89 pounds and has a bright cheerful smile upon her face.
__________________________________________________________________________
P E R S O N A L I T Y
Personality:
Konomi is a bold character, she isn't afraid to stand up for her friends and enjoys helping them out. Although she plays quite a feminine character some of the time. More of when her friends are scared, in danger, upset, etc She shall step in. Konomi doesn't really have fears other than thunder and lightning as well as the death of others. With this attitude, Konomi appears to most as a cute and adorable young girl who is always smiles and cheerful, but once on her bad side, the true Konomi comes out. She doesn't show mercy to those whom get on this side of her, and she won't be afraid to make it rain blood when the time comes. Konomi is one to fear when she becomes enraged, yet it is hard to enrage her. Behind closed doors, Konomi is also something of a "Master" complex as she like to toy with people and mess with their heads a little. It's all a part of her inner appearance, yet to her friends and those she loves, she will always cherish them and treat them kindly.
One thing that always gets on Konomi's good side is sweets. Konomi is in LOVE with cream puffs and she can never resist them. She hates hot and spicy things as they always make her teary eyed and she cannot stand the taste. If you ever wish to be friends with Konomi instantly, bring her sweets and she'll love you forever!
______________________________________________________
B A C K G R O U N D
History/Background:
Konomi was born in Japan back in 2111 by two loving parents who were kind and loving to their only child. Konomi was birthed into a rich and wealthy family with amazing parents and a bright future ahead of her, so it was imagined that the girl would have a bright and beautiful future; however, that wasn't her fate. As the girl grew, she excelled in school and proved to be a star in the world of academics and was an outstanding athlete! She became her class idol and everyone followed her, so she played the cute and innocent role as to please the "Followers". Konomi was really taking the world by charge, yet as days went by, slowly Konomi's world was being shattered in the shadows. A rival company to Konomi's father was sick of being in 2nd place and watching their compotator live such happy and free lives, so the rival company had a plan, and it was to kidnap their precious daughter and hold her captive for ransom and prepare for the fall of Konomi's father's empire.
One day when Konomi was 13, she was on her way to school walking down a long road that entered town since her family lived on the outskirts of Osaka. As she walked, she was alone seeing as she didn't meet her "Followers" till she made it to the train station in which they would all be waiting for her like a pack of fan girls after their favorite rock star, but sadly, they would not see their beautiful Konomi today, as a black van pulled up aside Konomi as she walked, and snatched her up, then burning rubber and taking off instantly after the seize. Instantly Konomi was bound and gagged as she also became blindfolded, scared for her life not knowing what was going on. Why her parents didn't give her a shofer to begin with was not known, but Konomi always walked to school and always felt safe, so a kidnapping was never expected.
Konomi was stored in some warehouse under watch by some men and she was still blindfolded and bound and gagged for two whole days. The men were abusive to the girl causing her to cry and wish to just be free as they would kick her when she cried or annoyed them. They barely fed her and when it came to the bathroom, they would just turn around, without undoing her restraints or taking her to a proper restroom. This was truly a hell for Konomi as she was suffering, but at one point couldn't take it anymore. It had been two days and nothing new from the mother or father came down, and she was wondering if they would save her, but sadly in reality, the Father denied ransom thinking they could just "Have another child." Konomi was to be disposed of by the two kidnappers seeing as she was useless now, but as Konomi was picked up to be "Taken Care of", she broke loose and ran for her life. Konomi didn't know where she was, but as she ran she was scared and crying trying to find some way out, but as she approached a door, she instead tripped over an idle pipe which caused her movement to steer towards a window as she flew out the window of a 4 story high warehouse in downtown Osaka. Glass stuck to her skin as she slowly fell 45 feet to her death on the cold hard concrete down below. Tears were still streaming from her eyes as the paramedics came to retrieve the now dead body...
Since that day, Konomi hated all those who were "Two-Faced" and "Betrayers".
Konomi awoke one day within the Rukongai wearing a shrine girl outfit and holding a broom, and somehow attained horns. She didn't know where she was or understand what was going on, but apparently she was "Adopted" by some random family. Konomi wasn't used to work or labor, so when she was adopted by a shrine family, she had a lot of things to learn. For about 200 years, Konomi became a wonderful asset to the family as she slowly grew. She still appears young and innocent, even though she's attained maturity and common sense to take care of herself. Konomi was protective of those she loved and cared for, yet for those who would lie or anything like that, Konomi would dislike them immediately. For some reason, Konomi never questioned why she was different from everyone else having horns, but she believed it was the manifestation of hate for those whom lie and back-stab others, remembering the faces of the parents that betrayed her trust.
Where were they? Were they even in Soul Society? Well, fact would have it they got their just desserts as both parents were killed in a freak plane accident not long after Konomi's death and they were taken to hell for their miss-deeds. Konomi never cared though as she had new friends and family to be with, and a new world of smiles...
One day, a Captain from the Gotei came and visited the Rukongai districts with a report of a young girl with amazing traces of spiritual pressure. Konomi was doing her daily chores cleaning the shrine and sweeping the walk way when she was visited by a Captain of the Gotei 13 with a request that she attempt to join the Soul Society. Konomi thought about it for a moment realizing that she can now protect those she loves instead of having others protect her. Liking the idea, Konomi decided to take the challenge and headed off for the Academy, wishing the best for her family and starting the next chapter in her life...
In time, Konomi's role will grow as she will attain a dear friend that will lean on her, as well as for Konomi to lean on, making a duo that will become known for their power. After the academy, Konomi entered the 4th Division and began to work under her newest and greatest friend, Neviah Clixx-Kimura, the Legacy of the Memory Rosaries...
__________________________________________________________________________
Zanpakutô Spirit Name:
Lady Justice
Appearance:
Inner World:
The inner world is very basic as once Konomi enters, she is in a large court room where she usually sits in the "Jury" box all alone with no one else in the court room but the spirit. Lady Justice sits in the Judge's seat holding her sword and balance where she is blindfolded and very quiet. Her voice is very quiet and settled when addressing Konomi, but in regards of other matters, she holds a merciless and unregretful tone of voice. The court room is bright and all white, except for the desks and whatnot which are a dark cherry wood.
Sealed Zanpakutô Appearance :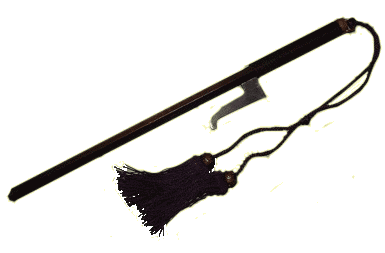 While sealed, Lady Justice is in the form of a Jutte and is unsheathed and tucked in Konomi's obi sash at all times. It's about a quarter inch in thickness and a foot and a half long. The metal of the Jutte appears to be crude and sturdy titanium. At the end of the handle, a green thread hangs off and is elaborate in decoration and signifies the beauty of the weapon.
Release:
"Do you swear the Truth and the Whole Truth, Lady Justice!"
Shikai Description:
When active, the Jutte turns into a "Balance of Justice" where on one side is the name of any given opponent, and on the other side is any given ally or herself. One side represents the prosecution while the other is the defendant and is held by Konomi. The item itself holds no offensive of defensive bonuses or capabilities as Konomi is a pure support character with offensive and defensive abilities. It shines a bright gold and is what gives Konomi her special abilities!
Shikai Abilities:
Passive:
Once active, the name of Konomi's direct target will inhabit one side while either herself or an ally will take the other. Konomi can change the names instantly allowing for multiple targets within a short time range. During the time that one's name is on the scale they are on "Trial" where they will be prosecuted. If at any point they say a "Lie" or even THINK a "Lie" they will become damaged and the scale will begin to weigh down on the Prosecution side. The amount of damage given to the opponent depends on how significant the lie and how far down the scale they are. The trick to this is that even if the opponent doesn't talk, they will think. And if they think about a question or statement presented by Konomi and lie to it, they will automatically take the effect. As they are weighed down, they will slowly be proven "Guilty" so when other abilities are used, they will be hit.
If the opponent is telling the truth, they will be unaffected by anything and no damage will be taken as they are abiding by the oath of the seal to tell the truth and nothing but the truth. As time goes, they'll begin to rise on the balance thus giving them the "Better" effects of each Judgment. Truths are half as heavy as lies, so it'll take longer to rise than to fall.
Charge:
What this does, is it makes another trial within the "Game" that puts the suspect under multiple charges. Konomi can only do 3 charges max per person. At the end of the "Trial, after Verdict is called", the trial will reset and Charge two will begin. It is possible that all three charges are done within the time limit of the 1st Verdict thus stacking the charges and their effects bringing the opponent down x-6 and boosting an ally x-6 max, (Add 1-1 to your tier). The Boost can only affect those in the 1 tier range and cannot boost 0 tiers (Because that would be TOO godly of a character). If one Charge fails, then the remaining charges are still in effect, but Konomi needs to claim the charge of what they suspect is being charged of, (e.g. 1 Charge Violence, 1 Charge Disturbing the Peace, 1 Charge Assault). That would be the max.
Suspect/Witness:
Once Konomi calls the powers of Suspect and Witness into effect, anyone whose on the "Prosecution" side of Konomi's scale will receive a boost in Power and Speed, giving them about a X-1 boost in tier, (Example: Before effect, 3-3. After effect, 3-2) while on the other side of the scale, those whom are in the Defendant side of the Scale will go DOWN in power and speed by the same amount. This can only be in effect if the scale is not even and the target is being weighed down.
Objection:
When Konomi calls Objection, the scale will recent and start back at even, so if the Opponent has been telling the truth so far and is high up giving Konomi almost NO chance of effect, she can call objection and reset it starting the game all over and giving another chance for the suspect to be proven guilty.
Evidence:
If Konomi calls for Evidence, she can temporarily stop the passive of "Truth or Lie" and move it to "Caught in the Act". What this means is for about 20 minutes, the scale will stop moving based upon the lies or truths told by the opponent and will take effect based upon the actions of the opponent. How this starts is Konomi will state what the "Suspect" is being charged for, and if they commit that act within the bounds of the statement, then they will begin to be weighed down on the scale. For example, if Konomi calls for Evidence and states the Suspect is being charged of Violence, if they suddenly strike someone and hurt anyone, they will be weighed down on the scale and other effects can thus be taken into effect. This effect can only last for about 20 minutes and after the 20 minutes, it has to recharge for another 20 minutes as well.
Recess:
If Konomi calls for a Recess, then those on the "Prosecution" side (Aka allies), will be healed and refreshed for their reitsu and any minor damages taken will be healed. This will take effect if the allies or Prosecution are raised on the scale. The effect of the healing and revitalization is stronger the higher up they are on the scale.
Verdict:
When Konomi calls the Verdict, the scale in her hands will glow as it will place the "Prosecutor and Defendant" in judgment. Whomever is at the bottom of the scale will be placed in the "Guilty" section and all their special abilities will be locked for the duration of Konomi's shikai. This does not include Racial as Racial abilities are the person, not the gift. On top of that, they will drop in tier by X-2 and become heavily damaged, whereas those whom are on top of the scale will receive a boost of X-2, become revitalized and healed fully. The verdict can work on anyone, enemy and ally, so be mindful of when she calls the verdict. She can only call it if one side is down by 50% or more. Also she can only call one verdict per person, per battle. She cannot call for two verdicts on one person within the same fight, UNLESS they were under multiple charges. The effect of the tier drop/boost and power lock last for the duration of Konomi's Shikai.
Bankai Description:

...Judgment...

When Bankai is active, Konomi will be blindfolded and attain a large broadsword about 4 feet in length. Her scale will lose the mid section and be held by a chain and placed within her right hand. Once in bankai mode, Konomi will be surrounded by a 10 layer level 73 Tozanshō Bakudo that'll protect Konomi from any possible attacks. While in this state, Konomi will be heard by all within the "Playing Field" as she becomes the Judge and will proceed to call Laws for the battle. The Laws CANNOT be one sided and will be general (Example: No Kidō allowed, or No Physical attacks). The thing is, Konomi cannot be biased with the Laws for she will be blindfolded so the Laws will level out the playing field. ALL are affected by the Laws and cannot cheat. Even allies can fall whim to the "Judgment" if failing to obey the Laws. Only 2 Laws can be active at a time as that's all Konomi will be able to manage, but as she grows she can max out to possibly 5 Laws at once.
Bankai Abilities: Currently, there are only 2 abilities for Konomi, but more will rise as she grows and develops.

Innocent:

If innocent under the Laws by the time they end, those who obeyed the rules will be rewarded with healing. All can receive this heal, even enemies. The heal will only affect physical open wounds like scratches, cuts, and bruises whereas internal or energy damage won't have any affect.

Guilty:

If proven guild and one disobeys the Laws the individual will suffer strikes in phases. The first violation will be Strike One, and will carry all the way to strike three. An individual can violate 3 strikes in one Law if they continue to ignore Konomi. Even after Strike three, the strikes will repeat on three continuing to cause massive damage to the one that ignores the Laws.

Strike 1) Power and Speed slowed by 50% for 1 Hour

Strike 2) All Special Abilities Locked for 1 Hour

Strike 3) Final Judgment, Guilty: If on Strike Three, the Violation will be "Punishment" as from within the rule violator a large explosion will set off, causing MASSIVE damage to the one that violated the rules. The damage will be so catastrophic that even a 1 tier will be down to their last breath if taken by it.
__________________________________________________________________________
R A C I A L S K I L L S
Intermediate Kidō User:
Konomi is an intermediate Kidō user, able to use Kidō with incantation up to level 40 for all types of Kidō. She's mainly proficient in Healing Kidō, making her a possible candidate for the 4th Division.
Intermediate Zanjutsu User:
Konomi is skilled with her Jutte giving her offensive and defensive combat skills. She isn't gifted, but she is capable of disarming an opponent with it as well as making precise strikes.
__________________________________________________________________________
R P S A M P L E
Roleplay Sample:
(Please show us how you role play by either posting a previous post from another site or creating a new one. We do this so we know your RP skill. If you already have an accepted, you need not do another RP sample)
__________________________________________________________________________
S K I L L S H E E T
{Please do not fill out the following until your character has a tier}
General Skills
Durability: Master/Advanced/Adept/Beginner

General Speed: Master/Advanced/Adept/Beginner

Strength: Master/Advanced/Adept/Beginner

Weapon Skill: Master/Advanced/Adept/Beginner

Racial Skills
Hoho: Master/Advanced/Adept/Beginner

Kidō: Master/Advanced/Adept/Beginner

Zanjutsu: Master/Advanced/Adept/Beginner

Hakuda: Master/Advanced/Adept/Beginner