B A S I C I N F O R M A T I O N
Name:
Nemu Kurotsuchi
Gender:
Female
Age:
Unknown
Appearance: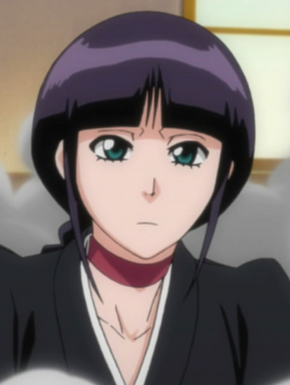 __________________________________________________________________________
P E R S O N A L I T Y
Personality:
Due to the fact that she was abused and mistreated in every possible way by her "father/creator," Mayuri, Nemu is a very shy, withdrawn, and introverted individual, preferring to stay silent in her captain's presence. Despite Mayuri's seemingly lack of care for her existence she is very loyal to him, to the point of willing to badly injure herself just to give him an advantage in battle. Unlike her "father," however, she seems to have compassion for others, saving Uryū Ishida's life as a thanks for not killing Mayuri.
Being the daughter of Mayuri, they share several similar traits. One such trait is their food preference. Nemu, just like her father, likes pike fish, and dislikes onion. Other similarities are their interest in Human experimentation and their main free-time activity, which is reading every single character published in
Seireitei Communication
.
It is also known that Nemu is being considered to be the next vice-president of the Shinigami Women's Association, supposedly because she carries out President Yachiru Kusajishi's orders just as faithfully as the ones of her father. Such orders included building hidden tunnels and a hide-out on the Kuchiki grounds for the members of the association to use. Surprisingly, Nemu shows great joy at the prospect, making it one of the few, if not only, times in the series she has shown actual emotion.
__________________________________________________________________________
B A C K G R O U N D
History/Background:
Little else is known about Nemu outside of the fact she is the artificially created "daughter" of Mayuri Kurotsuchi. He seems to have used a combination of Gigai and Artificial soul technologies to bring her to existence.While she is partly resistant to poisons she is still affected by Mayuri's Zanpakutō, though it is non-fatal to her.
Nemu is first seen alongside Mayuri during an interrogation of Ikkaku Madarame after losing to Ichigo Kurosaki. Though saying nothing, her father tells her to keep quiet prior to the two of them being intruded by Kenpachi Zaraki, also in search of Ichigo.
Later, when Mayuri is tracking Uryū Ishida and Orihime Inoue, he sends some of his other subordinates to escort them, only to later detonate bombs planted on them (unknown to the subordinates themselves) once they have located them (along with 11th Division member, Makizō Aramaki). After Makizō and Orihime flee, Uryū battles Mayuri. In the initial stages of the battle, Nemu grabs hold of Uryū's spirit arrow and tackles him as a distraction while Mayuri tries to strike him down. She is only partially successful, as Mayuri strikes Uryū's arm while at the same time cutting a large gash in Nemu's back. Due to the injury Nemu lets go of Uryū, prompting Mayuri to scold and beat her for letting go of Uryū. Nemu apologizes to him but Mayuri dismisses it stating he didn't expect much of anything from her anyway.
Mayuri is interrupted when talking to Uryū as Nemu begins to cough finding it hard to breathe and she pleads with him to give her Hojiku-Zai, as she thinks her lung is wounded and if it stays that way her vital system may stop functioning. Mayuri walks over to her and begins stomping on her prone body causing Nemu to scream out in pain. Mayuri screams at her for trying to play him as he knows her body wont fail from that level of injury. Uryū pleads with him to stop, Mayuri then explains that he created Nemu and knows what she is capable of as he created her using a gigai and artificial soul technology and therefore she is his daughter. So no one gets to tell a father how he should treat his own daughter. He then slams Nemu's head against the wall, prompting another attempt from Uryū to yell at him to stop. He leaves Nemu alone, who lies motionlessly (since Mayuri's Zanpakutō paralyzes the individuals it cuts) during the duration of Mayuri and Uryū's battle, watching them fight.
At the conclusion of the battle, she witnesses Uryū in his Quincy: Letzt Stil nearly kill Mayuri, but the captain liquefies himself and escapes. Uryū begins to feel the affects of poison from Mayuri's bankai take over again until Nemu calls out to him telling him that the antidote can be found on her left arm under her lieutenant badge. Uryu asks her if she would feel more comfortable laying down but Nemu tells him that she is fine how she is. He tells her she should take the antidote first but she says she its ok as she has the same blood as Mayuri so she isn't affected by the poison. Uryū somewhat hesistaes taking the poison prompting Nemu to ask him if he thinks it is a trap and if so then he should give her some first to prove she is telling the truth. Uryū plainly states that is not the issue as it makes no sense to poison a dying man. Nemu then thanks him as if he had aimed for Mayuri's head then he would have surely been killed. Uryū explains that it was an accident and that he had intended to kill him. Nonetheless Nemu thanks him again for sparing Mayuri and that the antidote is just a small gift of gratitude. Uryū tells her that he doesn't get it, as wouldn't it be better that someone like him doesn't exist. Nemu remarks that she doesn't know but when she saw Mayuri still alive she was happy, she then cautions him to leave quickly as after sensing Konjiki Ashisogi Jizō members of her division will be on their way. Uryū thanks her for the antidote as he sets it down and tells her farewell.
By the time when Sōsuke Aizen, Gin Ichimaru, and Kaname Tōsen are revealed to be traitors, both she and Mayuri have recovered from their encounter with Uryū and she asks her captain if he would assist the other captains in capturing Aizen. Mayuri tells her that he has no interest in doing so.
She is brought along by Mayuri to Hueco Mundo, invading the world with her father, Kenpachi Zaraki, Yachiru Kusajishi, Hanatarō Yamada, Byakuya Kuchiki, Retsu Unohana and Isane Kotetsu.
Whilst there, she is one of the people who fights with Szayel Aporro Granz and has seemingly been injured at some point in the battle. Mayuri calls for her which angers Szayel that he cant understand why Mayuri lives, to which Mayuri explains how he is able to counter his ability. In retaliation after realizing that he can't harm Mayuri he takes Nemu hostage with one of his tentacle/wings. Nemu points out that Szayel has made a mistake and capturing her wont make her a hostage. In response to this Mayuri calls forth his bankai,
Konjki Ashisogi Jizo
to eat Szayel.
After having his bankai eat the Espada, Mayuri precedes to argue with Ishida before Nemu interrupts apologizing but asking if Mayyri can help release her. Mayuri ignores her until she begins to scream out in pain focusing everyones attention on her. Nemu's stomach begins to expand as they hear a voice ask that Mayuri didn't actually think he had actually killed him. Realizing it is Szayel who then explains his most important ability,
Gabriel
, which allows him to reborn through anyone he is touching. He then sucks the life from Nemu causing her face to wither as she is drained of her body fluidds and he is reborn anew from her mouth. Mayuri walks over to Nemu as her withered body lies upon the ground and inspects her current state. However, one of the several poisons inside Nemu serves to enhance Szayel's state of mental perception to untold levels, to the point where one second feels like an eternity to him, and she is critical in bringing about his defeat.
Mayuri calls to her to but remembering that she is incapacitated he then restores her- through questionable and quite possibly very explicit and erotic means given Nemu's utterances and Renji and Uryū's expressions, though Mayuri insists that Renji and Uryū are being quite perverted to jump to such conclusions - and orders her to open the door to Szayel's laboratory. The group discovers two bodies hanging from the ceiling of Szayel's laboratory.
Nemu is seen with Mayuri pushing a loaded wagon behind him as they arrive at the battle between Ichigo Kurosaki, Kenpachi Zaraki and Byakuya Kuchiki against the Espada Yammy. After a short conversation where Mayuri explains that he he has found out the technology required to open a Garganta. He then tells Nemu to ready the Garganta device so they can send Ichigo back to the world of the living. Nemu immediately begins setting up large pillars single handily. She is then seen alongside Mayuri atop the pillars acting as the focus points to open the Garganta.
__________________________________________________________________________
NATURAL ABILITIES
Hakuda Expert
: As Nemu normally does not carry her Zanpakutō, she relies on her hand-to-hand combat skill in battle. She is a very swift attacker when fighting, and commonly employs kicks as her main combat skill. She also managed to defeat her Reigai in one strike to the chest, showing that she can defeat enemies quickly by targeting a weak point.
Kidō Expert:
Nemu seems to be quite knowledgable with the Kidō. The reason is unknown, but speculated because she is Mayuri's personal apprentice and gene where as Mayuri is one of the best Kidō practitioners in all of Soul Society. She seems to even carry information of healing Kidō as well.
Enhanced Strength
: Nemu has a substantial amount of strength, even by Shinigami standards, as demonstrated when she effortlessly excavates Szayel's hidden laboratory using only her bare hands. She can throw large blocks of stone with ease. She is able to catch a quincy spiritual arrow with her bare hand.
Body Modification
: Like his own body, Mayuri has implanted various modifications and chemicals within Nemu to use against his opponents. She also possesses within herself an augmentation chemical that ultimately does in Szayel Aporro Granz. Nemu is mostly immune to the poisons used by Mayuri, including the deadly one used in his Bankai. It is also these modifications that allows Mayuri to revive her when she is in a death-like state. She also can use twirl her hand and forearm like a drill and move her arms at excessive speeds.
Inhuman Durability
: Her body was designed by Mayuri to have much more durability than a normal person's. She can take wounds that would be fatal to another person and survive, as she demonstrated upon being stabbed by Mayuri during his fight with Uryū. Mayuri himself noted that she was designed to take much more punishment than any normal human or Shinigami could ever sustain.
Chemistry Expert
: Though not as knowledgeable as her father, Nemu does know many things regarding the chemicals used by Mayuri in his work, enough to keep an antidote in case anyone becomes poisoned by him.
Shunpo
: She appears to also move at high speeds, as seen when Nemu attacks Uryū Ishida to determine whether he still has his Quincy powers. However, her full extent with shunpo is still unknown.
High Spiritual Power
: Being a lieutenant of the Gotei 13, Nemu boasts a high spiritual energy.
__________________________________________________________________________
Zanpakutô Spirit Name:
Unknown
Appearance:
Unknown
Inner World:
Unknown
Sealed Zanpakutô Apperance:
Not much is known about Nemu's Zanpakutō as she usually does not carry it around; however, an illustration in the art book "All Color but the Black" reveals that her Zanpakutō takes the form of what appears to be a thin
katana
with a green hilt and a seemingly warped guard.
Sealed Zanpakutô Abilities: (Does your sword do anything special when not released? Don't go overboard, if not, erase this)

PhatomTech: (Does your character have a PhatomTech brain installed? If so, you'll be able to qualify for upgrade at the Cybermind or add other Cybernetic parts to your character to make them stronger)

Release: (What you have to say in order to release into Shikai. Try to be original please!)

Shikai Description: (Your character or your sword's new appearance)

Shikai Abilities: (What are the abilities your Shikai has? Do not overpower your shikai.)
Bankai Description: (This does not apply until you learn Bankai)
Bankai Abilities: (This does not apply until you learn Bankai)
__________________________________________________________________________
R P S A M P L E
Roleplay Sample:
(I showed enough to Kenji.)
__________________________________________________________________________
S K I L L S H E E T
{Please do not fill out the following until your character has a tier}
General Skills


Durability: Master/Advanced/Adept/Beginner

General Speed: Master/Advanced/Adept/Beginner

Strength: Master/Advanced/Adept/Beginner

Weapon Skill: Master/Advanced/Adept/Beginner

Racial Skills


Hoho: Master/Advanced/Adept/Beginner

Kidō: Master/Advanced/Adept/Beginner

Zanjutsu: Master/Advanced/Adept/Beginner

Hakuda: Master/Advanced/Adept/Beginner