NPC TemplateName:
Beelzebub IV. Full name, Kaiser de Emperana Beelzebub IV.
Age:
Real age is unknown, but taken an appearance of a baby.
Gender:
Male
Personality:
Baby Be'el is very easily impressed, especially by strong people since
he himself is still weak and loses to other babies as well as to cats.
On the other hand he is not the smartest one out there and tries to
force his way through the most simple problems. It is also shown that he
is afraid of insects. He often displays a fondness for things that
might frighten "normal" babies, such as violence, exposed muscle tissue
(on an anatomy model), heavy metal music, and demonic toys.
Appearance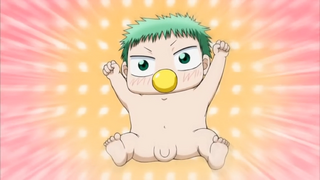 Beelzebub is a baby with an abnormally wide build and green hair. Beel
is almost always shown with his binky, save when he is being fed.
Usually, he is seen nude to his genitals, even to the public, causing
ordinary people to chatter about him and his "parent" Tatsumi.
Partially due to Hilda's misdirection, the rest of the Oga family
believes that Beelzebub is Tatsumi's natural son, taking their similar
eyes (usually frozen in either a blank stare or an intimidating glare)
as proof.
Tier:
1-1+
If Applicable, Position:
What Race: Demon
Brief History:
Beelzebub came to the human world inside of Alain Delon. He was practically drawn to Oga Tatsumi
from the beginning and is usually seen clinging to his back . Oga in
turn did and still does not want to keep him around since he only causes
him problems with other strong people at his school. Thus they set out
together to find a person stronger than Oga. Eventually, they became
closer to each other.
Associated Character:
Tatsumi Oga (Oga Tatsumi)
Basic Powers:Electrocution
When Baby Be'el is caused to cry for one of various reasons, for example
Oga being in danger, it fries everything in a certain range depending
on how loud he cries. Generally the energy used is higher than that of a
12.000 Volt stun baton Himegawa of the Touhoushinki uses against Oga in
chapter 9. Initially, if Beelzebub was more than 15 meters away from
Oga, the electric shock would reach a fatal level (for Oga). Due to
their new-found trust, this distance has increased, but only by 8
centimeters.
Pee
Once a year Baby Be'el relieves the blessed urine that contains holy
demon power. It can't be stopped by simple means such as knoting or
diapers and would be able to sink a whole town. This however was
prevented by Oga and Hilda riding on Ak'Baba to the ocean.
Giant
In the Demon World, Beel was able to turn into a giant and defeat the monster of the land.
Hidden Potential
While training with Saotome Zenjuro, a radio was used that made a
"shadow" of Be'el. This shadow supposedly embodies the potential of its
subject, and, as it was able to easily strike Oga into a boulder and
crush that boulder, Be'el is hinted to have a large amount of fighting
potential. Later, when Be'el and Oga switch bodies, Oga is seen
defeating numerous delinquent's using Be'el's body, implying that Be'el
already has great fighting prowess but doesn't know how to control his
strength.