B A S I C I N F O R M A T I O N
Name:
Lenalee Lee
Gender:
Female
Age:
542
Origin:
China (Chinese)
Appearance:
__________________________________________________________________________
P E R S O N A L I T Y
Personality:
Lenalee is extremely caring towards those she deems as friends, to the point of getting incredibly upset when she sees a friend deliberately put themselves in harm's way. Her feelings are explained by her loss of all family except Komui. Now, she feels that the friends she has made in the Order are her family. She can be quick tempered and most of her friends are quick to make sure they don't upset her.
Because of her friendly and caring nature she can become very emotional when someone dies, even a stranger. She was devastated at the news of the casualties to the Order after the attacks in which six Exorcists were left dead, even though she had probably never known many of them(this was when she was living still kayz?).
Lenalee has recurring dreams about the destruction of the Order that apparently Allen Walker once shared. Despite her cheerful nature, Lenalee hides deep sadness and fear below her peaceful exterior.
__________________________________________________________________________
B A C K G R O U N D
History/Background:
Like her friend Kanda, Lenalee is also a former member of the Black Order.
Lenalee is Komui's younger sister(Head of UK Branch of The Black Order back then), and the assistant Head Officer. Lenalee is a 16-year-old Exorcist from China. Her parents were killed by an Akuma when she was very young and she does not remember anything before her parents death.
Because she was a Host, the Black Order took her away from her only remaining family member (Komui) against her will. For three years, she was never allowed to leave the Black Order headquarters, which felt like a prison to her. Because she repeatedly tried to run away, and attempted suicide, she had to be restrained and tied to her bed. However, once Komui joined the Black Order three years later, Lenalee became more at ease in the Headquarters.
It is implied during this event that Lenalee was not originally 'chosen' by her Innocence, but forcefully joined. It appears that Lenalee has secretly harbored a deep hatred for the Order as a result, even though she fights for them. She even expresses a hatred for God later in her life. However, with the Level 4 AKUMA, a monster with a soul trapped inside, threatening to kill those that she cares for, she begins to truly want to synchronize with her Innocence and gain the power to protect her loved ones.
This implies that while she might not have forgiven Malcolm C. Levrier(the man who forced her to SYNC with the innocence), but she has forgiven God and the Innocence.
Lenalee suffers from a recurring dream where she is sitting alone in a post-apocalyptic world at the ruins of headquarters completely alone in the world. Since meeting Allen Walker, her dream altered to include his Innocence slipping away and once after his apparent death when she was weeping over his body as it lay across her lap. Allen is the only one she has told about this dream and Walker has even witnessed it for himself while he was unconscious after nearly being killed while in China but the 14th Noah (A Clan lost to this world) also appeared in it.
After several years fighting against The Earl, Lenalee finally passed on. Her soul was in the soul society for only a span of 15 years before she wanted to become a shinigami, due to her previous job-ish work.
Unbeknownst to Lenalee, her innocence has become her Zanpakuto, much like Kanda and Allen's had. She has not seen any of her friends from her life yet.
__________________________________________________________________________
Zanpakutô Spirit Name:
Basic: Loving Darkness or Ài hēi'àn (愛黑暗 - Chinese)
Full: Loving Darkness Of The God Crystal or Ài hēi'àn de shén de shuǐjīng(愛黑暗的神的水晶 - Chinese)
Appearance:
Inner World:
Sealed Zanpakutô Apperance :
Sealed Zanpakutô Abilities:
None.
Release:
Protect our Friends! Ài hēi'àn!
Shikai Description:
Loving Darkness becomes the form of her old Innocence, as that is what Loving Darkness is. Her Soul and Her GOD CRYSTAL INNOCENCE.
Shikai Abilities:
Increased Power:
When activated the top part of the boots unwrap to her knees and a green stripe is shown down her leg from the top to the bottom and a green energy is emitted from her ankles. She is capable of great acrobatic feats and can easily deal with hollows. It seems to dramatically increase her leg strength, allowing her to jump vast distances, land from high falls uninjured and deliver devastating kicks.
Enbu: Kirikaze (円舞「霧風」, Waltz: "Misty-Wind"): Lenalee stirs up a destructive tornado with a whirling kick of her Loving Darkness.
Level Two:
After her shikai has been out for some time , Lenalee's Loving Darkness can change to enhance her abilities. When released Lenalee gains more weight, power and speed. The green energy strips are replaced with circles with a cross mark on them, and her boots now have knee pads and straps around her thighs. She can fight on par with a 2-3+ with her Shikai in this form.
LEVEL TWO APPEARANCE: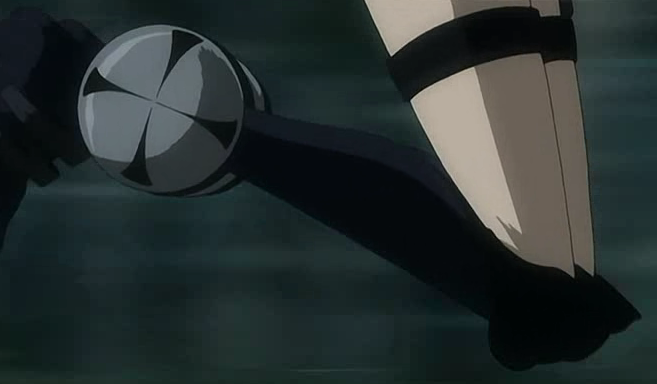 LEVEL TWO ABILITES:
Onkyou no Tougi: Otokase (音響の踏技 「音枷」, lit. Stepping Skill of Sound: "Sound Shackles"): Lenalee becomes able to interface with sound waves, solidifying the sound of each step into a surface, which allows her to travel at the speed of sound.
Suijou no Tougi: Mizukase (水上の踏技 「水枷」, lit. Stepping Skill of Water: "Water Shackles"): Lenalee becomes able to interface with water, enabling her to walk on liquid surfaces.
Shittsui no Tougi: Tetsukase (失墜の踏技 「鉄枷」, lit. Falling Footsteps: "Iron Shackles"): Upon high damage, Lenalee's power condenses onto her Loving Darkness, meshing them into a morass of blades, carrying an extremely high weight. This attack hits with the weight of 40,000 metric tons. which is equivalent to a meteor.
Bankai Description: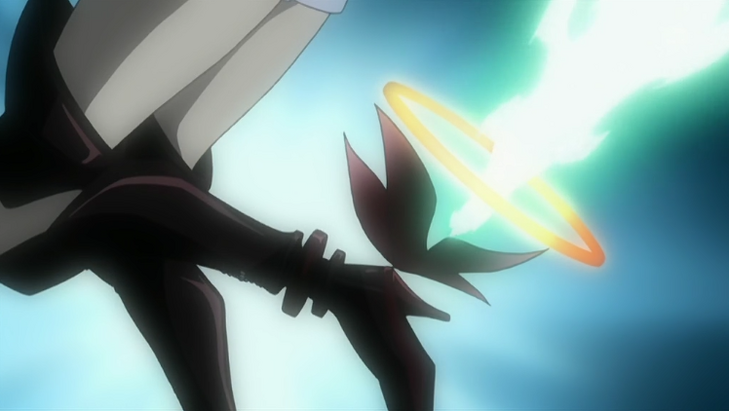 Bankai Abilities:

Thought Processing:
Loving Darkness takes the form of thigh-high stiletto boots with kneepads and slightly separated cuisses for her upper legs.
When Lenalee wishes to accelerate beyond the boot's normal speeds, flaps at the back of both of her heels unfurl to increase her speed dramatically, though initially she has trouble gauging how quickly she's moving each time she uses this ability.
Loving Darkness seems to react as her initial equipment type boots did, and rather than having to use her own body to tell the boots what to do, they seem to react simply to her thoughts.


__________________________________________________________________________
R P S A M P L E
Roleplay Sample:
(Please show us how you role play by either posting a previous post from another site or creating a new one. We do this so we know your RP skill. If you already have an accepted, you need not do another RP sample)
__________________________________________________________________________
S K I L L S H E E T
{Please do not fill out the following until your character has a tier}
General Skills
Durability: Master/Advanced/Adept/Beginner

General Speed: Master/Advanced/Adept/Beginner

Strength: Master/Advanced/Adept/Beginner

Weapon Skill: Master/Advanced/Adept/Beginner

Racial Skills
Hoho: Master/Advanced/Adept/Beginner

Kidou: Master/Advanced/Adept/Beginner

Zanjutsu: Master/Advanced/Adept/Beginner

Hakuda: Master/Advanced/Adept/Beginner

Lenalee's Theme Song! NYAH!: