»»»»»»»»»»»»»»»»»»»»»»»»»»»
B A S I C ; ; I N F O R M A T I O N
»»»»»»»»»»»»»»»»»»»»»»»»»»»
Name:
Blanky Kurosu Avalon
Gender:
Female
Age:
14
The Host Race:
Human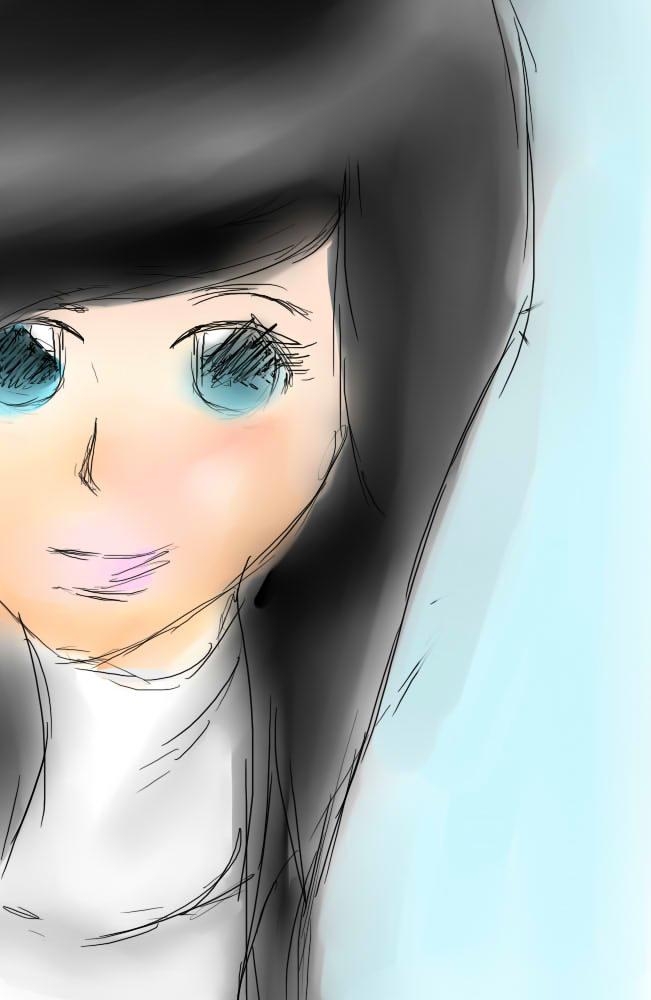 Picture done by Rin Okumaru
Appearance:
Blanky is a Freshman in High School, around the height of 5'8'', and weight of 100 pounds. She typically wears a t-shirt and jeans. She has long, straight, black hair. She is caucasian, British to be exact. Her eyes are hazel. She has never thought of getting tattoos or dying her hair or anything. She hasn't even gotten her ears pierced.
»»»»»»»»»»»»»»»»»»»»»»»»»»»
P E R S O N A L I T Y; ; T R A I T S
»»»»»»»»»»»»»»»»»»»»»»»»»»»
Personality:
Blanky is shy and quiet around strangers, but very close and open to her friends and family. She's the type of gal that only has a few close friends. Too many friends stresses her out as she feels she needs to have a closer bond to each person and can't. She enjoys using her imagination *cough* creation of inner spirit * cough*. She excels in school without trouble. She doesn't mind taking constructive criticism. She treats the criticism as something she simply needs to work on.
Blanky is slowly suffering through depression. She tends to be by herself and uncomfortable in crowded areas or groups. She does not like to talk about herself, so keeps her given information very shallow. Because of her bottled up secrets, she handles her depression alone. It causes a lot of pain and weak points, but at the same time, makes her a stronger person as time goes on.
»»»»»»»»»»»»»»»»»»»»»»»»»»»
B A C K G R O U N D; ; P A S T
»»»»»»»»»»»»»»»»»»»»»»»»»»»
Background/History:
Blanky was born on June 22, 50% British, 50% German, Irish, Italian, whatever else. She was a very easy baby to take care of. She was raised by a strict, but loving, mother and a working father. By the age of 8, her mother was diagnosed with cancer.
Blanky did not understand how cancer worked. She believed cancer was as treatable as knee surgery. At age 11, her mother died. That was when depression seeped in.
Blanky had no woman role model. She only had her dad, and he had to work and somehow take care of Blanky at the same time. They grew very close. In a way, Blanky was glad her mother died of cancer instead of her father because he was such a role model to Blanky.
Not a few months later, her father remarried. Blanky had to adapt to a new family. Her father paid more attention to his newly wedded wife than his child. Blanky felt alone ever since and keeps her pain bottled up within. One night, she linked two belts together from the ceiling fan with words written on them, such as "Goodbye, goodbye, goodbye you'll never know." As she was crying, she imagined herself as someone else entirely. A man, a strong man who could endure any pain given to him. Someone Blanky could hold onto and trust entirely. As her imagination took over, Mask was created.
As she was about to commit suicide, her front door opened to reveal a woman with long, blond hair and blue eyes in white robes trimmed with green and golden yellow. The wings on her back caught Blanky's attention as she mummbled, "A-a-a-are yo-you a-a-a-a-n angel?"
The woman saw her with the belt around her neck and rushed forward to remove it as Blanky's foot just slipped on the table she was on.
Blanky cried out as she almost hung herself, but was released as someone caught her. It was the lady. She smiled brightly at Blanky as she removed the belts from around Blanky's neck.
"Little one... why would you do such a thing..?" the female asked her, tears forming in her eyes. Blanky stared at her like she had two heads, then broke down and cried into her chest, the tears not stopping until her father was in the door, wife in hand looking at the blonde.
"Who are yo- why are there belts hanging..?" he looked at his crying daughter and was ashamed of himself. Going over to Blanky, he kissed her forehead. "I'm so sorry... I'm such a bad father... Don't turn out like me." he said before stepping out of the door, his wife following him without hesitation.
"I'll take care of you, Blanky. My name is Octavi-"
She was suddenly cut off by Blanky. "N..n..n..no! You're Momma!"
Octavia smiled down at her with tears as she stood up holding her new adoptive daughter.
»»»»»»»»»»»»»»»»»»»»»»»»»»»
T H E B E A S T; ; W I T H I N
»»»»»»»»»»»»»»»»»»»»»»»»»»»
Ziamichi Spirit Name:
Mask
Ziamichi Spirit Appearance:
Mask is your typical emo-looking dude. He wears a black cloak to conceal his lean body frame and has long, straight, black hair which tends to cover at least one of his completely white eyes. His skin is pale, and he stands at around 6' with a body weight of 175 pounds. His eyes are very intense and angry. His smile has never been seen yet.
Ziamichi Personality:
Mask is even more silent than Blanky. He, also, does not like to talk about himself. Let's just say he is more of an action type of guy. Even though he appears to be scary, he is really a caring demon. Strange, but yes. A caring demon. He is Blanky's comforting image for when she is feeling emotionally weak. In a way, Blanky is his little sister. So, no, he does not fight for power over Blanky, but watches over her and takes action when needed. All in all, Mask is a quiet, protective, and unselfish man/demon.
Ziamichi History:
Mask was created in Blanky's imagination the night of her first suicide attempt. What Blanky wrote on the two linked belts is tattooed on his body. He appeared before her in her mind and distracted her before fulfilling her death wish. The rest of the saving was thanks to Blanky's adoptive mother, Octavia.
Ziamichi Powers:
Mask's powers have not been witnessed yet.
»»»»»»»»»»»»»»»»»»»»»»»»»»»
B E N E F I T S ; F O R H O S T
»»»»»»»»»»»»»»»»»»»»»»»»»»»
Unique Traits:
Blanky now is more aware of how other humans are feeling emotionally. Other than that, Blanky is still a typical human.
Forms:
Blanky's state of full power is either her own form or Mask's form. They have not created a median of power quite yet.
Drawbacks:
Blanky loses her control in mind and body. Her appearance and personality is now Mask's entirely. The after-effect is Blanky losing consciousness and falling asleep.
Control:
Blanky has a range of 0 control over Mask. It does not take much for Mask to take control over Blanky, but he does not do it often.
»»»»»»»»»»»»»»»»»»»»»»»»»»»
E X T R A ; ; I N F O
»»»»»»»»»»»»»»»»»»»»»»»»»»»
NOTE:
Ziamichi's will have three to four skill sheets possibly. One for general skills, one for racial skills, one for the host's skill and possibly one for the spirit's skills if they are a different race.
Click here for skill sheet
Ziamichi Class:
(Ranging from E to the weakest and A to the strongest; With S being a special class of demons. Don't do anything to this, the staff will decide how strong your demon will be from how good your application is and how good your role playing skills are.)
Skills:
0 Tier is allowed 1 Master, 2 Advanced for each section
1 Tier is allowed 2 Advanced for each section
2 Tier is allowed 1 Advanced, 2 Adept for each section
3 Tier is allowed 1 Adept for each section
4 Tier and below only get beginner.
General Skills
Durability: Master/Advanced/Adept/Beginner

General Speed: Master/Advanced/Adept/Beginner

Strength: Master/Advanced/Adept/Beginner

Weapon Skill: Master/Advanced/Adept/Beginner
Ziamichi Skills
Skill Of Ziamichi Powers: Master/Advanced/Adept/Beginner

Control Over Spirit: Master/Advanced/Adept/Beginner

Seal Strength: Master/Advanced/Adept/Beginner

»»»»»»»»»»»»»»»»»»»»»»»»»»»
R P ; ; S A M P L E
»»»»»»»»»»»»»»»»»»»»»»»»»»»
Roleplay Sample:
As Blanky attended her first day of school after Winter Break, she constantly kept thinking of the dream she had the night before. It was probably one of the craziest dreams she could remember. Apparently, she was dreaming about Santa coming down the chimney with a bag of knives and him chasing after her for her cookies. Or was it titties? Her cheeks went rose red.
Damn you, Father Christmas!!
She slammed her head on the desk in front of her silently and left her head to rest on the cold plastic. The class was watching a video from the 80's and she wasn't learning anything anyway.
Before she accidentally dosed off in the dark, cool classroom, her heart started to ache. She frowned at the sudden emotion that ran through her. She wasn't thinking of anything depressing, was she?
She slowly turned her head to the classmate next to her. Her dark blue eyes concentrated on the expression of her fellow classmate and noticed that they were frowning, too. She turned to look at the screen and noticed a graveyard scene being viewed. Her head swiveled back to the classmate right as a tear fell from their eye.