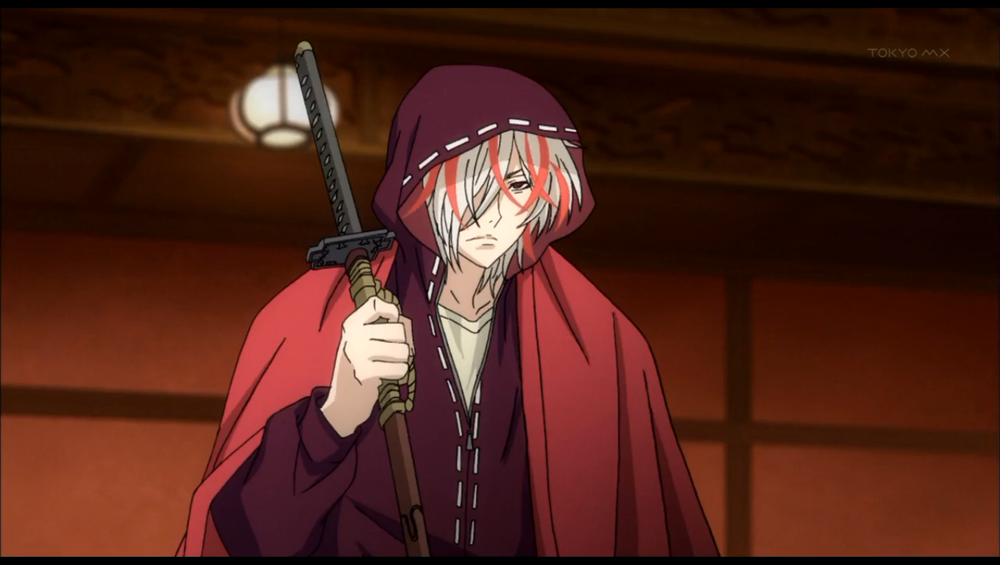 ►Access Granted; Shinigami Dossier ◄
•Name
Kazuma 'Kazu-kun' Crow.
•Race
Shinigami.
•Age
100-500 years of age.
• Family
Crow.
• Organization
Gotei 13.
• Camera Photo
Spoiler:
►Access Granted; Into the nothing. - "I am the worst kind of deplorable person, I survived by the sacrifice of those who cherished a broken man. It is by their blood and tears, I had a path carved out before me. I walk this path so that one day the cross I bare will become my resolve to give their existence meaning." | Kazuma, lamenting to himself.◄



►Access Granted; Physical Breakdown ◄
• Height
6'3".
• Weight
190 Ibs.
• Eye Color
Crimson.
• Hair Color
White with red streaks, was once a lovely red color.
• Hair Style
Messy.
• Body Build
A muscular lean build.
• Skin Color
A little darker than a fair complexion.
•Scars
A faint scar across his throat, closer to his collar bone.
►Access Granted; For your glory, but not to mine. - "It's ridiculous that someone like me was guarding her, no matter how you think about it something must have been wrong! How could I possibly be a hero?! No matter what, I can only choose the blood-stained path... If a hero like you had shown up earlier, then something like this wouldn't have happened, she would not had to have suffered so much!" | Kazuma berating his friend, Vash.◄

►Access Granted; Personality Breakdown◄
After the ceremony developed by the main house family called 'The Cleansing' Kazuma changed drasticly. Kazuma as he is now is distant and detached, calm, cool and collected. However, his quietness is not due to a lack of self confidence; it is because he never shows what lurks underneath. He isn't very expressive of what he may feel, one could question if he himself understands his feelings. He is possibly one of the most serious and somber characters one could expect to meet; very little seems to surprise him. He never unnecessarily reveals emotions on or off the battlefield, even when he's trumped; it's almost as if The Cleansing had sapped him of his heart. Like he just 'shut off'. Interestingly, despite his cold persona and ruthlessness, his personality of aloof cold dismissal, he displays a sense of honor. He recognizes and respects the swordsman's code. He is an honorable warrior who despises fighting dirty and he refuses to attack his opponents from behind. But whenever absolutely necessary he does what is needed to completely the mission, detaching himself from what little feelings he still has. Deep down, he is someone that aches for the light, he craves for the wholesomeness of being a 'hero', even to the point that he declared himself evil because he believes he cannot reach that level. He is someone that tries hard to redeem himself for what he sees as his sins, having a large sense of self loathing or what could easily be called survivors guilt. Having retained some degree of his former persona, Kazuma can be selective when it comes to fulfilling his duties as a member of the Gotei 13, as evidenced by his history of poor attendance at summons. He also appears to have a sense of hospitality, and curiosity for people who perk his interest, as he demonstrates over time; thus keeping a somewhat aloof personality.

Kazuma was not always like this, in fact he was once very different. He was much more stubborn, short-tempered, strong-willed and impulsive. As a youngster, he was considerably brighter in terms of personality. It wasn't as if he was wholly ignorant of the going ons of what was happening around him, he just stayed strong for those he cared about. Getting a sense of being this way was some kind of weakness, he attempted to maintain some kind of detached and "cool" image to others, despite claiming not to care about what other people think about him. His family was the head of the side-branch, so he was well off compared to his fellow clansmen. Which isn't saying much since even they were poor after losing the war. He was brought up by both parents to be a good leader, ironically, this led him to often times give up his dinner to feed those of the clan who had Reiatsu and needed food. His outspoken, hot-headed demeanor is a trait he himself acknowledged and did nothing to change. He was a feisty little spitfire with a heart of gold. That is to say, if somebody picks a fight with him, he cannot help fighting back. He is shown to be genuinely compassionate and empathetic about others, as seen by his ideology of always keeping promises or soothing others when they become upset. His father once said to him that he was born to protect, that it was in his very nature to protect others even at the cost of himself.

►Access Granted; All that remains. - "Hope is what makes us strong! It is why we are here. It is what we fight for when all else is lost." | Words spoken to Kazuma by a long standing love interest.◄




►Access Granted; History◄
There is a saying among the best of the clans who live by the sword, the Crow, that saying is that among a field of flowers there is always that rare flower that is even more beautiful than the rest. Sadly, that rare flower was born into the side branch of a family involved in a civil war. One which the side branch had lost. They had now been treated as though they were lesser than. They were nearly no different from being subjugated as prisoners of war, made to bend a knee to their betters and to do as they main house bided. This flower, Kazuma, was born in what was misnamely spoken of as the family's 'peace' periods; the main branch family had won this round so the side branch suffered for it. A law was passed that anyone in the side branch family who had shown any kind of promise was to be put to death via The Cleansing. The Cleansing was a ceremony conceived of throwing the accused in a pit of powerful Hollows and let the beasts eat the trash before it had a chance to incite another rebellion. This was a vile means to strike obedience into the defeated side branch to keep them from betraying their betters. Kazuma was nothing but a boy at the time, the human equivalent to the age of around six; and he was already a known rare flower. As the son of the head of the side family, his father had bargained his life when his potential was discovered under the premise that his son would not get any stronger. Sadly, this promise went unfulfilled. His son and even a few of his son's friends had shown too much promise to be able to be kept alive, they were a unavoidable threat that they couldn't abide. Vash was the closest male friend to Kazuma, this most likely stemmed from the fact that even though at this point they were not entirely directly involved in the war they still ran so called 'missions' together as their teamwork was flawless. While being kept out of direct combat, they were no strangers to it. They were missions of the covert nature that had rippling effects into future rebellions. Something of a bitter sweet first love, Tsuki, who he tried to push off on Vash because he felt she deserved better was also the biggest reason he did what he did. It wasn't just for the sake of the side branch or his family, it was to keep a smile on her face. He would've been fine with just that. This life wasn't half bad until the main house had had enough. Not only did they know the promise to be unfulfilled, they also knew of the treasonous acts against the main house. The three of them and two other of their friends, Saku and Mina, were taken and without knowing where they were going were walking to their deaths; The Cleansing. They were taken to a pit which held a number of different kinds of Hollows varying in power; and left there to die. Mina and Saku were eaten in minutes, while they held vast potential; they had no training. The situation had become clear to the remaining three of them and things were out of control. Vash managed a Hollow but was taken by surprise from the rear while Tsuki and Kazuma were fending off another. The two went to his side, but within seconds Vash succumbed to his wounds. His last moments only of staring intently into Kazuma's eyes. Holding his dead body, Kazuma began to break down. Tsuki pleaded for him to go, they needed to run. But his legs wouldn't listen. At that moment a Hollow had attempted Kazuma's life, only for Tsuki to forfeit her own to save his. Jerking back to reality, Kazuma grabbed her and made a run for it. He didn't make it far. Collapsing when it became very apparent that Tsuki wouldn't make it, Kazuma began to cry. In her death, it was obvious how she felt. "Kazu-kun, don't cry. Boys don't cry. You got to live.." And she fell limp.
And then everything went blank. From that moment on his only defined memory was returning to his house covered in blood. He soon found out that his parents had been put to death for treason, anger pooling in his stomach; his use as the side branch's weapon began at that point. His parents no longer having influence over how he was used. He was no longer Kazuma, he was a weapon for people who's hearts were just as filled if not more so with hate. It was a fact that the family was at war and it was because of this that his love, his friends, were dead for no other reason than they got caught up in their war. Children, just children. Now Kazuma was directly involved in this war, he no longer was treated like the child he was. Time moved on and he grew. It was after so much time passed that fate smiled down on his twisted existence, yet again. He was on another mission, and bit off more than he could chew. In the fighting, they took too much of his attention. Which gave the person behind him a chance to come up and slit his throat. A main house rat would opt for a cowardly attack such as this. He laid there, choking on his blood, questioning himself. But just in the nick of time, a man had come up and peered over his pathetic figure. This man healed him then took him in. Trained him, taught him, bonded with him. This man had earned a life debt from Kazuma, Jeaden Crow. Jeaden was the reason why Kazuma was alive and the reason why he became a Shinigami. Now as a Lieutenant, Kazuma is working off his life debt with the first person in a long time to see him as a person rather than a tool. In short, after that last incident he left the Crows behind to join the Gotei 13 and serve as a Shinigami.

►Access Granted; Last moments. - "Some forms of terror are fresher than others. The more intense the fear, the more the emotions die. Terror, in its truest sense, is not a static state, but a dynamic one. It is the moment when hope turns into despair. Now revel in true despair." | A Hollow from the time he was supposed to be fed to Hollows.◄


►Access Granted; Powers◄
Family Powers:
The Crow Family
are a old and powerful clan within the Junrinan district, the clan is known to be quite skilled within in many arts including Zanjutsu. They follow their Leader Jaeden into the thick of the world of Soul Society with high hopes. Their clan's special sword style coming along with them. The Crow's are known decently in their homeland for good swordsmanship within Kendo and outside of it. They are also known for having crimson eyes at the higher levels, these beings can read moves of anything and copy them. Their eyes will allow them to copy it, but they must physically be able to do it before being able to use it. However, just because something is copied doesn't mean it is useable. They user must be able to do it, if unable, they must train to be able to do it. For example, one can copy a Kido and know it but can not use it if the Kido requires more energy than the user has. This ability is sort of like photographic memory.
Dragon's Eye:
Only a couple members of the clan have mastered this move. If they've watched it or had it used upon them they can use it, if physically able. Some of them are capable of reading and negating the damages of the move due to a deep understanding of how that move works. It's unknown the complexion of this move and what requirements the user must meet. They may copy the moves of physical nature or otherwise, but this is if they meet the requirements to use them. All members of the family are zanjutsu specialist. They may track most movements with these eyes, however they are limited to what's within the range of tracking. For example a 4-1 will not b tracking a 1-2 or lower for anything.
Tengu Sword:
The use of this style is the base of the Crow family, being able to make omnipotent blades this is required to learn further into the Tengu arts. This will let a user build and grow upon the base they were taught as children. The tips of these slashes are able to be seen, the virtue of the sword is the blade isn't always where it seems. The number of blades is depending on the move being used.
Tengu no Zatu:
This is the first step of the Crow family, this move is an offensive one. The user will bring down their sword at close range, the real blade may be blocked. But the second blade formed of near invisibility will slash the person's lower body. This move is basic and will be taught to most beginners of the arts.
Tengu no Saiga:
This is the second step of the Crow clan's 7 steps. This one is rather more adept skill level of a swordsman, but some exceptionally gifted ones may perform it at beginner. The sword style here let's the wielder use a longer range based attack for their blades. Making an invisible long slash for the target while sending a second blade from a lower or higher horizontal angle. Sadly more of the long range blade isn't hidden, this move can be performed at a close range as well.
Tengu no Drak:
This is the third dance, the three dances are taught to adepts the next above this only to Advanced. The last three are kept among the families best swordsman alone. As the clan advanced over the years, a need to make more then one arose. This was finally able by moving their body in a fluid manner. The use may make one slash and form two over the singular one that has been made. These blades can only go in the angle of the slash, changing them comes at a higher level of swordplay.
Others:
Blind fighting:
He has heightened senses and as a result he is able to fight without the use of his eyes.
Plenty of combat experience:
From his involvement in the Crow family revolution, he's already been exposed to war type circumstances. So he knows full well how to survive and fight.
Racial Skills
Hoho:
Adept.

Kidō:
Beginner.

Zanjutsu:
Adept.

Hakuda:
Adept.
General Skills
Durability:
Adept.

General Speed:
Adept.

Strength:
Adept.

Weapon Skill: Beginner.



►Access Granted; Looking glass. - "Happiness is like glass.It may be all around you, yet be invisible.
But if u change your angle of viewing a little, then it will reflect light more beautifully than any other object around you." | Kazuma's former love interest.◄



►Access Granted; Zanpakutō Breakdown◄


Zanpakutō Name, release command:
Corrupt, Bokoseido. [Hollowed Sanctuary.]

Zanpakutō Appearance Information: Bokoseido takes on the form of a echo that reverberates throughout his inner world. No physical form has been noted as Bokoseido as of yet. This gives more of the 'voice of reason' or 'conscience' type of feel. Said voice can be heard throughout the whole Inner World.


Inner World Appearance: Kazuma's Inner World is a lavished cathedral sitting on a small island with a small homey looking dock surrounded by and endless sea. His state of mind and emotions, etc, is personified as the condition of his Inner World. For example, if he is unsettled, his inner world could be experiencing a storm. If he is having a breakdown, his sanctuary could be in ruins. And various other forms depending on the circumstance.

Spoiler:


Zanpaktuo's Sealed Power's:
The blade can have a slight corrosive nature to it. Boosting cutting power.
It also may exhibit lesser versions of varied poisons, the potency obviously lesser than what would be in Shikai and much more limited. An example would be if the blade was coated with a sleeping poison, it would simply hinder cognitive functions and cause drowsiness. A lesser degree than Shikai.


Zanpakutō Sealed Appearance:
The hilt is a white base overlapped by a silver lining, leading to the guard which is a cross shape attached to a double edged blade.

Shikai Appearance:





Shikai Abilities:

One ability which Bokoseido holds is that of a very potent poison. The poison itself, the effects it has and the way it can be transmitted varies upon each time it is released As well as the vessel which it is used to transmit, meaning his spear alters a bit to better suit the needs of the poison it is producing. However, when released it sticks with the set. An example, if the poison is sleeping gas that is to be inhaled when released it will stay that way until unreleased and released again. This can stem further to which it can use the body of the user to augment this or even counter. Such as if Kazuma's body contains the necessary ingredients to say serve as a painkiller or something he can actually use it to serve as aid to his comrades. And by extension, he can give others the ability to move freely unhindered by his poisons.

It also contains the ability to change it's shape, size, mass, etc. For example, the spear can form into more of a lance or even a halberd. It can extend, or even change direction in mid extension. However, in Shikai, it's limit of extension is 200 square feet.Things of that nature.