The Spiritual Human Template
Basic Information
_____________________________
• Name:
Amy Heiwajima
• Titles:
Sometimes referred to as The Analyzer due to her brain's computational abilities
• Age:
physically she is 21 years old, though though there are no records of her existence until ten years ago.
• Gender:
Female
• Affiliation/Rank: • Appearance Picture: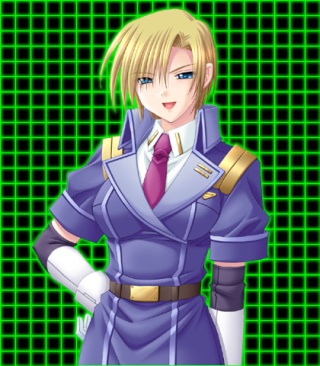 _____________________________
Personality
• Personality:


Violent Temper: She is easily angered, and when she is angry she gets extremely violent. Even the smallest things can tick her off, and she doesn't have any mercy for those who bother her.

Confident: When fighting, she is extremely confident, a trait built up by years of successive battles and her extreme analytic skills. She never thinks she can possibly fail, always convinced she can defeat the next person.

Lab focus: While she is in her lab working on a project it is almost impossible to distract her. She tunes out everything else while working on her devices, and can go days in the lab without realizing it.

Lonely: Her childhood of having no friends has left her with an empty heart and a lonely life. She would love to have some friends, but she finds it incredibly difficult to trust others.

Protector: Though she has no friends and people have not exactly been good to her, she tries her best to protect others. Except when angry she hates seeing people get hurt, and always tries to stop it from happening. When she is angry, she will attempt to hurt whoever angered her though, and anybody who gets in her way just angers her some more.

Worry wart: A trait developed due to her immense analytic skills and her predisposition for distrusting people, she worries immensely over her choices whenever she is not actively busy. She always wonders if she made the right choice, wondering if maybe there was a better choice she could have made.

Soft spot for orphans: Ever since she came back in to the time-space continuum, she has cared very much for orphans, due to no longer having any parents or relatives to her knowledge.

_____________________________
Equipment
At any time, Tina may have any of the below items on her:


Data Analysis Eyewear:

A pair of glasses that are connected to her Spirit-Electron Computing Device in order to analyze beings she has fought with and storing that data, along with storing data on her battles. This data can later be displayed to her if she meets the same person, along with any data on where they met and what happened.


Spirit-Electron Body Protection Vest:

A device embedded in the vest controls the spirit energy around her in order to create a small protective layer within 1/8 of an inch from her skin. This device can protect against normal bullets, Kidō equal to a Hadō 4 from a 4-4, or zanpaktou attacks from a fighting based 4-5 shinigami indefinitely, as it will recharge enough before it expends more. a spiritual attack equal to a Hadō 4 from a 4-3 to 3-5 shinigami, or a zanpaktou attack from a fighting based 4-4 to 3-5 shinigami will take ten consecutive attacks to completely drain it. A Hadō 4 from a 3-4 to a 3-1 or a zanpaktou attack from a 3-4 to 2-5 fighting based shinigami will take 4 consecutive attacks to drain it. Anything above this and below 2-3 will drain it in one shot, 2-3 will not be affected by this device. If the wearer is not being consecutively attacked, this device will recharge so that it will take one additional attack per post it is allowed to recharge.


Spirit Beam AR-15, 1M-0-512 charge pack only:

A rifle firing high grade spirit blasts (1 in front of the letter denotes a rifle, M is the power, ranging from A being the weakest to Z being the strongest, 0 in the middle denoting infinte round, 512 is safety potential, 512 meaning perfectly safe, no overcharge possible). It can fire these blasts repeatedly, and never runs out of charge, allowing endless fire. Each shot has power equal to that of a Hadō 17 - Pulse Blast cast by a tier 4-3 shinigami who specializes in Kidō.


Springfield Armory M1911A1 with sekiseki stone laced bullets:

Tina has managed to meld a variety of metals and sekkiseki stone to make an alloy for bullets to be employed against strong spiritual foes. the bullets are made to break up upon entering a being, and the Sekkiseki, which is contained in a dust form in a gas capsule in the middle, will pour in to any open wound, infecting the bloodstream of the one she shot at. She carries exactly one clip (7 bullets) with this gun, and besides for the bullets is an otherwise ordinary gun. She also carries 5 clips (total 35 shots) filled with blessed steel bullets, which will harm spiritual creatures slightly more then they would a human.


Up to two Spirit Beam Pistols, Version 0D-6-128 (0 denotes pistol weaponry):

A pistol made to shoot charges of spirit energy, using the D-128 power revolving 6 charging containers, it is made so that without a overcharge kit one of its shots will be able to compete with weak hollows and the average shinigami who has just graduated from the academy. One shot has the same power as a Hadō 4 - byakurai that was cast by a 4-4 shinigami. If all six containers are shot in immediate succession there will be a 3 second delay before the cells are recharged and it may be fired again.


Spirit Beam Weapon Cell Overcharger, 6 overcharged cells inside for her spirit beam pistols:
Used to charge the cells past their safety point, causing them to be ten times as destructive as a normal charge for this type. After firing, the cell will disintegrate, leaving no trace behind. A weapon that fires an overcharged cell must wait ten seconds before firing again, as the heat from the overcharged shot needs to dissipate.


Spirit-Electron Deflection Unit:

Embedded within the watch is a device that, when activated, in a 2 feet diameter disk area create a field of energy that distorts spiritual attacks, cancelling them out. It cancels out two units of spiritual energy for one unit of the electrical energy the device runs on. The device does not have much power though, so the amount it can block before needing to recharge is limited. A cero from a 3-2 hollow would deplete this device of its full charge, and this device has no effect on physical attacks.


Spirit Disturbance Mines, up to five of them: Made to mimic SekkiSekki stone, these mines appear to be black orbs, floating half a foot off the ground. Within a 30 feet radius of this device all supernatural abilities are cancelled. They are fairly easy to crush purposefully, thereby destroying them.

List of devices built, but will be extremely unlikely to have with her:


S.E.I.F.T. electric generator: through a complex method this device uses a tiny amount of electricity to generate huge amounts of electricity. She has given these to several universities in exchange for unlimited help with her projects.


T.F.C.F.: this was a project she created a long time ago which let her pull a section of space out of the space time continuum, allowing her to travel forward 390 years in a matter of seconds. Unfortunately the device relied on a specific setting of all the planets in the universe, an event that won't happen for at least another thousand years.


Age-freeze pills: She has created pills that temporarily stop her from aging while she pursues her other hopes.


Spirit-Electron Computing Device: A huge supercomputer that is the first result of one of her current projects, the Spirit-Electron Programmable Weapons Project, this device is one of the most advanced computers of its age. It stores extreme amounts of data and can process information more then 100 times faster then any traditional computer.

_____________________________
Natural Attributes & Supernatural Powers
• Natural Attributes:
Superhuman brain: her brain processes information at 25 times a humans normal potential within its normal limits. She has since added technology to herself to double that speed.

Superhuman Strength: Though not to the extent of most of the other Heiwajimas, Amy has strength beyond human abilities.

Reflexes: Due to her brains processing powers, and her superhuman body, she can achieve movement and reflexive feats well beyond an ordinary humans potential.

• Powers:
Her powers are still awakening, currently in a very unstable state. The devices she has carried, which manipulate reishi, have in turned started to open the depths of her hidden powers. So far it seems her powers are based on her eyes.
• Pure Abilities:
Sniper sight:
When her power first awakened, this ability activated. When this ability is activated, hey eyes see as if through a sniper rifle's scope, allowing her to make accurate shots from up to 500 meters away. The type of weapon does not matter, so long as it is some sort of ranged weapon. However. there is a weakness. While active, her brain can not take the enormous amount of data coming in from her eyes, causing paralyzing pain if she does not have one eye covered.
_____________________________
Sacred Release

• Sacred Release Appearance: (Describe what your human looks like when they release their spiritual power. This is essentially equivalent to a Shinigami's Shikai.)

• Sacred Release Powers: (Does your human get any additional powers from this transformation? For instance, if you had the power to control Fire in your base, could you control heat and magma in this state? Or would you gain something else?)

_____________________________

Ascended Sacred State

•Ascended Sacred State Appearance: (Describe what your human looks like when they release their spiritual power. This is essentially equivalent to a Shinigami's Bankai.)

• Ascended Sacred State Powers: (Does your human get any additional powers from this transformation? For instance, if you had the power to control Fire in your base, could you control heat and magma in this state? Or would you gain something else?)
_____________________________
Background History
• Background:
She was born in the winter of 1992, in to the heiwajima family. Like all members of her family she was extremely strong and extremely intelligent. When she entered school though, she found her intelligence to be beyond what most could fathom. By the time she was twelve she already had a bachelor's degree, with more degrees to follow. When she turned eighteen she had multiple doctorate degrees, but not everything was good for her in her school years.
She was always the odd one out, whether for being too smart early on, or being too young while in college. She hated it, and her violent temper made things hard for her. The schools kept her though, she was the famous kid after all, they wouldn't just give her up. Even after school people still treated her like a freak though. No company would employ her, her youth and her multiple degrees spreading suspicion among companies.
Eventually, driven by the frustration due to her treatment, she started to build an experimental device of hers, the Time Freezing Containment Field. This device use an anomaly in the space time continuum, that could only be used when the universe was aligned a certain way, which would cause herself to be pushed out of the space-time continuum. It would then allow her to reenter at any point in the future that she chose. She worked tirelessly on the device, day and night, for two whole years.
She managed to complete the device just days before the anomaly happened, at which point she activated the device, transporting herself three hundred and ninety years in to the future. Once there she managed to get her hands on some money, and started developing a new project, trying to build a generator that produced more then it would take in. Within three years she had developed the Spirit-Electron Interaction Theory and used it to develop a generator that would take a small amount of electricity as its input and produce a larger amount of electricity, thus making it a self sustaining generator.
From there she gave this technology to several scientific institutions, which allowed her huge sums of money to continue researching. Her continued research led to her developing the Spirit-Electron Network, which sent signals via the spiritual energy flowing in the air. After that she started working on an even more ambitious project, the Spirit-Electron Programmable Weapons Project. This was a project meant to design a variable spiritual weapon, one that could change properties by uploading a different piece of code to it.
It was from these donation that she was found though. It seems that in her three hundred and ninety year time jump, all her accomplishments had been erased, including her schooling. She was enrolled in a local high school, but this time around, she didn't have the same experience as last time. All the subjects were boring to her, her frustration was obvious, and her fighting with students gave her a bad reputation. Her grades would have been zeros had it not been for her test scores, all perfect, but despite those she was still failing.
At first she started developing spiritual weapons, looking in to how these weapons could be made. After that she managed to create the Spirit-Electron Computing Device, a computer that implemented her spiritual energy technology, allowing it to be hundreds of times more powerful then the strongest traditional supercomputer. It was too big for the weapons project, so she set it aside, using it to store massive amounts of data and run important simulations for her projects.
_____________________________
See Skill Sheet for More Information
General Skills
Durability: Beginner

General Speed: Adept

Strength: Advanced

Weapon Skill: Beginner

Will Skills
Willpower/Determination: Adept

Mental Deduction: Advanced

Pain Endurance: Beginner

Focus: Advanced

Human Reiatsu Sheet
Power Control: Beginner

Energy Usage/Regeneration: Beginner

Energy Resistance/Endurance: Beginner

Physical Augmentation: Beginner