Kade
Demon Innovator of Violence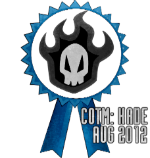 ---
Joined

: 2010-07-30


¥ Yen

: 167777578


Posts

: 2393


Karma

: 4


Location

: Death Valley NJ, Small Part

Member Info
Awesome Bar:





(10120/100000)


Tiers:

Subject Post 1Subject: Death Kagato [FINISHED] Fri Mar 29, 2013 9:08 pm

---



Last edited by Kade on Thu May 09, 2013 10:41 pm; edited 1 time in total
Kade
Demon Innovator of Violence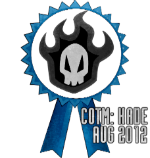 ---
Joined

: 2010-07-30


¥ Yen

: 167777578


Posts

: 2393


Karma

: 4


Location

: Death Valley NJ, Small Part

Member Info
Awesome Bar:





(10120/100000)


Tiers:

Subject Post 2Subject: Re: Death Kagato [FINISHED] Fri Mar 29, 2013 9:09 pm

---



Last edited by Kade on Thu May 09, 2013 10:42 pm; edited 1 time in total
Forsaken Crow
Senior Member





Joined

: 2012-05-29


¥ Yen

: 616925313


Posts

: 2329


Karma

: 18


Age

: 26

Member Info
Awesome Bar:





(53500/99999)


Tiers:

Subject Post 3Subject: Re: Death Kagato [FINISHED] Tue Apr 02, 2013 4:52 pm

---

Application Checklist

Name [O]

Appropriate Age [X]

Gender [O]

Appearance Present [O]

Appearance Described in Appropriate Length OR Picture is Visible [O]

Appearance is Not Claimed [O]

10 sentences for personality [O]

History is of appropriate length [-]

Powers are not Godmod/Overpowered [X]

Powers are described reasonably enough [X]

Application/RP Sample is not in First Person [O]

Skills are not filled in (Omit if a Hollow)[-]

RP Sample Present (Omit if this is not the first character) [O]

RP Sample is 10 sentences [O]


Will Skills

Willpower/Determination: Beginner

Mental Deduction: Beginner

Pain Endurance: Beginner

Focus: Beginner




Comments/Notes: We are going to work on this together in sections, I can't spend the entire time..So fix the stuff below and we'll keep moving forward on it a step at a time.

Age: The current age must be lowered because Frost informed me that only some get such an age and he didn't clear you for it, so bring down the age to a lower level.

» Unique Abilities: Unbelievable Demon Spiritual Power: Death Kagato was created from ancient druids who spiritual pressure that would actually surpassed any Shinigami or any arrancar. He was actually injected with an ancient blood power called "Genosha Effect" which not only made the demon muscular but gave him high amounts of spiritual pressure. The Genosha Effect is condense spiritual energy that flows throughout the demon's body and activates from the demon own will. It gives him high powers to take on even a shinigami captain from the Soul Society, Espada from the Espada group and many other powerful warriors. Death Kagato usually augments the strength of his punches, kicks and demon attacks making them stronger in combat giving the edge in battle or giving his enemies a good fight.

Response: Sorry but their is no way I can let this through, not as it stands the thing is you just can't claim to be better then every Shinigami and Arrancar because this would mean Yamamoto and hell even those of Zero Division, which just isn't something that one does. You may say he can rival most Arrancar and Shinigami's powers.


Genosha Effect I have yet to come across this in the app, you need to explain the effects of this better and add them into the powers.

True Bone Durability: Kagato has strong bone density which has infused with his body because of necro energies which were infused into him during his birth. Because of the bone strength, Kagato has shown to have high resistant to damage it would take lot of fucking damage to break him. This has something to do his willpower giving him the mental deduction to survive no matter how painful it might be. Whenever the demon in a bad situation, Kagato will find a secure spot in his mind and awaken from his pain trying to find some strength to rise from it or with it. He could take a shikai attack and only have minor injuries but bankai that would be a different story the demon might be wounded or some body parts might be damaged but not enough to kill him.

Response: You can't just say your completely immune to a Zanpakutō, some of these things hurt. I am will to work with you and accept that he has some minor resistance to them..But I cannot give him complete to a Shinigami's Zanpakutō since that's their main weapon.

Necroplasmic Healing Factor: A demonic healing system that allow the demon from injuries at a vey rate due the black blood inside of him the process starts when the demon is injured. The regenerative powers of the necroplasm within starts healing him quickly and in mere seconds the demon is healed. Kagato can reheal himself from bruises, cuts wounds, damaged limbs etc. But this power is very limited because the demon reape hasn't master the ability completely. Using it the first time the demon can heal anything that is damaged but using it again the demon will have to wait 4 posts before using it again. The demon can't reheal himself from fatique or depending on the situation, Kagato can be sluggish causing him to faint.

Response:Ok I need some limits on this, for example how long would it take him to heal back an arm how many turns. Also what's the limits on the healing, their are somethings he won't be able to heal obviously.

Intense Demon Summoning: Because of the demons he's absorbed into him his gained vast unknown abilities. One of them was from killing a demon soul necromancer. Death Kagato had the ability so summons demons to attack, amusement or provide something of distaction. However these demons are as strong as him but his supreme summon demons are a bit stonger then him. These demons can't be controlled in any way because of the burned demon ring that Kagato wears on his finger. The demon ring is like a control beacon for his summoned demons. If this ring is broken it will repair itself but the summoned will drop about 2 tiers except the goblin and skeletons their kinda safe from it after testing their powers. His summoned demons can last for 10 posts with a cooldown periods fo 6 posts before they be summoned again. However for his goblins have a cooldown period of 3 posts.

Response: Ok we need to toss some limits on these boys..Alright I want their their skills below his by one..Meaning Racial and General..So if you have advanced they have adept.

Bone Goblins: His starter demons, green little imp creatures. These the first things he learned after becoming a novice summoners. He can only summons 250 of them at a time. Their tier 5-5 of 5-1 tier. They can be easily destroyed. These monsters come with only weapons being their claws and feet. The bone goblin monsters were created when Death Kagato was to started a ruckus or actually cause some havoc around earth's dimension.

Response: I am willing to allow the summoning of that number, however we must add a limit and downside to this. So we will be taking all of your energy to summon the max amount of them, meaning 250 summoned will equal dropping over.

Dark Deadnaughts: The zombie skeletons of the dark reign. They act more human then zombie they comes with their bone weapons and metal weapons from ancient past. Only 125 of them can be summoned at the summoner and their 4-5 or 4-1 Only about 5 of them wear defensive armor to protect but easy enough to destroy if the enemy is stronger. Death Kagato will shown very little signs of fatigue but he able to shake it off after their summoned. The summoner can only summoned then about 4 times.

Response: Alright, againt his is going to cost you energy you have to think about how much energy he is using to do this. The tier set up is nice and all, but the number and amount of pressure being put on him to summon these is something we must know.


Tier:2-3 when finished.
Kade
Demon Innovator of Violence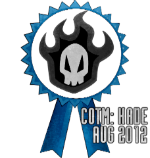 ---
Joined

: 2010-07-30


¥ Yen

: 167777578


Posts

: 2393


Karma

: 4


Location

: Death Valley NJ, Small Part

Member Info
Awesome Bar:





(10120/100000)


Tiers:

Subject Post 4Subject: Re: Death Kagato [FINISHED] Tue Apr 02, 2013 6:27 pm

---

please put this in
wip please
Gin
Senior Member





Joined

: 2011-06-30


¥ Yen

: 163481029


Posts

: 2024


Karma

: 9


Age

: 23

Member Info
Awesome Bar:





(10000/999999)


Tiers:

Subject Post 5Subject: Re: Death Kagato [FINISHED] Thu Apr 25, 2013 7:43 pm

---

Moved to Old WIP.

__________________
lionus
Moderator





Joined

: 2012-11-22


¥ Yen

: 340654443


Posts

: 945


Karma

: 1


Age

: 22


Location

: convict island aka Australia

Member Info
Awesome Bar:





(10/100)


Tiers:

Subject Post 6Subject: Re: Death Kagato [FINISHED] Wed Feb 18, 2015 9:19 am

---

Archiving this as apart of my clean up of Old Wip

If you wish for this to be moved back to old wip please feel free to post within this thread

Staff Help Thread