☨ Natural Abilities:
•
Za Koa:
Even though Cecil does not have a big use for having a strong Za Koa he still has done some training in it so that he can have some power in the times when he needs to use Demon magic or become intact with his environment. Since Cecil knows that knowing his environment will help him in combat since it will give him strategically advantages. This way that Cecil can become in touch with the core so that he may be able to use his energy to shape the environment to his advantage as well as have more control over his energy as well as being able to focus more on his demon magic though he does not use it much. Though Cecil's skill in this is lower than most of his skills he is still able to connect into the core and use its abilities. Though since Cecil has abilities that let him do things like reiatsu drain he does not have to depended on his skill in Za Koa so that he is able to do certain abilities like that.
•
Black Inferno Blast:
Do to training and learning to control his special elements and energies Cecil has learned to add special twist to his black inferno blast by adding his tainted or holy elements or energies. Since if Cecil were to add his dark energy to his inferno blast it would add the effect of draining the target that hit as well as its other effects. And by adding his Holy energy Cecil could use his Black inferno blast to heal a person or counter/stop attacks of two tiers higher due to its higher defense abilities. But as well as adding his energy Cecil can also add in his dark or holy elements. So say Cecil was to add in his Black lightning to his black inferno blast he would be able to increase the force of the attack as well as make it drain energy. Or if he was to add Hell fire with his black inferno blast giving it a more burning sensation when it comes in contact with a target. Or using Holy lightning to charge things up or overcharge things up so that Cecil can do whatever he needs to be done.
•
Kage Chōkyō-shi:
If there is any Za Koa skill that Cecil uses a lot it would be his Kage Chōkyō-shi. Cecil has come to use this ability for many purposes. Besides it's normal purposes of just traveling to different places like Earth. As Cecil will make portals appear around the battlefield so that he may disappear and reappear around the field confusing his opponents so that they can never know where he is truly going to come from when he is going to attack. Cecil through the help of his brother Amos has also learned to use the portals to send attacks through. As Cecil can send an attack through one portal and have the attack come out of another portal allowing for him to send attacks without his targets clearly seeing them. Cecil has also come to use the portals to defend him from attacks or redirect others attack's. Ex Cecil will open up a portal in front of a cero letting the cero go through it. Then he will proceed to open up another portal to let that cero come through or just using the portals to let attacks disappear to another place of no importance.
•
Akuma Kyodo:
Cecil has a very strong Akuma Kyodo as Cecil being a person who likes to get up and personal when he fights he has come to need a good defense. And so because of this Cecil has come to train his Akuma Kyodo so that he is able to take more damage from his opponents and not have to worry so much about the physical damage he may take when he is on the front line. Cecil has also come to use his Akuma Kyodo for offensive purposes using it to make his skin and body so that he man deal harder punches and physical attacks like that. This has come to be very helpful in the past to Cecil being one of his main demon skills that is used. This makes Cecil's Akuma Kyodo not be something that should be taken lightly as Cecil has learned to use it for offensive and defensive purposes when it comes to using it in combat. Cecil has also come to use it in sync with his Shadow Burst so that his speed and durability is increased at the same time so that he can easily deal out large amounts of damage with his sword and being able to take just as much damage he gives out if not more. Making it a very deadly combo for people to deal with when Cecil does them in sync with each other.
•
Shadow Movement:
Of all of Cecil's Demons skills shadow movement is Cecil's best. Due to the fact that Cecil feels at home in the shadows as well as being a person who has spent a lot of time using the shadows to help him in combat. As Cecil benefits more from darkness then most Demons this lets his Shadow movement be a little bit better then most demon of the same skill level as him. Since Cecil can easily use shadow burst to avoid enemies as well as help him in combat using his speed so that he may deal loads of damage to his targets without them being able to hit him back yet. This makes it very dangerous for someone to be near Cecil when he does his Shadow burst. As Cecil is known to use his shadow burst in sync with his sword skills so that he may deal slashes and other attacks from his sword so that he can deal loads of damage at a quick rate and lower the chance of himself getting hurt or anything of that sort.
•
Demon Magic:
Though most would see Cecil as a melee brute force fighter considering most of his attacks tend to use his sword or his strength speed, and strategic movements to overwhelm his opponents. Cecil is not all bronze and brute strength. Cecil has become very well in the use of his demon magic in adding it in the use of his sword play. Since Cecil is one who is very well trained in the use of the sword he has become able to do many different sword styles and attacks and by adding his demon magic into his sword play he has become able to throw in many different effects into his attack so that he is easily able to do more damage to his opponents, as well as throw in little surprises along the way. This makes Cecil even more of a double edge sword. Allowing for him to utilize every part of his natural demon abilities with his fighting style.
_____________________________________________________
☨ Unique Abilities:
Dark Energy:
Cecil has a very special type of energy. This energy being known as Dark energy as it is a tainted type of energy. This being an Energy that Cecil learned to control due to the fact that he was once filled with darkness having himself overtaken. As Cecil can create, control, manipulate, materialize and summon darkness in various ways through using his energy. Though Darkness is more than just shadows, Darkness is its own element an energy like no others. This is because The Dark element is a tainted element that unlike other elements is one that drains those that it hits. Ex: If one were to send out a blast of dark energy the one that was hit by it would not only feel the pain of the attack but also have their energy slowly start to drain away. As the Dark element is just like pure energy but the fact that it is also able to slowly drain the energy of those that it hits. Cecil has also come to use solidify his dark energy making it into weapons and other things. Note: The shadows are also a part of darkness as Cecil could use the shadows to attack and they would have the same effect as the darkness element.
•
Dark Fire:
Dark fire is the tainted flames of hell, also known as Hell fire. These flames are far more intense than normal flames, and can almost incinerate anything to the point of leaving absolutely no byproduct (not even ashes), and even smother normal fire and evaporate water used by that of lower tiers. Though unlike normal fire this fire takes on the color of Black for Cecil as there are other users who use hell fire and it takes on colors like blue. Unlike regular fire Dark fire can have different properties and abilities, such as causing excruciating pain upon contact instead of burning. This allows for the fire to harm those that are resistant to burns. Another property of the fire is to be used for relatively beneficial purposes, such as summoning spirits of the deceased temporarily back to the world of living from Hell. With enough power Dark flames could even do Reanimation or Resurrection via summoning the damned and/or Demons.
•
Black Lightning:
Black lightning is another one of the tainted elements that Cecil has come to learn and use. Black lightning has most of the effects of regular lighting but is not focused on effects of shocking its targets. As black lightning hits with more force than regular lighting giving it a higher destructive power. Because of focusing more on force than the effects to shock and electrocute people, black lightning has become more of a brute force element. Ex: A person was to get hit in the arm by lightning there is a more possibility of nerve damage and palatalization to the arm as compared to black lightning. Because if one were to get hit in the arm by black lightning there would be a higher chance of the bone being completely shattered than the person having nerve damage. This is just because of the force of the tainted lightning compared to that of the normal lightning. On top of that Black lightning also focuses on draining energy from a target. Meaning that Cecil can't use Black lightning to charge something like a battery. As Black lightning drains energy from whatever it touches this means that when a person it touched by Black lightning not only will they feel the force of the lightning itself but they will also have to deal with the fact that each time they are touched by it some of their energy is drained.
•
Dark Water:
Dark water is the tainted version of water, and unlike its normal part it is way more deadly. This is because unlike regular water dark water touches those it comes in contact with on touch. This makes it deadly to be around as those who touch it will instantly be burned if they are not able to find some way to block the effects. Ex: A person with a higher tier then Cecil could easily use their reishi and reiatsu to block the attacks. Or if they have some ability that could also work in blocking the burn. But dark water does more than just burn on touch. As once a person is touched by dark water they are tainted. And they will then start to slowly lose energy unless they are able to heal their dark energy that is now flowing in their body. Ex: The easiest and most simple way to heal dark energy is to have someone use holy energy on you to heal the tainted energy. Some can just wait it out as over time the dark energy will be released from the body as the body fights it out, but the lower tier of the person fighting it the longer it will take and the more dangerous it could be. Dark Water being the fact that it is tainted also has the ability to break holy barriers and seals made by people of a lower tier then Cecil. As well as the fact that Dark water unlike regular water that helps plants grow does not. If any plants are hit by dark water they will start to die.
Holy Energy:
Through Cecil's learning to control his darkness he has come to gain a new type of energy that is easily able to balance out his dark energy. This is an energy that takes on a full white appearance. Though some would confuse this energy as being light itself, though this energy is not light itself it is a special energy that does not work like light. Though this energy takes the form of light in some way it works completely different. This energy has a burning sensation when it touches people. As it clears away all the sins and impurities, making this a very dangerous element though it does not have a very big offensive capability off the bat it is easily able to do its job and help Cecil. As Holy energy works very well as a support energy easily be able to help heal opponents as well as working as the ultimate defense. This is because Holy energy is an energy based of its true defensive powers. Though it has offensive powers its strongest asset is its ability for defense. Through Holy energy Cecil is able to form his energy into solid shapes. IE Weapons, walls animals. Things of those sorts to help him defend himself, as these constructs tend to be able to take more damage than regular constructs. They also take a holy white appearance having a shining white Aura that could blind a person if they look right at it.
•
Holy Fire:
Holy Fire is the flames of Heaven itself. Though they do not work like regular fire as it is a pure element of holy energy being a non-tainted element. And unlike regular fire Holy Fire is more intense but also takes on a different color then regular fire as Holy Fire is the color of white. On top of that Holy fire has a few abilities that make it different than regular fire. One could use it to bring back regular good spirits or banish evil spirits. But the greatest ability of Holy fire is the ability to heal wounds of others. This allows for Cecil to heal a wound of a person though this will only work on non-Demons and Devil's. With Holy fire Cecil can easily heal wounds caused from things like hell fire or other tainted elements event things like death energy as well as cure demon curses. This makes it a very good support element for Cecil. But it also has it's dark sides. Since if it were to be used on a Devil Iramasha or Demon it would work the opposite and do damage times ten to them. Though Cecil has come to be able to withstand the effects of the fire do to his holy energy. (Note it works on Sueki, Arrancar Demons and Devil Iramasha in reverse as well as those with anyone of those races sealed in them as Ziamichi.)
•
Holy Lightning:
Holy lightning unlike dark lightning actual focuses more on its charge instead of its force and de charging of things. This means that when Holy lightning hits you its force is not as strong as dark lightning so there is a less chance of someone getting broken bones or having dealt with the force of the attack. Holy Lightning has the effect of super charging things. This means that Holy lightning works better in charging things then regular lightning. So say if one were to want to charge a battery or something Holy lightning would be able to do it four times as fast as regular lightning or electricity. Though Holy lightning can also be used to regenerate a person's energy, as well as boost their nerves so that they may be able to become faster and stronger for short periods of time. Though the down effect of Holy lightning is that some things may be able to become over charged making them explode from energy. People could over charge themselves and collapse or even hurt their nerves or internal organs due to increase of things like heart rate if charged with too much Holy lightning.
•
Holy Water:
Holy water is not like either of its other counterparts. As unlike dark water holy water does not burn those it touches or start to kill the environment around it. Holy water is an element that strictly built to help its surroundings and bring life to everything. Holy water is an element that is mainly used to heal those around it. As Cecil can easily use his holy water to help a person that is injured using holy water to easily increase the time that it takes for a wound to heal even under the use of other abilities. As Cecil using his holy water can easily increase the time that it takes for a wound by double when it comes to major wounds. And easily fix minor wounds in a heartbeat. Holy water also does things like increase the growth of the environment. As when holy water is put on plants and things of that sort it easily helps them grow at a more rapped pace. Holy water is also able to be do things like un taint tainted water. Holy water can also fix internal injuries that can't be seen if it is drunken by the injured. And like most holy elements Holy water works well on the undead and Demons.
Deathbringer:
Deathbringer is a special part of Cecil, it is a sword that is made up from Cecil's darkness and has overtime come one with him. This is because Deathbringer is connected to Cecil like a Zanpakutō is to a Shinigami. Though Deathbringer is slightly different then a Zanpakutō. First being the fact that Deathbringer is a part of Cecil's body. This allows for Cecil to be able to carry around the sound without it being seen as he is easily able to pull the sword out of his body. Now unlike a Zanpakutō Deathbringer does not have his own spirit as Deathbringer is completely connected to Cecil. This is because like a Zanpakutō Deathbringer is a part of Cecil's soul. To be exact Deathbringer is all of the hatred and darkness that once filled Cecil's heart. As through the training and help of Baron Cecil was able to do an old school demon method and make a weapon that was one with themselves.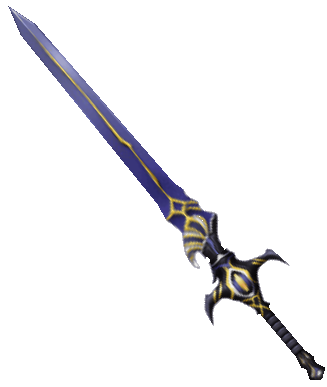 •
Souleater:
Cecil will gather the energy around him and let it out in a big wave or blast of dark energy. By concentrating the energy into a blast he is able to send out a black inferno blast of dark energy. This will make the inferno blast even more deadly as it will proceed to take energy away from the person that is hit by this blast as well as inflicting pain to them as though it were a regular black inferno blast. Now if Cecil were to choose to let it out in a wave of energy it would hit everyone in a 3 meter diameter of Cecil meaning that it could possible even hit Cecil's allies. Though ether way Cecil goes about using the ability it still has one drawback. In order to do the attack and gather up enough dark energy without having to charge the attack Cecil inflects damage to himself. So by doing the attack Cecil also slightly hurts himself, though this not much pain. Note: Souleater can only be done once a post and has a 1 post cool down.
•
Blackblade:
Deathbringer will start to turn black as Cecil holds it in his hand this is do to the transferring of the black lightning into the blade. This will then allow for Cecil to increase the damage he does with the use of his blade. As each time his swings the blade he will be able to send out a wave of devastating black lightning as well as the force of his blade is not increased meaning that he could easily cut through materials that he would not be able to do so otherwise. As the force of the black lightning is in the blade and when swung the blade uses that force to increase its power. This is one of Cecil's hidden tricks with his sword. As not all people notice that the blade is being charged with the power of the black lightning, as they do not realize that the force of the lightning will make the blade even stronger. Note: This can only be used for 3 post at a time then Cecil will have to wait 2 post before he is able to recharge the blade with lightning
•
Cloak of Darkness:
Cecil will let out some of his darkness. This will then start to cover the area around Cecil, as everything in a 10 meter diameter of Cecil will be covered in darkness. This will now allow for Cecil to hide from opponents. As well as it gives him a boost in speed due to his demon seals. But this is not the point of the cloak of darkness. Since the cloak is made of dark energy the longer people stay in it the more their energy will start to be drained. Though this is a slow draining process overtime it is able to drain a lot of energy from those that get stuck in it. Though some people may be able to counter the draining effect by using their own energy to stop it, as those with a higher tier could easily do. Were as some people may be able to just use abilities that stop its effects. (This Ability only last for 5 post with a 3 post cool down before Cecil can use it again. )
•
Drawbacks:
Though Cecil has gotten good control over his Holy and Dark elements he still has some trouble when it comes to using both of these attributes at the same time. Though Cecil can use both Dark and Holy elements at the same time he can not use both form of elements. This means that if Cecil uses Dark fire in one post he can not use Holy fire in that same post. This is because Cecil does not have enough control over his elements to switch from the dark version to the holy version, or vise versa. But Cecil is still capable of using another element, this means that if Cecil uses Dark fire in a post he can still use Holy Water in that same post. As He does have enough control over his energies that he can use them at the same time and well simultaneously. (Side Notes Until 0 tier Cecil is only capable of using either Holy or Dark elements in a post. Meaning that he cant use Holy Fire and Dark Lightning in the same post as right now he is only capable of using one element a post meaning he could use pure dark energy and dark lightning but not dark fire in the same post)
____________________________________________________
Skill-Sheet
____________________________________________________
Racial Skills
Za Koa Skill: Advanced

Demon Magic: Adept

Shadow Movement: Advanced

Akuma Kyōdo: Adept

General Skills
Durability: Adept

General Speed: Advanced

Strength: Adept

Weapon Skill: Advanced
Willpower/Determination: Adept

Mental Deduction: Adept

Pain Endurance: Advanced

Focus: Advanced

____________________________________________________