ZIAMICHI
***REMEMBER, ZIAMICHI'S CAN BE FROM ALMOST ANY RACE EXPECT VIZARDS, HOLLOWS OR ARRANCARS***
Name: Kengo Shinoichi
Gender: Male
Age: 300
The Host Race: Shinigami
Personality: Kengo's personality is well, a bit over the place, he's quite insane for a 300 year old shinigami guy, he's not overly crazy, but not all that normal either. when he has his eye's set on a goal, he will go for it no matter what and no matter who is in his way. he can be greedy quite a bit, and very protective of someone he cares about, in his case, mostly Hinawa. He will do anything to make her happy, gladly kill someone and rip their spine out right in front of her, just to see her chuckle or be happy. so there is quite a few thing's wrong in his head, he only cares for a certain number of people, since his human life, he never trusted many friend's and that followed him in soul society, he only trust's a number of people, to speak he only see's them as benefits to get him farther in life. except Hinawa, April and a few select others. they are probably the only friends of his that he truly trust's. and wont use for benefit, but will protect a lot no matter what. the main friends are a crush, he got for hinawa, some time spent around April, and a few other division officer's showing off a side of him that's more fun and laughable, he has also shown to be a loyal and humble servant type mostly to hinawa for saving his life as a human, he also through some time got a crush, but knows of her affinity for April. nonetheless he accepts it. and still does his best to at least satisfy Hinawa whether it's breaking somebody's spine in two, gouging their eyes out, or even spoiling her with material thing's he will do almost anything to see a satisfied grin or smile on her face. hell the obsession won't so far that he dyed his hair and got blue contacts to look exactly like her.
Appearance: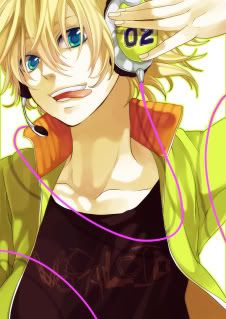 Background/History: Kengo was born as the half brother of Yuusuke onodera, and originally had black and brown hair, he grew up being the out side fellow really, despite the love from his mother and father. he never really enjoyed being in with the crowd, if anything he'd usually follow yuusuke most of the time. Yuusuke was always the kind heart and courageous person, and that led people to stomp over him sometimes and bully him and Kengo, Kengo didn't know why he'd let them do that when clearly he was stronger. so in turn he'd take up for Yuusuke and beat them up really bad and also go as far as stabbing one, which nearly got him and yuusuke expelled. luckily their mother pulled the right strings, so that they could stay at the school. However, Yuusuke had to keep a close eye on Kengo before he could go into even more reckless water's. after they both reached their teenage year's Yuusuke found a Special Belt, known as the Arcle and Gained the legendary Power of a Warrior spirit known as Kuuga, who's spirit was sealed in the belt. Kengo was in the dark about this until he seen his brother fight off a wave of hollow's, which resulted in him getting more involved in his business, which made him sort of upset, he wanted power like that. he figured his brother was a fool and too nice to be using such powerful Form's and Power it's self to fight. It should have been him! he always thought. this way of thinking would ultimately lead him to eventually die, one day he came out in one of Yuusuke's hollow battle's and grabbed the arcle from his waist, out of jealousy he tried to use it, however, the power was far too great for his body to handle at the time. seeing as he was 14-15 at the time. thus the power rejected him. and his dark intent he was able to use the power for a time to defeat the hollow's but died shortly after, Something yuusuke was very devastated about. next in Kengo's after life he was about to be become a hollow after one came after him and tried to devour him, but in the blink of an eye, a knight in shining armor came in front of him and saved him, in this case a lovely femine knight, she wasn't overly powered in the female appearance and had everything in a normal body. she was cute too but the way she destroyed the hollow was ruthless no doubt. he asked her name before being sent off as a spirit, and she told him, Hinawa. he remembered this as he made his way into soul society, thus! he trained his hardest every day getting into the academy and passing with flying colors, he tried his hardest to always find her and follow her, which annoyed her at some point's. however through one time or another he had finally reached the stage and proved himself strong enough to serve her, when he fought with a strong captain just to prove how much he wanted to be her servant, he didn't win, but sure as hell was close to it. he wanted to tell her that he actually loved her, one day, and planned to give her a rose. until he seen how much she Liked April, the current captain of 9th(if this is not right, then sorry for the mistake) and was shattered a bit. however, this did not deter his love for her, because he wanted to see her happy more then anything. and till this day he still does. if ever seen a single person hurt her he'd gladly go and kill them brutally. Now he still goes to reside and serve his queen. protecting her and serving her doing anything she wishes of him.
Ziamichi Spirit:
AgitΩ
As the name states, AgitΩ, or to put it more simplistic. A-gi-to, is a spirit of light, he was created, in the same image, as the supreme warrior Known as Kuuga. He, most of the times, is a down to earth spirit. always giving knowledge to his user. Kengo. He, is quite respectful of many things in the world, more so then Kengo. he can be quite friendly, always wanting to have a good laugh with someone. as well as loving the thrill of battle. he's not blood thirsty, or anything of that sort. it's mostly a challenge that gets him in the moods for fights, most of the time. if not, he will not lift a finger against many people. He, is like a father figure to Kengo. often teaching the boy, of the linto heritage, at the time they existed. Giving him, many lessons, so that he may become like A-gi-to himself. He, is clad in a full body of armor, just as his Brother Kuuga. except his motif, was more based on a Chinese Dragon. he is always usually seen in golden armor, except when form changing with Kengo. It should be noted, that unlike Kuuga, he does not have a growing form, in fact. A-gi-to, was built to have the comings of a perfect warrior, who had mastery over elements, instead of battle in form. as well as mastery over the element of light. he, is no supreme warrior, like his "Brother" But, he is quite strong, on the levels of Kuuga. as the linto Queen, once described. A-gi-to was more of a evolution, which means, that he would always get stronger, no matter what the cause. While, Kuuga was a warrior with a Work-ethic, who would get stronger depending on the battle. He, truly is something amazing.
Ziamichi History:
Many, Millenniums ago. The Linto tribe were a clan of peaceful people, with the mastery over many styles of magic, and divine power. they lived in peace, and prosperity throughout their time. However, with the birth of a ungodly being. Known only as "Touketsu" as well as the birth of demons, their existence was threatened, on many days, most of their people would be slaughtered, and women being taken off as slaves, or even raped. It, was at this time the Queen, and Princess. Decided to release four ancient artifacts, the Arcle, The Alter ring, Amadam, and the wise man's monolith. it, was with these four items, they went into creating Two Warriors with uncanny and powerful Abilities. the first, was Kuuga. a powerful warrior who could assume many forms, to fit the battle against demons. And Agito. the Warrior who could evolve, through many stages to fight his opponent. soon after, they created another arcle, and amadam. to create, Another Kuuga. with hopes, that these warriors would help them fend off the demons, and other horrible creatures ravaging their land. for the most part. Agito and Kuuga, as well as another. did well to Defeat the demons, so much that touketsu kept sending stronger demons.
However, things began to fall apart, as the linto, or at least most of them died off. With, the Queen, her followers, the princess, and the prince. being the only survivors. Kuuga had been sealed inside the Arcle, and Agito, had to retreat, and preserve life as well as continue to protect the last Linto. the queen, told him that he would need to rest, so he could evolve, or at least continue too. After that, he had taken a rest in a tomb. resting for years, just as Kuuga. and Another. His spirit wandered instead, looking to find a new force, and maybe find Kuuga, and Another. He witnessed Kuuga's revival, when Yuusuke fought at the same site he was buried, but in a different location. from there on, he had set his sights on Kengo. he would be the means, to help Agito get back into fighting shape, as well as meeting with his beloved brother. he would also find, Another some day, but for now he was content to reunion with Kuuga, once he finally got to catch him. as well as fighting the warrior to see how much he had improved. Now, he resides within Kengo's Spirit, coming up with many strategies to help combat with touketsu, once again. gaining many comrades, over his years. including that of Shimura, and the Sugiura People.
Ziamichi powers: Just, as Kuuga can fit his forms, to Battle, against a plethora of opponents, Agito, can also do this, though his forms, are based off actual elements. a similar fashion to Kuuga. Earth, Wind, Water, and Flame. while Kuuga was a warrior who gained his forms, through thought process and hard work, Agito would seem to be a warrior, who would gain his powers, through endless evolution. in fact, his name is based off the latin word for "i engage in motion" his evolution is something that cannot be traced by scientific means. just as Agito, he has forms to fit certain structures, for battles. Ground Form, being the hand to hand based form, a balanced form of strength, connecting together with agility. Storm form, a wind form, able to create many powerful gales with a swing. Flame form, for defense, and Precise Senses. And two extraordinary forms, known as Burning Form, and Shining form. all, allow for a different, ability in order to assure Victory.
Unique Traits: Agito, does not have any special type of energy, to heighten the lifespan, but he works well in different ways. His Light energy, is capable of healing others around Kengo, that he cares for. as well, as being able too, greatly protect him with barriers, when he is about to be attacked, besides this. he also grants Kengo, Special senses, to help him since the aura and Reaitsu of opponents, when they are very far way. one..extra funny little bit is that he also knows how to infuse him, with the smarts of a chef. Agito's body works in a similar motion of a human, thus he requires food. through either absorbing some type of energy from a human. or through tasting t he food, that kengo eats, while he's eating it.
Skills:
0 Tier is allowed 1 Master, 2 Advanced
1 Tier is allowed 2 Advanced
2 Tier is allowed 1 Advanced, 2 Adept
3 Tier is allowed 1 Adept
4 Tier and below only get beginner.
These are set in STONE unless Frost, Kenshin or Tsubine say otherwise.
Forms:
Control: (What kind of control does your character have over your Ziamichi? Ranging from zero to ten. When at Zero, you're character has no control over your Ziamichi. When at ten, you're character has perfect control over it's Ziamichi.)
Ziamichi Class: (Ranging from E to the weakest and A to the strongest; With S being a special class of demons. Don't do anything to this, the staff will decide how strong your demon will be from how good your application is and how good your role playing skills are.)
Drawbacks: (What are the drawbacks if you're character loses control or use too much of their power and what are the after-effects of an episode where they lose control?)
Roleplay Sample: (Show us your stuff!)
SHINIGAMI
__________________________________________________________
Zanpakutô Spirit: *THIS IS IF YOUR CHARACTER IS A SHINIGAMI AND ASSUMING IF YOUR ZIAMICHI HASN'T KILLED YOUR ZANPAKUTO'S SPIRIT* (Describe the physical manifestation of your sword. Include its name, appearance, personality, and where it lives.)
Sealed Zanpakutô : *THIS IS IF YOUR CHARACTER IS A SHINIGAMI, IF YOUR CHARACTER IS NOT A SHINIGAMI REMOVE THIS* (Describe what the sword looks like)
Shikai Description: *THIS IS IF YOUR CHARACTER IS A SHINIGAMI* (Include the new appearance.)
Shikai Abilities: (You are a death god, but that does not mean you have 1337 powers. Do not overpower your shikai. One to two elements, and one specialization. Spec are Speed, Defense, and Power.)
Release: (What you have to say in order to release., try to be original.)
Bankai: *REMEMBER, AT TIMES, ZIAMICHI'S CAN INFULENCE YOUR CHARACTERS BANKAI AND ALTER IT* (LEAVE BLANK FOR NOW! BANKAI MUST BE EARNED BY TIME ON THE SITE/POST NUMBERS OR APPROVED BY AN ADMIN. IF CANON, FORGET WHAT I JUST SAID!) (Include appearance of the sword, assuming it still is a sword)
Bankai Abilities:(LEAVE BLANK FOR NOW! BANKAI MUST BE EARNED BY TIME ON THE SITE/POST NUMBERS OR APPROVED BY AN ADMIN. IF CANON, FORGET WHAT I JUST SAID!) (Your Zanpakutou's abilities now that it is in its ultimate stage.)