- Name:
Chrona Caster
- Titles:
- Gender:
Female
- Age:
16
- Bloodline:
pure quincy, unknown parentage
- Affiliation/Rank:
none, plans to join vandenreich
- Appearance Age:
She can appear to be whatever age she wishes, though she seems to appear most often to be in her twenties.
- Appearance Description:
Face:
Long black hair flows down behind her head, reaching all the way down to her waist.Her light purple eyes stare out at the world around her. Her skin is somewhat pale, as if she hasn't seen much sun lately. On her left cheek, branded in by some unknown source, is an irremovable tattoo showing a clock face. The hour hand is at 12, as is the minute hand.
Body:
Chrona stands 5 feet 4 inches tall, slightly on the short side. She has a slim, frame, as if she was made to sneak around or something. Her breasts are slightly under average, her body not showing much muscle. Her feminine curves aren't very pronounced, so if she tried perhaps she could make herself be mistaken for a male if she cut her hair.
Clothing:
Chrona is drawn to black colored clothes for some reason. She is almost always wearing a black cloak that has plenty of tears along the bottom. On her right hand is a black glove, a strange assembly set on to the back of it. A metal circle with two metal strips crossing through it, this is then topped with a blue gem of some sort that is set on top of the point where the two metal strips meet.
Underneath the cloak she wears a black skirt that reaches about half way to her knees, along with a red colored shirt with black buttons. The shirt looks like it was custom made, worn buttons running all the way down the front. It seems at one time the sleeves reached all the way to her wrist, but they have been torn off just above the elbows by someone or something.
- Appearance Picture: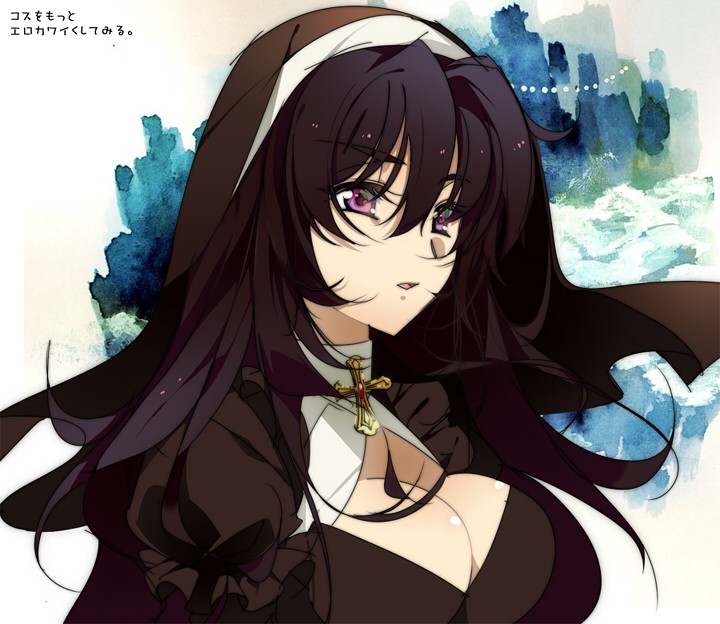 _________________________________
- Personality:
Chrona has had a split personality for as long as she can remember. Her other personality seems to think of itself as a male, and calls itself Kronos. While Kronos would naturally dominate Chrona, she wears a collar of some sort that has technology built in to it to suppress Kronos.
Chrona:
Chrona is a shy girl, keeping away from huge crowds whenever she can. She is very easily frightened when around more then five people, becoming nervous and jumpy. She seems to prefer books and electronics then the company of people. She has a love of information that is difficult for most others to understand. However, for those she chooses to befriend, she will never betray them consciously.
One might think that due to her inability to stay around people she might not fair so well in battle. However, when Chrona fights she tends to almost completely tune out everything but the fighter she is focusing on right now. In the background, her mind is always analyzing all the data she receives, even the information she is ignoring. If she is therefore put in a significant amount of danger from an outside source she will switch her focus to deal with this thread. Afterwards she will choose whether to focus on her new target or switch back to whoever she was fighting before. Also, for some reason Chrona hates killing people. She will always try to injure someone to the point where they can't fight any more, or resolve things without violence. However, if given absolutely no other choice, Chrona will kill for the sake of those she holds dear.
Kronos:
Kronos is a killer, just plain and simple. Anyone and everyone around him is a target, no matter what promise Chrona might have made to them. He lives to kill, kill, kill, and kill some more. The only thing he likes more then killing random people is killing people Chrona cares deeply for, as it gives him a sadistic satisfaction to know he has made her upset or sad. He doesn't seem to understand any sort of spoken language for some reason. Kronos also loves playing with his victims before he kills them, slowly inflicting increasing amounts of pain on them, laughing at their misery for as long as he can before killing them. He also seems to enjoy having pain inflicted upon himself, laughing crazily when people attempt to fight back and injure him somewhat. However, there is one thing he truly fears, and that is being put in to stasis by the collar Chrona wears. His hatred for the man who made it is surpassed by nothing, as he absolutely despises those who get in his way. He always expresses this view that everything else is beneath him, only worthless pieces of trash to be exterminated.
_________________________________
- Background:
Chrona Caster was born to two pure blooded quincy who had been in hiding for years. They lived in a cabin in the middle of a woods which was frequented by hollows. Due to this most other people had learned to not come near the forest, but the hollows always disappeared before shinigami could appear, thus they usually didn't bother with the area. Chrona's birth date was August 29th, (year), and though they had little, her family celebrated the birth of their daughter.
During the first five years of her life, she was nurtured by her mother, and slowly introduced to the quincy way of life by her father. After her fifth birthday her father took to training her to be a quincy as he had noticed a great potential within her. Her mother worried about the safety of her daughter, but understood that what Chrona's father was doing was for the best. Her father soon found himself to be right, Chrona was quick to master the basic quincy powers, even training herself to use blut without her father telling her anything other then the basic theory. It wasn't that refined, but since she was only seven at the time, this was seen as the mark of a quincy prodigy.
Her father was extremely proud of his daughter, and started pushing her further and further, causing her progress to go beyond even his own expectations. Their family was beyond themselves with joy at having such a great person in their midst, but this was soon to end. On the night of her tenth birthday, Chrona came down to the kitchen for a drink of water. When she entered the doorway, she saw her father, driven made by some drug, take his bow and shoot her mother through the heart, killing her instantly. Seeming to awaken from the drugged state, he saw what he had done, and in anguish killed himself. Chrona let out a scream of horror as she saw her father fall to the ground, and her mind cracked.
The next thing she knew she was waking up in an orphanage, having no memories of who she was. It seemed that someone had ventured in to the forest and spotted their cabin. Knocking on the door, the entered to find the scene of her two dead parents and the young Chrona. They had reported it to the police, who had classified it a double suicide, and put Chrona in the orphanage. Chrona would stay in this orphanage for the next two years, enjoying almost everything. At the back of her mind there was this constantly whispering, growing stronger as the time past, a whisper to kill. Then, a week after her twelfth birthday, it awakened. The horror in her mind, Kronos, came forth in to this world.
It was when she went to wash up for dinner, she was at the sink, washing her hands as she hummed while facing the mirror. Then, the voice from the back of her mind came forth. This time is wasn't a whisper though, it was a shout, a shout that reverberated throughout Chrona's body. Her pupils became slits as a sly grin spread over her face. The original personality had shut down, the horror within taking control. Having stumbled back a bit, she steadied herself, walking slowly to the dining table, giggling softly. The rest of the children were already there, and they smiled and waved to her. Kronos raised her hand, forming a bow in her hand before shooting an arrow through each and every child while laughing maniacally. The staff of the orphanage, drawn by the shouts and screams of the children, rushed in, only to be killed by Kronos' bow as well.
Having killed them all, Kronos ran away from the orphanage, entering the forest where she would spend the next few years of her life. During this time she made several trips to nearby villages as she obtained metal which she used to create her quincy cross. Topping it off with a strange blue gem she found in the forest, she attached it to a black glove she wore. With the focus complete, he was now able to create the personal bow she wields to this day. With this complete, Kronos decided it was time to put his plan in to motion. It had now been fifteen years since Chrona had been born in to this world, and Kronos had decided to kill an entire nearby village to celebrate.
Entering the village, he waited until it was nearing dusk before creating his bow and firing upon nearby shoppers. His aim was accurate, and he killed half the population within ten minutes. He continued killing, laughing like a maniac while murdering person after person. However, after he had killed over 75 percent of the village population, someone showed up to stop him. A quincy had been walking through this village and saw what was happening. He tried to use his words to get Kronos to stop, but they proved fruitless against his insanity. Seeing how useless the words had been, the quincy moved quickly, easily subduing the young girl before him. The unknown quincy then took her to a quincy doctor who discovered that she had two personalities within her. After studying her for a few more weeks the doctor found that a specific series of sounds that were way beyond what a human should be able to hear had an effect on her. These sound put Kronos in to slumber, forcing him in to a constant state of suppression. This caused Chrona to awaken, allowing her and the doctor to speak.
After speaking with her, the doctor kindly made a collar that, when worn, would emit the noises so that Kronos would constantly slumber within her. However, if the collar ever was removed Kronos would return in full force, ready to kill once again. With the collar made, Chrona could now act of her own will. The doctor understood he could not keep her hear though, and having heard about a group trying to help out other quincies, he suggested she go look for them. Thinking about it for a short while, she decided that this was the best course of action, and headed out to find them.
_________________________________
- Human Skills:
Amazing analytical skills:
Chrona's ability to logically analyze and deduce information is way beyond most people. This also allows Chrona to easily bridge the gap between theory and implementation, which in turn allows her to learn skills and abilities and a rediculously fast pace.
Fragment of Kronos:
Kronos, the titan from greek mythology, immortal keeper of time. The one who even being cut in to pieces by his own scythe and scattered in tartarus could not be killed, has imprinted a fragment of himself on to Chrona when her family died. This imbued her with control over time and and caused her alternate personality to develop in to a psychopath. However, the fragment within Chrona isn't the only one, it is one of seven fragments hidden upon this earth. For each fragment Chrona finds and absorbs, her natural affinity for time and her powers increase. However, this also increases the influence of her alternate personality. If she were to gather all seven fragments? She would be imbued with all the powers of Kronos, but her alternate personality would become the titan lord himself. Chrona cannot obtain her Vollstandig until she has absorbed at least four of the fragments. In addition, her Vollstandig will be weakened for every fragment she has not obtained.
Age Control:
A strange ability of Chrona's, she can change the age she appears to be to whatever age she wishes to be. This causes for a few seconds the effects of rapid aging (such as looking 10 and wanting to be 50, causing her body to age 40 years in a couple of seconds), or the reverse, when she wishes to look younger.
Complete Time Rejection:
Even stranger then Chrona's ability to control her age is her ability to reject time from upon herself. This means she can never die from old age, and will continue living until someone manages to kill her. Along with this, it allows her to completely stop any time based powers from affecting her if she does not wish them to.
Time Enforcement:
An ability that allows Chrona to nullify abilities that would nullify time based abilities, such as her own Complete Time Rejection. It does not nullify anything besides the ability to negate or be unaffected by time based abilities. So even if she used this ability to nullify her Complete Time Rejection, she would still be unable to die of old age.
Time Pact:
An ability that allows Chrona to make pacts with other people. This can't be done by accident (so I can't go up to a dying character, and when they ask me to kill someone, I say it's a pact), and I must have permission from the owner of the character she is making the pact with. When someone makes a pact with Chrona, they temporarily lose all their memories while Chrona gains both their lost memories, and their basic power. This temporary memory loss can last from a single post to months or years (in rp time). In addition, memories of the person or being they cared the most for are removed permanently, and do not return when their other memories do. In exchange, Chrona is bound to carry out a single deed, whether it be to watch over someone, kill a person, or join an organization. This pact is formed by Chrona absorbing the person's timeline in to her own body, sealing it there with a promise to do something. If she fails to keep her end of the bargain, the seal is undone, and in a very painful process, the timeline, both power and memories, flows out of her. This causes her to collapse in pain for the next 3 posts (if in a thread), unable to do anything but scream in pain.
Another benefit of her time pact is that it can allow her to cheat death. This is done by giving death a single timeline she has absorbed in exchange for her own life, causing her to return to the living. This can only be done so long as she has an additional timeline to give, once she runs out she will die just like any other person. This causes the power and memories obtained from that timeline to be removed from her. Afterwards, she can decide to come back elsewhere, or wait 3 posts before coming back in to the thread she was killed in (assuming it's still going on), completely healthy, no wounds.
- Equipment/Weapons:
Inhibiting Collar:
This collar is used to suppress her other personality, Kronos, to the point where he will never come out so long as she wears this collar. However, if this collar is ever removed, Kronos will immediately attempt to take over Chrona's body.
_________________________________
- Quincy Items:
none currently.
- Quincy Cross:
Her quincy cross is actually embedded in to the glove on her right hand. On the glove is a metal circle with two strips of metal crossing through it to divide it in to quarters, and ending a centimeter outside of the circle. At the point where the two strips of metal meet, a blue gem is embedded on to the back. When her bow forms, the metal and the gem rise up off the glove, move to her palm before the metal circle flattens a bit, the handle of her bow form forming over it. When she releases her spiritual weapon, the metal and gem restore themselves back on to the glove.
- Sanrei Glove:
not applicable.
- Other Skills:
Blut (血装 (ブルート), burūto; German for "Blood", Japanese for "Blood Guise")
is an advanced Quincy technique that grants one inhuman defensive and offensive capabilities.By making reishi flow directly into their blood vessels, a user of this technique is able to drastically increase their attack and defense power. However, despite the significant danger this potentially presents to one's opponents, Blut possesses one major flaw in that the independent forms of the technique for attack and defense operate using two different reishi systems, meaning they cannot be employed simultaneously or else they suffer all their veins bursting at once, killing them instantly. However some are able to use both at once but not for short periods of time, as they start to burst their veins. This is a pure blood Quincy ability, Quincys that are fused with a Ziamchi are unable to use this.
Blut Vene (静血装 (ブルート・ヴェーネ), burūto vēne; German for "Blood Vein", Japanese for "Stilled Blood Guise")
The defensive form of Blut that grants the user inhuman durability, represented by a faint pattern tracing the veins beneath the surface of their skin, which is only visible on the afflicted area when struck. If consciously kept at full power, even attacks delivered by a Shinigami's Bankai can potentially be negated completely. However, despite the considerable defense afforded by this technique, it seemingly isn't absolute and can be torn using sufficient power. As overtime the defense shall be worn down due to the nature of Blut Vene. This massive defense also has time limits, depending on the level of skill with this, it can vary to short periods of time, to lengthy amount, but they need periods of rest which can be risky if they are fighting a foe that can attack rapidly.
Blut Arterie (動血装 (ブルート・アルテリエ), burūto aruterie; German for "Blood Artery", Japanese for "Moving Blood Guise")
The offensive form of Blut that grants the user inhuman attack power. This technique is the only thing capable of ensuring that a Quincy's attacks are able to significantly damage a Bankai-wielding Shinigami. One notable use of this is applying it towards physical attacks as well as coating it on there own arrows to increase the damage output to that of a Bankai wielding captain. This is a vary powerful skill that shouldn't be taken lightly .
Ransōtengai (乱装天傀; lit. "heavenly wild puppet suit", "disheveled paradise puppet" in the Viz translation): This is a high level technique that allows the user to control their body parts using strings of spirit energy controlled by their brain, forming lines or strings out of countless reishi. By using this technique, the user can control their body as one would a puppet, allowing them to move freely despite paralysis, broken limbs, or any other force that would impede normal movement. It was originally created to allow elderly Quincy to fight effectively, and is rare enough that Mayuri had never encountered a Quincy (out of the 2661 that he examined or studied) who could use it before Uryū. Mayuri stated it as "the most powerful technique for the Quincy," but he did not know of the Quincy: Letzt Stil, which means as far as Mayuri knew it was the strongest.
_________________________________
- Type:
Her spirit weapon can switch between a bow form and a bladed form. Typically it will start out in bow form and then she will have to will it to switch to bladed form.
- Bladed Appearance:
- Bow Appearance:
When switching to her bow form from blade form, the two energy blades rotate approximately 85 degrees around the points where they attach to the handle. Then a string will form between the two ends of the energy blades, forming the bow string. To switch from bow form to blade form the process is reversed, and either way this process typically takes five seconds.
- Reishi Color:
bluish color
- Unique Traits:Time Rupture
[Passive, Bow Form]
: When an opponent is hit by an arrow from Chrona's bow, their time stream is slowed down, moving half as fast as normal. This causes everything else to appear to be moving twice as fast, their reactions to (effectively) be half as fast, and so on. This can stack with itself once, causing their time stream to move a quarter as fast as normal after the second hit. This ability has a duration of 2 posts, and for each arrow after the 2nd arrow (the one that caused it to become a quarter) that hits the opponent, an extra 2 posts are added to the duration.The duration of this ability can't be extended for more then an additional 6 posts (total of 8 posts maximum).
[Passive, Blade Form]
: Whenever she blocks an opponent's melee attack with her blade, her opponent's time stream is slowed down, moving half as fast as normal. This causes everything else to appear to be moving twice as fast (to the person affected by this), their reactions to (effectively) be half as fast, and so on.This ability has a duration of 2 posts, and for each additional block extends the duration by 1 post. Once their time stream returns to normal (when this affect leaves them), they are immune to the effects of this ability for 1 post.The duration of this ability can't be extended for more then an additional 3 posts (total of 5 posts maximum).
[Passive, Blade Form]
: Whenever she cuts an opponent with a melee attack with this blade, her time stream speeds up. This causes everything else to move half as fast (compared to her), her reflexes to (effectively) be twice as fast, and so on. This ability has a duration of 2 posts, and for each additional cut with a melee attack on any opponent the duration is extended by 1 post. Once her time stream returns to normal (when this effect leaves her), she loses all the benefits of the Time Rupture ability for 2 posts. The duration of this ability can't be extended for more then an additional 5 posts (total of 7 posts maximum).
Temporal Ripping Shot/Slice
[Active, Bow Form]
: Chrona charges up a single arrow in her bow for five seconds before letting it loose. This arrow travels five times as fast as her normal arrows do, and if they manage to hit someone, they will damage that person's timeline. This causes large amounts of mental strain (along with extreme pain from said stress), memory loss, and if it hits a being significantly weaker then her (four major tiers lower at minimum, so if she's a 1-1, a 5-1 or lower, if she's a 1-4, a 5-4 or lower, ect), she will eradicated their entire timeline. This can result in at minimum permanent memory loss and temporary ability loss, at worse they are instantly killed (what happens is up to the player affected, I can not say that they will be killed even if I'm a 0-2 and they're a 6-0 because it is up to them). Ability loss only applies to supernatural abilities that one trained themselves to use. As such, basic racial abilities are still available even with temporary ability loss.
[Active, Blade Form]
: Using this ability in blade form, Chrona charges her spirit weapon with temporal energy for five seconds. If she manages to cut someone with her next attack, that person will be sent 1 post in the future. This means that once they confirm that they have been hit, their post is over. Then, their next post is skipped, and after that they pop back in to existence in the posting round after that. From the point where they confirm the hit until they pop back in they are no longer within the area, and for all intents and purposes cannot be changed. No time seems to pass for the one who was cut by this technique, though they most likely will notice the changes and be able to deduce that time passed. Beings with strong enough willpower are able to delay this technique or even throw it off completely. If her opponent is higher tier then Chrona, each difference in their tiers is +1 to the opponent's ability to resist. If the opponent's tier is lower than Chrona it is a -1 for each tier difference. For each rank higher the opponents willpower is, they gain a +3 to their ability to resist, For each rank lower the opponent's willpower is, they get a -3 to their ability to resist. For those with +5 to -5 ability to resist, they may finish out the post in which they confirmed the hit, but then are removed for the entirety of the next post, and cannot be harmed by anything that happens after their post. For those with more than a +5 ability to resist, they can choose to negate this ability and be unaffected by it. Those with less than a -5 ability to resist are subjected to this ability in full, ending their post as soon as they confirm the hit and then skipping their next post (but being untouchable during this timeframe).
Circle of Time
[Active, Bow form]
: Using this ability, Chrona fires an arrow at the ground, causing a glowing circle, 5 feet in diameter, to appear on the ground around the arrow. Anybody but Chrona who enters the circle will be affected by her Time Rupture's bow form ability. This counts as if it had been caused by her Time Rupture ability, so if they already have it the duration will extend, whether it's source is an arrow or a Circle of Time area. At the beginning of very following post that they remain within the area of the circle, this ability activates on them again. This circle lasts for 4 posts.
_________________________________
- Name:
(What is your Vollständig's name?)
- Appearance:
(What does your Vollständig look like?)
- Abilities:
(What does your Vollständig do?)
_________________________________
- Durability:
Beginner
- General Speed:
Advanced
- Strength:
Adept
- Weapon Skill:
Adept
- Marksmanship:
Adept
- Blut:
Beginner
- Hirenkyaku:
Adept
- Reiryoku Absorption & Manipulation:
Advanced