Mon Nov 22, 2010 11:40 am

x x x | E n t e r T h e S a w A n d P e n d u l u m | x x x
_____________________________________________

Birth Given Name:
Saiko Yuki
Nickname:
Silent Girl
Age Range:
Around 170 Years Old
Weight:
Between 100 and 110 pounds
Hair:
Black with purple streaks from time to time
Eyes:
Can vary in color
Height:
5'5
Gender:
Female
Full Appearance Description:
Saiko stands at five foot five, has somewhat short hair that goes past her neck that is black in color, but change sometimes change in color from jet black to a hair color with some hints of purple in it. One thing that sticks out about her facial features, however, is her eyes. They can change in size or color. Depending on the circumstances, sometimes her eyes are entirely black with a purple flame exhaust coming from her right eye, other times the irsis are dark purple with black pupils and other times they can be entirely purple. This can change by her will, Touketsu's will or her powers.
Saiko also mostly dresses in black and purple. Preferring to wear a very long sweatshirt together with a mini skirt and long boots. Sometimes she will also have a headband on her head as well or an eye-patch on the left side of her face. And Occasionally Saiko will wear black gloves. Apart from all that, though, her skin tone can also change from a regular Caucasian person to pale white depending on how much power she uses or when she chooses to swap colors.
Personality:
Quiet:
Saiko is a very quiet individual compared to most who are associated with Touketsu's minions. Most would think she is a mute if not for the times where she is asked to speak up. It has nothing to do with shyness, social awkwardness or any of those types of things that keeps Saiko a very quiet person. It has a lot more to do with her submissive nature in which she only speaks to someone who is more dominant then herself.
Submissive:
As stated before in the Quiet aspect of her personality, Saiko is a submissive person. More often then not, if someone is more dominant then herself and asserts themselves over Saiko, she will most likely bend to their will. This leads to a lot of conflict between Touketsu, his minions and others. The only time this does not apply is whenever she is combat fighting for Lord Touketsu.
Happy:
This would make anyone who even remotely knew Saiko baffled. Despite all the shy traits in her personality together with the circumstances she has been set in, Saiko is actually happy on the inside. The reason for this is because Saiko has a great coping mechanism in order to deal with the situation she has been put in. Sometimes she gets lost in her music, other times she isolates herself in her own world with Ageru or she tends to just roam around and explore different worlds with the help of Touketsu. She is just confused on why you always have to smile to express your happiness. Sometimes silence is the best kind of joy.
Thoughtful:
If you ever happen to end up being Saiko's friend, she will always think of you and try to surprise you even by giving you gifts, doing favors or just being a considerate person.

T h e B a c k D r o p| O n M i s s S a i k o
_____________________________________________

Brief History:
Saiko was born in the ruins of what was left of New York, New York. Her parents were apart of a large rebel group of humans trying to escape the hellhole they were trapped in. There were many hollow's, demon's and even some low-level Arrancar's that had taken over this city. They blocked most exit's out of the city, patrolled the underground sectors, hid in the lakes and terrorized what humans were still trapped in the city. It was so bad, in fact, that even when the other humans dies the Arrancar's and Demons tormented them in the after life. Some even went as far as to transform some of the stronger demons into Hollow's and Demon's. The infestation of this place was truly a nightmare for most.
As the years went on, the attack's grew worse and worse until at the age of 16 Saiko was ambushed by a flock of hollow's and became gravely injured during the confrontation. One of the hollow's had pierced her in the stomach and she had lost a large amount of blood from her wound. Another one of the members in the rebel group was able to get the hollow off of her and another member was able to take her away to safety. Unfortunately, her parents were taken away as slaves into Demon World, but they had warned her that if she did pass on to do it outside of the city so that she would not become forever enslaved to the demons. With that in her head, she gathered what people who were willing to help her and made a dashing escape out of New York City and into Philadelphia with her comrades.
Along the way, one of her teammates had also suffered a serious injury to his back and was paralyzed with a huge hole in his lower back. They did what they could to keep them both alive, but eventually they would both die soon after they had arrived in Philadelphia. Luckily, the mission was a success because they did not pass-on in New York City. So, from that point Saiko and her friend, Zachery, were able to successfully make it into the Soul Society without any regrets. Or, so they thought.
Saiko was still torn up on the inside about what had happened to her teammates, parents, New York, her death and everything inbetween. She just had enough sense to know that she should not let these feelings consume her during the process of death or else she'd become another mindless hollow. So, in order to not avenge, but find her parents, Saiko decided to work her hardest alongside her friend to learn this new world, train their hardest to get into the Academy and become successful shinigami's and eventually travel into Demon World one day.
She and Zachery had trained for thirty years after each of their deaths; Until they had eventually became decent enough shinigami to become accepted into the Gotei 13's Shinigami Academy in order to become stronger. After being accepted, they had learned the ways of a shinigami for another thirty years until they had both became full-time Shinigam in Squad 1 for another ten years until they corruption happened.
Still feeling sorrow for what happened all those years ago, Saiko decided that at the current rate she was going she would never see her parents or the rebel group ever again. Therefore, when her Squad was taken on a mission to Earth to deal with a demon problem, she had turned her backs on everyone and decided to join amongst the ranks of the demons in exchange for power and the information she had been gathering on the Gotei 13 for the past few years. And, as fate would have it, Mana, one Touketsu's most loyal bodies, and Sergei, The Former Espada Leader, were waiting the shadow's of a massive portal that were bringing the demon's home to their hideout along with Saiko.
They both over watched her while Mana gave her the introduction into the hidden demon world by slashing the left side of her head open and performing a ritual that would give Saiko the ability to conjure up demons, followers of Touketsu and allies. This ritual also helped her when she went into her spirit world in order to fight against her Zanpukto spirit and learn Shikai by contaminating and then taming it. This ritual that was performed on her would also help to tag her as one of their fighters and give her a pass to demon world....where her parents were waiting. Unfortunately, Demon World is a huge place and Saiko has yet to find her parents. It may take years to find them, but when Saiko will complete her mission and bring everyone back home.
Even if she has to give herself to the devil.

I n t o t h e s w o r d | E n t e r h e r w o r l d
_____________________________________________

Zanpakutô SpiritName:
Himei o Ageru
Brief Physical Apperance
Age:
Estimated to be somewhere around 90 years old
Weight:
Fluctuates between 70 and 90 pounds
Fur Color:
Varies between black, dark grey and dark purple
Eyes:
A yellowish white on the left side and dark purple on the right
Height:
Four Foot One; about the size of a small child
Gender:
Male
Full Appearance:
Himei o Ageru, or Ageru as Saiko calls him, is a black fluff ball. He has the face of a lion, the body of a small child and the legs of an animal. This little guy stands at about four foot one, has a very long fluffy tail and a weird set of eyes. You see, he has six eyes. The three eyes on the left side of his face are a dull yellow that looks almost white, while on the other side it's a dark purple color engulfing his entire eyeballs. These are actually used for managing both Saiko's power and Touketsu's power, but we'll get into that with his powers.
Ageru's fur also varies between a dark shade of black when relaxed, a shade of grey when he is near the edge and a dark shade of purple when fighting alongside Saiko.
Inner World:
Himei o Ageru's inner world is a very calm, peaceful and relaxing place for both Ageru himself and Saiko to unwind in order to escape the reality of the world around them. Once you enter the world you will notice that everything mostly has a purple light to it. The sky, the grass, the water, the moon, the stars; Everything has a purple light to it. The reason for this is because, if you haven't noticed, purple is a color that makes Saiko and Agreu very happy.
Then, once you get adjusted to colors, you'll notice that her world is mostly a vast forest nearing a shore. There are many mountains, sections of the forest, lakes and trees; But the shore truly makes Saiko happy to see. In fact, she's taken such a liking to it that Saiko planted a tree and created a bench so that she and Agreu could enjoy the sunsets in her world.
Sealed Zanpakutô
:
Saiko's sealed Zanpakutō is actually a great source of purple/white flames mixed together with a strange black light hidden behind her eye patch. The purpose for this being there is because when she sends the flames from behind the eye patch, she can summon her Zanpukto Spirit to have free roam in his physical body, and she uses the black light to summon minions, demons and followers of Touketsu who are of a weaker level or Touketsu himself in a weaker body. But, to summon him requires alot of energy.
And, of course, she can use the flames for offensive purposes. She can set fire to many things with it and conjure up weapons made from the flames and it is also used for many daily task such as lighting wood on fire, cooking or even just setting candles.
Shikai Description:
Upon releasing her Shikai, Saiko will rip off her eye patch and a burst of reitsu will be felt across the area. You'll notice that a purple light will border around her body, black and purple flames will be surrounding her and sometimes she may also have flames in both of her eyes. However, in this state, Saiko will have a weapon. As shown in the picture above, in Shikai, Saiko gains a large firearm. It is black in color, nearly 6 feet long as you can tall from the picture as well and has a sharp edge. This weapon can be used as both a sword and a gun.
If it is used as a sword, Saiko can usually have the flames from her left eye coat the blade itself
(not the handle, or she'd cut herself)
and they will create razor sharp edges that can be used like a chainsaw to cut and burn her opponents. In this state, it can also be used to fire off attacks such as fireballs, destructive screams from Ageru and even some Kidō spells and moves she has learned from Touketsu.
If it is used as a gun, Saiko must wait one post for some of Touketsu and Death's energy to come into the blade as she uses their energy to fire bullets, canons and waves of energy that are truly chaotic in nature. It requires her, before she can even shoot this off, to wait two post until she can fire a huge amount of this energy.
Himei o Ageru's is also able to fight by Saiko's side in Shikai. Mostly, though, he is used to show how much control Saiko has over her Shikai ability. If the left set of eyes are a yellowish white color and the right are dark purple, then everything is balanced. If they start to become red on both sides, that means Saiko is taking damage and when they are all red he will eventually take over the fight, leaving Saiko open to all sorts of attacks and even death. If his eyes become all white, that means Saiko has no energy left to spare. And finally, if his eyes become all purple, that means Touketsu is in full control of her.
Shikai Abilities: Main Power:
Saiko has a special power that comes from her Zanpukto. She has the ability to make her reitsu and spiritual pressure seem stronger then it actually is. Now, this may seem useless at first, but it serves a pretty good purpose. Say she turns out to be a 1-1 after she is approved. Well, she may be a 1-1, but after she activates her Shikai she is able to amply the nature of her spiritual pressure to that of a 0-2 and even a 0-1 with Touketsu's help. This will make it very diffcult for others to get near her, stop her from what she is doing and make rough to even stay standing if they do not have some type of device or gem to counter the raw power of spiritual pressure.
And when she activates this power it can make it seem like their are millions of ripples in reality, a loud buzzing sound roars across that area that is very deafening to the ears, the entire area can shake violently, Touketsu's reitsu can engulf her entire body and turn mostly any physical thing that has no energy to dust and weak attack's
(this does not apply to attack's stornger then a cero or anything similiar to it)
, the air surrounding the first twenty feet in a circlar area around her body is almost non-existant and can turn into a problem for living beings.
The Drawback:
However, there is a downside to this. She must stay in the area where her Zanpukto is sealed underneath or around which is one hundred feet with a one thousand feet maxium before her powers are completly null. She must also be in good health in order to perform this move. If she is damaged to a certain extent the powers will weaken and eventually stop working until she is healed.
Amplied Sound:
When her main ability is activated, she has the ability to amply sound and cause great disturbances to characters.
Screech:
By using Sreech, Saiko screams very loudly, distorting the air around her when her main ability is in effect. It can cause the area to rumble, the opponent to become slightly deafened and just feel off balance or distracted.
Screech Blast:
By opening her mouth and yelling very loudly, a black orb is created inside of her stomach and sucks up the energy from inside of her head via the Flames and Light once it is near the throat area. She then goes on to send off the orb that creates multiple shockwaves at the opponent.
Release:
Scar The Land, Himei o Ageru

C H A R A C T E R I N F O | j u s t s u m i n t e l
_____________________________________________

Extra Info
Associated Character: Touketsu, Mana, Clarie, Kin, Asheli and anyone else connected to that group.

Tier: Aiming for 1-3

If Applicable, Position: None as of yet

What Race: Shinigami

T H E S K I L L S E T | c h e c k e m
_____________________________________________

Skill Sheet

Tier Level: Unchecked

Racial Skills

Hoho: Advanced

Kidō: Advanced

Zanjutsu: Adept

Hakuda: Adept

General Skills
Durability: Advance

General Speed: Advance

Strength: Adept

Weapon Skill: Adept

DE Control
Semi-Immortal Capacity: Adept

Breakdown Skill: Advanced

Necromancy Strength: Adept

DE Barrier: Advanced

__________________
__________________
Iori

Veteran Member


November COTM 2011

:


Joined

: 2010-06-26


Posts

: 3633


Age

: 30


Location

: Planet Mercury

Member Info


Platinum Points

:


(0/0)




Tiers

:
Fri May 13, 2011 12:47 pm
Putting up for adoption since I rarely use this character. If you wish to have her simply do an RP Sample OR contact me directly.
__________________
The moon's light was wonderful tonight. It shone down on a wonderful big field whilst it had painted a reflection of it's self in the water that belong to a pond. The sky was clear whilst the stars in the sky shone individually. A quiet breeze filled the fields of Karakura blowing each strand of the damp grass from the rain that had fallen the day before this now ending one. The tip of each strand of the grass shone from the moon almost as if the field was just diamonds, but that was too good to be true.

Well, seeing as the field was so quiet meant that no one was here. Wrong, someone was here. Sitting by one of the largest trees on the field. The pond a few feet in front and away from the tree. The person sitting by a tree was a girl, although she was well blended in with everything and nature. The only thing that was visible was her purple eye on the right side of her face, the left side was covered in a eye-patch.

If someone were to get near they could spot her but only if they were by the tree, the moon couldn't reach the darkest shaded parts of the tree which is where this girl, Saiko was sitting wearing black clothing, a long black sweatshirt with a black mini skirt. Black boots that ran just about up to her knee whilst her hands were covered with black gloves. In her short-lengthed hair lay a black hair band whilst she sat with her knees up to her chest. Not doing much, just observing quietly.


Observing nature, the crickets played in the bushes to the sides of her whilst another short breeze filled the area, blowing each strand of grass one by one, making a leaf fall from the tree and land on her shoulder before being swept away towards the pond where it landed on the water as it bounced the reflection about of the moon. She didn't say anything, a lot was on her mind for one thing and being quiet is just about what she was good at. All that escaped her voice was a large exhaled sigh. A breath of fresh air filled and exited her lungs whilst she let out a quiet yawn. It had been a long day. Saiko closed her eyes from time to time before falling in to a deep sleep, tomorrow was another day.


__________________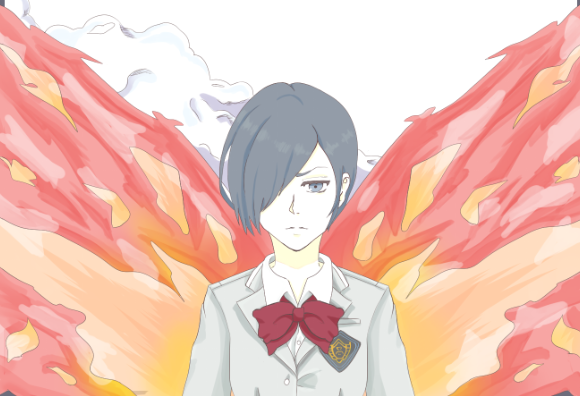 Hon Hon Baguette.
Congrats, I can trust you to RP Saiko if you can keep up that pace. Therefore, I will approve you and get to work on a posting template.
__________________
Henrex

Tor'uk


Joined

: 2016-01-20


Posts

: 3950


Age

: 22

Member Info


Platinum Points

:


(419100/999999)




Tiers

:
[mod]Moving to archives due to an update regarding this character, and a new app is in place in Approved Shinigami.[/mod]
Permissions in this forum:
You
cannot
reply to topics in this forum