Commander of the Legion
Basic Information
» Name:
Horus Sariel
» Titles:
Current: Horus's current titles are Crimson Butcher, and Commander of the Legion.
Older: While no longer applicable Horus is still known as the Lt. Commander of the Jade Cross.
» Age:
At an age of two hundred and twenty Horus now appears as a man whom is in his late twenties.
» Species & Gender:
Vizard, Male.
» Affiliation & Rank:
As a member of the
Kokuryuteshi Empire
Horus currently holds the rank of
Commander of the Legion
. Before the reform he had held the position of Lt. Commander of the Jade Cross.
» Appearance: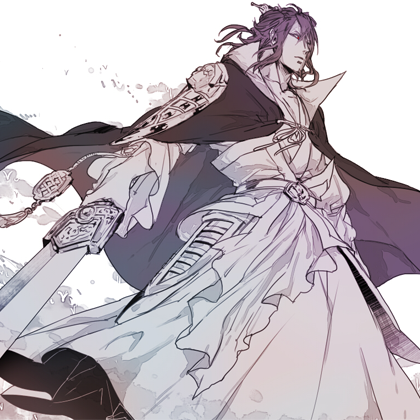 » Residence:
Currently, despite being a ranking member of K-world, Horus possesses no permanent place of residence. During the past year, and still ongoing, this is due to the simple fact that he has been living as a nomad of sorts, following his feet where they take him. Upon returning from his extended journey Horus could technically take up residence in one of the various K-world bases, if he so chooses.
Personality
» Hermit:
These days if there is one thing Horus Sariel could be called it is most definitely a hermit. Over the course of the several past years the vizard has come to prefer living off of the lands, traveling from country to country, and generally keeping on the move. Such is his recluse mentality that Horus has gone as far as beginning to avoid the odd K-World territory, in addition to avoiding most populated areas as a whole.
» Wavering Confidence:
Ever since
'The Incident'
the confidence Horus had once held in himself has wavered immensely. The changes in several aspects of himself has allowed the root of uncertainty to take a deep hold, slowly but surely changing the mans outlook on himself & the world around him. Because of this the man now wavers between moments of absolute confidence in his abilities & knowledge, and moments in which he becomes completely unsure of himself & any decisions made. This has had an additional side effect of strain on the relationship with his zanpakuto, and the ability to make a
sure
decision to return to his post within the Empire.
» The Remorseless Butcher:
If there is one single aspect of Horus' being that has remained unchanged in his seclusion it would be that of his violent tendencies. Despite his moments of wavering confidence the man still lives up to his name of
'The Crimson Butcher'
. Even with a more stable mentality, when speaking of the depths of the mans violent insanity, Horus still hears those whispers.
Those damning, begging, eerie, whispers.. The ones that even now never leave him.. Always wanting for more.. Carnage. Blood. Flesh being ripped & torn into. The simplistic & enthralling murder of whomever, and whatever gets in his way.
When it comes to the act of battle itself, whether it ends in the successful deaths of his foe or not, Horus just cannot help the euphoric smile that stretches across his face. The feel of his lips twitching in laughter with each swipe of his blades. Each scream of pain from his foes. Every single moment serves to feed that cruel, insane, smirk.
» Overall:
Beyond these previous traits Horus is generally still the same man he was before entering his 'exile'. Protective of that which matters to him, although these days such things could be counted on a single hand. An extreme passion for sweets, being one of the few things he's actually willing to enter a city for. And impulsive, though this particular trait seems to be quite tempered in these years alone.
Background
Pre-War for Australia
**Note: This portion of the Background will contain a c&p'd version of the Background from his initial app.**
Birth of a Soul Arc
Sometime after the discovery of Deus Ex Machina, roughly two hundred and sixteen years ago, a soul was born. Unfortunately the soul while destined for power, was also destined for madness, or so it would seem. The male child bore golden eyes, hinting at madness from his birth. He was born to a murderous Vizard for a mother, and an insane and power hungry Shinigami for a father.
At the age of five the child was abandoned, left by his parents so that they could escape the hands of the law. Horus Sariel would be taken in by a human family, though this would not save him from the madness and sorrow to come. At the age of six Horus began to open up to his new family, speaking with them and spending more time together. At the age of seven Horus experienced his first hollow attack, surviving with but a scar. But the damage had been done, Hollow reiatsu had leaked into his system, awakening his latent Vizard genes. Thus began the creation of an Inner Hollow, one which would be more insane than Horus himself.
Two years later, at the age of nine, Horus experienced further loss. His foster mother had been killed in another Hollow attack, it had also now been confirmed that Horus's own reiatsu was attracting them. This pushed his growing insanity further as he placed the blame unto himself. Horus now began to look down upon others, caring only for himself. When and if Horus caused someone harm he seemed to lack all signs of guilt. Additionally he began to speak too himself.
Gift of Insanity Arc
At the age of ten Horus is now alone. The cause, himself. He had killed his father in an insane fit of rage. Something that had been occurring often recently. The rage had initially been caused by his inability against a Hollow. Insanity increasing further Horus also now always sported a smile on his face, even his frowns etc seemed to become smiles.
Fifteen years old Horus had begun to indulge in killing tendencies. Shinigami, Hollow, and Human alike were beginning to fall too Horus's hands. Before this had begun Horus had obtained a soul-less Zanpakutō, now using it for his deeds. At sixteen Horus had also begun trafficking drugs, stealing, and outright breaking the law simply for the thrill.
Fourteen years later at the age of thirty Horus has lost most if not all mental stability. He also has now become a feared serial killer world wide. Additionally four years ago Horus had tapped into his reiatsu, forming his sealed Zanpakutō.
Sixty four years later Horus has grown further in power. He is now fully able to utilize his reiatsu, and electrical energies. Horus has yet too hear his Zanpakutō's voice.
Quest for Power Arc
At the age of one hundred Horus has gone into hiding. His goal, to train, further his power, and live in peace for now. Ten years later Horus meets his Inner Hollow, it calls itself Arashi Nikuya. It hinted at his Zanpakutō spirit, but nothing more. Horus also barely survived a gruelling fight with the Hollow, surviving on both skill and insanity. Twenty four years later Horus and Arashi Nikuya have come to a slight agreement. It will help him if only it aids him somehow, or Horus is indulging himself in his usual ways. Finally at the age of one hundred and fifty Horus has begun hearing his Zanpakutō's voice.
Becoming a True Monster Arc
When Horus had reached the age of one hundred and sixty the Deus Ex Engine came into existence. When Horus reached the age of two hundred he exited his isolation. Both his power and insanity have increased greatly, and he has begun forming bonds with both spirits within him, whether they be good or bad. Horus also managed to obtain Shikai in a vicious confrontation between himself, Arashi Nikuya, and his Zanpakutō. In the same conflict he had also learnt its name, Tamashi no Kyoki. The result of gaining Shikai was also realizing he still contained some form of humanity.
At the age of two hundred and five Horus has nearly completely accepted who and what he is. He has successfully accepted the fact that he possesses an Inner Hollow, albeit they don't quite get along. He has fully accepted his insanity, and has even begun to accept the shred of humanity that remains causing a protective side of him to emerge. Although, Horus's murderous tendencies have returned completely if not more so, he now spares no race and has become a true monster.
Shinku Nikuya Arc
Age two hundred and six, Shinku Nikuya or 'The Crimson Butcher' is born. The name began to spread in the underground, the weaker beings began to fear it. Horus's power increased every so much more, having learned more of his abilities and powers. Four years later Horus has become slightly interested in the Monsuta after hearing about them. Currently Horus now wanders the globe, searching for a purpose, a balance, and his 'heart',
Encounter with Veras & Joining Kokuryuteshi
While the War for Australia had begun in but a moment it had taken nearly half a day for news of the war to reach Horus Sariel. Once the news had reached him the crimson haired Vizard became engrossed with thoughts of the murder, bloodshed, and sheer carnage that would ensue upon his arrival. Of course news of the war had also come with perfect timing as Horus had been growing quite bored of how things were going. Therefore this war was the perfect opportunity for the man.
Eventually the man would set out for Australia, and war, deciding to simply run all the way there.. A feat that would have been impossible for an ordinary being. Even before reaching the war Horus had already begun causing great destruction, the waves kicked up by his sheer speed across the ocean, decimating anything that crossed them. By the time Horus would make it to Australia the Vizard had already sunken hundreds of various ships.
Of course the real action hadn't truly begun until the Vizard reached Perth, a city of roughly seven million people. Once the city had been entered Horus allowed himself to let loose, immediately releasing his reiatsu and unleashing a horde of cero into the unsuspecting city. Alas the Vizard's fun would be halted almost as soon as it began by the arrival of one Veras Luras, the Jade Cross Commander. A fun massacre in the city had just, as far as it would concern Horus, became a fight for survival.
After Veras's arrival the majority of Horus's time in Perth was spent at the receiving end of a complete beat-down. While her initial combo had been.. somewhat avoided.. Horus had still ended up with a battered and bruised face, which alongside with feeling just how powerful Veras was in comparison to himself, convinced Horus to join Kokuryuteshi. Although the promise of a purpose had definitely helped. From that point on the murderous Vizard began unleashing his blood-lust on K-world's enemies, and would become the Jade Cross Lt.Commander.
Taking Canberra-Queanbeyan for K-World
Post-War for Australia
Combat Information
Natural Traits
» Reiatsu:
General Skills
» Speed:» Durability:» Strength:
Racial Traits
Shinigami Racials
» Hoho:» Kidō:» Zanjutsu:» Hakuda:
Vizard Racials
» Cero:» Hollow Control:» Mask Protection:» Power Augmentation:
The Zanpakuto
» Zanpakutô Spirit Name: » Zanpakutô Spirit Appearance:
Natural Appearance
,
Tainted Appearance
,
Demonic Apperance
.
» Zanpakutô Spirit Personality:» Inner World:» Sealed Zanpakutô Appearance:
Sealed:
Sealed Abilities
» Extended Range:
Passive
- Generally unknown to most the first ability of Horus's zanpakutô actually has little to do with the elemental affinity of the blade. Rather this ability focuses around the ability to shape and manipulate the reiatsu, and when applied, electrical energies. When drawn the blade of this Zanpakutô constantly releases what some could call a
film
of reiatsu over itself. From there this reiatsu can then be manipulated and shaped as necessary.
What this essentially means is that while Horus can utilize this film of reiatsu to extend his blades range(generally six to twelve inches), he can also use it in other ways. Such as forming a blunted edge upon the length of the blade, either to prevent himself from critically wounding a foe, or having the need to spar with intent to kill.
» Electrical Resistance:
Passive
- Granted by Horus's Zanpakutô this passive cycles its energies through its wielder before returning them to itself. This occurs whether Horus is wielding the blade or not. Because of this continuous cycle Horus was granted a resistance to electrical energies and any techniques or abilities to utilize them. It is possible for Horus to further develop this passive effect of his Zanpakutô, doing so could not only increase its strength but could potentially develop it in different ways.
Range of Effect


Two+ Tiers Higher:
Abilities and techniques will posses 100% of their strength and effectiveness.

Equal Tier:
Abilities and techniques will posses 80% of their strength and effectiveness.

One Tier Lower:
Abilities and techniques reliant on electrical energies will possess 60% of their original effectiveness. (A 5 post duration technique would last 3 posts.)

Two Tiers Lower:
Abilities and techniques reliant on electrical energies will retain 40% of their original effectiveness.

Three Tiers Lower:
Abilities and techniques reliant on electrical energies will retain 20% of their original strength or effect. (A 5 post duration technique would become 1 post, etc.)

Three Tiers Lower:
Abilities and techniques reliant on electrical energies will find they possess almost none of their original strength or effect.
» Thunderblight:
Passive
- The final passive ability of Horus's sealed Zanpakutô is known to him as
Thunderblight
. The way it works is similar to how the
electrical resistance
granted to Horus works, by constantly cycling the Zanpakutô's energies. The difference in this passive is both in application, and where the energy is being utilized. Rather than passing through Horus the blades energy constantly cycles through itself thus imbuing its strikes with electrical energy. Through this successive strikes from this Zanpakutô can have cumulative effects, ranging from disrupting the nervous system, causing paralysis, creating electrical burns, and other various effects one would suffer under varying strengths of electrical energy.
Shikai
» Shikai Name:
» Shikai Release Phrase:
» Shikai Appearance:
Shikai Abilities
Bankai
» Bankai Name:
» Bankai Release Phrase:
» Bankai Appearance:
Bankai Abilities
The Inner Hollow
» Name:
Kveykva
» Appearance:
Spoiler:
» Personality:
Inner Hollow's Abilities
» ????:
The Mask
» Description:» Image:
Masked Abilities
» ?????:
Equipment, Etc
» URE Sphere:
Given to Horus by Veras after she recruited him to the Kokuryuteshi's side.
Link to Equipment
Skill Sheets
*Note:
Skills listed are from his old
app
.
General Skills
Durability:
Advanced
General Speed:
Advanced
Strength:
Adept
Weapon Skill:
Advanced
Racial Skills
Shinigami
Hoho:
Adept
Kidō:
Advanced
Zanjutsu:
Adept
Hakuda:
Adept
Vizard
Power Augmentation:
Adept
Cero/Bala:
Advanced
Mask Protection:
Adept
Hollow Control:
Adept
Hollow
Acid Skill:
?
Garganta:
?
Cero/Bala:
?
Regeneration:
?
Will Skills
Willpower/Determination:
Advanced
Mental Deduction:
Adept
Pain Endurance:
Advanced
Focus:
Beginner