Commander of the Legion
Previous Material for Reference
» Name:
Horus Sariel
» Titles:
Current: Horus's current titles are Crimson Butcher, and Commander of the Legion.
Older: While no longer applicable Horus is still known as the Lt. Commander of the Jade Cross.
» Age:
At an age of two hundred and twenty-three Horus now appears as a man whom is in his late twenties.
» Species & Gender:
Vizard, Male.
» Affiliation & Rank:
» Appearance: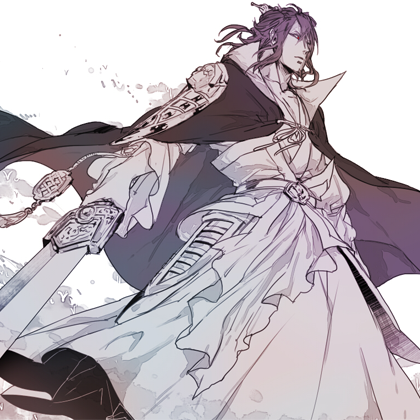 » Residence:
» Reiatsu:
General Skills
» Speed:» Durability:» Strength:
Shinigami Racials
» Hoho:» Kidō:» Hakuda:» Zanpakutô Spirit Name: » Zanpakutô Spirit Appearance:
Natural Appearance
,
Tainted Appearance
,
Demonic Apperance
.
» Zanpakutô Spirit Personality:» Inner World:» Sealed Zanpakutô Appearance:
Sealed Abilities
» Extended Range:
Passive
- What most consider to be Horus' own skill is in reality an ability granted to him by his zanpakuto, and in the end enhances certain aspects of his skill-set. Said aspects primarily being the ability to shape, and freely manipulate, both the reiatsu emitted by the blade and any electrical energies given off via other abilities and techniques. This is possible due to a film, or at least what closely resembles a film, of reiatsu that is continuously released by the blade. From the moment the zanpakuto begins emitting this film of reiatsu Horus' is capable of, as previously stated, freely manipulating the energy & its shape.
Essentially this means that Horus can apply this little ability to extend his striking range, alter the shape of his blade, create a blunted edge, etc. Generally when utilizing such manipulations Horus strictly operates within a range that allows him maximum effectiveness with his current skill using this ability. Said range is generally the formation of a film that can extend the zanpakuto's range by a minimum of six inches, and a maximum of twelve. If necessary Horus
can
extend the range further, to sixteen inches, but risks a lack of control and solidity.
When used at the maximum effectiveness Horus' can maintain this 'trick' for a ten post duration, if used beyond that point Horus can maintain it for 6 posts, and if used at a minimum range of four inches Horus can maintain this for 14 posts.
» Electrical Resistance:
Passive
- Granted by Horus's Zanpakutô this passive cycles its energies through its wielder before returning them to itself. This occurs whether Horus is wielding the blade or not. Because of this continuous cycle Horus was granted a resistance to electrical energies and any techniques or abilities to utilize them. It is possible for Horus to further develop this passive effect of his Zanpakutô, doing so could not only increase its strength but could potentially develop it in different ways.
Range of Effectiveness
Spoiler:
» Thunderblight:
Passive
- The final passive ability of Horus's sealed Zanpakutô is known to him as
Thunderblight
. The way it works is similar to how the
electrical resistance
granted to Horus works, by constantly cycling the Zanpakutô's energies. The difference in this passive is both in application, and where the energy is being utilized. Rather than passing through Horus the blades energy constantly cycles through itself thus imbuing its strikes with electrical energy. Through this successive strikes from this Zanpakutô can have cumulative effects, ranging from disrupting the nervous system, causing paralysis, creating electrical burns, and other various effects one would suffer under varying strengths of electrical energy.
» Shikai Name:
» Shikai Release Phrase:
» Shikai Appearance:
Shikai Abilities
» Bankai Name:
» Bankai Release Phrase:
» Bankai Appearance:
Bankai Abilities
» Name:
Kveykva
» Appearance: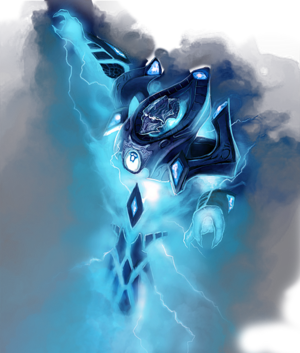 » Personality:» ????:» Description:» Image:
Masked Abilities & Vizard Racials
» ?????:
Vizard Racials
» Cero:» Hollow Control:» Mask Protection:» Power Augmentation:» URE Sphere:
Given to Horus by Veras after she recruited him to the Kokuryuteshi's side.
Link to Equipment
General Skills
Durability:
General Speed:
Strength:
Martial Skill:
Racial Skills
Shinigami
Hoho:
Kidō:
Hakuda:
Vizard
Power Augmentation:
Cero/Bala:
Mask Protection:
Hollow Control:
Hollow
Acid Skill:
Garganta:
Cero/Bala:
Regeneration:
Will Skills
Willpower/Determination:
Mental Deduction:
Focus: