THE VIZARD TEMPLATE
Vizard Profile
ヴァイザード
I. Basic Information
» Name:
Mike Brent
» Titles:
Mike the lazy
» Appearance Age:
25
» True Age:
750
» Gender:
Male
» Affiliation/Rank:
Former seated lieutenant of Squad 10, resident of Rukongai district
» Appearance Description:
Mike is particularly tall and lean fellow, wearing a black tuxedo with a hat that's very similar to a western cowboy. The right side of his hat has a ring which doesn't really do much but makes a little jingle sound. His shirt underneath the tuxedo is a regular botton-down shirt with a thin black collar around it's neck, some may call him weak due to his lack of muscle but he's not one you should mess around with especially when you get on his bad side.
» Appearance Picture:
I. Personality
» Personality:
Mike is a self-dependent individual meaning he doesn't usually need help from anyone, That silenced, keep-to-self demeanor does quickly change when it comes to women. Mike is a man who believes that a woman should be treated properly. A believer of chivalry and being a gentleman.
He's usually content in simply observing a situation first before gauging on whether he should involve himself or not.
Though at first impressions this can often be mistaken for shyness or anti social behaviour is really just his outer and inner shell.
Mike is also the kind of guy who doesn't kill anything without a good reason, he sometimes goes around the human world looking for a way to make money to satisfy his food cravings. If you need somebody gone, he's the man you call.
But deep down even if it rarely manifests itself, there is a sense of loyalty only reserved for the closest of friends and those that know him closely will know that, if necessary, Mike would die for them.
» Likes:
Delicious and gourmet food
Strong opponents
Being in mid-fight, there's nothing more exhilarating.
» Dislikes:
Those who maniplate women
Alcoholic beverages
Hanging with those younger then him
Losing to those weaker then him
Boring conversations
I. History
» History:
HUMAN LIFE
The beginning of Mike's life isn't very noteworthy or important; as a child, naturally not much occurred, and he didn't make much of an impact on the world. he was a rather ordinary young man, doing nothing to draw attention to himself in the first fourteen years of his life. He was an average student, getting Cs and never aspiring higher; he was an average child, enjoying his free time and luxury, never once worrying about the big picture when entertainment and enjoyment were right there before him. If his life weren't altered so horrifically by upcoming events, then he might have had a chance at a normal, peaceful life.
But that was not to be. At the age of 14, Mike came home early from school to find two unknown cars parked in front of his home. His father, Peter Brent, occasionally had clients visit as part of his business with the bank, and as a result he treated it like any other visit. Slipping in quietly, the young man had planned to head up to his room without disturbing his father during his business. This time was no different to Mike, who never understood what they were talking about anyway, but for some reason he found himself listening anyway, interested in listening to his father at work anyway. Mike really looked up to the man.
Of course, that was the beginning of a change in the young man's life, as he heard things he had never once expected to hear. At first it seemed innocuous enough, as one of the two men—Mike never looked into the study that his father used as an office, but he could recognize the voices as male—began discussing "urgent business." It didn't alarm Mike at all, as his father often handled a crisis from time to time, and so he started to turn and leave. But then voices were raised in anger, drawing the young man's attention once more. Quietly he moved up to the door again, which was opened a crack, and started listening even more closely.
Unfortunately, he only caught the tail end of the conversation. "You either finish the job, or pay the sum in exchange. If not, then…" Apparently the man made a gesture of some sorts, and Mike heard a thump against leather; someone had slumped down into a seat. A few more words were exchanged, the voices soft and hard to make out, but the gist of it was that some sort of deadline was set. At the sound of footsteps, the young man quickly hurried towards the stairs at the end of the hallway, trying to avoid being caught eavesdropping. He was halfway up when the door opened with a loud creak, and two older men stepped out from the study.
Despite trying to avoid notice, Mike couldn't help but stop and examine the two of them. The first was a tall and lithe man with jet-black hair streaked with red, wearing a long blazer and slacks. Two studded earrings were visible in the man's left ear, and another two studs emerged from his lip. His companion was much larger, bald with dark skin, and his eyes were hidden behind a pair of shades. But what stood out most was a pair of tattoos, one on each man; both were partially obscured as the lean man had it running up the side of his neck while the darker man had it visible on a partially-exposed arm, but the tattoo was twisting and sinuous, like a snake.
The two exchanged a look at seeing Mike on the stairs, as if coming to a decision, but the boy made it for them, turning and quickly running up to his room and closing the door behind him. For some reason, the two men scared him, and he found himself shaking as he locked the bedroom door behind him. It wasn't just the look of the two, as his father had dealt with rough types before. However, Mike found himself intimidated just by that last look the two had exchanged, as if they were deciding whether or not the boy had heard something. The atmosphere around them had been terrifying, and the boy found himself shivering, hoping that the men would just leave and never come back.
The rest of the evening was quiet, and the men had indeed left without another word. Mike finished his homework and came down to see his father and ask him if they were going out. The man was still in his study, however, and when Mike tried to go in and see his father, he found the door locked. This was an unusual situation, as Pierot had an open-door policy with his family; should they wish to see him when he didn't have clients, they were more than welcome into his study. That he had locked the door and wouldn't even come out to eat was strange, and Mike found himself worried about his father.
Three days passed, and though Peter came out of his office late that first evening, he had a haunted look about his eyes. The man seemed quiet, out of sorts, and turned away clients. His wife, Clara, seemed to know what was going on but said nothing. The only way Mike knew something was going on between his parents was due to the looks they exchanged; his father's eyes were full of fear and pleading forgiveness, while his mother accepted and understood. Mike was left in the dark, but he left it be, confident that his parents would handle it. They were adults, and they knew what they were doing.
At the end of the third day, however, Mike came home to find his father's car missing from the driveway. This wasn't a cause for alarm normally; though Pierot kept his office at home, the older man often went out as part of his work when it was necessary for an unwell client. What was alarming, however, was that the front door had been unlocked. That was an unusual sign, since the man always locked the house due to the confidential bank statements he kept in his study. Concerned, Mike had stepped into his home and looked around, but nothing immediately seemed out of place… until he came to his father's study.
The study door, which was normally closed but left unlocked, was thrown open, halfway off of its hinges. Inside, papers were strewn everywhere, cabinets had been overturned, and the desk drawers were thrown across the room. It looked like a hurricane had blown through that one room, but if it was, it was a hurricane that had been human-born. Mike had looked around in horror for all of a minute before running to call the police and then his mother. Officers were dispatched to the scene, and soon a full investigation was underway. The police checked for blood, fingerprints, and any other available clues, but aside from the missing car there were no leads. Nothing had been taken from the office, according to the preliminary inspection, and there were no traces left behind. Whoever had broken in had done so in a manner that was unnaturally skilled, maybe even professional. The case was deemed a break and entry with a second charge of possible kidnapping. A police team was assigned to watch the house in case of a second attempt and to watch over the family while a squad was set on the trail of the investigation.
Two months passed, but the investigation only led to dead ends. Pierot remained missing, and no clues had come up regarding his disappearance. Mike's home life changed drastically; without his father around, the young man found himself fearful. Even as a teen, he had looked up to his father as that invincible figure, that man who couldn't be beaten. However, that illusion had been shattered, and now Mike realized just how cruel the world was. He began to withdraw, to hide from people. The young man was afraid, putting up wall after wall to prevent anyone from coming close enough to threaten the little stability he felt he had in his life.
Another month passed, and with it came bad news: Pierot had finally been found. The man's body had been located in a large dump, buried under at least two months' worth of trash. It had been sheer luck that it had been found as a pile had collapsed, revealing the decaying remains. An autopsy had been performed to determine the cause of death, and the results that came back suggested it was due to several large stab wounds that had barely been identified along the spine and sides, causing severe internal damage and bleeding. However, there were also signs of heavy bruising and crushed bones in the left arm and two of the ribs; it was possible that these were signs of beating, but there was also the possibility that the damage had been done from the weight of the trash that had been dumped atop the corpse.
Mike hadn't been told the results of the autopsy, but just knowing his father was dead confirmed his fears of the world about him, and as a result he became even more withdrawn. He no longer spoke to anyone, and in fact isolated himself from the people around him. The only person that wasn't blocked off was his mother; only the family bond between the two of them kept Mike's fear at bay. He trusted in her explicitly, and to an extent, some form of stability was brought about in his mind.
Unfortunately, life became hard; with Peter as their main means of financial support, the two of them found that their money was running short quickly. Most of the life insurance from the man's death had gone towards his funeral and towards what bills they could afford to cover; after that, they fell on difficult times. Mike dropped out of high school—he had been doing well, keeping a C average—in order to hold a full-time job along with his mother, the two of them working hard to keep themselves afloat. Much to their dismay, their situation continued to deteriorate, and soon they found themselves starting to build up debt.
Mike's despair grew daily, and for a while he wondered if there was anything he could do to fix their situation. Then the answer came to him, in the form of a tattooed man named Maco.
Maco offered mike a chance to get rid of him and his mothers debt, in exhange however he must join his gang and commit his undying loyalty to him. Mike hesitated at first but decided to join, once mike turned 18 he was living a good life.
Unfortunately all good things come to an end, where maco told mike he needed to kill a certain individual he wouldn't know his face however but he said it'd allow him to be promoted to the big leagues.
Mike was led to another room in the building, one that was securely locked with a guard standing outside. Verification was given, and the boy was handed a gun before being shoved inside with his escort, Ink, entering behind him. The door was locked, and the two were left in the room with the intended victim. A woman at atop a worn-looking couch, bound by a rope secured tightly around her body, and a gag keeping her from speaking. She looked tired, ragged, and resigned, days of terror drawing dark rings under her eyes. Yet as she looked up and saw Mike approaching, her eyes widened in horror, and she began to tremble.
"...Mom..."
It was Mike's mother who lay there before him, trembling, eyes on the gun in his hands. Suddenly Mike realized what a cruel trick was being played on him; in order to prove his loyalty, he was expected to kill his own mother, the person he had hoped to provide for. Yet if he didn't, his own life was on the line; he had made the agreement knowing that he would be killed, if he refused. Yet what a choice he was given; kill the person he had been willing to go to such lengths for, or die, and leave her without support. Maco was cruel indeed, and had likely set this up knowing what a difficult decision it was. Would Mike be cold enough to do what he had to in order to survive, or would he cave in, proving he was took weak for the job requested?
In the end, however, even Mike's practical nature could not allow him to hurt the one person he actually cared about. Turning, the gun came up as he went to shoot Ink in the head, intending to kill the man with a bullet between the eyes before he had a chance to respond. Mike wasn't sure what he was doing, he simply reacted, and attempted to take down at least one of his enemies. The gun came up, the trigger was pulled... yet nothing happened, an empty click filling the air. Ink smiled, and fired his gun at mike's head ending his life.
Shinigami Life
Like all most shinigami mike doesn't retain any memories of his human life, therefore he started a new life in the Rukongai district.
Taken in by a strange uncle, who also happened to be a shinigami, the remainder of his childhood was spent training his body and mind to becoming a weapon. His uncle, though a gentle man at heart, was a strict teacher and demanded nothing less than perfection and perseverance, a characteristic well driven into Mike from an early age,
When he came of age it was only natural that Mike was enrolled in the academy, and there the training his uncle had made him undergo all those years before started to pay off, Mike was exceptional in class and on the battlefield, seeking nothing but perfection to protect the people he cared for.
Though his initial training served him well early on, pumping him through the more basic classes, it wasnt until he got into the more advanced classes with the more prodigious students that he learned true perserverance, intelligent as he was and quickly as he grasped concepts, there were those that continued to surpass him, the children of nobles who'd been doing this way before him and carried the burden of expectation on their shoulders.
It was people such as these that  he relied mostly his perseverance and resilience to surpass,on the battle field he wouldn't give up until his body gave out or he reached his limit, though even then he would still sometimes lose. This in turned sparked a romance with the training field and study, almost every day he would be seen training and honing his skills, and every night after a spar or fight he would be seen outside staring at the moon and keeping to himself, harnessing the vision he'd gained in his early years before joining the academy.
As he finally graduated from the academy he immediately went and joined squad 10. He was sent on his first mission as a new shinigami, investigate a lost group of shinigami from the kido corps. Mike didn't really wanna go do this mission but he needed to get out for some fresh air anyway. He then encountered a man perhaps another shinigami on the dame mission as him?
No, he was a scientist who was fascinated about hollowfication and decided to use mike as his test subject. The man placed a seal on mike infusing himself with hollow powers making him feel uneasy and fell into a state of unconsiousness.
Another Part Of Me
He awoke to a mountaintop ,one he had never seen before with clouds spanning as far as the eyes could see, their large dense foliage obscuring the sun with stormy weather, getting up he wandered around awhile before appearing in a clearing.
A horned, winged figure with deep grey skin and black tattoos with cuts along his body sitting on a tree stump before him, as if meditating, approaching the figure cautiously Mike kept his hand on his sword, drawing only a few feet away from the horned being before it opened its black, souless eyes and smiled at him. The smile of a demon had never felt so familiar to him till today.
"I see you've finally came boy", the thing spoke narrowing his eyes at Mike
"Who are you?"
"We will come to that matter later,now you want to know why you are here no?", the being replied without blinking, the look on his features unnervingly gentle and genuine.
"That a trick question?". Mike said with a confused look
"Guess there's beating around the bus with you then, I'll start by saying I am a part of you, I always have been from the beginning", the being began.
"I think I'd remember someone like you if you were a part of me"
" I don't need to explain myself to you, you know what I mean when I said it, you know it even now, your very soul resonates with it"
Mike was no idiot, he'd felt it, even now his soul seemed to bubble with power that felt so familiar, yet so new to him at the same time.
"So, its you then"
"Ah, I see your quite quick at grasping these things aren't you boy", his spirit chuckled warmly, "Yes I am your spirit, but I am also your power, I have been with you since you were born and all throughout you life, up until this point. That zanpaktou spirit you call Kyoufuu was nothing but a small portion of your power.
That can't be true....i couldn't have survived with her, your lying! Mike said angrily
The being just chuckled in amusement, "Did you really think it was her that helped you grow stronger over the years" He replied back
Mike tried calling kyoufuu but his voice just echoed in the air of his inner world.
You see mike? I'm the ruler of this world and i can finally take control of your body.
"Like hell you will! Once i defeat you she'll come back and you'll be gone" mike said to him.
The being then shrugged in dissapointmemt "Ah well i guess, if i can't convince you" He then unsheaths his zanpaktou "Then i'll just have to kill you!"
The battle between mike and his inner hollow was a fierce one, each one clashing their swords against one another and each exchanging their attacks. Mike then stabbed the inner hollow in the chest instantly killing him.
However, his hollow was still lurking waiting for the perfect chance to take control once mike is at his weakest state.
Modern Mike
Today mike currently isn't affiliated with any organization, he sometimes goes out into the human world to do odd jobs for people. As long as he gets food or money in return he'd be glad to get the job done in the most efficent way possible. Sometimes you'll see him in bars either sleeping or drinking a tall glass of milk.
I. Natural Abilities
» Natural Abilities:
(What kind of skills or abilities does your character have naturally? This can span from above average strength, to a large amount of skill in swordsmanship.)
I. Racial Abilities
»  Racial Abilities:
Lightning Queen's Style
This is Mike's signature method of fighting. Yellow trails of reiatsu emanate from his being whenever this style is entered. The style focuses generally on speed and power rather than technique as such it is a very simple but intense method of fighting designed to generally overwhelm the opponent quickly and with deadly effect, however due to its intensity it can be a very physically demanding style of fighting with little or no use of weapons, utilizing the user's body as the ultimate weapon.
Drawback: Due to its heavy reliance on offence, the style isn't particularly defensively based and as such the defence can be exploited whenever there are small gaps between attacks, as such the user will indeed have to set a manner of defenses themselves in order to compensate for this.
Lightning Queen's Overdrive
Really just the heralding/opening technique to this particular set of techniques. This technique is a buff to most of Mike's physical capabilities, mainly focusing on his his overall power and natural speed by 3x his current level. Thus he is able to move 3x as quick as he normally would or someone of his level would and hit 3x as hard.
Lightning Queen's Shattering Blow
Mike's signature move and favoured means of attack, a precise punch performed by either or both arms. The punch has a quick release and retract time, often catching opponents off guard with its speed as the arm seemingly disappears only to connect with its intended target, the level of damage equalling the amount of force put in.
Lightning Queen's Shattering Kick
Akin to the Shattering blow, this kick can be performed with either leg or even the knees and is powerful enough to even work on techniques, the sheer force of each kick is enough to send the victim back upto 30-40m and break bone if unguarded.
I. Sealed Zanpakutō
» Zanpakutō Name:
Kyoufuu
» Zanpakutō Spirit Appearance:
» Zanpakutō Spirit Personality:
Kyoufuu is very bubbly and happy. She doesn't really like violence, and so much prefers for mike to focus on getting to know people. As opposed to just laying around in the dojo eating food, although mike is laid-back she also desperately wants him to succeed, but she is very certain to make sure that Mike has to work for every ounce of power he receives from her sword.
» Inner World:
Mike's inner world is a mountain landscape filled with a dojo. The dojo itself is a fairly large size with two dragon statues next to it both having blue eyes as if they're alive. The inside of the dojo is warm and consist of many different condiments and food for mike to gorge himself with.
» Sealed Zanpakutō Appearance:
» Sealed Zanpakutô Powers:
(What kind of powers does your character's Zanpakuto possess? Usually, Zanpakuto will have a theme with them, and have one kind of power. This could be some sort of fire manipulation or creation, but that is only an example. Do not overpower this section)
I. Shikai
» Shikai Release Phrase:
Wake up, Kyoufuu (サンダークイーン)
» Shikai Release Actions:
N/A
» Shikai Appearance: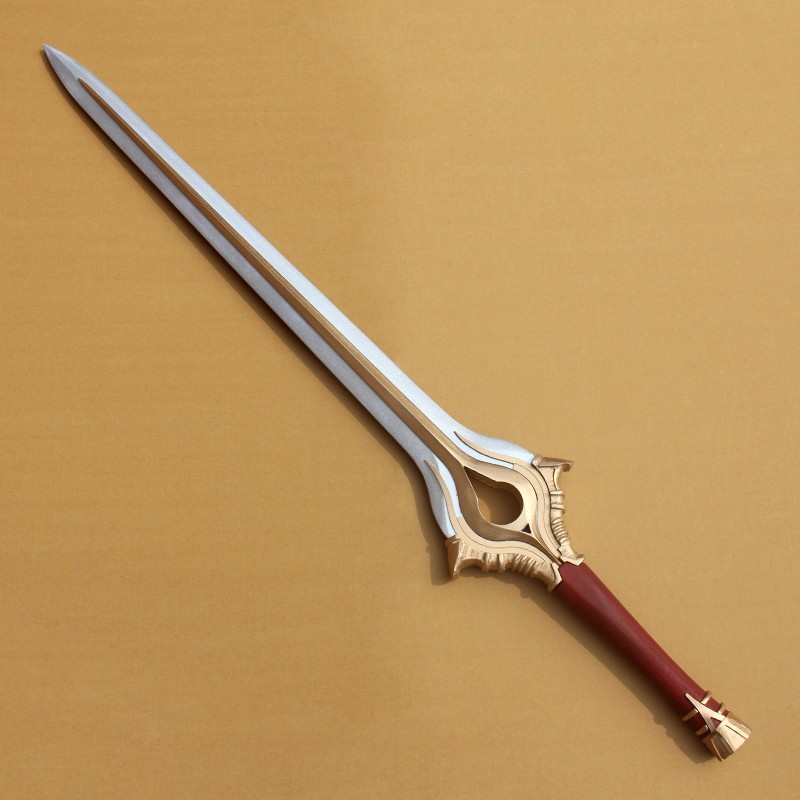 » Shikai Abilities:
Telsa Cannon:
Mike takes electricity into the part of the blade where the hilt would be, this would be the area at which the electricity is charged. After he has gathered the necessary amount of electricity, the blade will be used as a targeting tool. He will aim the blade at whatever he chooses, and thrust forward; this causes the electricity to be shot forward like a cannon.
The attack has the potential to destroy a small building if enough energy is applied.
Drawback: Requires a cool down time of 4 posts. One post for charging the hilt and another post to actually shoot)
Lightning fissure:
Mike takes the tip of Kyoufuu, and focuses a small portion of electricity to it. Stabbing her into the ground, electricity is amplified into a large circle being 5 meters in diameter or 15 feet. In this circle Mike is going to send electricity upwards from the ground. Those who are caught in the circle will be caused damage equal to a shikai. This is purely them being shocked by the large amount of lighting shooting upwards that is hitting them.
As it surges upwards, it will resemble lightning flying into the sky. After it has gone 5 meters upwards it will be completely harmless. The technique itself is quick, once he has stabbed Kyoufuu into the ground the circle will shoot out; making Kyoufuu be the center point. Once the circle has been fully developed the opponent has their turn to either escape from the circle or counter attack Mike. If they can't full escape in their post, or somehow stop Mike whatever is in the circle will be hit by lightning.
Drawback: There will be a 2 posts cool down time. The opponent has their post to escape or counter attack. So basically a 1 post before the attack can happen. A very large drawback is that if the opponent can somehow get Kiyoufuu out of the ground then the circle will leave and nothing will happen.
Note: The opponent has the chance of experiencing 1st-2nd degree burns.
Eletric Void
Mike spreads his Reiatsu out over a wide field around him with a radius of about 30 meters, with him at the center. He then condenses the Reiatsu into a massive field of black fog, in which the Reiatsu he, or anyone else within the fog, directly gives off disappears. Other spiritual beings can only pinpoint his location in the smog if they are two ranks higher than him (while in the smog), and beings equal to his rank and up can make an assumption that is within 10 meters of being correct from outside the fog. A opponent that has a higher tier than Mike may completely suppress the fog with their Reiatsu, ending the technique's effect on anyone in the area. This ability lasts for up to 3 posts unless Mike decides to end it.
While other spiritual beings are in the fog, the black fog Reiatsu gains a tendency to cling to them. This effect does not apply to Mike. Once the Reiatsu has begun to cling to a spiritual being, Mike's Reiatsu appears to cling to them, making the Reiatsu signal they give off stronger by percentage of Mike's Reiatsu given while not actually making the victim stronger. This part of the technique's effect does not affect enemies with Advanced or higher willpower over Mike.
Once the Reiatsu has begun to cling to a being, their Reiatsu becomes easily locatable by all spiritual beings that are capable of doing so. This can confuse beings who do not understand the inner workings of this technique into attacking allies or enemies other than Mike. Unfortunately, Mike cannot sense the Reiatsu of others inside of or outside of this field, so he can determine no better who he is attacking and cannot locate other beings within the fog until the Reiatsu has clung to them.
The dark fog blocks all visibility of beings outside trying to look in. While inside the fog, visibility is limited to three yards, making dodging attacks extremely difficult. Only a combatant with very high reflexes would be capable of fighting to their fullest extent within the fog. Long-ranged Reishi-based attacks (such as Kido or a Quincy's arrow) momentarily clear a 1-yard radius around the attack, the clearing remaining for no longer than one whole post.
Numbing Cut
The blade of Mike's Shikai becomes covered in a gray, fog-like smoke. When Mike cuts any part of an opponent's body while this smoke covers the blade, any part of the afflicted character's body that is within 6 inches of any point in the cut becomes lifeless, cutting off any bloodstream or nervous connections that involve signals being sent through the area, making any limbs affected drop limp and unusable.. Depending on where the cut is, this could cause major or minor effects. If an arm or a leg is cut, the arm or leg cut falls limp and unusable, becoming a massive hindrance for the victim. If the chest or lower body is cut, that region is rendered numb, and the victim will not be able to feel anything in the region. If a light cut to the neck or injury to the head is made, a similar numbing effect is applied to the head, including the base of the nervous system in the brain, causing the entire body to go numb, though still perfectly usable.
The attack itself is limited by to the point of the body that blade is able to strike and allow for the opponent to begin to notice the effects on their body. You can dodge it, you can use magic against it, you can place some type of shield/weapon against it and some can even nullify the poison all together. This effect lasts for 2 posts.
I. Bankai
» Bankai Name:
Lightning Rai-kaizar
» Bankai Release Phrase:
Mike just says bankai....that's all
» Bankai Release Actions:
Mike begins by drawing a large number seven ( 7 ) in the air followed by the letter V. These two appear visible in a frail glowing yellow aura momentarily.
» Bankai Appearance:
» Bankai Abilities:
Enhanced Speed: Although his bankai lacks in power, his bankai does however makes up formit with it's immense speed. His speed is increased to that of a lieutenant.
Thunder Crash:
Once mike activates this technique his swords turns into a giant lance and after transferring his energy into the lance it can then transform into the physical appearance of electricity, even touching it can result in severe burns. Once sent it resembles a massive Lightning bolt with the size of the bolt being about 4 feet long. The attack can be increased with combined with his hollow mask, however it's risky and has a high chance of missing, and it drains most of his bankai.
Crackling of the Abyss
Maximum Range: 100 Meters
Using this ability, he may imbue the air around him with his Reiryoku, setting it alight with black-and-yellow electricity He may freely form these freely within a 50 meter radius of himself, and manipulate the ignited winds freely to suit his needs in battle, using them as ranged attacks or defenses as well as to amplify his physical capabilities in hand-to-hand combat, all within a 100 meter radius. These electrical charges will not hurt Mike should they come in contact with him, though they will electrocute anyone he thinks of as a target and carry the raw power of a weak lightning strike making it potentially a very potent form of both offense and defense.
This technique has a wide range of functions. Some of these functions include coating his body or part of it in to improve damage dealt or defensive capabilities in melee combat, sending out simple projectiles, sending out streams of the lightning to annihilate enemies, forming the curremtd into a large sphere for defensive or offensive purposes, and hardening the electrifying Reiryoku into weapons or other forms of equipment. These are only a few examples, however, as the technique could be used in a nearly infinite number of ways.
The currents act according to Mike's will, and may either move as a whole or split into more intricate currents to suit Mike's needs; neither of these methods takes much effort, requiring only for Mike to produce it and will them to do as he needs.
Kingdom for the Lightning Goddess
Range: 100m
This technique is known as Kingdom For the Lightning Goddess, or Kingdom for short. This is a Bankai technique only, that can be activated once per thread, and is activated upon releasing bankai. The aesthetics that make up this technique are the following: Cumulonimbus clouds form upon activation of the bankai technique, these clouds turn from a white color into a dark black color, while also swirling around a 100 meter radius, everything that is in this radius will be trapped inside of a large black Cumulonimbus cloud dome. Upon entering this dome one will note that it is pitch black unless a lightning bolt flashes, which happens periodically. For every 2 posts there will be a lightning flash and the light caused by this lasts for 1 post. 2 more posts it happens again and repeats in that fashion.
Mike will be the only one able to see his opponent, he has to ability to give this same sight to his opponent if he feels like it should be an equal fight.
This dome will create a private battlefield between him and his opponents. That is all the dome is meant to do, designed to do, and will do. There is no getting in the dome or getting out unless allowed; unless he passes out or is defeated. Then the dome will collapse allowing the inhabitants a chance to leave.
The opponent can use artificial light to see
Drawback: It can only be used 1 time per thread.
Thunder Dragon
Aftee releasing bankai mike is able to use this technique by gathering up his reiryoku into the handles of his blade.
This reiryoku then funnels out of the tips of the Bankai's hilt. All of this reiryoku flows around his body working from his arms, down to his legs, and back up to his head. It coats his entire body in lightning, that resembles scales of a dragon. The lightning then forms two dragon heads on both shoulders, giving it a nice look. His blades are also coated in electricity that is similar to Resolve his Shikai technique. Thus this technique will create an offensive effect along with a defensive effect. This armor makes it so that all electric techniques up to a Tier 5-3 do not work on him, and anything he slices with his blades are damaged by an extreme amount of electricity.
Drawback: A duration of 4 posts and a cool down of 8 posts
[/strike]
I. Inner Hollow/Mask
» Inner Hollow Name:
Vāun
» Inner Hollow Description:
» Inner Hollow Personality:
Vaun,an overconfident, arrogant S.O.B with about as much common sense as bull seeing red. Though vaun can be a reasonable being a times and has even been able show glimpses of a high intellect, to the core he simply is a loudmouth that likes to talk a lot of trash, even when in mortal danger Vaun will continue to trash talk incessantly. With an annoying self-obsessed nature that can get on anyone's nerves, literally anyone.
Despite this somewhat hard to determine exterior, Vāun is also an emotional being, though slightly stunted in that he doesn't know how to express them the way a human would, Vāun has shown glimpses of compassion and can be, though very rarely, a deep person who seeks to preserve that which he cares about. Vāun is very defensive of such a nature, terming it as weak and un-instinctual.
Even rarer are the moments where Vāun actually tries to act like a father figure to Mike, occasionally in his spasms Vāun will try to show something important to Mike or will taunt and tease in such a manner to direct him to an issue that needs to be addressed. Being Vāun this will always manifest itself in insults, being that Mike is 'weak' or Mike is 'incapable' of doing such, or even comparing the two of them in such a manner to get Mike to really consider some those things that Vāun mentions.
Overall Vāun is still an annoying person, who never seems to shut up, but at his core, some part of him does care (he doesn't know which part) for Mike, despite his insults and over-confidence in himself and his constant threats to take over and his over bearing attitude towards Mike as well as his narcissistic attack of everything he does etc etc. 
Immense Strength: Vuan's strength is drawn by mike's will to survive and his anger dwelled deep inside himself. With this strength he can almost overpower mike in the strength department, however he lacks in speed.
Hollowized Kyoufuu: Being a hollow vuãn has the same zanpaktou as mike but in the traditional black and white setting. He has both his shikai and bankai powers but the only drawback being when using the powers, Mike has to say it first before the inner hollow can use the shikai or bankai powers for himself.
Lightning Cero: Vaun's version of cero is black with yellow sparks around it, simulating mike's anger and agression. It also has the chance to paralyze his opponents but it's based on willpower.
Black Bala:
Bala is an users alternative to Cero. The technique hardens the user's Spiritual Pressure and fires it like a bullet. Although it is weaker than a normal Cero, it moves about twenty times faster and can be fired at a much higher rate, but the damage is much the same. Stronger Arrancar can also fire a more powerful Bala, while retaining its twenty-fold speed. Vaun's version of Bala is a lightning one.
Durability increase
His can take quite a beating then normal shinigami, he can be defeated but it'll take the force of a captain to knock him out for good.
» Hollow Mask Appearance:
» Vizard Powers:
Power Augmentation: While wearing the mask, Mike's Hollow powers supplement his Shinigami powers, giving him a vast increase in speed and strength.
Enhanced Speed: : While wearing his Hollow mask, Mike has shown that he can move much more quickly, Mike had train with vizard speed on numerous occasions when he's fighting or training. His speed department is somewhat lacking though.
Enhanced Senses: While wearing his mask, Mike had develop is own version of an arrancar's pequisa that's similiar to an arrancar's senses.
Cero: This is a form of attack used by Menos, Arrancar and Vizard. As a standard energy blast, it consists of firing a powerful blast of concentrated spiritual energy at the target. While in most cases it is fired from the mouth, some Arrancar and Vizard are capable of firing Cero from their hands, fingers and other parts of their bodies. Mike's version of cero is fired from his hand, although he still needs to fully master it since it's a move he hardly ever uses in a fight. (Cero is yellow with blue electricity around it)
Garganta: Gargnta is how Arrancar and Hollows are able to move in and out from Hueco Mundo. A spiritual pathway connecting the Arrancar's world Hueco Mundo to other worlds. Besides the World of the Living and the Soul Society, it can also open the gates of the Dangai. A turbulence of Reishi blows within Garganta. To move through it, travelers must create footholds using the Reishi.
Hollow Shock
Gathering reiatsu to either their mouths or palms, the user is able to set out reiatsu currents, in a way equally to a thunderbolt that are able to cause burns on the target and travels at half the speed of a bala. The maximum range of the technique is 50 meters.
Thunder birds
Using this technique, Mike summons a flock of spiritual birds in the form of crows or ravens to fly around the area and scout. They are capable of fluid speech, able to comprehend what they see and report it verbally to Mike. They are also capable of receiving and recording messages, and repeating them to Mike. Their vocal tone is a decent mid-range, monotonous and a little metallic in tone. They can fly at speeds anywhere from 40-50mph. At any time, Mike may connect his vision with one of the birds to get a personal bird's eye view on an area.
Electric Wave
Range: 20m
Description: Mike gripping onto the handles of his sword pours reiryoku into the handle, this causes them to glow a bright yellow color, the same color of his reiatsu. From there he is able to swing his blade in any direction sending a wave of electricity at his opponent. The wave is condensed down to the same size of his blade's width, thus the attack is more precise. The power of the technique and damage are equal to that of a Tier 3. The damage that is being done is caused by the electricity + force of the wave of lightning hitting them.
Drawback: Only 2 waves can be sent per post and requires a 3 post cool down.
I. Resurrección
[NOTE: This form is for 0-3 and up. Refer to the racial specs for more information]» Resurrección Release Phrase:
(What does your character say in order to transform into their Resurrección state? This is optional.)
» Resurrección Release Actions:
(What kind of action does your character perform to transform into their Resurrección state? This is also optional.)
» Resurrección Appearance:
(What does your character look like when they transform into their Resurrección state?)
» Resurrección Abilities:
(When a character ascends to this state, they at their peak power. Please state what kind of powers that your Vizard obtains when ascending to this form.)
I. Equipment/Other Resources
» Equipment:
(If your character has any equipment, then you should put it in this section. Otherwise, if they don't, do not fill in this section and you can leave it blank.)
I. PhantomTech
» PhantomTech:
(Does your character have a PhantomTech brain installed? If so, you'll be able to qualify for upgrade at the Cybermind or add other Cybernetic parts to your character to make them stronger.
Click here
for more information about Phantom Tech)
» Phantom Tech Abilities:
(What can your character do with his or her's add-ons? This applies to any upgrades your character has gotten from places like The Cybermind as well.)
» Phantom Tech Powers:
(This refers to things outside of Add-ons unlike Abilities. What Phantom Tech Powers are, in a sense, is basically what kind of power did your character gain from having a Cyberbrain? For example, Shadin Yuudeshi gained Imaginary Computation with his Cybernetic upgrades and has the ability to bring tangible things into existence with his computers Quantum Calculations.)
I. Skill Sheet
[SKILL SHEETS ARE NOT TO BE FILLED OUT UNTIL AFTER A TIER IS GIVEN! WILL SKILLS WILL BE GIVEN BY THE STAFF MEMBER THAT GRADES YOUR APP! FOR MORE INFORMATION, LOOK AT THIS THREAD]
General Skills
Durability: Adept

General Speed: Advanced

Strength: Adept

Weapon Skill: Advanced

Shinigami Skills
Hoho: Advanced

Kidō: Beginner

Zanjutsu: Advanced

Hakuda: Adept

Vizard Skills
Power Augmentation Advanced

Cero: Beginner

Mask Protection: Advanced

Hollow Control: Adept

Hollow Skills
Acid Skill: Master/Advanced/Adept/Beginner

Garganta : Master/Advanced/Adept/Beginner

Cero/Bala: Master/Advanced/Adept/Beginner

Regeneration: Master/Advanced/Adept/Beginner

Will Skills
Willpower/Determination: Advanced

Mental Deduction: Adept

Pain Endurance: Adept

Focus: Advanced

I. Roleplay Sample
» Role Play Sample:
(Show us what you got by posting a sample of how you role play. Any previous thread or new material is accepted!)