The Spiritual Human Template
Basic Information
_____________________________
• Name: Matthew
• Titles: The Nerd, The C Man,The Loner
• Age: 22
• Gender: Male
• Affiliation/Rank: None
• Appearance Description: Matthew is a 169 cm (5'6 1/2") individual who has a clean shave and wears glasses. He is sometimes seen wearing a variety of different clothing and outfits, and is a very slim fellow almost like you could break him easily like a stick. His hair is solid black that sometimes get's ruffled when he's staying up past 11:00 PM. Although we never seen his chest, we can safely assume it's not a six pack but rather a skinny adult.
• Appearance Picture: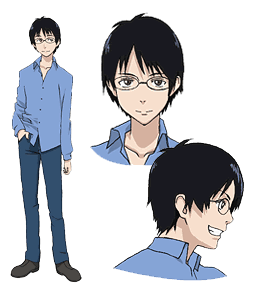 _____________________________
Personality
* Likes:
Creating videogames: Being a tech genius rich has always been fascinated with video games ever since he was a child. As a result he decided enroll to study game programming and design,unlike his dad who wants him to be a boring business man in a suit and tie.
While he does have a few ideas for a game, most of them are rather inapropriate and vulgar.
Drawing: How can one create a game without coming up with character designs? Well rich has been coming up with a few ideas for characters so he decided to draw them, allowing him to get a good image of what his dream character would look like.
Determined: Matthew is also very ambitious, he sometimes works day in and day out on developing his videogame and drawing. When something goes wrong he doesn't immediately give up like other people would, he is motivated by his dream of becoming sucessful and showing his family he can make it in the real world.
Otaku Life: Matthew has become so obessed with anime it that he collects an abundant amount of figureines,posters, and even manga. Although he will go out and socialize he'll mostly come off as a weird adult with perverted thoughts in his mind.
Seafood: Matthew will east just about anything he can get his hands on however, seafood that's another story, to him it is his sugar high, its his cocaine and personal drug that he is addicted to. He will never stop eating seafood if you were to give him the opportunity to do such he would sit at a table and simply eat seafood for the rest of his life in content never having to move.
* Dislikes:
Fireworks: He's doesn't have a fear of fireworks but rather dispises them due to him being ditched by a girl he liked at a firework show but instead he found out that she went with another guy.
_____________________________
Natural Attributes & Supernatural Powers
• Natural Attributes:
Intellectual Nerd: Although he may be an otaku who could have a brain the size of a peanut he's actually pretty smart. In school he has an average grade of B's in class and never get's into trouble alot. He's sometimes regarded as the smartest kid in class. One may call his nerdiness a liability then an asset, however they're wrong. His intellect allows his to become more spirtually aware then the average human, he's even tried convincing his classmates that spirits really do exist and how some are here to protect usfrom the unknown while others are sent to destroy.
Taekwondo Beginner:
Matthew isn't the strongest guy around so what better way to get stronger than to learn taekwondo? He learned the basic such as punches kicks and even a few blocking techniques, he's only a white belt but he's eager to teach anyone who wants to learn more about it. Even though it doesn't require mathmatical skills or hell even computing skills it'll at least boost his self confidence.
• Powers:
Matthew can use his photon energy to generate powerful streams and/or balls of flame. He can also manipulate his flame in such a way as to shape it into rings and other forms.
Weakness:Matthew's ability to use his pyro-based powers is limited by the quantity of oxygen in his environment, and his powers can be extinguished by sufficient quantities of water, flame retardant foam, and vacuum environments.
• Pure Abilities:
_____________________________
Sacred Release
• Sacred Release Appearance: N/A
• Sacred Release Powers:
Hover:
Matthew would gain the ability to slightly hover off the ground, allowing him to manuever easily.
Somewhat Fireproof:
Due to his ability of controlling and manipulating fire, his body has became so used to it that he's able to resist temperatures up to 300 degrees Fahrenheit, (similar to a wood fire)
_____________________________
Ascended Sacred State

•Ascended Sacred State Appearance: (Describe what your human looks like when they release their spiritual power. This is essentially equivalent to a Shinigami's Bankai.)

• Ascended Sacred State Powers: (Does your human get any additional powers from this transformation? For instance, if you had the power to control Fire in your base, could you control heat and magma in this state? Or would you gain something else?)
_____________________________
Background History
• Background: Matthew Matsumoto was born during a quiet autumn night to Jeiichi Matsumoto - a man known for his silver tongue, charming personality, and calculated ruthlessness in the courtroom - and Aime Matsumoto - a young woman with a gentle smile to match her warm and caring heart, who helped the family make ends meet by working as a teacher throughout the course of the week and moonlighting as a waitress during the weekends. His childhood was relatively uneventful. During the formative years of his life, he had shown an above-average level of intelligence and attended preschool, followed by his respective grade-school level education. Like any other child, he participated in extracurricular activities - some of which he despised with a passion that only a nine year-old can display - and led a generally normal and nonspecific social life. However, his flamboyant personality and tendency to become really argumentative pissed off most students at school leading to him to get frequently beaten up.
Throughout high school, Richard took naturally towards computer-based classes and drawing. By the time he was a high school student he had earned himself the title of "The Nerd", due to his passion of technology and anime.
One time he was invited to a firework show with a girl named Jane, she was the popular cheerleader at high school being 5"4 with a rather small bust she's considered one of the most beautiful girls. He thought it was the chance of a lifetime, however in typical fashion she leaves him for another guy making him feel like an idiot for thinking a beautiful girl would date a nerd like him.
Once richard got dumped by Jane he decided to become a misogynist and preferd fictional woman due to them having no ability to dump him and they always love him compared to real ones. Causing him to be seen as a creepy and lonely individual who'll never find love and will live in his mother's house for the rest of his life.
However it was after high school that cody began to descend into isolation. He began to avoid his friends and family to work on his videogame and even avoided women in general. This resulted him becoming socially withdrawn and lazy over the years.
His parent's noticed his lack of social interation and still not having a girlfriend, despite being 22. His mother decided to be supportive, although she finds the idea of it slightly off-putting. His dad however as supportive, he yelled at him and scolded him due to his "new lifestyle" and he even threatened to kick him out of the house until he finally grows out of this phase and get a real woman instead of fictional ones.
Richard decided enough was enough and left his home in search of living his own life how he wants it to be and that's with virtual waifu's and alot of fucking pizza
Oddly enough he actually found somewhere to live, an apartment building with an average size room complete with a kitchen and bathroom, he pays the bills frequently buy working as a
He now lives in an apartment building developing his video game and surrounding himself with all his anime figures,posters, and even waifu pilows.
_____________________________
See Skill Sheet for More Information
General Skills
* Durability: Master/Advanced/Adept/Beginner

* General Speed: Master/Advanced/Adept/Beginner

* Strength: Master/Advanced/Adept/Beginner

* Weapon Skill: Master/Advanced/Adept/Beginner 

Will Skills
* Willpower/Determination: Master/Advanced/Adept/Beginner

* Mental Deduction: Master/Advanced/Adept/Beginner

* Pain Endurance: Master/Advanced/Adept/Beginner

* Focus: Master/Advanced/Adept/Beginner 

Human Reiatsu Sheet
* Power Control: Master/Advanced/Adept/Beginner

* Energy Usage/Regeneration: Master/Advanced/Adept/Beginner

* Energy Resistance/Endurance: Master/Advanced/Adept/Beginner

* Physical Augmentation: Master/Advanced/Adept/Beginner
_____________________________
Roleplay Sample
• Roleplay Sample: (Please create a sample of how you role play in this section by either creating a RP sample with this character OR pasting something you have written in the past. If you have already made an accepted character, you need not go through this)