THE IRAMASHA TEMPLATE
Iramasha Profile
宇宙の装備者
I. Basic Information
» Name:
Sango Iramasha
» Titles:
Serenity
» Iramasha Age:
1944
» Regular Age:
19
» Gender:
Female
» Affiliation/Rank:
Hybrid Heiress
» Type:
Hybrid Irashima
» Physical Appearance Description:
Sango is a rather open minded person in terms of her appearance. She is both girly and tomboyish in her style of clothing choices, as well as her posture and body language. First to discuss is her more tomboyish side. She is not a fan of dresses. For some reason or another she doesn't really choose to like or even try them on. This is more classified to be more ball gown, poofy dresses, and the like. Dresses in terms of more cosplay like she finds more up her alley as something to go for, though types of then vary from this style and her more girly style. She does dress to flirt when she goes more tomboyish, which is a little less common than her normal attire. This includes her bunny girl costume, which is among her favorite thing to wear as far as it goes. Among a more normal type of clothing choice, Sango does prefer the more old fashioned "traditional dress" also named as a Cheongsam about as equally as much as her bunny girl outfits.
Onto her other style of clothing type; girly. For Sango, this includes but is not limited to skirts, tank tops, more provocative type of outfits, summer dresses, though despite the name are her only exception of a "dress". This is simply a comfortable factor in terms of her use of clothing. She loves to be comfortable when she dresses, and her choice of clothing only further supports the actions of the distaste in restrictive clothing. As mentioned, she is a silent flirt, letting her outfits to tease others while seeming more than comfortable for her to wear in public without much of a care in the world. It may give off wrong signals, but it isn't her problem that people tend to stare like perverts when she's around.. Assuming they do that is. As far as styles and colors, for both sides of the table, her preferred is light and dark mixed around, some following suit in her hair color, making other parts of her stand out more than others.
Next we come to Sango as a whole. She is of average height, roughly 5 feet 8 inches tall, or 170 cm. Her body is toned but slim looking, shown more in tighter clothing and choices outfits than to others. She's conservative though, she knows when to dress more appropriately for things than she would for a normal day out. She has long, ass length forest green hair, which among her girly side is one of her most self obsessed things. Style wise, she likes to keep it simple; a normal ponytail, twin tails tied tightly up and possibly decorated with a pair or black ribbons, braided, bunned, left down, and so on. She is open minded about how she does her hair, usually having varied on her clothing choice. However, it's always brushed and neat, and carefree for anyone wanting to brush it or style it for her. Sango's legs about the same as her arms; toned yet slim. Her skin all around is of a cream complexion, soft to the touch and smooth. Though with her legs they seem more fit and athletically built then they do slim, but none the less is still as strong as her upper body.
» Physical Appearance Image: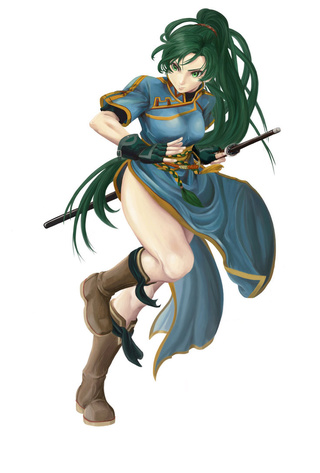 I. Personality Traits
» Personality:
To put this first and for most, Sango is passive aggressive. She is not one who really takes a liking to HAVING to fight, but the fight in itself is invigorating none the less. She however also is not one to cut and run. She has a large standing of "fight 'til you drop', and won't stop until she does. Sango does prefer to hold off fighting, especially of those in her clan more so than anyone else, but she's more of the neutral party than she is siding one way or the other. However, should she be in a situation which would warrant her needing to fight, she becomes more of an unbiased genocidist. It's preferably why she likes to stay neutral, as unnecessary violence is a major issue to her.
Friendliness is a more common side to her. She loves kids, their innocent, always running a around, making friends, having fun. There isn't anything more fun than taking in that excitement and joy and putting it forward to her own goals. There's nothing wrong with that, right? Positive reinforcement is always a plus for her, using her own to help push friends along and fellow comrades and family through hardships. She a supporter at heart, only looking for a peaceful front among the fray of a war. She believes if she can at least help to calm the quarrels, her life is worth the risk, and she would give no less for her friends and family.
One aspect of her personality that Sango truly takes pride in having is that she is that she can be a bit of an oblivious airhead. Sometimes she does it on purpose, and others it's just because she has no idea of the actual directional flow of the wording in a sentence, or she just doesn't really care and wants to make a fool out of the topic at hand for a few chuckles. It's a part of her that adds into the idea that she likes to be friendly and make others happy. A personality supporter if you will, but also someone that, given the chance, could easily come by and crack open a couple blood vessels trying to make heads or tails of someones rant or conversation.
Though, underneath all the happy joy and fun is another part of her. Well two actually, but we'll start with the bad. She, aside from being the unbiased genocidist mentioned before, is that she is a closet masochist. She loves the feel of being the second under someone, ordered around like a lap dog. Though, that does also include pain.. Lots of pain. More so anything kink related is more of a closeted perversion than anything, but she longs for either gender to let her be.. Well herself. Granted this would never interfere with her normalcy of many things ranging from important meetings to fighting.
Her desperation to keep her normal life and her closeted perverted lifestyle seperate is a very dangerous game to play. Being what she is, she can easily be manipulated into doing other things she wouldn't want to do, but that in itself was if she was known already to be what she was. On the subject of unwillingness, she has this deep love to (with someone she trusts) "play out a scene" so to speak, where in said scene she is unwilling to comply to her dominant sides demands. One other thing about her in this situation, is her general dislikes of things like clothing preferences, play time, and so on are all more neutral in how she would let someone say for example; dress her into a skimpy school girl outfit and trot her about a town for everyone to see.
Finally we come to the lesser of two evils, the loner. Peacefulness is something she's used to. She enjoys time to lay out and relax, have some fun in some shade and nap. Occasionally, she sits in a park, watching kids having fun and enjoying themselves, or just out in he street, varying on where they had been and when. Night time though is among her favorite thing though. The quiet sound of crickets, the star skilled skies, the glare of the moon shining out in the night. All breath taking views and feels for her to which she tends to nod off in the middle of enjoying.
I. Character History
» History
Spoiler:
I. Natural Abilities
» Natural Abilities
Everlasting Battery: The user passively is able to keep themselves awake and recharge their body by simply.. well doing nothing. The users pores act as ins and outs of the energy in the atmosphere around them, eliminating the necessity of sleep, but still allowing ones self to sleep if they choose to. They are still fully susceptible to sleep based ailments as well.
Passive - Supercharged cells: Using the energy stored in their body, the users able to manipulate and magnify their normal strength by 1.5x their normal limit. This can be done once every 5 posts for 3 posts at a time. The cooldown does not begin until after the duration ends.
I. Equipment Section
» Equipment
N/A
I. Racial Abilities & Skills
» Aether Magic
Sango's power is the ability to control the neutral energies in the atmospheres. With it she can manipulate the very energy that stabilizes matter, reforming such essences into weapons or various attacks or shields. This is not limited to anything aside from Zanpaktou, Seishin Buki, Quincy bows, or anything connected to a living person through a connection (ex. Zan spirits, reiryoku powering bows, etc.).
» Aether Arts Techniques & Abilities
1) Breakdown: One of the most unique and powerful abilities to Sango's artillery. What this ability does is the user will hold out their hand, catching an ability coming towards them. For an example, we'll use a cero. A cero comes towards the user, and the hand comes up. A reiatsu barrier made of pure energy will block the incoming cero and "break it down" essentially nullifying the attack completely while the leftover energy is converted into a small ball in the users hand. This leftover energy can be destroyed or reused for another ability. The ability that breakdown can perform is only able to work on other technique of equal or lesser power. Anything greater can break through it, anything of equal power will be weakened by 50% but go through this barrier, and anything below will deal 25% of the damage.. This is usable once every 5 posts.
2) Crusher: Among offensive based moves to her name, Sango has perfected a use of weaponry. This warhammer, is as tall in length as Sango herself, the head of the hammer being as long as her torso and two thirds the width of it to show a rough guesstimate to how rounded it is.. It is made of pure energy, imbued in an aura which can smash through most weaker forms of attacks like nothing. The hammer can last 3 posts at max and cannot be made again to use for another 5 posts. The act of "crushing" a technique or ability with this will still cause the user to take minimal damage and cannot do so again for another 2 posts.
3) Intervention: Using all forms of natural bound energy in the air and surroundings, the user forms themselves a large 30 ft wide, 15 feet tall wall about 6 feet in front of the user. This stationary wall is able to protect against abilities that hit this wall, with the exception of Zanpaktou and physical contact. It can withstand up to at most 4 attacks or hits before it's destroyed or up to 2 posts. It cannot be used for another 4 posts afterward.
4) Phase-walk: This ability is more of the same type of ability such as Flash Step, Sonido, and other abilities as such.The reason behind it is the users ability to circulate the aether within their legs to a supernatural level, which rather than running, can allow them to move at the speed equal to that of a Hirenkyaku.
» Aether Stones:
N/A
I. Aether Class
» Aether Class Name:
Stagnate Formation
» Aether Class Power:
Neutral energy
» Aether Class Abilities:
1)Path of the Juggernaut: The user gathers aether from around and inside themselves and conforms it to the cellular structure of the users skin, giving them the ability to take damage from techniques and physical combat is heightened, decreasing overall 20% of all damage they take. This resistance is only able to protect them for the first three hits, afterwards, it takes another 5 posts from the last hit to rebuild the resistance again.
2)Force of a Tyrant: The strength of the user magnifies their own strength by circulating their aether through their muscular system, allowing them to relax and become more productive, enhancing the users strength 2.0x their normal amount. The user is able to magnify their strength for 4 posts at a time, but goes on a 6 post cooldown after the duration ends.
3)Passion of the Jester: With the fun of enjoying combat like an olympic sport, the user is able to appear as if they dodge any one technique launched against them. This ability is only effective on all forms of h2h combat, and all ranged techniques that are not AoE. However, the truth of this ability is the user creates a mirror image of themselves as a thin layer just outside of themselves, deflecting 25% the power of abilities higher than them, 50% of equal power, or 75% of the damage from weaker abilities. The user can only use this ability 3 times per topic and 3 posts in between use of this ability.
» Sub-Aether Class Power:
Spacial/Temporal bending
» Sub-Aether Class Abilities
1) What is Gravity?: The user can manipulate their own gravity by altering the aether of the gravitational pressure around their body to let themselves be as heavy or light as they want, allowing them to hang, walk, float, or swim even in the air if they so chose to screw off in such a way.
2)Expendable Force: The user is able to force their ranged techniques or another allies (with OOC permision) to move after being launched. It can be sped up by 50% at most or moved up or down up to 20 feet in any direction. This process is done by the user taking the aether around and within the technique in question and then speeding up the atomic particles within it to create a reaction with allows for it to become faster as well as slightly manipulative. This can only be used once every 4 posts.
I. Aether Armament
Aether Armament Name:
Alatreon
Aether Armament Appearance:
Spoiler:
Aether Armament Abilities:
1) Extended Blade: The users weapon is able to increase any form of damaging melee ability (either via cutting or melee technique) by an additional 3 feet. Using Aether energy from around the area, they are able to use as an extension of the weapon. Drawbacks to this include the ability to destroy it via purposely attacking it or hitting it with techniques twice. It takes 2 posts before it can return. When actively in use, a white energy will appear at the top of the weapon and act as if it's connected to the weapon itself.
2) Astral Phenomenon: Once per 3 posts, the user is able to "phase" through a melee attack "whether it be weapon or hand". This has to be a physical object, and can only be done through possession of their weapon. The act of "phasing" is the users affiliation and manipulating of energy allows them to become incorpreal to physical contact by shifting their energy means, allowing them to take a minimal amount of damage from it. On the other hand, should they be in this when hit by a technique of some kind (such as a kidou, bala, cero, etc. for example) or also if they are hit by any melee with any energy/aether/reiatsu/etc. they would take double the damage they normally would have taken in the first place.
VII. Ether Morph - Immersion
(You can have this release at any Aether Control, but it is recommended you have it at adept for it to be stable.)
» Ether Morph Immersion Incantation
N/A
» Ether Morph Immersion Appearance
Spoiler:
» Ether Morph Immersion Abilities
*New* Horns of Alatreon: The user gains a new appearance to their weapon, and gains a second one in an identical form. All abilities that apply on the original weapon is also affected on the second sword. I.e. The user creates a second sword and dual wields them.
I. Ether Morph - World Fusion
(You can have this release at any Aether Control, but it is recommended you have it at master for it to be stable.)
» Ether Morph World Fusion Incantation
(Is there any sort of phrase used to unlock their Ether Morph? This is optional.)
» Ether Morph World Fusion Appearance
Spoiler:
» Ether Morph World Fusion Abilities
*New* 1) Alatreon's Tail: The weapon from which the user normally possesses is replaced with a much different form. In this form (see "
this link
" for appearance), the weapon is able to use a sweeping motion like a large monsters tail, acting like a blunt weapon strike. What makes this so different is the weapon gathers Aether and acts like an extention of their sword up to 25 feet away to swing in the cone like motion they move in. This is only usable once per 3 turns. Alatreon's Tail is as long as tall as the users body is from hilt to the tip of the blade, as well as 3 feet wide throughout the length of the weapon and quickly curving to the top of a tip.
I. Ether Morph - Peak Eclipse
(You can have this release at any Aether Control after 0-3, but it is recommended you have it at grand master for it to be stable.)
» Ether Morph Peak Eclipse Incantation
N/A
» Ether Morph Peak Eclipse Appearance
» Ether Morph Peak Eclipse Abilities *New* Limiter Removal: Sparks of black and red tinted aether spark around the user. While this happens, the users strength, speed, and endurance increase by 100%. This does not heal the user, but it does increase the current and max threshold they can endure.

Embodiment of Alatreon: The users weapon contorts to their body allowing them the ability to treat their hands and claws as if they were a normal weapon in combat. (i.e. The user is able to grip a sword blade in one hand without bleeding, as their whole hand is equal in toughness to the metal of the weapon they normally use.
I. Skill Sheets
(To Find Out about what these skills are for, please
READ THIS THREAD
before you try doing anything to it. After you have read it, do not fill your skills out until a staff member has graded your thread. The staff member checking your app will also give you Will Skills in which you can add to your app when approved.
Remove this message afterwards)
Iramasha Skill Sheet
Aether Control: Beginner/Adept/Advanced/Master

Aether Magic: Beginner/Adept/Advanced/Master

Aether Arts: Beginner/Adept/Advanced/Master

Aether Stones: Beginner/Adept/Advanced/Master
General Skills
Durability: Master/Advanced/Adept/Beginner

General Speed: Master/Advanced/Adept/Beginner

Strength: Master/Advanced/Adept/Beginner

Weapon Skill: Master/Advanced/Adept/Beginner
Will Skills
Willpower/Determination: Master/Advanced/Adept/Beginner

Mental Deduction: Master/Advanced/Adept/Beginner

Pain Endurance: Master/Advanced/Adept/Beginner

Focus: Master/Advanced/Adept/Beginner

[WILL SKILLS ARE NOT FILLED IN UNTIL A MOD/ADMIN REVIEWS YOUR APP]
Roleplay Sample
» Role Play Sample:
Spoiler: