THE VIZARD TEMPLATE
Vizard Profile
ヴァイザード
I. Basic Information
» Name:
Arashi Iro
» Titles:
» Appearance Age:
Around 15 or so
» True Age:
67
» Gender:
Male(Identifies as both genders, though physically is male)
» Affiliation/Rank:
Arashi is not currently affiliated with any groups.
» Appearance Description:
Arashi has short white hair. He wears simple clothing, made to move around in, though sometimes he is is mistaken as female, which happens quite often for him, with his delicate figure and pretty face. His eyes are a gray color, his lips soft and full, his skin pale and unmarred. With his round face and small body, he appears fairly young, no older than 15 or 16 at most. People around him often cannot tell his true Gender, thanks to his delicate, pretty face.
» Appearance Picture:
I. Personality
» Personality:
Arashi is a mysterious person to say the least. Nobody knows much about him, and that is the way he likes it. If they don't know him, they can't stop him, or so he reasons. His powers remain a mystery to most, something he uses to his advantage. His way of thinking treats it all like a game of chess, one he is determined to win every time. He calculates his moves very carefully, lest he make a mistake and lose. He rarely does much in his spare time, though he does love picking wildflowers by himself in the woods where he can think alone.
He isn't suited to working with most others, the only one he can really work with being his master, an assassin who often uses him for his missions. Though he knows his master thinks of him only as a tool and nothing more, he still loves and cares for his master quite deeply. He is almost like an empty vessel, not too full of either love nor hate, seeks no revenge, is honest and loyal, but only does as he is asked, never doing anything for himself.
Mysterious: Arashi is mysterious, never letting anybody discover much about him, nor his powers. If he uses his powers it is likely the last thing you'll ever see.
Calculating: Arashi is very careful, thinking about all his movements before he makes them in order to increase his chances of success.
Hollow: Arashi feels very strong emotions for few things, neither love nor hate influences him nor his actions and thoughts.
Neither Gender: Arashi no longer quite knows himself what his actual Gender is. Though he knows he has the male parts, he feels like both man and woman, something utterly confusing to him, and the one secret he keeps from his master.
There is also a part of Arashi only Veritas, his Zanpakuto spirit has seen. He has a playful, cute, sweet side that he rarely let's out, because he doesn't want people to think of him that way, as if he were a little boy to be dismissed instead of appreciated, as all he wants is master's love.
» Likes:
-Master, who saved him as a child. He knows he was only saved because he was useful, but he doesn't care.
-Flowers, he doesn't quite know why but flowers make him happy like no other material object.
-Being mysterious, he doesn't like people knowing about him, and therefore prefers an aura of mystery.
» Dislikes:
-People knowing about him, he much prefers to remain the mysterious anonymous person who appears from nowhere.
-Dogs. They are loud, clumsy creatures, and he finds them absolutely obnoxious.
-Those who try to steal him away from Master, Master is the only one he truly wants to be around.
I. History
» History:
Arashi had a normal life once. He was human, with a family, a mother, a father, and a little sister. He was happy, for his family was large, all living together in a huge house hidden in the mountains. But all that changed when his clan was captured. Everyone was captured for their skills, and sold to the highest bidder as slaves to be used as whatever their master's desired. His mother, who was quite beautiful, was sold into the sex trade, where she later died. His father was sold as an assassin, used for his powers. Arashi and his sister were also eventually sold as sex slaves, never to see their family again.
After a while being a slave, his sister became ill. Her condition worsening, Arashi begged their then Master to save her, at any cost to him. His master shrugged it off, saying that she could always be replaced. It was then that Arashi made up his mind. He would run for it, carrying his sister, and find someone who could help her. Later that night, he actually carried out his plan, stumbling through unfamiliar surroundings until he was exhausted and could no longer move. He could only watch as his sister's breathing became shallower, her pulse weaker, and she died right next to him. Arashi himself fell unconscious, unable to go on and shocked at his sister's death.
He laid there unconscious for hours upon end, dreaming of his sister. He was growing weaker, unable to wake up from his dream. But after a great deal of time had passed, a group of Vizards happened upon him and the body of his sister. They decided to help, taking Arashi and his sister's body to the building in which they were based. As they arrived at the building, Arashi finally awoke, his grey-blue eyes opening to find himself being carried bridal-style by a man he had never seen before.
He was clothed and fed, as he told his story to the people who had saved his life. Born in the Seireitei but raised in the Human World, he had been born a Shinigami. He told of his enslavement and eventual escape, crying as he did so, upon the realization his sister was gone. He was taken in by the group upon hearing his tale, feeling sorry for him. He quickly became like their mascot, the adorable clumsy kid who everybody loved. They trained him slowly to defend himself, though he wasn't exactly a genius at it.
Eventually came the thing he dreaded deeply. The fight with the inner hollow he had gained when his former Master had experimented on him. He had been dreading the fight since he had started his training, but he had to do it lest it take him over. The fight lasted for hours, both Arashi and Hoshikage Arashi mirroring each other quite easily. The tides finally began to turn when Arashi realized he would never win using direct attacks. He began to disrupt things around Hoshikage Arashi rather than attack him directly, a plan finally forming in his mind. He allowed his inner hollow to batter and bruise him, knowing that if he could lure him to the right spot he could crumble the soft ground beneath his inner hollow and trap him. The plan worked, Arashi managing to lure his inner hollow to a soft patch of ground and crumbling the ground beneath him with his sword. Hoshikage Arashi was trapped, Arashi pointing a sword at him. Arashi had won against Hoshikage Arashi, and triumphantly returned to the building he now called home. But upon arrival he realized nobody was answering his calls, until he found their bodies all lined up in a row.
Arashi swore he would avenge the people who had taken him in, vowing to find them. He did, but was badly outmatched when he did find the killers. But a mysterious man appeared and dragged him away, not wanting to see a kid get killed, but also thinking to use Arashi. He explained revenge was foolhardy at this stage, and told Arashi that if he became his servant he would eventually learn all he needed for revenge. Arashi agreed, sticking to the man who had stopped him from throwing his life away like glue from that day on.
I. Natural Abilities
» Natural Abilities:
I. Racial Abilities
» Racial Abilities:
I. Sealed Zanpakutō
» Zanpakutō Name:
Master of Evocation, Veritas
» Zanpakutō Spirit Appearance:
» Zanpakutō Spirit Personality:
Veritas is very similar to Arashi in the sense that like his master, he treats everything like a game, like an utter joke. He is a rather playful spirit, as Arashi has rapidly discovered, and likes making Arashi "play" little deadly games with him quite often. Veritas is a childish spirit, which is why he gets lonely quite easily, stuck in the inner world of Arashi's Zanpakuto. Veritas is quite smart though, treating everything like a game of chess he needs to win. He shares the competitive nature of his master, the determination to win. Veritas also has a nasty habit of sneaking up on Arashi once Arashi is inside the inner world of the Zanpakuto.
» Inner World:
The inner world is like a large, rounded chessboard, high above the ground, surrounded by nothing but space. It has typical black and white checks, and far far below, you can just barely see water- or what appears to be water at the bottom. Everything else is just pitch black emptiness, nothing as far as you can see. A chessboard floating in an abyss, with water far below, the inner world of Veritas is bare and empty indeed.
» Sealed Zanpakutō Appearance:
» Sealed Zanpakutô Powers:
Card Trap:
Arashi's Zanpakuto is in a way almost similar to the Senbonzakura Kuchiki Byakuya possesses. It splits into pieces of itself, shaped like playing cards, that also look like playing cards. These pieces themselves number the same as a full deck of playing cards, each also the same size and shape of a playing card. However, these are not the part that do damage, they only manifest the powers that do the damage. These cards are used for a special purpose, described below.
Arashi's Zanpakuto is different, in the sense that is has few powers of it's own. But it's main power enables to trap a tiny fragment of Reishi inside one piece of itself, and manifest weaker versions of the powers of the individual who had a portion of Reishi trapped. This does not affect the person whose Reiatsu was trapped at all, it does not weaken them at all, it however does enable Arashi to use one power of the target's at half strength of the target's ability. A major drawback of this is that only so many cards can trap people's powers (no more than 3 at a time) and in order to trap new powers Arashi must first release the original Reiatsu trapped within the card. It must be his tier in power, no more, in order to be able to use it. Once he has released his ability to use a person's powers he may never use them again, even if he traps their Reiatsu again. The cooldown on abilities used of the person whose Reiatsu has been trapped is doubled. He may only use one person's ability per thread, if he is using one trapped ability he may not use another.
Great Beasts: As Arashi's Zanpakuto is somewhat different, many of his powers resemble circus acts, and this one is no exception. A summoning technique, this summons forth two great Tigers, enormous creatures a considerable bit larger than average Beasts of that species. These Tigers are manipulated by the user, and while the Tigers are out the user must concentrate, making it rather difficult for them to move around. These Tigers have Begginer strength, so they are fairly weak, but can be quite dangerous if they manage to corner the target. They remain with the user for a total of 2 posts with a 5 post cooldown before they may be summoned once more.
I. Shikai
» Shikai Release Phrase:
» Shikai Release Actions:» Shikai Appearance:» Shikai Abilities:
I. Bankai
» Bankai Name:
(What is the name of your character's Bankai?)
» Bankai Release Phrase:
(What does your character say in order to release their Bankai? This is optional. For example, you could have the phrase relate to their power set, or just simply have them say Bankai.)
» Bankai Release Actions:
(What kind of action does your character perform to enter Bankai? This is optional.)
» Bankai Appearance:
(What does your character look like in their Bankai?)
» Bankai Abilities:
(What abilities does your character attain in Bankai?)
I. Inner Hollow/Mask
» Inner Hollow Name:
Hoshikage Arashi (Starshadow Arashi)
» Inner Hollow Description:
» Inner Hollow Personality:
A much meaner, more destructive version of Arashi, Hoshikage Arashi is a bloodthirsty creature to say the least. He is the type to constantly push Arashi to do bad things, though Arashi resists for his own Mental sake. Hoshikage Arashi loves to see people in pain and loves stomping on people smaller than him, something Arashi himself would never do. Hoshikage Arashi is also far less strategic than Arashi, all running in and attacking with no plan at all. He has little patience in battle, something he has admitted to himself.
Destruction and killing come far more easily to Hoshikage Arashi, a violent creature with a thirst for blood. He has enormous bloodlust that is nigh impossible to satiate, killing is his greatest desire and his greatest goal. Whereas Arashi is calm and collected, Hoshikage Arashi is erratic and hard to restrain. Hoshikage Arashi cares little about pain and will keep going until he is completely unable to move his entire body. Death also means little to him in this highly destructive and angry state.
» Inner Hollow Powers:
Powers remain the same as Arashi's sealed powers, the only thing that changes is his Reiatsu turns blood red instead of the somewhat nauseating rainbow it usually is.
» Hollow Mask Appearance:
Arashi's mask is a bit different from a usual Hollow mask, a carnivale style mask that only serves to make him look even more feminine, an elegant design of white and gold.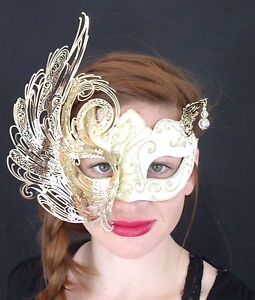 » Vizard Powers:
In his masked state, Arashi uses powers suited for head on combat, though still capable of using his sealed powers, as he has not yet achieved Shikai.
Card Storm: As his Zanpakuto turns into its card-like fragments, they become much sharper and capable of cutting through steel. Each of these fragments is capable of turning into a sword as they swirl around Arashi, looking like a storm. These swords hold no powers in of their own, looking like Arashi's sealed Zanpakuto, but holding none of its power. Each of these swords are capable of hitting with Adept strength, only slightly stronger than Arashi's usual sealed Zanpakuto. Only 10 of these cards are made at once.
I. Resurrección
[NOTE: This form is for 0-3 and up. Refer to the racial specs for more information]» Resurrección Release Phrase:
(What does your character say in order to transform into their Resurrección state? This is optional.)
» Resurrección Release Actions:
(What kind of action does your character perform to transform into their Resurrección state? This is also optional.)
» Resurrección Appearance:
(What does your character look like when they transform into their Resurrección state?)
» Resurrección Abilities:
(When a character ascends to this state, they at their peak power. Please state what kind of powers that your Vizard obtains when ascending to this form.)
I. Equipment/Other Resources
» Equipment:
(If your character has any equipment, then you should put it in this section. Otherwise, if they don't, do not fill in this section and you can leave it blank.)
I. PhantomTech
» PhantomTech:
(Does your character have a PhantomTech brain installed? If so, you'll be able to qualify for upgrade at the Cybermind or add other Cybernetic parts to your character to make them stronger.
Click here
for more information about Phantom Tech)
» Phantom Tech Abilities:
(What can your character do with his or her's add-ons? This applies to any upgrades your character has gotten from places like The Cybermind as well.)
» Phantom Tech Powers:
(This refers to things outside of Add-ons unlike Abilities. What Phantom Tech Powers are, in a sense, is basically what kind of power did your character gain from having a Cyberbrain? For example, Shadin Yuudeshi gained Imaginary Computation with his Cybernetic upgrades and has the ability to bring tangible things into existence with his computers Quantum Calculations.)
I. Skill Sheet
[SKILL SHEETS ARE NOT TO BE FILLED OUT UNTIL AFTER A TIER IS GIVEN! WILL SKILLS WILL BE GIVEN BY THE STAFF MEMBER THAT GRADES YOUR APP! FOR MORE INFORMATION, LOOK AT THIS THREAD]
General Skills
Durability: Beginner

General Speed: Beginner

Strength: Beginner

Weapon Skill: Beginner

Shinigami Skills
Hoho: Beginner

Kidō: Beginner

Zanjutsu: Beginner

Hakuda: Beginner

Vizard Skills
Power Augmentation Beginner

Cero: Beginner

Mask Protection:: Beginner

Hollow Control: Beginner

Hollow Skills
Acid Skill: Beginner

Garganta : Beginner

Cero/Bala: Beginner

Regeneration: Beginner

Will Skills
Willpower/Determination: Beginner

Mental Deduction: Beginner

Pain Endurance: Beginner

Focus: Beginner

I. Roleplay Sample
» Role Play Sample:
Pain was all he knew as he laid on the ground, rapidly weakening. His tiny body starving and broken, he couldn't even move, nor speak. Everything was in pain as his consciousness faded, his hand still intertwined with the cold, dead one of his little sister. The pain was getting to be too much for his fragile body to handle... he was just barely hanging on to his consciousness now. "H-help me... he managed to whisper as he lost his grip on his consciousness.
--------------------------------
Arashi woke to a strange man carrying him in his arms. Tucked close to the big man's chest, he felt warm and secure for a moment, here in this complete strangers arms. But the feeling didn't last as he realized his sister was nowhere in sight. "W-who are y-you?" He stuttered at the man who was carrying him. "A simple man" was the only reply he received, as the man finally set him down on an enormous pile of cushions. Getting a good view of his surroundings for the first time, Arashi realized he was in a large, dimly lit building, one that looked like an abandoned factory of sorts. "We found you unconcious in an alley, you're lucky we found you, or you'd probably be dead by now." Said the man. He wordlessly handed Arashi some clothes, though they appeared to be made for a girl. Arashi took the clothes, confused as to why this total stranger had saved him. "E-excuse me? S-sir? I'm actually a boy."
The man turned around then, confused. "Really? But you look too pretty to be a boy."
"I'm a boy, I assure you."
"Oh? Well im afraid those are the only clothes we have, you'll have to wear them" Said the man with a look at Arashi's own ruined clothing. Arashi looked down and decided he'd wear the clothes, which turned out to be a pink dress and white sandals. The man left him alone so he could change in peace, for which he was grateful. He didn't want the man to see the scars.