CHARACTER NAME
Prototype Life Experiment Number Twelve (Ple 12)
Age:
Ple Twelve has been activated for less than a year, but her PPAI is 400 years old, and various parts of her body range from two to three hundred years old. She physically appears to be in her mid twenties.
Sex:
FemaleOrientation:
Primary Allegiance: Tsubasa Unabara
Secondary Allegiance: Henrex Astillon
Third Allegiance: Captains and Organization leaders Tsubasa allied
Fourth Allegiance: Vice Captains and Organization secondaries
Personality:
Ple Twelve actually has three different Artificial Intelligence programs running inside of her. A primary personality AI, a data collection and observation AI, and the EXAM system AI. Due to the complex nature of both the data collection and EXAM system it was decided to have a different AI for each rather then overwhelming a single AI.
Primary Personality AI:
Ple Twelve's PPAI is an old prototype created several hundred years ago. It is a self learning AI that was designed to learn from those around it and its experiences interacting with them. In its time it was revolutionary for being the first self learning AI that wasn't based on brainwave scans of another being. It was shelved as it had a tendency to start questioning the Gotei's actions. It was selected to act as Ple Twelves AI due to several reasons, including the ease at which it can be wiped, its compatibility to the data collection and observation AI, and because it was compatible with the rather old software that controls Ple Twelve's basic movement.
The PPAI has no connection to outside databases like the data collection and EXAM AI do, and can in no conscious way interact with either of them. ---------- has taken the time to program a very basic default personality into the PPAI. As it is a self learning AI it can and will grow from these initial default traits, but can also be rebooted back to them at an authorized users discretion.
Serious
- Ple Twelve seems to carry a permanent scowl on her face. That is because she takes everything around her very seriously. She lacks any sense of humor, and seems to just plain not get what jokes are or why someone would tell or laugh at one. She does, however, understand what sarcasm and turns of phrases are. She also is no good at small talk, always wanting to get right down to business. Rarely speaking unless she feels that it is needed to keep on task.Due to this serious nature she also tends to only wear only the basic uniform she is given with no personal modifications done to it.
Calm
- Despite being primarily a hastily constructed Doll to test a combat oriented system, Ple Twelve's PPAI is actually rather collected when it comes to intense situations. Where others may be quick to act on emotions at attack, her PPAI would rather make an attempt to settle things with words. This is actually a left over trait of some of the first Shinigami Dolls to be manufactured, intended to add to the subservient nature that their original creator desired of his underlings.
Humble
- Much like the calm trait this is another one that is left over from some of the original Shinigami Dolls programming. Originally it played off the Calm trait, working to make the Shinigami Doll more subservient and quiet. It has been slightly modified from that original meaning to better fit a soldiers mentality. She does what she does because she was ordered to, or because it was necessary to complete an order. Not for admiration, acclaim, vanity, or an attempt to move up in ranks.
Loyal
- The most important trait of a Shinigami Doll's AI and one that the PPAI in Ple Twelve modifies on its own first. While it is originally intended to make them follow commands entirely unquestioned, the PPAI tends to start to question the morality of certain commands given to it after a while. This trait is also meant to override any self preservation the AI might have for the Shinigami Doll body it is part of.
These are the current main traits of Ple Twelve's Primary Personality AI. At the moment it is programmed to be almost the dream underling for a combat oriented Division. A fiercely loyal soldier whose only concern is getting even the most underhanded of task done. However, as stated earlier the PPAI is a self learning one and is very prone to altering its initial personality traits as well as adding or completely removing them over time.
Data Collection and Observation AI:
This particular AI is the only one with the ability to access databases of information stored outside of the the PPAI's memory partition. It does however share what basic information it has access to with the other AI.
For security reasons this AI's information is stored on a server located in the EXAM system experiment lab in -----------. As Ple Twelve sees things around her and experiences them this AI constantly gathers notes on what it deems to be important. An example of this would be meeting an Unknown Person. It would store any information learned about that Unknown Person onto its server, including name, ability, apparent personality and etcetera. It also is responsible for grading how well the EXAM system performs in any situation that may arise.
Being an AI designed for the purpose of Data Collection it has no real personality. All it does is watch, listen, and records.
EXAM System AI:
The EXAM systems AI is actually quiet primitive at this stage in its development. It has no ability to self learn, and is frankly rather beastly in its behavior. When the EXAM System activates this AI's programming supersede's the PPAI's programming entirely.
Reckless:
- The EXAM System AI cares nothing about the world around it, the people around it, or its own personal safety. It is designed to fight and so will charge headlong, disregarding everything else in its effort to follow its programming. While it prioritizes the one that brought about its activation it will attempt to barrel through anything in its bath, even if it's an ally.
While the PPAI may use some level of basic tactical strategy in a fight, this AI is primal and wild in its attacks at the moment. Proper sword, kido, and hand to hand technique is lost on this AI at the moment.
Blood Lust:
- This AI will never stop trying to fight back until deactivated. As such it does not know the meaning of holding back, and has no ounce of mercy for those it its way. Even once an enemy is down this AI will continue to beat into it until it is deactivated, or another enemy is detected.
Appearance:
Ple Twelve physically appears to be a female roughly in her late twenties to early thirties. One of the first thing one would notice about the model is its reddish brown hair that reaches easily down to her lower back. It has a natural curl to it, most evident around her face which often has locks flowing down into it. In order to prevent this she tends to have it combs back and styled into a neatly braided pony tail. The hair itself is made from a synthetic material that was first created by former Captain of the Twelfth Division Mayuri Kurotsuchi, but many other Science Division Researchers have worked on the material since then. This synthetic hair has the same general consistency one would expect of well maintained hair, however it is both water resistant and fire proof to a certain extent.
Her eyes are holographic cameras created by former Twelfth Division Captain Tsubasa Unabara. They are actually a rather old model of holographic camera, having first come out over 300 years ago, but as Ple Twelve's internals are a bit of a mishmash of old and new parts they are not to out of place. The holographic camera with them projects an augmented reality around her, allowing researchers viewing the footage from the camera to gather the most data possible. Physically they appear like one would expect the eyes of a humanoid to, with the iris being a dark purple color. However, when the EXAM system comes online the entire eye becomes a glowing red colored static.
Her skin is a synthetic material that, like her hair, was also first developed by former Captain of the Twelfth Division Mayuri Kurotsuchi. It is a very light peach in coloration that can seem almost unnaturally so in certain lighting. It has a bit of a rough texture to the touch, with a bit of a rubbery spring to it. The skin is actually of lower quality then most other Shinigami Dolls due to her status as a combat focused prototype. It is designed to be cheap and easy to replace if damaged.
Racial Benefit:Hard Body
-- They are designed and made of some of the strongest metals this world has ever encountered. Some metals designed for the body do not exist and are extremely hard. Allowing them to have a body that is capable of absorbing blows from almost anything. This durable body allows them to be extremely effective. They are able to endure several tons of pressure effortless with better bodies. However this martial and the stronger bodies must mean a strong soul and strength of reiatsu. You must be able to handle the process of it being put on and capable of wearing it. Imagine this body as a suit of armor that moves as a living skin. It can be strong early but the person must be capable of enduring it. This body is both a benefit and a drawback, it's not easy to move if you aren't comfortable in. Those who are strong in it are capable of having this around their entire body. Making them threatening to just about everyone. Those unable to bare the burden of it can only do certain body parts. Every doll is born with some of it, but must select to specialize in one of the three traits. Meaning only one of the three may be a GM at anytime, no more or less.
Transformation:Hard Body Transformation
-- This is the transformation given to them who went full hard body. Their capable of taking massive blows with little trouble and are capable of dishing out just as much. Their body has become a walking weapon, spikes and everything you could imagine. Their body is on par with the hardest martial's in the universe when the transformation is activated. The appearance once again depends on the modification done to the wielder of the tech. This design allows them to create a very sturdy and highly mobile body, the amount of force they can take is insane. Their body is capable of doing many things wonderful and beyond reasoning. The transformation tech into this one combines Nano-tech and transformation software allowing them to become big or small as designed. They are capable of great strength and fighting. The Nano tech in transformation allows them to create weapons from body parts or manipulate their own body structure. Transformation is Five turns long and only accessed at 0-4 to 0-3.
Unique Abilities: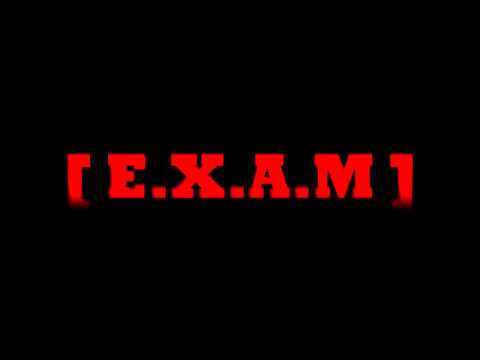 EXAM System
- The Experimental Assault Mode System (EXAM) is a prototype system created by Tsubasa Unabara. This system was designed to enhance the average combat proficiency of Shinigami Dolls in the future. One can think of the basic idea behind the EXAM system as being meant for a line of Mass Produced Shinigami Dolls meant primarily for combat situations. It is intended to somewhat replace the battle power of a Zanpakuto for Mass Produced Shinigami Dolls, as the traditional process of forming and bonding with a Zanpakuto can at times be far to time consuming.
Alpha Version 0001
- At this stage in its development the EXAM System is more of a proof of concept rather then anything concrete. As such it is rather rudimentary and simple in its programming, and riddled with glitches and bugs that will need to be ironed out in future patches and updates.
In this early proof on concept state the EXAM System acts primarily as a power inhibitor. When not in this state the potential user is stuck at a tier of at least 5-1 (Or in the event ranked lower then that at least 2 tiers below the max (such as 5-5 instead of 5-3)) also, all their General Skills will be capped at Adept. This is because the body of the user is currently well below modern operational and function standards for Shinigami Dolls.
Once the EXAM System has been activated, however, the Shinigami Doll can use its power and General Skills to their fullest potential. But, this will only last for a hard limit of three turns as it will quickly burn through the users body. The longer the EXAM System is operational the more the body of the user will physically degrade. Once the EXAM System is deactivated the user will then shut down all none essential or damaged functions and will attempt to report back to a authorized technician.
History:
Ple Twelve herself has only recently been constructed in her current form. Her various parts, however, have been around for several hundred years.
Her Primary Personality Artificial Intelligence was first built about four hundred years ago. It was one of the first Artificial Intelligence to be programmed from the ground up without the use of a human brain as its basis. It was programmed under the supervision of a Twelfth Division scientist whose name has been lost to history at this point. It was only operational for about a year before being shut down and placed into storage due to not being up to obedience standards of early Shinigami Dolls.
The skin and various miscellaneous other organic material within her are an older type of design, not quite up to the level of a more modern day Shinigami Doll. While it is almost identical to the organics of a Gigai, it is not as efficient in natural healing as a modern day Gigal. It is quick and easy to replace, and is very cheap to replace. Her hair on the other hand is up to a modern day standard, being both water resistant and fire proof.
Her mechanical parts, which make up the vast majority of her body, were first built between two and three hundred years ago. These mechanical parts are early prosthetics and cybernetic enhancements that happened to be laying around in a storage facility belonging to the former Twelfth Division. Most of her parts are parts that were deemed defective and placed into storage for later disposal, but slipped through the cracks.
The only truly interesting part about her at the moment is the EXAM System. While it is currently quite basic in its functionality as of her initial activation, the Artificial Intelligence behind it was designed based on the brain scans of an Arrancar calling itself Felle. This Arrancar was discovered just barely alive by Shinigami cleaning up after the monster named Radioactive. The Arrancar was brought back to the Seritei, and had its brain waves scanned. After its death after several days of suffering. its remains were placed in a preservation fluid inside of a tube. Its DNA had been mixed into the organic matter of Ple Twelves Organic parts, making her organic material a half breed of Arrancar and Shinigami.
Skill Sheet:
Hard Skin:
Beginner
General Skills
Durability: Adept

General Speed: Beginner

Strength: Beginner

Weapon Skill: Beginner

Racial Skills
Hoho: Adept

Kidō: None

Zanjutsu: Beginner

Hakuda: Adept

Will Skills
Willpower: Adept

Mental Deduction: Adept

Pain Endurance: Adept

Focus: Adept