Basic Information
» Name:Haru Hikage
» Alias: none
» Age: 19
» Gender: Male
» Association:5th gotei squad
» Appearance Written: Haru is tall and relatively skinny, his blonde hair are usually hidden behind his black cape's hood. His long cape reaches down to his knees, the cape's sleeves change multiple colors and become white at the end. The cape also has "decorative tails" of multiple colors. He wears short black gloves on his hands, and tall black leather boots. Under the cape he usually wears and informal black t-shirt and a relatively flexible black pair of pants.
» Appearance Image:
» Personality: Haru, is very forthright towards others and as a result he does not have many friends. He is also quite clever and can stay collective
and clear minded even in the most stressful moments like in battle. Furthermore, he is extremely efficient at using battle tactics to turn the tides to his favor. Moreover, Haru is very adaptable to rapidly changing situations which helps his combat style. Lastly, another characteristic that benefits his battle style, is his decisiveness. He is able to take decisions without hesitating in the face of difficulties and keeps calm despite the situation.
Haru, is quite selfish and cares mostly about his well being over everyone else. He thinks that he cannot trust his life to someone Else's hands, hence why he has decided to join the the stealth force. Because of his selfishness he is also quite untrustworthy since he would betray someone to escape unharmed. Lastly, he is blunt and is not afraid to speak him mind while talking to others which make most people distance themselves from him.
»History: Haru was born a shinigami and has lived the biggest part of his life with two expert shinigami, his parents. At the age of 19 he joined the shin'o academy and started his shinigami training. He adapted quickly and proved to be a clever student, he was especially skilled in close combat such as zanjutsu, and Hakuda but had a bad time practicing kido. Unfortunately enough because of his character he did not have many friends, his blunt statements drove people away from him. He graduated from the academy 4 years later at the age of 23 ,due to his exceptional skills, and received his zanpakuto. Now that he has graduated from the academy he went on to sign up for the 5th gotei squad: The stealth force.
Racial Techniques/Abilities/Skills
» Racial Abilities:
Exceptional at Zanjutsu and Hakuda, normal level Hoho but below average Kido
Sealed Powers
» Zanpakutô Name: Kurayami
» Zanpakutô Spirit Appearance: Kurayami, with eyes the colour of the sea, rests upon a plane of nothingness. Her moon-shade hair cascades down her back, the thick thick locks unbound as they frame her face. Her pale skin contrasts with the onyx dress she wears, the fine fabric tailored to her arms while puffed near her neck to form a low-cut collar. Around her waist is a thin corset, hugging her torso and emphasising the figure created by her robe. Upon her lapel lies a pair of azure roses, a splash of colour upon an otherwise monochrome affair.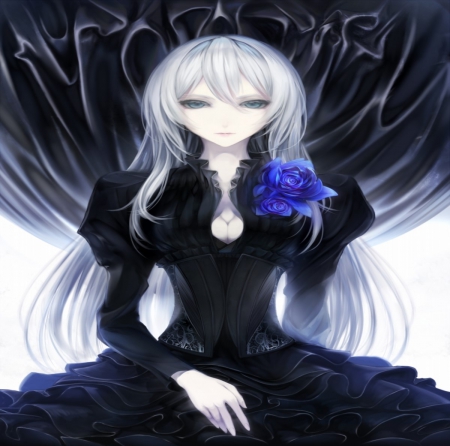 » Inner World: Kurayami's inner world looks like the middle of a dark forest with tall trees, fog surrounds the area leaving little visibility
» Sealed Zanpakutô Appearance: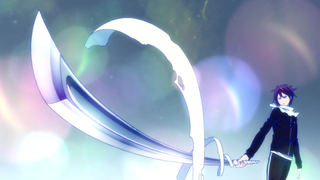 Shikai
» Shikai Release Phrase: "Spread your shadows, Kurayami!"
» Shikai Appearance: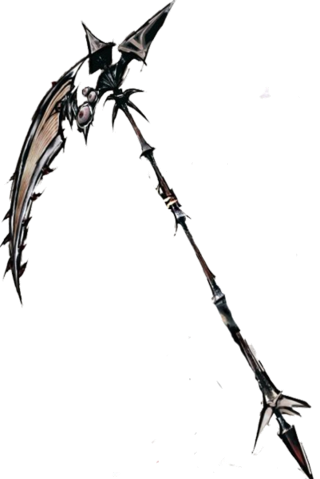 » Shikai Abilities: Releasing Kurayami grants Haru the power to "merge" with the shadows. Meaning Haru can fuse with any shadows and freely move around, reappearing at his own will. To use this ability Haru, or his weapon, needs to be touching the shadow. If said shadow disappears, either by a light source or another reason" Haru is forced out of the shadow and back into the open. Furthermore, Haru's reishi can not be felt by anyone that has not mastered his reishi sensing abilities.
Bankai
» Bankai Appearance: appearance does not change
» Bankai Abilities: In his bankai, Haru is able to create and control shadows. He uses this to create shadows to fuse with and solidify them for attacking purposes (projectiles, spikes e.t.c). These shadows cannot be erased from any light. It would require a power stronger than Haru's bankai to erase it (a light type bankai of a stronger character for example).
Shikokai
[NOTE: This form is restricted until 0-3, and is not usually granted upon approval. This is ONLY for pureblood Shinigami! Refer to the racial specs for more information]
» Shikokai Appearance: [What does your Shinigami look like when released in their Shikokai?]
» Shikokai Abilities: [What abilities does your Shinigami attain in Shikokai?]
Role Play Sample
» Roleplay Sample: The morning sun's rays shined bright through the window, gently waking up Haru who lazily laid there before jumping out of bed. After stretching out, he walked towards his closet, opened it, quickly looked inside, grabbed his favorite set of clothes and put them on. He slowly walked towards his zanpakuto pedestal and stretched out his hand, while thinking about his work, and grabbed the sword tying it up on his waist. Turning the handle Haru opened the door and took a step outside looking up to the morning sky he smirked and headed off to the 5th gotei squad to receive his mission for the day.
At the Stealth force headquarters
Entering the headquarters, he walked towards the counter and said: "I am n need of a quest." The counter lady smiled and answered:"Let's see what I've got for you" she opened a drawer and took out a few papers "Hmm for someone at your level i can only provide this" She said as she handed over a sheet paper to Haru. "Its a simple investigation mission, it requires u to collect some intel. Its perfect for a person like you" After the counter lady gave him the details he immediately departed to complete his mission.