Enter the Shinigami
Artist: Carrotwine - Song: Dark Side Of The Road
I. Basic Information
» Name:
Momo Hinamori
» Alias:
N/A
» Age:
500
» Gender:
Female
» Association:
Gotei United, Seated Officer of the Second Division
» Appearance Written:
With soft brown eyes and black hair with shades of a dark magenta, Momo retains a modest appearance at her small height of 4 foot 11 inches. She is always seen with her hair held in a bun with a light teal-colored cloth, and when on duty she wears the 5th Division's armband. Off-duty at night her bun becomes a loose ponytail.
Unlike some other Shinigami, Momo doesn't have any special modifications on her shikakusho.
» Appearance Image:
I. Personality
» Personality:
For the most part, Momo is easy-going, friendly, and always tackles work with a smile but a fierce determination. Strong-willed, she puts others well being before her own but this stubbornness can lead her to rash decisions and getting hurt in the process, especially on the battlefield. However she always has good intentions when doing so, displaying her kindness well. She also runs to help out of her pride as a Shinigami, in which she values her position as a leader and understands how she's a source of camaraderie for her fellow comrades.
Outside the battlefield though, she is passively serious about her job as a lieutenant, a hard worker, but unfailingly polite and proper in her address and her station. At times she may even seem to be hesitant or shy in her endeavors and social gatherings, before quickly rectifying the situation with a suitable comment. Either way, Momo is easy to get along with, and she enjoys casual banter if she's not on duty, and likes to spend it doing her hobbies or talking to her friends.
These pastimes include drawing and reading, and due to her talent in drawing, she has overseen work for book illustration in the Shinigami Academy. This love for books developed during Aizen's Captaincy since she regularly wished to read the same books he had, sparking frequent library visits both during his Captaincy and after he left. Also whenever she is able to, she frequently visits her and Tōshirō's grandmother in Rukongai to keep in contact, check her health, and enjoy the time when she is not a Lieutenant. She has been known to cook a little as well including pastries like cookies and being remarkably skilled in making them into shapes, one example being Aizen's glasses. As for her favorite food, that is anything really to do with peaches, ironically disliking plums despite the nature and name of her Zanpakutou. Additionally, she attends flower arrangement lessons held by Captain Retsu Unohana.
However amongst all the things she does and the people she interacts with, Momo is noted to be inexperienced when it comes to judging people's personalities and natures, and generally displays a lot of naivety with regards to the world and fighting. Although she accepts she must fight, she believes that everyone has some measure of goodness inside them no matter who they are or what they have done, worrying (and sometimes aggravating) many people.
Again her stubbornness proves to be undoing here as well as she is persistent with this good-natured belief in peoples' natures, and can feel quite strongly about this way of thinking. Thus when she feels strongly about something, it's not halfway - if she's attached enough to the sentiment, object or person enough, she could become emotionally unstable about it should she be pushed enough. This is reflected in her stubbornness about anything she feels about, and it can take a great deal of time and consolation before she's willing to think differently.
So although normally kind and compassionate, Momo can have emotional outbursts at psychologically dangerous levels when she's been betrayed, upset, or angered. Her hormones merely a fuel to lash out at the specified instance, she's not easy to calm down in this state considering the attachment she had to the item in question.
I. History
» History:
Chapter I: Threaded Beginnings
Born in the First District Jinrinan in West Rukongai, Momo was raised in a happy, healthy environment alongside her childhood friend Tōshirō Hitsugaya. Despite the latter's brattish tendencies, Momo was amused by his antics and treated him like a younger brother whilst they grew up, calling him 'Shiro-chan'. But during this phase, Momo and Toshiro grew closer, and despite being younger than her, it gave him the incentive to protect her.
Chapter II: Weaving Effort
After having promised to protect each other despite their teasing, Momo would soon enter the Shinigami Academy. Entering the Academy as part of the Elite class, she soon found her talent for Kidō which would later prove to be one of her most trusted skills. Also whilst she was there, she would have an expedition into the human world would prove to be both life-threatening and a monumentally important moment of her life.
Paired up with fellow students Izuru Kira and Renji Abarai, Momo and the rest of the class were to go to the human world to practice performing konso and combat with artificial Hollow replicas. Lead by Shuhei Hisagi, the exercise went well until near the end, when a Huge Hollow attacked them seemingly out of nowhere, presenting the ability to hide their reiatsu completely.
Against orders from her senior to run back to the Soul Society, Momo hated the idea of leaving him to die and rebelliously ran out to save him. Her teammates Renji and Izuru followed out of fear for Momo's safety as well, and so all of them managing to counter a strike to Hisagi from the Hollow with their asauchi and a Shakkoho from each of them.
The crisis was averted only temporarily, however, as dozens of other Huge Hollows showed up, backing the four young Shinigami into a corner. Fear rattled throughout them all, Momo terrified into a stunned silence. But when Death's Door seemed to be opening for them, it was at that moment that the Captain and Lieutenant of the 5th squad Sousuke Aizen and Gin Ichimaru showed up to save them. With the comfort and relief that Aizen gave to her, Momo would begin to idolize the captain, wishing to get stronger so she would be able to become a figure similar to him and to be with him.
After the ordeal, Momo sailed through the Academy and was eventually assigned to her idol's Division after her graduation. Once Gin had an eventual promotion to Captain, through much hard work she would inherit his position as Lieutenant to Aizen. It would be at this point where she attained her Shikai.
Chapter III: Clicking Clock hands
A reunion between the three friends happened upon Renji's promotion to the 6th Division, where both Momo and Izuru let him hear the news. The 3rd seat of the 11th squad Ikkaku Madarame was also present, telling Renji that due to his promotion he'd be closer to Rukia. Izuru added on that saying that Rukia would be stationed in the Human World shortly, to which Momo urged Renji to go after her and tell her the news before it was too late. However, Renji refused in the hope of a surprise, and a series of events were put into motion.
Chapter IV: Walking Shadows
Some months later when ryoka were beginning to invade the Soul Society, Momo attended a lieutenant's meeting regarding the recent happenings. However, she is currently troubled about her Captain, who hasn't been acting himself lately. Worried and concerned, she gets close to tears and asks Renji if he had seen Aizen anywhere, to which he lies saying he hadn't.
Still a close friend of Momo's, the now captain of Squad 10 Toshiro Hitsugaya approaches her to warn her about the 3rd Squad. Shortly afterward, Aizen appears to have been murdered in broad daylight.
Instantly breaking down into tears and traumatized about losing her idol, Momo erupts into an emotional frenzy of despair and anger, taking it out on Gin Ichimaru who was nearby upon remembering Toshiro's warning. Countered by Izuru, Momo desperately tells him to stand aside but when he refuses, her misery erupts into a thoughtless rage, releasing her Shikai and using its abilities. Before the fight could turn serious after Izuru also releases his Shikai, Toshiro arrives and stops them both in an instant, also ordering them to be restrained and then imprisoned.
Filled with grief and desolate about Aizen's death, Momo's only comfort was the final letter which he wrote when Momo had visited him the night before. However, its contents were that of Aizen's secrets and knowledge of a conspiracy against him, by Toshiro Hitsugaya.
Her agony over Aizen's death trumping rational thought, she breaks out of her imprisonment and instantly goes to track him down, despite the fact that the letter is a sham designed to blame Hitsugaya for everything, unbeknownst to Momo.
Toshiro was confronting Gin Ichimaru at the time whom he believed had something to do with Aizen's death and although he attempts to deal with him, Momo tries to stop him. Despite her confusion, Momo was determined to attempt to end Hitsugaya's life to quell the emptiness left by Aizen's death. Still mourning though, she's unable to fight seriously though when faced with killing her childhood friend. Overcome with anguish, Hitsugaya is forced to knock her out to prevent anything happening.
In the battle between him and Gin that follows, Gin traps Hitsugaya in a situation that is either be killed or let Momo die. However, Momo is saved by the timely arrival of Toshiro's Lieutenant, Rangiku Matsumoto, who manages to stop Gin's blade.
Back in her cell and protected by a Kido placed upon it by Hitsugaya, Momo considers everything. But ultimately determined to figure out why and who murdered Aizen in order to avenge him, she breaks the Kido from the inside and uses her jailbreak to follow Hitsugaya to see whether he really was the killer or not. Hiding her presence all the while, she's shocked to find that the Central 46 had been massacred.
Gin then appears however and although nervous and hesitant considering the circumstances, Momo follows him deeper into Central 46. There to her disbelief and joy, she is reunited with Aizen. However, she is betrayed by him and nearly killed with a stab wound to her chest.
Hitsugaya having returned to the Compound after being distracted by Izuru, he sees Momo's body. Managing to keep his anger quiet as he learns the truth that Aizen was behind this all including the deaths of Central 46 instead of Gin, he asks why he 'killed' Momo. Aizen answers that he built her to not be able to live without him, claiming to have done her a favor by killing her. After all, since he tried to get other people including Hitsugaya to kill her, he was forced to kill her himself.
Despite releasing his Bankai though, Hitsugaya is easily defeated by Aizen. He and Ichimaru only leave when the Captain and Lieutenant of the 4th Squad arrive, Unohana and Isane and providing an opportunity to save both Hitsugaya and Momo.
Chapter V: Recovering a Will to Live
After Yamamoto debriefed Hitsugaya on Aizen's plan concerning the King's Key, Momo is allowed to talk with the young captain through a telecom system.
Although surprised to see her up, Hitsugaya is concerned whether she should be walking around, despite Momo's assurances. She then takes this opportunity to apologize to her friend for her attacking him when she should've known that he wouldn't kill Aizen. From the exchange, their talk becomes humorous when relating to Momo sleeping more to grow, and the atmosphere seems to lighten considerably between them.
However, Momo then asks whether Hitsugaya is going to fight Aizen to which he affirms it. She then asks if he's going to kill Captain Aizen and begs her friend to save him, explaining and deluding herself into believing that he has a good reason for it and that perhaps Gin or someone else is forcing him to do this.
The Head Captain quickly knocks her out and hands over her care to his Lieutenant Chōjirō Sasakibe before apologizing to Hitsugaya, saying he was just respecting her wishes by allowing her to speak, but it was perhaps too soon to allow it.
Chapter VI: Fighting Desire
Sometime later when Aizen began his attack on the Fake Karakura Town, Momo suddenly appears to fight against the Arrancar by launching a fireball through Tobiume at them. By doing this she protects Rangiku Matsumoto who was about to be attacked by them. Allowed a leeway for conversation, Momo declares herself as Aizen's enemy, also claiming that she was wearing her 5th Squad badge as a Shinigami and not his subordinate. However, she still manages to worry Rangiku when Momo still addresses him as 'Captain'.
After revealing her methods of sneaking up on the enemy Arrancar by using her mastery of Kidō to conceal her presence, Momo then combines her Shikai ability with her spells to engulf the three opponents in an explosion. However, the Arrancar use their Resurrección to heal themselves and then combine their powers to counter-attack. This involved each of them sacrificing their left arm to form a creature called 'Ayon'. Rangiku tries to defend herself against the creature, but tears through the right side of her abdomen to leave her unable to fight. Momo tries to save her and is able to catch her before she hits the ground with her Kidō, but then the creature attacks Momo as well, taking her out with one punch to her stomach. Momo manages to stay conscious, however, despite how most of her bones had been broken by the attack. Fortunately, both she and Rangiku are saved by the timely arrival of Izuru Kira and Shūhei Hisagi.
In the midst of the battle, Izuru proceeds to attempt to heal them, telling Momo to hang on. Momo manages to reply, saying that he should take care of Rangiku first.
When Aizen enters the fight himself after deeming the Espada unable to defeat the Shinigami, Hitsugaya proceeds to fight him and managing to land a strike through his chest in his Bankai form. Although it appears he had been struck down, Aizen reveals to have already been using his Zanpakutō's hypnotic powers well before the fight started, to which it is revealed that Hitsugaya was tricked into stabbing Momo instead.
"S-Shiro...c...chan," she coughed up feebly, staring bleakly up at the Captain in a hazy gaze as the shock ran cold through his body. Her voice raspy and choked with blood, her words were barely whispered.
"W-Why...?" she asked.
Darkness enveloped her.
Chapter VII: Two Years Later
Now fully recovered from the accidental attack and accepting of the past, Momo returns to duty as the Lieutenant of Squad Five under her new captain, Shinji Hirako. Whilst the captains are in a meeting though, the Lieutenants gather and discuss the situation with the new band of Quincy called the Vandenreich and recent disappearances of Hollows and Rukongai residents. Momo is present, listening to Izuru's deduction that Shinigami were likely involved in the disappearance of the Rukongai denizens.
Later during the invasion of the Quincy, Momo senses the Head Captain's reiatsu as she and her captain are quickly making theirs towards the battlefield. En route, Momo remarks that she had never seen the Head Captain so angry before her. Although Shinji scolds her and calls her an idiot, he also agrees with her statement. Surprised at the truth her Captain spoke of Momo worries about the state of the battlefield. However before she can reply, Shinji continues, saying that they need to hurry, or else there would be no fun left for them.
I. Equipment
» Equipment:
[If your Shinigami has any equipment? Put it here. If they don't, skip this section.]
I. Racial Techniques/Abilities/Skills
» Natural Racial Abilities & Skills:
Expertise in Kido:
There's no doubt about it Momo is an expert when it comes to kido, ever since she enrolled in Shino Academy many teachers and friends alike have noticed her vast knowledge and expertise in the matter. The real demonstration came during her once the shinigami academy students were told to strike the target by using a kido incantation after saying the initial phrase out from her hand came to a small fireball striking the target.
Shunpo Expert:
Momo can only keep utilize it for a short amount of time before eventually tiring out. Her speed matches up to those of lieutenant level and is faster than the average shinigami, however, she's outclassed by those who mastered the skill for years before her such as Yoruichi and Byakuya Kuchiki.
Strategist:
While momo isn't an excellent fighter when it comes to close-quarters she does have her superior intellect and decisive creativity to her advantage. And since she's an expert in kido she can incorporate them to create many different possibilities of disrupting or attacking her enemy. For example in the fight against Hallibel's fracciones rather than fight all three of them head-on at a risk of being attacked from three angles she decided to go a more sneaky route and surprise them with a kido net from behind.
I. Sealed Powers
» Zanpakutô Name:
Tobiume
» Zanpakutô Spirit Appearance: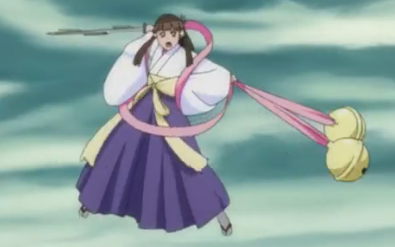 With grey eyes and long brown hair, she has a gentile, proper appearance reminiscent of traditional Japanese women. Her hair has a cylinder-shaped clip on one individual bang, and she also wears a hairpin in a shape similar to Momo's Shikai appearance.
Dressed in traditional Japanese clothing, Tobiume sports a white kimono jacket and purple hakama, which is held together by the light yellow bow sash around her waist, flaring out into two long ribbons at the end.
Additionally, she carries around two large round bells similar to the ones used in temples tied to a long pink sash that encircles her. These bells can also initiate her Shikai ability at will.
» Zanpakutô Spirit Personality:
Gentle and polite by nature, Tobiume understands her wielder greatly and consoled with Momo during her depression caused by Aizen. However whilst comforting in her words, she dislikes Momo's naivety in the nature of people and her belief that all people have goodness within them even if they're far from redeemable. Her naivety, after all, would only bring harm to herself.

However, she is often unable to persuade Momo to change her thoughts, often due to her dislike of confrontation with any enemies, although this may be due to Momo's stubbornness. Regardless, she often apologizes to her opponents when attacking.

She has been seen to be somewhat mischievous and even slightly perverted during her teasing and fighting with fellow spirit Haineko though, and can be quick to anger when things aren't going well. Tobiume though is more modest in both regards, emulating her kindness and her cheerfulness in the process and also showcasing Momo's tendency for emotional outbursts.

Altogether she is reserved in most situations but exhibits a cheerfully kind disposition that wishes to help her wielder.


[b]» Inner World:
» Zanpakutô Appearance:
Ordinarily, it takes the form of a regular katana, the only differences between it and another being the five-petal flower designs stamped on the rectangular guard with a light red handle.
I. Shikai
» Shikai Release Phrase:
"Snap Tobiume!"
» Shikai Appearance:
Upon releasing Shikai, the blade straightens at the end instead of curving and gains three jutte-like prongs along the edges of the sword at varying intervals.
» Shikai Abilities: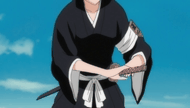 Tobiume Scream!
With a swing of her Zanpakutou, Momo can send medium-large sized fireballs in that direction which explode upon contact. The fireball release is usually accompanied by a cry of "Tobiume!" and a sound similar to a seagull cry.
Overheat
Momo's body is extremely hot, causing anything touching her to take burn damage. at this is scaled based on the individual tier of her opponent and how resilient they are to fire attacks. Master/Grandmaster suffer first degree burns and Advanced dealing second-degree burns. those with lower durability or weak against fire attacks completely burns through.
Cauterize
Allows Momo to heal the damage done to her body. Third degree burns, fractured, bones, deep lacerations take three posts. Second-degree burns and deep cuts take one post. Healing can not be performed in correlation with any other technique, which includes offensive, defensive, and other techniques
Tobiume's Gift
Allows for the creation and manipulation of fire and heat. Arcs, bursts, tendrils, flamethrower, etc. For heat, Momo heats up a targeted area or releases it directly from her body. It is possible to focus on the heat inside an object and drain it or heat it up, though to do so on others she requires direct contact with her. The heat, being drained or simply heating up the area, appears in a coat of pink Reiatsu and deals damage based on the tier.
Roots of Flame:
Momo twirls her sword above her head, and the blade is engulfed in flames. She then used the flames from her sword to slam tobiume into the ground, causing it to shake, and multiple fire-like roots began to shoot from the ground at various angles to trap her opponent. Those with enough durability and strength can break free from the roots with little to know trouble.
I. Bankai
» Bankai Appearance: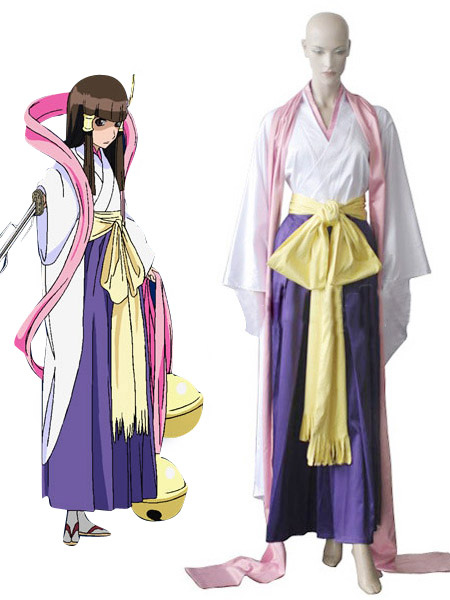 » Bankai Abilities:
Bankai Name: Sakan'na puramuforesuto (盛んなプラムフォレスト, Soaring Plum Forest)
Like all bankai in the series most shinigami can actually "wear" there zanpaktou in which they take appearance of their zanpaktou spirits clothes like for instance Ichigo Kurosaki and Zangetsu.
In terms of Momo's she wears tobiume's outfit which consist of two giant bells which is tied to her waist with a long piece of yellow fabric, above a long, light purple skirt.
Upon activating Bankai a giant plum tree would appear behind her similar in height to the which would give her enhanced fireballs and every time a plum drops from that tree it would allow her to mix every bit of Kido she knew into her fireballs. It allows for both strength and versatility but it's hampered by until what level of kido she does know.
Immense Spiritual Pressure: All bankai gives the user immense spiritual pressure that is great different compared to their shikai counterparts and Momo's is no exception. When she unleashes her bankai it will expand outward until it slowly dissipates leaving her with a red reiatsu glowing around her entire body including the tree itself.
Improved Fire Control:
In her Bankai Momo has more control over her fire-based abilities and can manipulate the heat of the fireballs themselves to a point of being on par with deceased head captain of the Gotei 13 Yamamoto though thats only if she pushes beyond her normal limits. Regardless she can create slashes that can be released at the tip of her blade creating large arcs of fire in her path to the point of them taking shape of giant blossom.
As for the Tree itself it is a kido-based area of effect and is rooted to the ground plus the actual kido will be limited to a certain radius around the point where it was planted. The tree grows plums that are the size of footballs and does the exact same abilities as the tree except at a much smaller scale. It would be rooted to the ground and the effect is limited to a radius around point where the tree is planted. The plums that drop from the tree do the same thing but have a much smaller range, or can be consumed for a beneficial effect.
Abilities:
Condensed Plum Barrage:
Momo can concentrate her fireballs and divide them into multiple smaller variants of it similar to an Arrancars bala with the same range and distance. However the disadvantage of this ability is that it can be completely draining on the user especially if used in mutiple bursts at once. This move is generally saved for enemies attempting to get in close-range and fight her head on.
Blazing regeneration:
This ability allows Momo to manipulate heat in the surrounding area and use it in a variety of ways...for instance momo can concentrate the energy into a single point and transfer it into the tree allowing it to gradually grow new plums overtime and rejuvenate its beauty or in this case its lifespan.
Blossom Ripening
Momo can activate any Bakudo barrier kido and she can apply its benefits and detriments to the tree itself allowing it to stay in the fight for an extended period of time if the enemy thinks about actually destroying the tree to disrupt her bankai. The tree is the center piece of Momo's bankai, that means all of her attacks (besides shikai) and even are dependant on the tree's existance, if the tree is crtically damaged her bankai abilities will become less effective. In case of Bakudo if she applies a shield that's covers a 360 degree radius and applies making it more durable against attacks but only lasts for two posts.
Entangling Ember Roots (Hono no Rutsu)
As momo begins to twirl her sword above her head the blade will be engulfed in flames. Once set Momo would slam her zanpaktou into the ground causing it to shake until multiple fire-like roots begin to shoot from the ground at various angles which ensnare the opponent allowing for a final attack from the shinigami. Post cooldown is 3 posts and duration is only one but if the opponent has enough strength they can break the roots easilly.
This ability has a limited range and if the roots are destroyed it'll take 2 to 3 post for them to fully regenerate fully and replant itself into the ground.
Raining Plum Blossoms:
Momo can take a portion of the tree and condense it to a red ball of energy and send it into the air before stopping, once in the air she can use her zanpaktou to expel a large stream of flames that progressively widens with range. This technique can also be used collaboratively with other kido and fire abilities to create an enormous vortex of rapidly expanding flames. If Momo destroys the half tree the flames can be hot enough to evaporate water molecules in the air for a short period of time, though it will cause immense stress on her body once used.
Post duration is 2 posts and cooldown is 4 posts
General Skills
Durability: Advanced

General Speed: Advanced

Strength: Adept

Weapon Skill: Master

Racial Skills
Hoho: Advanced

Kidō: Master

Zanjutsu: Advanced

Hakuda: Adept

Will Skills
Willpower/Determination: Advanced

Mental Deduction: Advanced

Pain Endurance: Advanced

Focus: Advanced

I. Role Play Sample
» Roleplay Sample:
Four hundred years...it almost felt like yesterday that Aizen was defeated after the events in Karakura Town.
Momo can still remember the time she tried to save Rangiku from hallibel's fracciones and declaring her once beloved friend and captain Aizen an enemy, she wanted to see the good in him but that was beyond remorse everything he's done to not only herself but her friends was beyond repair.
After the confrontation with Aizen and the living world safe she thought everything would go back to the way they were...but oh was she wrong...dead wrong
The recent attacks on the Soul society were an unpleasant one, these new creatures weren't the traditional hollow or Arrancar they seemed more and came within the hundreds maybe even thousands.
It was fortunate that they were able to hold them off for a while until reinforcements arrived.
Despite a few a few good things have happened in the last hundred years for one the Gotei she once knew was now combined into one singular organization called the Gotei United, a place in which focuses on preserving the soul cycle and helping all members even the Vizards a group in which was frowned down upon in the past.
However through the course of years, she's grown accustomed to it and it's great to dwell on the past but for now, a bright future is ahead.
Since then momo has been training with her Zanpakuto tobiume for many years learning new techniques and incorporating stronger, more efficient Kido to subdue her foes.
Momo waited until everyone was asleep and sneaked out utilizing a hell butterfly to ho to the human world... heading off to Karakura town, it would be punishable if any of the captains found out she was running around in the human worked without permission; but Momo had to test her worth see how much she's grown over the years.
The beautiful karakura city, the streets were filled with people of all ages, sizes, and ethnicities the cars blaring and the beautiful city landscape made the view look more tremendous.
Momo's ears twitched as she could hear a growl of hollows and began rushing towards the area the hollow had an ape-like appearance nevertheless these were hollows that needed to be purified. Momo just looked at it straight in the eyes without any glimpse of fear, before her mind drifted as she recalls Shin'o academy...the time when Hisagoi was in trouble and she had to play the hero and save go back for him before being cornered by a dozen huge hollows with her friends Renji and Izuru beside.
The sudden fear rattling throughout her body absolutely petrified and just stood there like a coward, but now things have changed and she was going to show how much she's grown.
"Snap Tobiume!"
As her zanpaktou was surrounded by the red energy transforming into a straight-edged blade with two prongs along its length. The hollows howled as they began rushing towards momo with immense speed, but she wasn't phased and with that, she uttered the words.
"Tobiume Scream!"
And with a swing of her zanpaktou, she summons three large fireballs heading directly towards the hollows as the sounds of a seagull could be heard.
However, her attack had no effect as the smoke cleared seeing the hollow's silhouette as the speed at which the hollows began allowing for his once short arms to extend beyond a normal animal. The hollow began to charge up it's reiatsu, the mouths were taking in excess reiatsu from around her.
The Ape hollow released a massive cero toward Momo, the cero blasted out from the hollows mouth. Momo dodged to the left but felt the cero start tearing through her body. She could feel her body give way under her own weight.
But she remained vigilant as she got up and since the hollow has relatively strong attacks but slow speed she can immobilize the hollow so she can land a finishing blow.
"Honō no rūtsu!"
Before the hollow could finish her off
Momo twirled her sword above her head, and the blade is engulfed in flames. She then used the flames from her sword to slam tobiume into the ground, causing it to shake, and multiple fire-like roots began to shoot from the ground at various angles trapping the hollow.
The hollow screamed as it attempted to release itself from the roots but to no avail, the roots began to get tighter and tighter until they were completely immobilized.
Using what little strength she had left Momo finished it off with a kido spell
Ye Lord! Mask of blood and flesh, all creation, flutter of wings, ye who bears the name of Man! The scorched Earth bears the mark of your bane. The demon waits at the end of the twisted halls of pandemonium, eyes filled with furor, in the torrents of Hell!
Hadō number 48 Onkyō Shakkahō!
Momo's left hand fired a screeching arrow-tip shaped blast of crimson flames leaving a scorching trail in its path. Once the arrow made contact with the hollows chest it exploded.
Causing immense smoke to cover the area...as the smoke finally cleared, Momo's breath began to become more rapid sweating beading down her head as that was the final attack she could use to finish it off...
Momo performed a Konso on the hollows head using the bottom portion of Tobiume handle.
The plus soul residing within the hollow was that of a teenager with blue jeans and a striped-shirt. The soul of the teenage boy thanked her for saving him.
Then Momo watched as the soul began heading towards the sky and into the Soul Society where he'll live a better life.
The battle was over, the hollow purified and sent to the soul society and Momo was utterly exhausted to the point of losing consciousness...she chuckled before laying on the ground staring up into the night sky gazing at the vast array of stars and the beautiful moon.
"Looks like I still have some work to do"