THE ARRANCAR  TEMPLATE
Enter The Arrancar
非再生可能
"Death is..So pure."
I. Basic Information
» Name:
Shi Seikatsu (死 生活) This name isn't his human name but was granted to him by his peers, each part was granted due to different reasons. Japanese in original it's represented in two parts, first being "Shi" which translated into Death, a clear aspect which he'd no doubt not deny yet the second part is often added by Shi himself, translating into "Life".
» Appearance Age:
20
» Age:
508
» Gender:
Male.
» Association:
» Hueco Mundo:
His association with Hueco Mundo as a whole is one masked in mystery, appearing rarely throughout the current history and simple glimpses of this Arrancar have been waved off as he's of no one of major importance to anyone. Often keeping away from society Shi kept to himself for unknown reason yet is still assisting his species in times of need.
» Appearance Written:
» Facial features:
Shi's facial features are well defined, rounding off to a sharp chin along with prominent cheekbones. Nose is pointier than the average person but fits well with the overall frame of his face which can be considered handsome to some, thin eyebrows are above a set of eyes which are a shade of prominent onyx but can switch to a sparkling amethyst.
This does keep up with his overall appearance as this is also the shade of his hair which is medium in length, framing most of his face and coming down across his right eye most of the time.
Three strands usually rest in front of his face and small spiked up parts at the scalp yet it's clear this is natural. His hair is soft, fluffy. To match this is teeth are pearl white that are shown as his slim lips rest across a calm, happy facial expression, each time one might look into his onyx shaded orbs they'd see a great deal of exhaustion almost and sadness, a lack of anything behind them which is contradictory to the soft, warm tone that's his voice.
» Physique:
Due to cosmetic surgery and other various treatment he's managed to abolish both his hollow hole and estigma which has left him looking very humanoid, one could mistake him for such if it wasn't for his riatsu. Shi stands around 6ft, with a usually relaxed posture. Slender are his shoulders and arms yet his body is broader in a sense, muscular as it's clear to most that he's physically capable and toned to a degree, this all comes down to strong. Legs happened to match his entire form, compensating for the lack of strength as they're well equipped to be dexterous in nature. The most defining feature of Shi's physique is he's actually got a very low bone density which means he's far lighter than most of his companions, granted it also means he's weaker physically.
» Attire:
First prominent piece of attire that Shi is displayed with is a large overcoat which comes down to past his waist, above his knee caps. It's charcoal in colour whilst having a rather lengthy collar that covers the left, right and back of his neck whilst displaying the front of it and a bit of his chest, closing to make a V shape which parts just as it reaches the bottom of his neck.
The trim of the attire is a dirtied yellow, adorning all of this overcoat and the buttons that hold it closed. The sleeves of this overcoat only come down to his elbows though, each cuff tied with a piece of black, firm band to keep it from blowing everywhere. Upon the bottom of this overcoat is embroidery which spirals around into a King like sigil, it's prominent at the front which then lines intertwine with one another around the rest of it.
Over this is a soft, piece of white robing which is tied to allow a length of it to drape over the rest on his left shoulder, the rest of it coming to about the length of his shoulders but doesn't restrict any movement, a long piece of it is usually left flapping to the right. To finish this attire off is black trousers and shoes which are made of leather,a white base and bottom is notable.
» Attire Appearance:
» Appearance Image:
II. Personality
» Personality:» Intelligent:
Intelligent in his own manner, Shi's above average that's for certain but only when it comes to objective and combat, he's capable of deduction at a higher level alongside a rather impressive forward thinking abilities which he relies on most of the time to keep his opponent at bay, he's capable of complex strategies, working on biological developments when given the time and research, deduction of structural and opponents weak points with relative ease. It's a huge thing for Shi to be intelligent as he's not fond of displaying his strength to most in order to obtain what he wants, as far as he's concerned his sharp mind should display his abilities alone. This can backfire though, a habit Shi has is overthinking due to this, reading in between lines this can cause him to be paranoid, anxious thus he desires to keep his mind on other tasks..Tasks which can give him a temporary fix to this curse.
Social intelligence isn't something he's got either, unable to interact on a friendly basis with most or engage in flirtatious or romantic activities as he's incapable pushing his mind to it, he becomes a shy, paranoid mess when it comes to emotional intelligence and social situations which aren't considered objective or combat related.
» Social:
Shi's awkward and shy when it comes to friendship or otherwise, often keeping himself to himself or on tasks to better himself but it comes to a shock that he's pretty social..The issue is that it's objectified and manipulated to a state where he'll keep a facade of friendship but truly seek nothing of it, most of the time if he's thrust into a true friendship or relationship he'll believe it to be an objective..In essence he's only social when he's after something or achieveing a goal after that is met you're usually seen as a liability or otherwise.
It's odd to most that he's got a inner desire to be accepted by someone that actually displays a form of affection with him beyond a normal objective, hoping that one day he's capable of smiling for real and fulfilling these stories of "Friendship" and "Love", seeing them as weaknesses that he himself must accept if he's to ever refine himself.
Patriotic:
Arrancar's are his people, he won't see it any other way..He'll die for them, he'll purge for them, he'll lead them, he'll help them. As far as he's concerned everything must end eventually but the Arrancar must last longer than all other species, currently seeking to free them from their shackles but don't be fooled..He's not sympathetic to those that idly follow anyone that isn't the true, pure Arrancar..Organisations that aren't part of the main faction are often seen as abominations and traitors that must meet their end before anyone else does..If you're doing it for your own personal benefit but are harming your own species in the process then such a matter isn't worth it.
It's important to be unified under one faction as is Death, it's not splintered and works as a single effective force that'll annihilate all in its path before meeting an everlasting peace, this is what the Arrnacar to Shi must do..Eradicate all under one flag before finding themselves at peace.
» Leadership:
Shi's tactical abilities and intelligence allow him to better lead groups alongside entire armies if need be, this however does cause some issues as if he believes his plan is far better than his superior then he'll no doubt cause some issues..Especially if their plan falls through. It's often that he'll pipe up during discussions regarding this and expects to be in -every- meeting about combat, alongside other affairs that revolve around a military aspect but at no point will he ever interfere with other affairs which involve the people as a whole..Not fond of interacting with them.
It's noted that he finds himself a competent "military" leader but at no point does he consider himself an overall ruler of his people, best to leave that to those that are capable of interacting with them on a emotional level.
» Obsessive:
Shi's very obsessive and this has caused issues in the past before, this is a core concept of his entire personality..He's displayed this in almost everything, from his zealously to his obsession with people and the idea that Death is the purest form of enlightenment. It's become apparent that every time he's found someone he remotely enjoys being around, even if it's a bit of his guard down and anything past the idea of an "Objective" relationship then he'll keep them close, always seek to protect them alongside other issues which can be major jealousy, envious and often committing rather heinous acts just to have them. Overall this is an issue which can be seen if one looks properly, his obsession leaks out to everything he's doing and done beforehand.
» Sadistic:
Sadism is often a trait Shi exhibits on a daily basis, both ally and enemy are subjected to his sadistic nature, regardless of wounding, if physical or mental you'll find he's one to enjoy such pleasures..It's odd to find he's aroused and takes pleasure in this but it's also the absolute terror of death, most fear it which causes him to become condescending regarding it as he fully embraces it. He often seeks to cause a substantial amount of pain upon his opponent before actually finishing them, Shi believes everyone should embrace Death once it's at their doorstep which is rather hypocritical considering his own desire to live..Once begging for this gift he'll grant it to them and continue on with a smile upon his face.
» Emotional:
Shi's emotional state is unhinged at best due to him constantly repressing them, this does mean that he's susceptible to bursts of intense emotion during certain situations as he refuses to accept most of them..Which can be both good and bad, he may fall in love but that'll turn into obsession, he may take a single mistake into an absolute utter failure and fall to depression, a single thing that would mildly irritate most could blow him into a full rage of fury due to this repression..It's a gamble with him but you'll find his shackles are strong, it'll take some certain events to occur in order for him to even consider loosening these restraints..He's fond of easing them when he's playing "Social" to best help infiltrate and gain the trust of those around him.
Softer side:
Shi's devoted to the ideology that Death must come for all but this doesn't stop him having a side which no one living has actually seen, it's a rather odd thing to occur but with Death..He believes everyone should have someone waiting for them on the other side, to truly enjoy the peace that Death provides..He believes that everyone should have a lover, family or something akin to that, when it comes to individuals that are together and display this he's actually hesitant and reluctant to eliminate them outright. Envious of such an emotional attachment causes him to consider the possibility that there is more to life than causing Death..A conflict in the Arrancar's heart.
This can cause him to locate targets and interact with those without such connections, making it easier on him but at no point does this mean he won't kill couples, family members in front of one another..It simply means he's more reluctant about it. Another factor is his social interaction with other people, as if he's seen actually getting attached to certain individuals he may distance himself to better protect them, humble enough to at least admit he's a dangerous individual.
» Death's Embrace:
Shi's philosophical perspective on everything is that Death will inevitably claim all, it's a single, unified force that can't be stopped nor evaded..Simply delayed. He's the only one whose meant to carry out this task, granted he'll not slay Arrancar just for this sake as his own mentality manipulated and abuses his perspective of life, causing it to shift and thus those he dislikes isn't seen as anger..He believes Death has lead them to him so he may carry out the task in question, whilst he'll no doubt follow rulers and he himself will lead..He whole heartedly believes that his only true superior is Death..
III. History
» History:
» Pre-Death:
Syndicate of the Snake, a violent and powerful crime organisation which dealt in everything, lead by three major families each based in a nation in which they held the most influence. Gillete family were based in Italy, Hoho family in Japan and the Castellan family were based in Britain. Shi lived a lavish and full life style and was the second son, a intelligent individual with ambition who carried out tasks with ruthless efficiency, often tasked with assassinations and hit jobs for his family.
The shimmering moon pierced the veil of darkness that had engulfed the one rich blue sky, clouds becoming corrupted into various shades of grey. Lorian's black shoes stepped into the cold concrete beneath him whilst in his clutches was a girl that resembled him a lot, giggling as she sat comfortably upon his forearm. "Daddy it's scawy tonight.." Stating in a soft turn as she'd bury her small nose into his neck, Shi replying swiftly and defensively. "It's quite alright Elora, your father shall protect you." Left hand raising to caress her back gently whilst a soft smile kept upon his lips whilst he'd continue a prideful stride. She'd kept her nose buried into his neck before letting out little purrs whilst sleeping in her fathers arms, an act which Shi enjoyed.
Upon reaching his door he'd go out to grasp the door nob with his left hand,turning it once..Twice..Clink.. "What?" He'd mutter to himself before shifting his attention to the sound behind him, orbs of onyc staring down the barrel of a firearm.
"I'm capable of granting you anything you desire.."
The hooded figure kept staring at Shi in complete silence, heart pumping as his left hand cautiously came down to his own blade that he'd kept in his pocket. Lips parting as a soft"My chi-"
Bang!
Scarlet draped the dark green oak of his door..Everything going black within a instant..
» Hueco Mundo:
Shi's time as a pulse was short and bitter, he couldn't remember much but kept reverting back to his basic desires but wasn't capable of doing anything which caused him to spiral out of control and into a dark depression which began to corrode his chain of fate rapidly, barely lasting a month before his entire form began to shift and mutate into something ghastly..Serpentine form bound by basic instincts,a pearl white masking forming and shifting onto his face..He'd became a Hollow one month after his death..
His current form didn't last for very long, feasting upon Human souls wasn't enough to satisfy this serpent so he'd seek out anything in the surrounding area, Hollow or Human alike before finally returning to Hueco Mundo, undergoing a transformation unlike any other he'd experienced before..His form began to mesh together after he'd fallen to a frenzy with other of his kin, shifting and moulding into a creature of gargantuan size and little intellect, Gillian.
Two months passed and Shi's war had finally ended with his kin, intellect and raw willpower destroying his predecessors as he'd begin to devour other Gillian with ruthless aggression and insatiable hunger that couldn't be satisfied and one month later a rather small Adjucha had been forged, adorning corrupted Angelic like wings,bone feathers, incredibly humanoid other than the Cheshire grin in which rows of teeth sat and snake like eyes.
It wasn't until after three more months of prowling the sands of Hueco Mundo he'd stumble across the Shinigami that'd change it all..
» Transcendence:
Trudging through the glistening sand of Hueco Mundo, the Angelic Adjucha kept prowling whilst contemplating..Numb that's all it felt, remembering the euphoric sensation of indulging in his darkest desires in which he was incapable of doing any of it, constantly keeping to a repetitive cycle of devouring, hunting, devouring..Hunting..Endless..Repeating itself and it was driving Lorian insane and it was at this moment that his thought process was shattered.Halting abruptly the Adjucha shifted his attention to a small group of his kin that'd been tailing him for sometime,a soft groan of irritation escaping his maw and it wasn't until he'd press his orbs of scarlet upon them that they'd also halt. Tense atmosphere was an understatement as they'd simply silently keep this staring content on one another, each aware of what the other participant desired without even conveying it verbally.
Shrieking shattered the tense atmosphere between the group as the largest of the group opened his maw, a moment later a crimson hue'd build of riatsu shot through the sand and at Shi in which it was met in the middle by a similar Cero of considerable power yet it kept a sickly citrine to it, clashing in the middle, melding before finally letting out a violent explosion.
Sand was flung in each direction as the group began to advance forward, little were they aware that their opponent had utilised the flung up sand to cover his angelic form, suddenly leaping from the left flank with his gaping maw opened and chomped down upon the throat of the somewhat 8ft monster that shot a cero, shrieking it'd grasp Shi with his right hand and begin squeezing but another explosion rapidly followed, flinging Shi away as he'd shot a cero directly into his opponents throat, causing the body to slump down and collapse upon the ground beneath it.
Shi stood back up with a bloodied, smoking maw as he'd let out a shriek as a more bestial lion Adjucha had pounced upon his shoulder and began to devour his left arm whilst a wolf like Adjucha came to the other, causing him to be flung to the ground..
Fighting back..Was it worth it the Adjucha began to contemplate as shrieks of anguish and pain kept escaping his maw.
Slash!..Eyes widened..Both Adjucha fell limp onto of Lorian..
Blood stained his body as he'd shift his orbs of amber to a Shinigami that stood pridefully, a gentle look in his eyes yet a riatsu that caused shivers to dance down Shi's spine.Soft spoken this man was as golden locks were gently brushed away from his forehead. "You can be more..Remove your mask." Shi replied with a large scowl "Impossible.." Keeping his calm composure."Is it?"
Suddenly it occurred to him he'd never tried beforehand, chucking both sacks of Adjucha flesh off his form he'd return to a kneeling position and brought his gaze back up to this man. "If you're playing me I won't hesitate to feast on your flesh."
Shi's right hand began grasping upon his mask..Pulling..Concentrating..
Independence was the first emotion that surged through his form..True independence..Who was this man? Who had gifted him purpose and this feeling of absolute power? Shi thought and once his ascension was done, he'd bow his head simply stating with a soft tremble.."Y..Y..What is my Masters name?" He'd walk past Shi with a gentle smirk curling up across his lip. "Remi."
Shi went on serving Remi in the shadows, never revealing himself to most of his kin and was mentored by his superior for sometime yet was always kept away from the spotlight, utilised more of a scalpel in the dark.
» Post Loss of Remi.:
Once it became abundantly clear that his people had lost against the Shinigami, Shi decided to depart Hueco Mundo with little interest in his own kind alongside a lack of hope. His former mentor had also died during the battle's that occurred, only shackle that tied him down to his people..
Years passed in which the young Arrancar kept to himself most of the time, consuming those that came into his path whilst bringing about Death's tasks to those around him, unaware that it was his own desire to utilise his new abilities to begin enlightening those that came too close..Shi then stopped working entirely, keeping to a corner whilst witnessing his species degrade into nothing more than a pathetic husk of their former glory, now it was time to return and begin a grand purge.
IV. Equipment
» Equipment:
N/A
V. Racial Techniques/Abilities/Skills
»  Racial Abilities:
Cero (虚閃 (セロ), Sero; Spanish for "Zero", Japanese for "Hollow Flash"
As far as Platinum Hearts is concerned? A Cero is an extension of the user's spirit. Therefore, they can mend in most forms they choose. The most common way to perform a cero is by gathering a cluster of energy, directing it towards your palm and then shooting a destructive burst of energy at the target.
Each Cero utilised by Shi can be shot instantaneously like most Cero but he is also capable of building up more energy, to deal double the amount of damage. It'll take two posts to power it up to half more before three posts will cause double.
Bala (虚弾 (バラ), bara; Spanish for "Bullet", Japanese for "Hollow Bullet") is an Arrancar-exclusive offensive technique.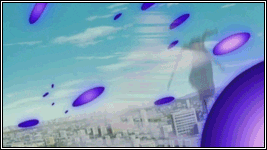 What are bala's? Well, they are essentially the same thing cero's, save for the fact they are often smaller and much more easier to utilise. And, due to this fact, bala's are also infamous for their swift speed. As many Arrancar's can summon these quickly in battle and change the tides with their rapid fire capacity. Which means the higher in skill and strength your Arrancar is, the more instantaneous they can summon and spawn their creations of energy.
Bala Barrage: Shi is capable of utilising a Bala barrage, an ability which will take two posts to charge up as it's him forced forging a powerful Cero, before shooting it he'd concentrate and begin a quick succession of rapid shots aimed at his opponent, of course this isn't accurate at all but the sheer number of it can amount to thirty six. Note: You can interrupt this fairly easy and he usually utilises this attack method if you're stationary or too to force you out.
Sonído (響転 (ソニード), Sonīdo; Spanish for "Sound", Japanese for "Sound Ceremony") is a high-speed movement technique of the Arrancar.
Designed to be the equivalent of the Shinigami's Shunpo, Soindo is a form of high-speed movement that allows Arrancar to move in fast burst of momentum. But, unlike Shunpo, most Arrancar seem to have a natural instinct for it. As, even on lower levels, they appear to be able to move in short, but very rapid flashes of speed. Shi's isn't something you should underestimate as he's got a knack for it, utilising it on a daily basis during his combat as his weapon of choice isn't one that can be without sudden and fast strikes. He's capable of covering large distances in very short amount of time, alongside being able to utilise Sonido's after one another..To top it off he's been known to be able to alter his Sonido's trajectory from time to time but this requires immense concentration.
Sonido Escara
Shi's trajectory alteration is something unique to him as far as it seems, in order to utilise this he must first activate a Sonido and change his direction within the same post of utilising it, first picking an original destination then altering it..After this is done he's incapable of doing this until two posts have passed as it puts a strain on his body to shift at such high speeds.
Hierro: This is the Arrancar's natural born defence. Hierro is a form of protective skin which makes them resistant to brute force damage from attacks ranging up to Zanpukto slashes and even energised blast. As far as the PH verse is concerned, this durability even extends into their organs and bones in order to create a form of double layered defence against foes attacks. So the stronger an Arrancar becomes, the more potent this durability often becomes.
VI. Sealed Powers
» Zanpakutô Name:
Mors
» Zanpakutô Appearance:
Mor's is a Scythe which can be manifested by Shi, it's manifested by him pressing his palms together in which it'll begin to appear from apparently thin air in a flash of amethyst. The entire length of this weapon is 5'ft in which it's also capable of shrinking down and extending upon Shi's will. This doesn't just mean the length of it but the width of the blade as well, Shi may only utilise this effect once every two posts but can do it in combat.
[b[Properties:[/b] Mor's is actually weightless to Shi, which means he's capable of wielding it with absolute ease but this isn't to be confused with the blade itself being weightless, it's a unique effect of the Zanpaktou that allows Shi to wield it as if it was a feather, the blade itself is still impactful and very much weighted..For those attempting to utilise it themselves they'd find it incredibly difficult and cumbersome to wield.
»  Unique Power: Death's embrace:
Deaht's Embrace is a core aspect of his Zanpaktou and Power as a whole, it's the ideology that Death is inevitable. Death's Embrace is a marking that'll appear upon an opponent when Mor's strikes the skin, it'll cause it to blister slightly before a rather painful marking shall begin to etch its way into the flesh of his victim granting Shi a passive bonus depending on his opponents tier. This ability is reiatsue based and it'll forcefully begin to force a temporary soul link between the pair which can't be seen but can be broken if you're capable of forcing enough reiatsu through this sudden link although those that don't utilise such a source of power won't be able to. In essence this chain will be linked to Shi which overtime will gradually increase his speed, strength and overall effectiveness whilst in a 30ft radius of his opponent. Overtime it'll gradually become stronger as this link begins to fill the opponent with a sense of dread before capping at a final stage.
Note: Reiatsu isn't the only ability that can wipe this effect, ether can also be utilised to wipe this energy clean alongside consecutive attacks don't bolster or speed up this process, Death will come to all in due time and doesn't obey anyone else. The ability to cleanse this does increase in difficulty for each stage that's passed, to display a sense of inevitability..It's difficulty increased by one post for every two stages but the backlash is far less.
First contact: Death has come but hasn't taken your life but his hand has decided to descend upon you. Mor has struck the skin of the enemy in which it'll begin to blister, causing this mark to occur..If the opponent is two tiers above Shi a single post worth of concentrating his rieatsu will break this link, forcing a considerable amount of psychic damage to strike Shi, enough to cause nausea, dizziness and if their four tiers above him..It'll outright paralyse him..It's dangerous. Shi doesn't gain any instantaneous benefit from this. If they're of the same tier then it'll two posts for someone to break this link with their reiatsu as they're of the same level. Two tier below with take four posts to cleanse this.
Reaper's Rise (Post two): Upon the second post it's begun to take effect in which you'll find Shi begins to gradually become stronger whilst delivering his opponent to Death's door, at this level he'll gain a small bonus to his Hierro, Speed, Strength and ability to react. This is reiatsu based as his own reiatsu forces his mind into overdrive, causing people to be slower when in actuality he's faster..Nothing else occurs with this, but most often forget the difference a better reaction can give/
Resistance to the Reaper (Post three): Another boost is given to Shi's hierro but nothing more is noted, due to this small defensive bonus he'll be able to resist effects better but he's also capable of wiping this stack and restarting it again in order to cleanse -any- disease, poison or detrimental effect that's upon his reiatsu or physical form..Shooting out in a violent shock wave as his form emits a soft amethyst outlined in a thick onyx black.
Fear the Reaper (Post four): Shi's atleast gained half of a tier to all his capabilities, this is granting him an edge whilst in the thirty food radius of his opponent furthermore a sense of utter dread will wash over his opponent in which a Determination check will be against his own, if it's under him they'll fail and feel a cold, feeling of utter terror as this bond is beginning to scream that they won't survive..Note: If OC's are Jaded they aren't effected by the end of this, alongside OC's and NPC's that can't feel fear are also immune. It'll also be noted that the symbol etched on their flesh has began to glow a faint violet.
Death's Door (Post Five and Cap): Shi's finally reached his full potential whilst in his opponents thirty foot radius, gaining a single tier in all General Skills alongside Willpower skills. The Reaper has finally secured a grasp upon the life before him, natural reaction being overall superior as Death's finally at his opponents Door..It's to be noted that he can't gain anymore than this. Note: He can't shift into Master or Grand master due to this buff, instead gaining a x2 in his current tier.
The Reaper's reward:
This is also a Passive ability that can only be activated once Death's Embrace has taken effect which effect Mors as a whole, reiatsu is poured into the blade to give it extra sharpness and impact for the most part before the blade is finally completely covered from tip to the bade of the blade in a misty violet energy that resonates softly. Note: This will only occur if within the thirty foot radius of his opponent, if their out of it..There will be no bonus's at all.
First Contact: Mors gains nothing at all, it remains the same Zanpaktou as beforehand but lets off a gentle aura of whispers, each one if listened close enough would speak of what occurred for them to die..One would assume it's the souls that'd been reaped by Mors.
Reaper's Rise (Post two): Mors tip has become pinpoint and can be considered to be incredibly pointed, an odd occurrence considering but it's been shown to be capable of puncturing slabs of stone at this point, making it very effective for digging into an opponent or otherwise.
Resistance to the Reaper(Post three): Mors's structural integrity has begin to reinforce itself with reiatsu, the base of it starting to give off a faint aura of amethyst which is reiatsu based..It's already incredibly difficult to destroy a Zanpaktou but now it's become incredibly durable, able to take on Cero's and other powerful kido head on. The Zanpaktou has a temporary boost in durability that can be drawn upon and redirected through Shi's body for a single post hierro boost but can't do this for two posts, losing the structural protection for his own.
Fear the Reaper(Post four): Mor's sharpness is increased drastically, one could easily consider it to be sharper than that of a tungsten needle that tapers down to the thickness of a single atom, it's strikes will cause soft shrieks as it cuts through the oxygen through the air as reiatsu has finally came across the entire base of the blade, increasing the sharpness as it refines the edge whilst retaining its structural integrity.
Death's Door (Post five): Reiatsu ripples throughout the blade as it's entirely covered with this shimmering energy of reiatsu, allowing the benefit of shooting out a crescent like attack which is made entirely out of rieatsu with the same impact of a Cero once every three posts.
VII. Resurrección
» Resereccion Name:
"Arch Angel of Death..Mortis"
» Resereccion Release Phrase:
"Reveal to them their end, for they shan't escape..Archanegli Mortis!"
» Release Actions: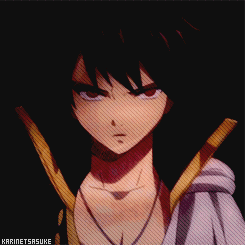 Shi's right and left palm are held out open as two fingers from each keep point, they'd reverse from one another before meeting in the middle as Mor's base comes into contact with his hand, an orb of black which can be only described as looking directly into the deep abyss of space occurs before viciously exploding out to reveal..Mortis.
» Resereccion Appearance:
Shi's transformation into Mortis is rather drastic as is depicted in the image above, firstly and most prominently his entire physical form has been encased in this thick armour which appears to be weightless to the Arrancar, not impeding his speed at all and its easy enough to see that when in Ressureccion, everything is doubled..This is clear regarding Hierro as it's no longer skin but a thick protective layer of bone which is pulsating with reiatsu, a hood is placed around his facial features along with a plain pearl white mask. Carved faces which depict faceless and expressionless souls are made as pouldrans on each shoulder, a single gem is placed in its forehead and the horns come out to intertwine and solidify as the shoulder plates.
Around his waist is violet robing that stems out elegantly as nothing for show, whilst his chest is the thickest of the entire show it's clear that another gem rests in the centre..Two sets of pitch black wings have sprouted from his back, one set considerably smaller than the larger set. The smaller set is five feet in length with two feet in width, enough to encompass his entire body whilst the other set is far larger at an outstanding ten foot in length and four feet in width.
He hasn't grown in physical size at all, remaining the same but the wing span doesn't seem to effect his ability to move.
» Resereccion Abilities:
» Inevitable end:
During Resereccion it's noted that both his passive abilities gain yet another stage which must be reached by first activating his Resereccion and his opponent has to also be on the final stages of Death's Embrace, this will trigger the final and sixth stage which is the following.
The follow on from Death's Door in the Death's Embrace skilll tree:
Death's delight (sixth post):
Death's delight is rather simple in that it increases the range in which passive abilities are gained from a thirty foot radius to a sixty foot radius, allowing for easier and more effective combat capabilities at a decent range from his opponent. Furthermore it'll become apparent that his Hierro goes up by a single tier whilst in this radius.
The Follow on from Death's Door in the Reaper's Reward skill tree:
Death's Delight:
(Sixth post):[/b] Mors's blade has been entirely engulfed in this reiatsu as previously stated but this is now capable of of extending the blades width considerable, however this sharpness isn't the same as the blade itself due to the fact it being energised. It'll become apparent however that he's capable of charging his crescent Cero's up to deal double the amount of damage in a three post charge up, which can follow his opponent for one post whilst they're currently afflicted with the mark.
Wings of Dread:
These pitch black wings aren't simply for show and are capable of their own abilities which can benefit Shi drastically. First of all they're capable of sprawling around him, both sets acting as a weak Hierro which can take a lot of basic attacks e.g simple sword strikes, firearm, low level Kido whilst also being able to take two high level strikes before they'll end up breaking. They're capable of doing this as they're not made of normal material but something akin to steel which is reinforced by reiatsu.
Another capable thing about these wings is that the larger set is actually capable of firing Bala's that are unique to the user, in the fact whilst they're fast they aren't rounded by take the shape of a feather and are incredibly sharp. Bala Barrage can also be utilised with this technique but the opponent is capable of noting that his wings will begin to let off a faint black mist before they're shot.
I. Skill Sheet
[SKILL SHEETS ARE NOT TO BE FILLED OUT UNTIL AFTER A TIER IS GIVEN! WILL SKILLS WILL BE GIVEN BY THE STAFF MEMBER THAT GRADES YOUR APP! FOR MORE INFORMATION, LOOK AT THIS THREAD]
Additional Note: The skill sheets, as of Saturday, February 10, 2018, have had small additions. There are new skills, and Master has been renamed to "Elite". Furthermore, Master is now the bridge in-between Elite and Grand Master. For more information, and the rest of the skill sheets,
READ THIS THREAD
Spoiler:
General Skills


Durability: Beginner

General Speed: Adept

Strength: Beginner

Weapon Skill: Adept

Racial Skills


Perquisa: Adept

Sonido: Adept

Cero/Bala: Beginner

Hierro: Beginner

Will Skills


Willpower/Determination: Beginner

Mental Deduction: Adept

Pain Endurance: Beginner

Focus: Adept

IX. Role Play Sample
»  Roleplay Sample:
Lorian rode into Darshire without a single look to his surroundings, men lined up in a parade like movement as the civilians in the square had been surrounded by Castellan soldiers. The sapphire gaze shifted over the inhabitants and the chestnut locks of Lorian shifted softly in the gentle breeze that came from the South as he didn't display a single emotion other than a warm smile that sat across his lips.
The horse stopped and he'd dismount himself  before pulling on the cuffs of his overcoat to assure he looked his best, the left gloved hand moving to rest upon his Long swords pommel. Draxis spoke to him and he listened, contentment was clear in his voice as he inclined his head* "Commander you've done nothing but please me this day. Your reputation proceeds you and i'll assure our Empress rewards you accordingly..But this isn't an invasion. The Grove for the time being isn't my concern" Once they saluted he'd offer a firm inclination of his head "Form a tight perimeter around Darshire and be ready to move out. That's all Commander." With that he'd approach the Square.
Two soldiers parted to allow their Lord access to the crowd and he moved with both grace and pride, allowing his presence to linger over those before him without a single word  uttered, the gaze of a predator looming on them. The soft voice of Lorian slithered into the ears of those infront of him* "You know who I am and for those of you who don't, I'm Lord Castellan." *He'd let that sink in for a moment before speaking once again* "Darshire..House Castellan has done nothing but aid you in your times of need." *Gaze darted around* "Protected you when our Empire had enemies at our doorstep and fed you during times of famine but most importantly, as a token of kindness and gratitude..I even assembled a personal guard to assure Darshires continued safety and prosperity, all I ever asked in return was..Loyalty." *The last word rolling off his tongue as his smile began to fade* "Yet..My kindness has been repaid with deceit, my respect has been paid with disrespect." He stated as a scowl began to curl up across his face as he shook his head "But i'm not a man without mercy..I give the people of Darshire a chance to redeem themselves. I asked that all friends, family and well known associates of the wanted woman: Esylana Geldamont be brought to me, among you is a woman by the name of Alaihandra..Point her out and I won't harm anyone." *One of the local soldiers was about to point her out but Lorian lifted his left hand up as a simple gesture of silence. A test for the people..