Over The Evolution
Ravioli, ravioli, I dare you to lewd the Arrancar loli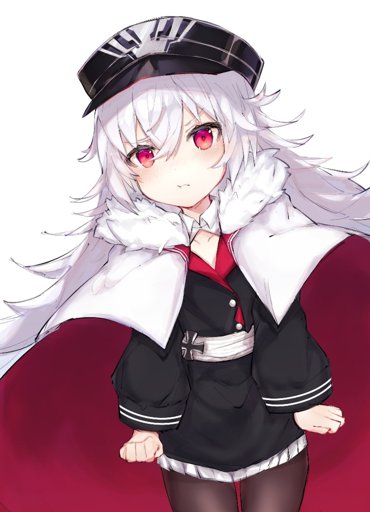 I. Basic Information
» Name:
Tyrant Hunger
» Age:
2500
» Gender:
Female
» Association:
Tyrant Hunger does not have any associated organizations as of this moment, though it might be open for change.
» Appearance Written:
In contrast to Tyrant Hunger's previous appearance, one of a terrifying mixture of hate, Hollow, and dinosaur, her appearance seems to be tamer. As an Arrancar, Tyrant looks like a female human around 14 years of age. She stands at a height of 5'1" and she often looks lost and confused. She could be considered cute by onlookers and is often compared to a doll, given her small stature and fair skin. She has long white hair that reaches up to her knees. Gleaming red eyes adorn her face and are sometimes filled with murder. The remains of her mask decorate the upper left edge of her face. Framing the edge with the remnants of her mask. It encroaches onto her face a bit, almost starting to cover her eyes. The only thing that Tyrant has to wear is a military uniform she seems to be attached too. Conveniently it covers her hole, located just below her chest.
» Appearance Image:
II. Personality
» Personality:
Old Personality: Tyrant Hunger doesn't have enough consciousness in it to have a moral stance. It is not evil, nor is it not good, it just is. However, it feels hunger more than any Hollow and it's hunger is what drives it to destroy and feed. Ultimately, it's main driving forces, and how it makes its decisions, are it's hunger and instinct. In many ways, it can be considered to be the most honest creature, simply by the virtue of not needing to lie and not having anything to lie about. It has no need to manipulate others and often prefers simple solutions to problems that confront it. It's also not the very smart and can be lured and tricked by those smarter than it.
New Personality: Much has changed with Tyrant Hunger with its progression into being an Arrancar. She now has the mannerisms of a child, no longer being a mindless vessel of hunger. Having actual intelligence but having very little experience with being intelligent, she's become curious and indecisive. The predatory instinct she had before lingers but is not as apparent and it retains its preference for simple solutions.
III. History
» History:
There is no feeling more terrifying than hunger, and Tyrant Hunger hungers forever. Throughout all it's years of existence, Tyrant Hunger had never wondered what manner of being he was for it never had the chance to. From the very moment that Tyrant Hunger first came to being, a time where it was still of manageable size, it was already a slave to it's unending hunger.
It started out as pest of a city. It's hunger drove it to attack, eat, travel, sleep, and repeat. Tyrant Hunger was the cause of many unexplained disappearances, attacking human stragglers at first. In the beginning it was able to control itself, but for each time the hunger was ignored it returned stronger and harder to ignore and sate. Then it moved on to attacking groups far away from other people, increasing the number if disappearances and soon people were on guard. Tyrant taught itself to hide when there were too many people on guard, only attacking people that wandered too close to its lair.
The cycle continued for a year. It would go out and feed, they would be on guard, it would hide and wait, they would drop their guard, and it would repeat.
Then a small girl wandered into its lair. For the first time, Tyrant Hunger could not bring itself to eat the young child. It tried to scare it away but she only thought that it was playing with her. It managed to forced her out of its lair but she returned the next day. And then the next, and then the next, and then the next. The small girl became a regular visitor of Tyrant Hunger's lair. A new cycle had been added, the girl would come, it would make its displeasure known and try to convey that she wasn't welcome, the girl would ignore that and bother it before leaving and repeating again.
Tyrant Hunger soon gave up and let the girl be. She wasn't hurting it, she was just there.
But then one day the girl didn't come. At first it was indifferent, but it had grown so used to her presence that it grew restless as the days passed. Finally she visited again, but she looked sickly. She told it that she had contracted some sickness and it was slowly killing her. She had been told that her last moments would be filled with pain and agony as parts of her stopped working and began to die from the inside.
She knew that it was the one that had caused people to disappear and asked for it to do the same to her, if only to spare her of the pain. Tyrant Hunger found that it could not say no to her and slowly began to raise it's huge arm. A moment passed between the two before the arm swung down and turned her into a smear on the floor of its lair. The other arm reached out and grabbed her spirit before dragging it to it's waiting maw.
At that moment, Tyrant Hunger felt something other than eternal hunger. It felt a flash of sadness that faded quickly. It retreated back to Hueco Mundo and buried itself beneath the sands, falling asleep once it was completely buried. Recent times have shown it becoming more active than before. Attacking anything it could to feed its hunger. Eventually it attacked Minatumu Harbor and was repelled, prompting a hasty retreat. Some time later one of the ones that repelled it managed to find, feed and empower Tyrant Hunger into its evolution.
IV. Equipment
» Equipment:
[If your hollow has any equipment? Put it here. If they don't, skip this section.]
V. Racial Techniques/Abilities/Skills
» Racial Abilities:
Abnormal Fortification: Tyrant Hunger's age, devoured souls, and evolution has turned its Abnormal Resistance into Abnormal Fortification. She is able to partially shrug off negative nondamaging effects using her spiritual energy, causing them to be less effective as they should be. However while doing so weakens her attacks. She can also overload Abnormal Fortification to undo an effect already affecting her but doing so makes her unable to move. This effect also works on her attacks.
Razing Cero Buster: Tyrant Hunger doesn't have a much experience with using her Ceros, but that is made up for by her only Cero's overwhelming force. Tyrant's Razing Cero Buster is a tiny pitch black marble of energy that forms in her hand. She can fire it as is or hold it back, allowing it to charge, slowly increasing its power over time and giving it the potential to be a devastating wide area attack. The impact area of the attack is completely obliterated, leaving no trace of it and deals heavy damage to whoever is unlucky enough to be in range. This is more effective against Hollows and other Arrancar.
Riftwalker: Tyrant Hunger's ability to open Gargantas for transportation remains one of her most used abilities and is combined with her Sonido. Owing to her now smaller size she can now open Gargantas without delay. More importantly she can litter an entire area with small Gargantas that only she can go through and she moves faster whenever exiting a Garganta. Combined with her Sonido, she can set up chains of Gargantas to move through, using it to confuse, set up an attack, or just move around.
Sudden Impact: Using her Sonido, she can make an attack she's making suddenly speed up and catch something off guard. Inversely she can also use it to abruptly stop an attack she's making.
Empty Pesquisa: Rather than sensing some thing's energy to determine where it is. Tyrant's Pesquisa instead detects where that energy isn't in order to determine location. Furthermore it is also able to detect where it isn't going to be.
VI. Sealed Powers
» Zanpakutô Name:
Tirana
» Zanpakutô Appearance:
» Unique Power:
The unending hunger had left a mark on Tyrant Hunger. For most of its life as a Hollow, it was the only thing it could feel. The only thing that drove its existence. It was the closest thing that Tyrant Hunger had to having a personality, dictating how it acted, what it did, and more. Tirana gets it abilities from that demanding hunger. Representing the shadow that loomed over Tyrant Hunger all their life(?), this blade has the ability to consume material and energy that it touches to empower itself and it's wielder.
VII. Resurrección
» Resereccion Name:
Grandiosa Tirana
» Resereccion Release Phrase:
Amenaza, Tirana.
» Resereccion Appearance:
The Resereccion has one significant change for Tyrant Hunger, it causes her physical appearance to age and grow, giving her the form of an adult woman.
» Resereccion Abilities:
Starving Blade: The sword seeks to be fed when swung. When Tyrant Hunger swings her sword it forces her to adjust her strike to achieve the best outcome for the attack. This gives Tyrant Hunger the ability to use the sword properly rather than swinging it around like a sharpened club. However this doesn't mean mastery of swordplay, the adjusted attacks are prone to be direct, taking the shortest route it can. This often leads to attacking into a block or a feint. Tyrant Hunger can also use Starving Blade to attack other attacks that make use of energy and have the blade feast on it.

Razing Cero Barrage: A higher powered version of Razing Cero Buster. Unlike its lower powered version, this attack takes the form of tiny colorless marbles that form in her hands and in the space around her. Each marble is capable of being charged just like Razing Cero Buster. This attack is more effective against Hollows and Arrancar.

Annihilation Order: Tyrant Hunger takes Tirana in both hands and begins to pump it full of spiritual energy, causing it to become a colossal building sized blade of black steel. In this form the sword resembles more like a club made of nothing but swords jutting out in awkward angles. Tyrant Hunger swings the massive blade into an area and causes massive destruction on impact. Matter, energy and sould that the blade touches are absorbed and made into more blades, causing Tirana to grow more in size and area of effect.

I. Skill Sheet
(To Find Out about what these skills are for, please
READ THIS THREAD
before you try doing anything to it. After you have read it, do not fill your skills out until a staff member has graded your thread. The staff member checking your app will also give you Will Skills in which you can add to your app when approved. Click the spoiler below to see what tier gets what kind of skills.)
Spoiler:
General Skills
Durability: Elite/Advanced/Adept/Trained/Beginner/Untrained

General Speed: Elite/Advanced/Adept/Beginner/Untrained

Strength: Elite/Advanced/Adept/Beginner/Untrained

Weapon Skill: Elite/Advanced/Adept/Beginner/Untrained

Racial Skills
Perquisa: Elite/Advanced/Adept/Beginner/Untrained

Sonido: Elite/Advanced/Adept/Beginner/Untrained

Cero/Bala: Elite/Advanced/Adept/Beginner/Untrained

Hierro: Elite/Advanced/Adept/Beginner/Untrained

Will Skills
Willpower/Determination: Elite/Advanced/Adept/Beginner/Untrained

Mental Deduction: Elite/Advanced/Adept/Beginner/Untrained

Focus: Elite/Advanced/Adept/Beginner/Untrained

VIII. Role Play Sample
» Roleplay Sample:
I hope you don't me using an old RP post o' mine.
Spoiler: