Rawk

God of Love


Joined

: 2017-05-11


Posts

: 4435


Age

: 26


Location

: The beach :)

Member Info


Platinum Points

:


(16000/1)




Tiers

:

THE BLADE MAIDEN
Murasaki couldn't exactly say that things had been going as
smoothly
as she might have hoped, but it wasn't all bad, either. She still didn't have a vice captain and that was definitely not making her life any easier, but hey, what can you do? The up side of not having too many members was she could really commit herself to training the new folks (even if she hadn't actually seen that one girl around much at all), and today happened to be a special training day for the newest folk.
Admittedly, she had not been a particularly happy captain when she was told about her newest recruit. Someone who hadn't even been to Earth before in the Earth Affiliation Division? It just seemed like they were dumping him off on her. Still, it wasn't Murasaki's job to complain, so with a bit of planning, the wandering captain had gotten an entire training camp ready just for him. A few days out in her favorite place on Earth, the steppes of Mongolia. It was the kind of thing she lived for, so it was nice to be able to share it with someone. Not too much in the way of combat or anything, but that wasn't her goal here to begin with. She'd let him know where to meet her and when, right outside the division headquarters today, so if he wasn't there she'd be pretty upset.
The yurt was all ready, the saddlebags were packed, and Murasaki had naturally let the bureaucrats know she'd be out of the Soul Society. That was the norm, of course, especially with her division, but she didn't want it to seem like she was lazy! With a smile on her face and everything slung over her shoulder, Murasaki went to find her young division member where he was supposed to be.
"Hi, hi~! Who's ready for a camping trip?"
Despite her position and her age, Murasaki certainly did not lack in energy or in pep. She was no child, but calling her something like a teenager...well, that might not be entirely inaccurate.
[ROOK]

Established Member


Joined

: 2011-10-30


Posts

: 169


Age

: 25


Location

: The Realm of Inconceivability

Member Info


Platinum Points

:


(500/999999)




Tiers

: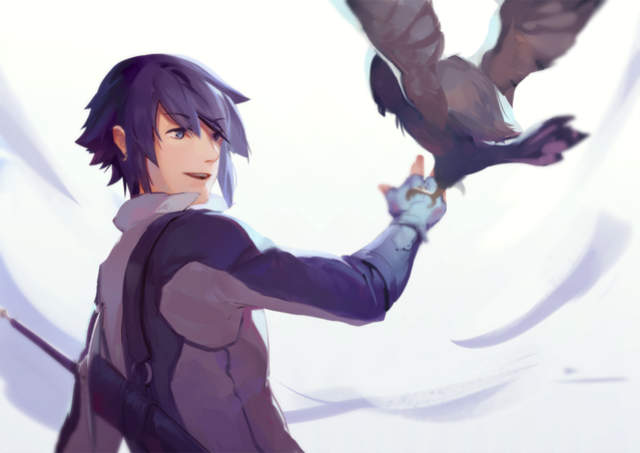 The sound of footsteps could be heard racing down a dark hallway followed by something much...
bigger
. A black writhing mass of horror with various human-like appendages protruding from its body fumbled forward, cramming its misshapen body into the hallway. Pushing against the surface of the walls it drags itself forward in search of its prey. A large portion of the mass stretches out revealing its face in the form a giant mask with rows of giant human-like teeth. It partially opens its mouth as drool begins to pour out onto the floor, clearly salivating as it swivels its head around searching.
"Where...hiding?"
It bellows in a deep, croaking voice. Hiding in one of the rooms leading into the hallway is a plus that once belonged to a young woman, silently sobbing with her back braced against the door. That creature lifts what appears to be a tentacle and extends it across the hallway before stopping in front of a door. The tentacle crashes through the door and sweeps across the insides of the room, crushing everything in contact before receding.
Unable to contain herself the woman gasps once she heard the loud crash, clutching her mouth in an attempt to stifle her own reaction.
"Found...you!"
It croaks and chuckles to itself before once again extending its tentacle. It slowly reaches towards the door the woman is pressed against. She shrieks in terror as the tentacle reels back preparing to break through the door and skewer her whole. Suddenly the sound of monstrous wailing erupts from the hallway.
"Just in the nick of time!"
Inigo yells as his sword pierces the writhing mass that is now twitching in pain. The young rookie stands proudly above the creature while clutching to the hilt of his sword, barely able to keep his balance whilst standing on top of the thing. It appears the Shinigami had broken through the roof of the hallway and impaled the creature, landing a critical blow. Appearing to have pierced its mask, Inigo sighs with relief but suddenly that sensation is shortly replaced with the immense sensation of pain as something heavy and quite large whips forward and slams into him, hurling him towards the end of the hall.
Slamming into the end of the hall in full force, he could hear bones crack as he drops to the floor, reeling. Weaponless with his sword now stuck squarely in the mask of the hollow, he attempts to scramble onto his feet only to be pierced by 8 long tentacles. He is then risen off his feet and into the air, helpless as he watches from the corner of his eye the plus sobbing uncontrollably. He attempts to reach out to her in desperation with tears of his own, mouthing the word "help" before the Jaws of the hollow come crashing down on his upper body.
Inigo's eyes slowly open to the roof of his room in the barracks. Stumbling out of bed he begins his daily routine of getting ready and meeting up with the other unseated Shinigami for assignment. With the nightmare still weighing on his conscious, he hesitates before stepping outside.
"Do... Do I really have what it takes to be a hero?"
He thinks to himself briefly before quickly changing his mood for the better.
"Of course, I do! Why worry about some stupid dream? If it were a real hollow, I would've just kicked its ass and gotten the girl."
He thinks to himself reassuringly before leaving his room. While checking his assignments he notices a letter accepting his accepting his application to Squad 7 and to rendezvous with his new captain for orientation. Wide-eyed Inigo immediately recalls having applied only days prior. Not expecting to be accepted so quickly he sprints towards the location instructed on the letter.
"FINALLY A CHANCE!!"
He yells while sprinting.
Upon arriving he notices the captain waiting just ahead and waves eagerly to get their attention. Upon noticing her turn to greet him he is immediately stricken by her beauty and fumbles before tripping head first and sliding towards her feet before letting out a painful groan,
"Inigo Olivier...reporting for duty".
__________________
Rawk

God of Love


Joined

: 2017-05-11


Posts

: 4435


Age

: 26


Location

: The beach :)

Member Info


Platinum Points

:


(16000/1)




Tiers

:
Wed Aug 29, 2018 11:17 pm

THE BLADE MAIDEN
Ah, so here he was, looking a little ragged but nothing Murasaki was too horribly concerned with. It was just nice to see him here and ready to go. And so energetic, too! That was a big plus for her, most definitely, and she maintained her smile as she looked her newest member over. He definitely had energy and heart, and that was definitely the kind of thing she liked to see in any new recruit. That showed potential!
"Inigo Olivier? Nice ta meetcha finally! I'm your Captain, Kagayaku no Murasaki! You can call me Captain Kagayaku, or Captain Murasaki, or just Captain, whichever one you like most. I'm not too picky about that, but propriety's important, so just make sure ya use the title!"
In truth, Murasaki genuinely didn't care how Inigo addressed her as long as it wasn't something rude, but as she had told him, propriety was important when it came to her position. She had promised to do her best with this position, and the last thing she would ever do was take it lightly. Though she did enjoy the idea of getting along with the members of her division, it was more important that things work well and follow all the regulations, at least for right now. Maybe eventually they could be on a closer basis, but- Oh, right, she was getting herself distracted again!
"Alright Inigo, you ready to head out then? I hope so, because we'll be gone for a while and I
did
ask for you to come ready for a trip. I'll have to deduct a few points from ya if you turn out to need to go back for something, but I've got most of the actual camping stuff here, so don't worry about anything like that."
Naturally, there was no points system in place, but Murasaki enjoyed teasing him at least slightly, especially if it turned out he actually had forgotten something. Not that she was sure there was much of anything for him to forget, since she'd brought nearly everything on her own. The only thing she could think that
he
would need to bring was his zanpakuto, and if he forgot that... Well, she wasn't sure any amount of camping trips would be able to help then.
Permissions in this forum:
You
cannot
reply to topics in this forum
Who is online?
In total there are
14
users online :: 0 Registered, 0 Hidden and 14 Guests
None
Top posting users this month
Top posting users this week