» Name Of Character:
Mitsuyo Nami
» Link To Character:
https://www.platinumhearts.net/t19216-mitsuyo-the-generation-of-light-approved-3-4
» Upgrading:
--------------------------------------------------------
- Adding the abilites that Mitsuyo gains upon donning his mask.
- Providing information about Akane as a spirit and how her progression will work as she and Mitsuyo's bond grows.
- Taking his current Shikai and having that be the effect for his Hollowfication Augment.
- Creating a new Shikai for his "base form", without donning his mask.
- Increasing sub-tier to allow usage of his shikai. (3-1+ / 2-5- preferred)
--------------------------------------------------------
________________________________________________________________
HOLLOW INFORMATION
--------------------------------------------------------
Akane, Princess of the Northern Lights
--------------------------------------------------------
Akane currently is a very slender and pale girl, only about 5 years of age at this time. When Sumire's original generational family passed on, she was tasked with find a new family that could host her power equal to, or stronger than the previous household. Unfortunately, this process took many decades before coming to Mitsuyo for help. When she was tasked with survival outside of the blade, the only means for doing so was through fighting and consuming the energy of lesser hollows, since they were the easiest creatures that she could take on that had the ability to traverse through multiple planes of existence. Over time, because of the amount of energy she consumed, it slowly formed itself into a conscious entity that would counteract Sumire's own consciousness. After the years of doing this fighting, this entity began to adopt Sumire's mechanisms and thought processes thus becoming Akane.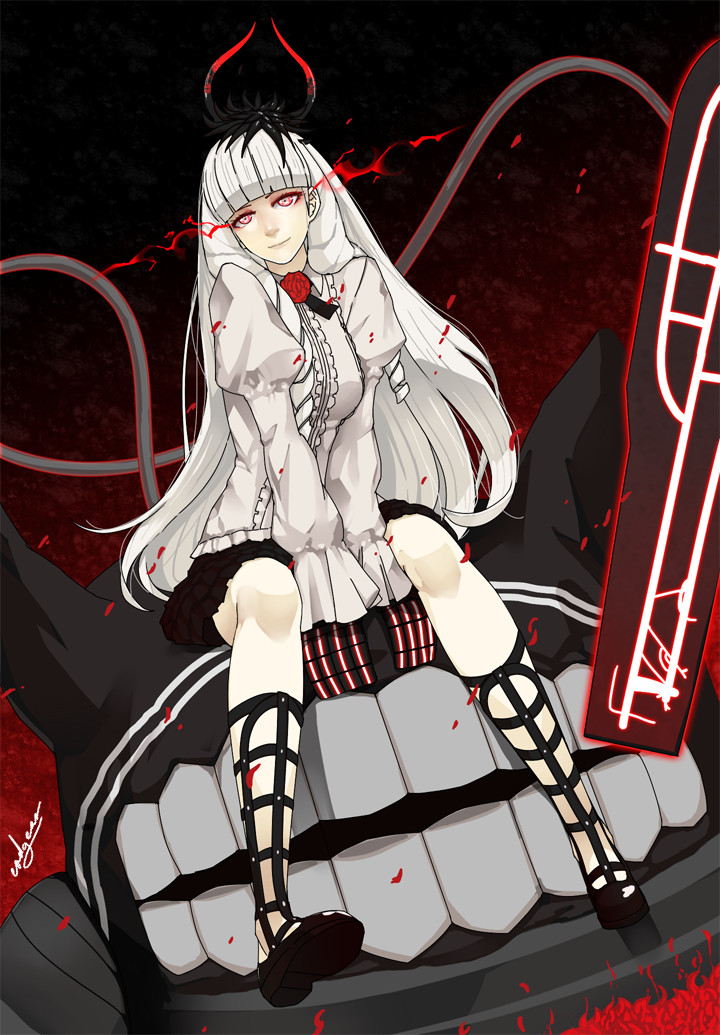 Akane At Full Strength (about 28 appearance wise)
At first Akane was the entity that Sumire kept to keep her from loosing sanity as she continued onto her journey. Although it could be argued that the creation of this new spirit was pushing her farther into insanity, since the dialogue she did have, often ended in her talking to "herself". Upon Sumire finding Mitsuyo, she ignored the existence of Akane, as she felt like there was no reason to have an imaginary friend now that a real friend was ready to wield her. This neglect, led to Akane slowly fading out of existence, since Akane was clinging onto Sumire's energy and not Mitsuyo's. As her energy began to fade, it was seen and felt, as with her shrinking in power she also began to regress in age.
As Akane Was Ignored, She Lost Her Power and Her Age (about 21 in appearance)
Although she was being pushed backwards, Akane was still very much a threat to Sumire. With Sumire finally having a new wielder and family to exist within, she did not want the experience to confuse or dishearten the new wielder. Thus, Sumire began to utilize her own energy to siphon off of Akane, turning her once beautifully transitioning world of light, into a speckled array of orbs that made her vibrant night sky, look like a horrible rendition of a star filled sky. Sumire was angered beyond belief with the destruction of her world, that she pinned on Akane, when truthfully Sumire was the one who made the world a speckled mess in the first place. Out of anger, she created a vast cluster of these orbs that she made infinitely spin in a vortex to trap Akane in place as a psuedo-light binding. And when she was bound in this way, Sumire punched a hole into Akane's chest quite literally, and placed another of her energy siphons into Akane's body directly to further reduce her as a threat to Mitsuyo.
Akane After Fixing Herself Up From The Final Blow (about 12 in appearance)
Sumire spent years working with Mitsuyo and training with him to prepare him for the endowment of herself as the zanpakuto spirit for he and future generations that would come behind him to wield. On the day the she was going to show him the true appearance of her world, having cleaned it up now that Akane was a very minuscule threat, she unintentionally flew near the area in which she previously bound Akane. Akane saw Sumire floating above her, and figured it would be a good time to show her face to say one last goodbye, before realizing that Mitsuyo was travelling with her. Although physically, her age had regressed, mentally she was still scarred by the trauma Sumire put her through, and figured the best way to regain her former strength was no longer to rely on Sumire, but rely on Mitsuyo. Luckily, Mitsuyo had a very soft spot for children and taking care of them, since his death was premature and he never had the chance to take care of his daughter in the Land of The Living. Using this weakness as a crutch, Akane ignored Sumire completely and focused her attention on being the "better spirit" to Mitsuyo, so that just as Sumire tried to forget her, Akane wanted Mitsuyo to forget about Sumire and lend all of his power to Akane.
Akane's Current Form, Suspended in Time As She Plots Her Revenge (about 5 in appearance)
________________________________________________________________
HOLLOWIFICATION TRAITS
--------------------------------------------------------
Akane's Art Project, The Mask of the Northern Lights
--------------------------------------------------------
When Mitsuyo Don's his hollow mask, to call it to him he gets on one knee and closes his eyes as the mask forms slowly over his face. Mentally, he sees Akane walk towards him and present the mask to him as an art project, thus he is kneeling down so that she can put it on his face. When he stands, throughout the battle he senses the presence of Akane, as if she were seated on his shoulders in combat. In this state, his mask forms over his face resembling the silhouette of an Angler fish. The bottom jaw is extended forward slightly showing a jagged row of spiked teeth, while the face itself has two trapezoid slits that make the mask look as though it's eyes are sunken in, creating a disturbing angry profile to it. On the forehead of the mask, there is an antenna that extends upward and dangles in front of Mitsuyo in it's center. And on this antenna, the signature glowing lure of an Angler fish is represented. By default, the lure's light will always glow a cold, yet bright white unless he is utilizing the mask within in his shikai, in which the light will shine a different color based on his abilities and also have unique properties for the color it is glowing in. When his mask is donned, in addition to the mask itself, Akane alters the tint of his clothing so that it will always be a bright white. This is to make her color/ light based power more effective as it reflects off of his clothing. Besides the unique way of donning his mask and the outfit change that he receives, Mitsuyo
gains statistical advantages in Durablity, Speed, and weapon skill, as well as the ability to utilize Cero. The increase boosts these stats generally by 1 additional tier of power (From Trained to Adept, etc.) Capping at Elite being his highest statistical increases before recieving "+" to determine his combative strength.
When he is in shikai and Don's his mask, Mitsuyo's forehead light (for lack of a better term) will change color based on the weapon Akane has chosen for him within her own augmentation of Mitsuyo's zanpakuto. (Her augmentation to his zanpakuto is what is currently written into Mitsuyo's application. The RNG weapon choice power with pain manipulation based on the color chosen.)
--------------------------------------------------------
La Linterna (Lantern):
--------------------------------------------------------
The light glows vibrantly in a 5 meter radius around his body when his mask is donned. This causes his mask as well as his outfit to have a tint that matches the shade of the beam. When an attack comes in contact with the light in the radius, it has a chance to be changed to match the color of the lantern's light. When the attack's color matches with the glow off of his light, its damage will be mitigated to an even lesser extent than what his durablity would allow.
In turn, this allows for a power of attacks to be diminished based on the statistical prowess of a skill. Upon the initial use of this technique, it's possible that he can absorb 3 levels worth of power in one ability (Experienced to Beginner), and only take that Beginner force as damage, as time progresses however that gap will change to only two levels of power, and then one level of power as the light fades. This scaling works at all power caps, meaning someone who used an Elite ability would have their attack reduced so he takes damage equal to an Experienced level attack. Master and Grandmasters will be subjected to different ruling.
This ability is passive, and only lasts for as long as he has energy to don his mask. In addition to this drawback, the distortion of the attack also takes a substantial amount of energy, to a point where at times the light will become completely dimmed out, and no longer in use, although his mask may still be active at the time.
--------------------------------------------------------
Cero De La Familia (The Family's Cero)((Mask On/ When In A Release State)):
--------------------------------------------------------
The properties of the Cero itself does not change, however to show it's increase of power, often the visual for the Cero would be him extending his hand, palm facing downward. As he does so, he may boost his spiritual pressure to project a visual representation of Akane and Sumire. With his hand palm down, a small yellow Cero forms at the tips of his fingers, while the projection of Akane creates a cero of similar size as a bright magenta color. Sumire then places her hand on top of all of their hands, creating a cyan cero of similar size. When all of their hands are overlapping one another, his hand then closes into a fist as he dispels the projection of his spirits. Although the illusion is dispelled, the Cero's are real as they hover in an equidistant triangle around his fist. When his fist closes firmly, the three Ceros begin to rotate clockwise around his hand an over time pick up speed to a point where they begin to look like a white halo over his hand. Upon the color looking white, he pulls his arm backwards as if he's reeling for a punch, and as this motion occurs, the halo forms itself into an orb the size of his entire fist. As he punches forward he fires the large Cero beam into the direction of his liking. If he's feeling extra confident in his ability, he may project Akane and Sumire around himself once more, Akane posed as if she is firing a Kamehameha Wave, and Sumire hovering beside him, holding his freehand as she mirrors his movement, but with an open palm rather than a fist. Unlike the Cero Refractado, this cero does not cloak itself and all of the visuals are truly what occurs in plain sight upon firing.(edited)
--------------------------------------------------------
Cero Refractado (Refracted Cero)((Mask On/ No Release)):
--------------------------------------------------------
This cero is purely made from Akane's childish and playful nature, often opting to make the color of the Cero become blended in with the glow of Mitsuyos' "Lantern". The cero is a cold white color without the light shining brightly on it, however if the light is shining onto the cero, it will cloak the cero making it invisible for 7 meters before slowly revealing itself. Even upon it's reveal, the cero will not look white, but rather look translucent, allowing the background to be seen through it, although it will look filmy and distorted. The untrained eye may not notice it as quickly as someone who is far more observant. Regardless, within the radius of Mitsuyo's lantern, the cero's charge up and firing will be 99% stealthed, and only those who can pick up on the increase of energy rapidly would be able to know that he is charging up this attack.
________________________________________________________________
Reworked Shikai
---------------------------------------------------------------------
Arsenal Of the Northern Lights(All Names Subject to Change):
---------------------------------------------------------------------
Upon releasing his blade, Mitsuyo gains the ability of manipulating the particles and waves of light around his body to recreate weaponry, utilize kido, alter his defenses, and enhance his mobility within combat. When he says the phrase "Illuminate" he tosses his blade into the air, having it flip repeatedly into the air, until it eventually a beam of light courses through the blade causing a vibrant flash enough to temporarily blind enemies who are not careful enough to shield their face from his release. Once the blade flashes, the sword then disperses itself into 8 small cool white orbs that circle around his body as he fights and attacks. When in his release he also gains a unique set of glasses that look reminiscent to the shades used to view an eclipse. The difference between these, is that rather than the lines being a straight across slit, the viewing holes are a wave pattern. It is said that when he is gazing through these glasses, he can actively see all particles and wavelengths of the electromagnetic light spectrum that are mostly invisible to the naked eye. Finally, on his release he gains a pair two finger gloves that he utilizes to channel his energy through as though a blade is there. This is to make the light particles that he controls easier to control when in this state. As far as the orbs of light, each of these orbs can be utilized for multiple purposes, and depending on the use of the orb they made need time to regain their shine before being re-used.
--------------------------------------------------------
Blue-Shift:
--------------------------------------------------------
General Use
Usage in combat against multiple enemies
This is a catch-up mechanic for if his opponent is out of his attack range, and not utilized often for much else other than that. This maybe used as a way to deal with multiple enemies at once, but this ability often takes too much energy to continually utilize. This ability comes in two parts. The first part of this transition, is that he has to channel his own reiastu in a spot farther out than his manipulation range to create a weapon made out of light at the location that he would like to attack towards. The second step would be focusing the reiastu around himself, and using the "string" between himself and the weapon he had recently created to swiftly travel to the new location. When he is traveling in this way, he will automatically travel at Elite speed to the new location, unless otherwise hindered.
This technique has a few drawbacks at the moment. Primarily, it would take two posts for this full on travel to take place; the first post to set the destination, and the second to actually move to said destination. Furthermore, the tether that he uses to travel between the new placement and his current placement can be interrupted to cause him to slow down. When utilizing the tether in this way, his body is treated as a light particle, in that he will not stop moving, nor with the tether be broken, but its is very possible to slow him down from reaching his destination to provide more predictability into his movements. Finally, the rate at which he can use this ability has two parts; the first being that he can only use this way of mobility once every 4 posts, and the other being that this ability would take 3 of his 8 orbs to complete; one to create the tether, one to create the weapon, and one to augment his body for the speeds that he will be traveling.
--------------------------------------------------------
Refraction:
--------------------------------------------------------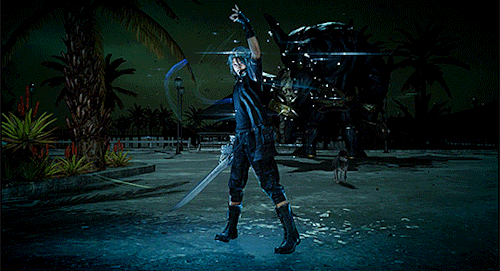 As the defensive option for Mitsuyo, this takes the active orbs that surround Mitsuyo and creates an arsenal of weapons that hover around him. The weapons themselves provide an extra amount of coverage from long ranged attacks and blasts, by utilizing the surface area of the weapons to take a majority of the force of the attack, while leaving him relatively out of harms way in the center of it all.
This ability does not make him 100% safe from all attacks, but rather takes the initial force of the attack, so that all he is left to deal with is the blowback from it slamming against whatever weapon tanked it. Depending on the strength of the attack being deflected, the weapons could be destroyed completely, putting that one orb on cooldown from attacks and defense for 3 posts. Also depending on the size of the attack, it is very possible to destroy multiple of these orbs at one time, leaving him defenseless from attacks within a certain area. As another check to this ability, regardless of how many of these weapons have not been destroyed, this ability can only stay active for a maximum of 3 posts in a row. The ability itself can be taken down and put back up by the will of Mitsuyo, however there is a 1 post cooldown from when he takes it down that must be taken into consideration before deploying the weapon shield again.
--------------------------------------------------------
Ultra Violent:
--------------------------------------------------------
The offensive option Mitsuyo has when his shikai is activated. Generally, the shikai itself makes it so that he can control light particles and make weapons from it. However, with this ability activated, he can utilize one of the orbs to create an "echo" effect with his weapon strikes. When he uses the light orb in this way, he creates a flash bang effect around his sword clashing, which fills the area with millions of particles of light in a rapid succession. With these particles he can then manipulate them to make his weapon have additional hits from any direction around the opponent. This creates a diversion as well as applies more damage to his already menacing style of attack, making his weapons that are already hard to see if not paying attention, now have a randomized attack pattern.
This is ability consumes the least energy out of all of his moves, in that this only takes 1 orb for it to active properly. However, he only has 8 to begin with, and he can only use either his attack or his defense option, and not both at the same time. Furthermore, if he uses his "Blue Shift" ability, this will guarantee that he now only has 5 of these orbs that he can use in such a way. Similar to his defensive option, the orbs themselves will regenerate fully after 3 posts have passed.
________________________________________________________________
"Green Stance" Rework


Green, The Color of Confidence

Out of all of Mitsuyo's stances, this will be the only one that utilizes thrown weapons, more specifically his cero's are now thin Shuriken like objects, and his weapon of choice are know throwing knives. In this form Akane looks up to Mitsuyo as a beacon of courage and bestows him with power to enhance his own strength and prowess. This form does not alter the pain felt by attacks like the other stances, but instead increases the potency of himself in combat. When embued with the color green, Mitsuyo gains an additional statistical boost for his weapon skill, durablity, speed, and Cero (Making him have up to two bumps of statistical increase, i.e Trained to Experienced.), but at the cost of actually making sure to hit his attacks. If his attacks miss he is stats will decrease rapidly by "-" for every strike and attack that was missed. Likewise for every attack he does hit, he will gain a "+" in every skill. This stacking will last for as long as his mask is donned. » Why:
In summary, I wanted to get more development done on Mitsuyo as a character, and developing the dynamic for the goals of this character before I continued to role-play with him. I have created a Solo post that defines the meeting of Akane (the name of his Inner Hollow), but not going into the specifics of what he can do. In fact at this moment, he believes his hollow is a second zanpakuto spirit, rather than a hollow.
The dynamic for his zanpakuto, is that Akane is the spirit "in charge" of shikai, while Sumire would be the spirit "in charge" of Bankai. Since Akane was just met, the flexiblity of this power increase can be negotiable, whether it be a weak shikai or decently strong, i would have no preference.
» Extra:
Not yet.