THE VIZARD TEMPLATE
Vizard Profile
ヴァイザード
I. Basic Information
» Name:
Colin Washi
» Titles:
Headmaster of Wasteland Campus, Eagle God, Eagle Man, Beanpole, Former Co-Commander of the Vizard Corps
» Appearance Age:
23
» True Age:
642
» Gender:
Male
» Affiliation/Rank:
Wasteland Campus
» Appearance Description:
Colin's typical 'travel' appearance, where he simply roams around, is this one where he wears a red coat at all times. His hair is stylized and pointy like normal, and he wears a set of dark orange glasses to hide his face. He also has a small earring on one ear, at the very base of his ear.
This 'travel garb' consists of a very baggy main red coat, which is comfortable for him to wear in most conditions that are not air-conditioned. Beneath it, he wears a simple t-shirt and jeans. His arms are also wrapped up in some kind of cloth, and he wears gloves around both arms. His garment also has several belts that descend from it; perhaps as a style choice, perhaps because Colin just believes they are cool. The skin of his face tends to stick out a lot more while he wears this red garment, and the facial expressions he displays are also easier to seee.
» Relaxed Appearance Description:
Colin's relaxed appearance is just that. He lets his hair out, wears the extensions that he likes, and generally seems more at peace. Unfortunately, his beautiful golden eyes tend to be closed while he is relaxed, if he is not wearing his glasses. He tends to wear a t-shirt and jeans in this relaxed state as well, and does not spike up his hair like normal.
» Appearance Picture: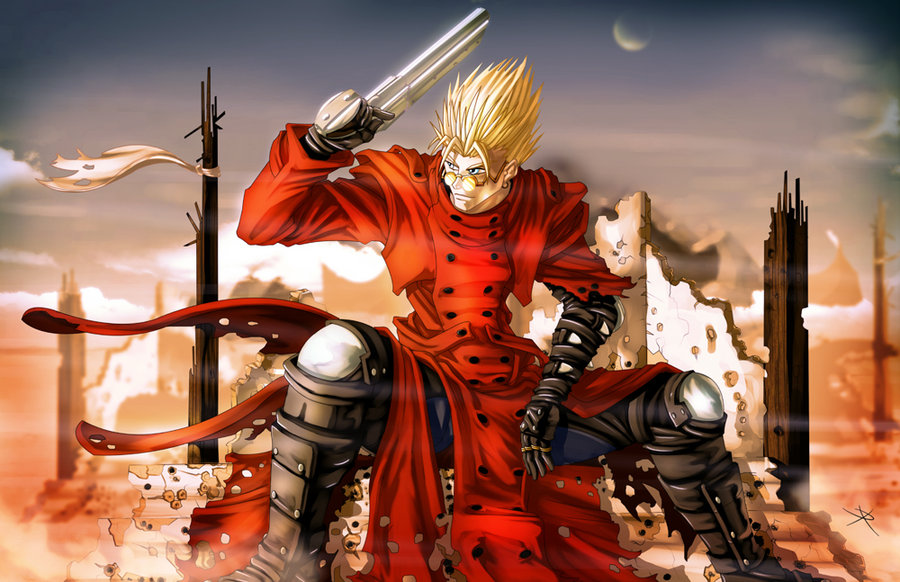 » Relaxed Appearance Picture:
I. Personality
» Personality:
Relaxed
Colin often comes off as an individual who does not have much stressing him at any given time. He often has a warm smile on his face, or a relaxed expression. He does not give in easily to his emotions, at least on the outside. On the outside, at least, he seems completely calm - even if he should likely be freaking out. An example of this is when he was told by Ulv that Mirja had died; instead of freaking out or losing his cool, he simply fell down into a sitting position against a wall, gently processing the dire information that he had been given.
Patient
Colin knows how to wait for what he wants. He is not afraid of playing the long game; and this contributes to both his social presence and combat. He is extremely fast, yes, but he is not typically reckless once he knows what he wants. He is willing to work to get whatever it is that he would like to have, whether that's saving up money or waiting for an opponent to come within melee range after dodging all of their previous attacks. There is no greater example of this trait than Colin's love for fishing; he can sit down with a beer and good friends for hours and hours on end, even if he does not catch anything. He does enjoy the rush of a good catch, though.
Positive
It is seemingly impossible to stop Colin's cheer. Even when he is ill or sick or in pain, he will grin and bear it, or do his best not to let it come out for other people to see. He does not like the idea of other people worrying about him; so he often wears a smile even if he should not. Even if he feels alone or abandoned, he will continue to keep his upbeat attitude.
Sensitive
While Colin might put on a relaxed, positive face most of the time, he can also be rather anxious. He does not like having his beliefs or the work of his hands attacked. He may slowly cut someone out of his life if they repeatedly offend something he sincerely cares about. He also tends to be able to empathize with others; his former rivalry with Stefan Soan shows how he could try to understand a man who was his enemy. As a result of this, Colin is also rather hesitant in whether or not he wants to offend another; unless he feels quite comfortable with the other person, he will keep most derogatory comments to himself.
A Bit Apathetic
While Colin is sensitive, he also has proven that he can be an effective leader. This is due to his ability to be fairly apathetic toward non-vital situations and other people in general. He puts on a relaxed, comfortable face with them, but if he does not feel comfortable with them or know them well, he will not take much of what they say to heart. Or at least, he will not let his opinion of them show on the outside. It is possible for him to bring it up with the people that he does trust later on; he finds comfort in being able to talk about his grievances, or rather how he put up with the irritating factor, after the fact.
Similarly, toward non-critical situations, Colin will deal with them at his own pace. He does not like to be rushed into things, but he is absolutely used to rising up to a challenge when it is required. He lets very little get under his skin; however, when he is put into a corner by someone or something or something seems off to him, he will be loud and vocal in addressing it.
Interested in Education
Colin is interested in education. He loves looking at people taking apart and putting back together engines of different kinds. He likes learning about his passions, and he also enjoys teaching others. Nothing makes him happier than when he can sit down with someone and show off his know how. Due to the nature of the life he now leads, this has also turned into an interest of training what he considers the 'next generation'. In a lot of ways, he feels that he has atrophied somewhat; he reached the pinnacle of his organization at the time, and after that felt himself become picked at by the day to day, over and over again. It is because of this more than anything else that he did not take up a position with the Lux Orior; once his obligation with the Vizard Corps was finished, he went on a journey to discover what else he would do with his life. Something beyond managing other people in the day to day.
Foresight
Colin's mental abilities have always been keen. He is a loyal individual who looks at the world how it truly is; his sharp eyes have kept him alive in combat numerous times over. His battle experience, combined with his day to day life, has helped hone his sense of foresight considerably. For a person who can process information and react as fast as he can, predicting what the next step of a situation will be is absolutely critical. It's even possible to see this trait in his past-time; after all, Fishing is a waiting game where you expect to eventually catch a fish, and by responding at the right time the quarry is easier to snare.
Self-sacrificing
Colin has a bit of a tendency to present himself as the solution to the problems of others. This can lead to him wearing himself out if he is not careful. It also can lead him to ignoring other possible solutions that may be better. In a way, this is a byproduct of his own abilities; because he can move so fast, he is usually able to be in multiple places at a time, or juggling multiple scenarios at once. However, even he cannot do everything forever; when his Hollow caused for him to become sick, it was because Colin's attention was split in every direction except for toward himself. While Colin may be good at planning for his future, he is less effective at viewing himself as a living, breathing person, and views his body as more like a tool that he uses to perform various tasks.
Experienced
Colin has years of high level combat experience behind him. This leads him to be a bit arrogant in his own mind, even if he does not show it outwardly to others. He tries not to let his experience take him in over his head; but he does use it as a gauge for when things have become too dangerous. In some ways, this trait can make Colin appear haughty to others, especially when combined with how relaxed he is most of the time.
Reckless when Unobserved
When people are not looking at him, or he does not feel like he is being watched, Colin behaves a bit differently. He is a bit more reckless, willing to throw himself at whatever the problem is. This passion and gusto is something that most people who interact with him do not see unless he is working with something he loves. This trait can most easily be seen in the way that he trains; when Colin was working on the theory for Rapido Avaces, he repeatedly slammed himself into a cliff, over and over again, trying to make it work.
Taste and Distaste for Fighting
Colin does enjoy fighting. He enjoys the rush of battle, of sparring. It gets his blood pumping to have a challenge, to feel himself pushed against another or seeing them struggling against him. He also enjoys teaching someone else through fighting them, seeing them grow over time.
However, as time has passed, Colin has found that fighting does not give him the same rush that it used to. He neglects the rigorous training he used to give himself, but he could not give up on it completely. He has not lost his power, or how it feels when he does use it; but recently, he has become a bit sick of the constant power struggle between the forces of light and dark in his universe. He feels obligated to fight, more than anything else, and that kills the passion for him. The crux of this happened during his battle with Mana, where he had to fight a demon that he was certain could slay him, only for her to toy with him in various ways. That situation upset him immensely.
Family Man
Colin sincerely cares about his family. He loves his brothers, and he cared deeply for his parents. He would love to have a spouse, but due to his withdrawn nature from most people, he finds it difficult to try to start relationships most of the time. He truly wishes that Nathan was not tortured how he is, and that Justin would be able to one day come home. But he understands that there is essentially nothing he himself can do for them; and believes that they are the ones who need to work through their own business. All he can do, therefore, is be around for them if they do ever come calling for him.
When it comes to his nephew Len, however, Colin is a bit nicer. Ever since discovering the orphaned child, Colin has gone out of his way to improve the young man's life. He helped him get his job with the predecessor to the Lux Orior, and he also helped arm him against the dangers that he would inevitably face. He was not a helicopter guardian for the boy, however. While it hurt Colin to hear about each loss he suffered, he knew that it would be valuable experience that the boy would be able to someday use.
Fisherman
Colin just really loves to fish. He loves the quiet of nature, the relaxing nature of leaning back with a pole. He loves the surprise of the pole actually catching on a fish, and tugging on it until the catch is yanked out of the water. He loves being able to just relax with friends, chatting about life or whatever is on his mind between catches. He loves having a cold drink to sip on while he basks in the noonday sun, just breathing in and out on the cool ground.
» Likes:
His nephew Len, his brothers Alex and Brian, his friend Ulv, training, fishing, working with cars.
» Dislikes:
His brothers Nathan and Justin, the Monsuta, Stefan Soan for the destructive path he has taken, being inactive, thinking about the past.
I. History
» History:
Background: As a human, Colin spent most of his days inside, playing games. However, he also loved the outdoors, every part of it. He would go fishing for hours, enjoying the sunlight and getting a farmer's tan. He preferred to take vacations in the north, where as a kid he had gone every year with his family. He loved his family, although it was a bit crazy with his 3 older brothers.
When Colin was 15, he decided to do something he had never done before. He decided to go rappelling. Colin hated heights his entire life, and being on that cliff paralyzed him. When it was finally his turn, he got on the rope and was down about 5 feet off the cliff face when he looked down. The sight made him panic. He began thrashing in his harness, but his belayer wasn't paying attention. His rope slid out from his eight-ring, and he fell. His spine broke instantly as he hit the ground, and he died on contact.
Colin haunted his family for a while. After about a year, a shinigami finally found him. This shinigami told him about soul society, and Colin agreed to go. When he arrived, he saw that life was going to be pretty difficult. He joined a family who had many sons, as Colin was used to that. After about 100 years, he finally passed the Shino Academy entrance exam, and began his training. Colin's favorite areas were his Kidō and the flash step, which he practiced tirelessly.
About 200 years after he had joined a squad, he was sent on a mission. On that mission, he met a demon and a hollow. That demon was a scientist who knocked out Colin, then used an experimental seal to place the hollow inside of him. When Colin awoke, the demon and the hollow were gone, so Colin returned to the soul society. However, he began having nightmares that scared the crap out of him. And then, one night, about 3 months after the incident, Colin faced his hollow.
He was doing routine training when it happened. Colin was in his zanpakto's inner world, and suddenly he had felt an unnatural chill in the mountains. What appeared was the hollow, trying to take his body. After the ensuing battle, Colin was badly injured and played possum. As soon as the hollow let down it's guard, Colin went for one last attack with his remaining strength. It was just enough to finish the hollow, but it left him the words: "This isn't over…"
Colin had to flee the Soul Society after that, and began roaming the human world, learning about his powers at his own pace. He took up fishing again to clear his mind and keep his hollow under control. He may join the vizard corps, but only if things got boring for him. Or, he may just kill hollows at his own pace, as he won't let anything happen to the outdoors and the people he treasure's so much. Either way, this is his story…
Colin proceeded to join up with the Vizard Corps, and spent a lot of his time training to develop his powers. Along the way, he served under Ravanna in their stealth division, gaining in rank and skill enough to become his lieutenant. Around this time, he first battled with Stefan Soan, and the result of their battle became well known in Minatumi Harbor, with Colin being delivered the loss.
Over the course of many battles and training, including defending the Atarashii from invading K-World forces, Colin eventually battled his rival once again. This time, it was Colin who emerged victorious, delivering Stefan a defeat. It was also around this time that Colin developed his bankai, and around this time he had already begun to forge better relations with his inner hollow.
Not long after, Colin rose to the rank of being the Co-Head of the Vizard Corps. It was around this time that he developed his Ressercion as well, the results of his training displaying how potent his level of power was. It was around this time that the Vizard War of the Wastelands was fought, with multiple members of the Vizard Corps coming together in one place to fight Shadowfall and Monsuta aligned forces.
After this battle, Colin returned to his new position as Co-Head. Not long after this, he discovered Len Washi existed; the reckless child had gone up against Shadin himself, and been soundly stomped for his arrogance. It was not long after that Colin went to meet the boy himself. It took some doing, but eventually Colin discovered that he was the child of Alexander, his second eldest brother. So it was that Colin became something of a father figure to the young Len; trying to watch out for him when he could, and trying to get him work as the young man discovered his abilities.
Some more time passed, and Colin managed to complete the theory work on his latest invention: Rapido Avaces. Eventually, he would go up against Mana Asthavon within Madnise City, having been unable to defeat her but also managing to escape with his life. It was around this time that he realized something rather significant; if his speed could be stolen from him, he had little recourses left. So Colin decided that he would double down upon it; developing his Rapido Avaces even further, training in the Wastelands for months at a time. When at last he emerged once again, he had managed to finally achieve mastery of his craft, represented by 'Rumble Avaces'. This was the pinnacle of his mastery over the energy manipulation that made up Rapido Avaces.
Around this time, the relationship he had with the plant-sorcery based Sugiura Marama came to an end.
But, despite his success in creating Rumble Avaces, he no longer felt the same about combat. He no longer felt the same rush when going up against a new opponent, and in a way that made him… sad. He felt that he had reached a level of power where he could no longer test himself without needing to cause an international incident. For Colin, this was a problem that he could not really solve. So… in many ways, he began to allow his skills to deteriorate, sharpening them less and just trying to maintain them.
Ultimately, this would cause problems with his Inner Hollow. It had grown accustomed to the constant wars and battles that Colin went through; and without him being energized enough to use it, the hollow's energy backwashed through its owner's body. Colin became incredibly sick, stumbling through the streets until he ultimately ran into a woman known as Mirja. Mirja was someone who - after breaking his damn wrist with a cool kick - encouraged him to try letting it out, to let out the poisonous influence his hollow was now pumping through his veins. So Colin did.
After this event, Colin resolved to find a way to stop this from happening again. So he went back to the Wastelands, trying to find a way for himself to utilize his Rapido Avaces intelligently. Ultimately, his pools of energy would not deteriorate with time; if he could just find a way to ensure his body remained as sharp as it was at its prime, then he would not need to worry about maintaining itself.
Ultimately, he found a way that worked. But it came at a cost; Colin's eyes were badly damaged, and his body sometimes feels stunted when he is not within one of his release states.
Not long afterward, the Lux Orior proper was formed. As of now, Colin has not yet made known his public stance on how he wishes to work with the organization. When asked, Colin simply replied 'If we're doing this for the future, then I'll find my own way to contribute.'
I. Natural Abilities
» Natural Abilities:
Impact Durability: During his training, he became REPEATEDLY slammed with large objects, both with explosions and with just FALLING onto rocks. Forcefully. This has made his natural body more resistant to impact damage in general, so something like being punched through a building wouldn't affect him as much. Colin's overall durability, however, is not that impressive for someone of his general energy and skill level. He is able to take a decent number of hits, yes, but he much prefers to dodge and evade incoming attacks, using his observations, foresight, and instincts to utilize his speed and make it so that he does not have to take hits in the first place.
Near-Peerless Natural Speed
Colin and his speed are well known. Moving at high speeds, using shunpo and his own body's movement, all of these things are easy as pie for the Eagle God. For a further discussion of how he utilizes and weaponizes his speed, look no further than his development of Rapido Avaces. There are very few people who can keep up with the Eagle God in terms of raw speed, and he is more than used to people trying to.
Marksman
Colin is a master marksman, both with the use of his energy with Cero and Bala and his rifle/pistol. He can hit a target under the most stressful of circumstances with little thought; he is also able to take in multiple factors into consideration when performing these attacks, using his foresight to have a general idea of what he needs to do to make his attacks hit. This level of skill was developed along with his speed, and combining the two can make for a devastating amount of targeted damage.
Reactions
Colin's level of reactions are of a legendary quality. It is extremely, extremely difficult for someone or something to get the drop on him. He is aware of everything around his body essentially at all times; this is, more than anything else, what has contributed to the damage his eyesight has suffered up to this point. His combination of Rapido Avaces and his reactions make it difficult to land a solid hit on the man, and can lead to a frustrating experience overall if he does not desire to be hit.
Swordsmanship
Colin is a master swordsman. He is used to dealing with opponents in close quarters combat, and is extremely confident in his use of a blade. His swordsmanship is a tad uncommon, however, in that he has trained himself to be a master of his Featherblades, which operate quite differently from a normal sword. Colin is also aware of how to use the unique property of his blade and feathers to his advantage, and is comfortable wielding one, two, or even more swords.
Inability to Deteriorate in Skill
Because of the power of his Rapido Avaces, Colin is able to forcibly choose how effective his body is in combat. What this means is that Colin is still able to call upon the same level of skill and power despite not training at all, or much less than before, when he was at the peak of his skill. His apathy toward his training was developed in this way; once he had figured out how to keep himself balanced with his abilities in this manner, he became convinced that there was no downside like he was feeling before, when his Inner Hollow was making him ill. However, that is not to say that this does not have any ill effects.
Damaged Optic Nerve
While Colin is not using at least the power of his Shikai and Mask together, or his Bankai, or Rumble Mode, his eyes are not able to properly keep up with his surroundings. The optic nerve itself is bizarrely damaged in such a way that acts like a 'limiter' of sorts. While Colin is not releasing enough power, or rather, is not manipulating a significant amount of power within his body, this damaging limiter is placed on his eye socket. For Colin, this is simply a fact of life that he has come to accept. The glasses that he wears allows for him to use his eyes mostly normally, but there are times where his eyesight worsens, particularly when he is feeling stressed, and this causes the entire world to blur in front of him as though he has an astigmatism. If he actually loses his glasses, his eyes will appear to rapidly dash back and forth from the Rapido Avaces within him, much faster than human eyes should typically be able to.
Battle Experience
Colin has copious amounts of battle experience. He has gone toe to toe with such figures as Stefan Soan and Mana, among a host of others. He has a large amount of battle experience, fighting in both cramped and open areas. This level of battle experience contributes to his reflexes and gives him a bit of an 'instinct' on what an enemy might do during a battle. Of course, this level of experience does not make him psychic, and the best way to land a proper hit on Colin is to cause his foresight to be incorrect before he has time to adjust. Due to the way he fights, Colin depends strongly on this battle experience to keep him safe from harm, and therefore has developed it much more than his natural defenses.
I. Racial Abilities
» Racial Abilities:
General Vizard Ability Access
Due to the union of his Inner Hollow, Zanpakuto Spirit, and himself, Colin is able to utilize most of his Inner Hollow's mask abilities to a weaker extent while he is not wearing it. This means that the benefits and bonuses of his Inner Hollow are passively available to him. He can use bala and cero, as well as garganta, without needing to don his mask or enter into his Ressercion.
Cero/Bala
Colin is highly skilled in the use of his cero and bala. While he has not dedicated time toward customizing them an extreme amount, his Cero and Bala do have a unique effect on them; when they come into contact with a target, they do not typically 'explode' unless Colin wishes them to. Rather, they 'cut' along their edges, severing and slashing at whatever they impact into. This can be difficult to understand when a target is hit point-blank; when this happens, the energy thins itself out, becoming shaped like a blade as it runs off of the target and uses the edges of itself to cut into them. This also means that Colin tends to not release all of his energy in an explosive manner; rather, he shoots of targeted beams or several shots of his Cero.
Customized Pistol
Colin can carry a special pistol. This pistol is something that he is able to craft out of his energy, and while it does not take much energy to do, he does not appear to be able to create more than one at a time. He typically creates this weapon in the shape of a revolver with six shots. This construct is actually created from a combination of his own energy, his hollow's, and a special configuration that has been made to his Cybermind. For most people, this would be a simple piece of equipment, but for Colin it is far more than that.
Due to the connection with his Cybermind, the Pistol is able to 'correct' for Colin's bad eyesight. While Colin is looking down the barrel of the gun, he is able to clearly see his target, which allows for him to interact with the world around him and defend himself to some degree when he does not have one of his release states active.
Now, as for what the Pistol actually does. Colin's pistol is able to fire off Bala and Cero, for the most part. The Bala it shoots can have Colin's special cutting trait added to them, or behave like solid bullets, and the only way he is able to manipulate the energy released by the pistol after it has been shot is by applying his Rapido Avaces to it to curve or otherwise move the shot. While Colin has never fired off enough at once to be able to reach his theoretical limit, the weapon itself would shatter if he attempted to shoot more than two hundred of the small energy attacks at a time, literally slicing itself into pieces from trying to contain the 'sharp' energy.
Perhaps the most important thing to note about this pistol is its raw range; Colin is easily able to fire at multiple targets throughout the radius of a city with this weapon, his Cybermind's enhanced targeting allowing for him to make incredibly accurate shots with it. However, if he is using the pistol at this type of distance, he has to focus himself to the point where he cannot loose more than six shots at a time. He must manually reload the chamber of the gun after each set of shots, replenishing the energy within his weapon. These shots also tire him significantly more than his traditional ones; it would burn him out for a post if he were to fire more than 5 clips within a single post with this weapon.
Wind Manipulation
This manipulation of wind is a cross section of influences from Colin himself as well as his two spirits. He is a master of using the wind, effortlessly able to dash about along its breezes, producing gusts or even blades of wind to rend into his opponents or himself. This level of manipulation rises rapidly as his general level of energy at his disposal does, but even while standing completely still Colin is able to gather up enough wind to produce a miniature hurricane near his body.
Perhaps the most dangerous demonstration of this ability is that Colin can draw a significant amount of wind into his own hands within a matter of moments, shaping the air and then blasting it outward hard enough to dent steel. Naturally, that steel would have to be relatively close to himself; wind as an element is not that destructive in such small quantities. However, Colin's damaged eyesight in his sealed state can make this difficult to properly accomplish, meaning that he is more likely to use less damaging but more wide-area wind-based attacks.
I. Rapido Avaces
» Rapido Avaces (Quick Bird):
This is a natural speed-altering ability of Colin's, although depending on the form he is in, he has more energy to use in it, allowing him to use it more effectively. His wind energy runs through his limbs, or any other body part, manipulating the muscle as well as the blood flow around that body part. By the movement, he is able to vastly increase the speed of the effected limb, increasing its general speed and moving faster until the energy he is placing into it is decreased. In sealed while using this, he could throw a punch that easily reaches 500 mph as it shoots outwards, although it wouldn't be as accurate as when in other forms where he has more control over his energy and his speed.
In sealed, however, it does take a moderate amount of energy to maintain, so he couldn't just keep spamming it for 2 posts with a Gatling Gun of punches in sealed. However, because it only affects one part of his body, he can achieve higher speeds due to the fact he isn't manipulating his entire body. He CAN manipulate his entire body with this technique, but doing so only increases his body's overall speed by about 40%, so he doesn't use it all that much. It doesn't take much to place the energy into different limbs/parts of his body, but doing so isn't instantaneous. For example, he could dodge a moderate attack by placing the energy in the muscles in his neck and throwing his head to the right to dodge a spear flying straight at it. Or, in shikai, for example, he could bend his head, place energy into his elbow to bend the arm up, grab the spear, push a bit more energy into his legs, flip around and throw the spear back at the opponent in one fell swoop.
When it gets to Resserecion, he cannot use Rapido Avaces on his sword or his wings or feathers, as they are controlled by his zanpaktou or his hollow. Basically, he can only affect his body parts, so when he runs out of energy, he can no longer use it. However, should he put too much energy into one body part to increase its speed too much, he can accidentally burn out that part for a post, making himself unable to fill it with his energy again.
» First Technique: Feather Marble/RA Bomb:
This is a quite simple technique that Colin has developed, but one that can also have devastating effects on what it makes contact with. In appearance, it takes the form of either a green, very light blue, or dark blue, depending on what energy Colin is using for it. If he is using his zanpaktou's energy, it turns the same shade of green as his feathers. If he is using the wind around him, it takes on the very light blue hue. If he uses his hollows energy/cero-energy, it takes on a dark blue shape. It will normally start out the size of a large baseball in Colin's hand, but from there, can change in a number of ways.
» How it forms:
The ability of Rapido Avaces is to transform Colin's energy into raw speed for the limb where the energy is located at. This means that he can even increase the speed of his hands and fingers as well, even for delicate precision. Now, after he has selected the source of energy from which he is going to make the Sphere, his hand(s) that he is using begins to give off a faint aura of that color. Then, he floods the energy that he is using into the hand lined with the same energy, preventing it from damaging him as the energy over the hand acts as a shield. From here, he places energy into his hand, using Rapido Avaces, greatly increasing the speed of his hands. From there, he uses his own control over the energy and his high perception level due to his cyber-eyes, knocking around the energy.
It may seem like chaos; but, in reality, he is perfectly balancing the forces, moving them around at such a speed that they begin to balance themselves out, becoming the sphere of energy that he holds in his hand. This, however, is only the appearance. In reality, the forces are just so balanced within that space that they are flowing around themselves, and only react when their shell is broken. However, the level of energy he is able to insert in them varies greatly, depending on what source he is using and his own state. For the Green sphere of his Zanpakto, it doesn't have much energy in it in sealed. In Shikai it is able to hold a moderate amount of energy, and in Bankai it is able to contain a reasonably large amount. For his hollow's energy, while he has it sealed away, it is fairly weak, but possible, to create a Feather Marble from its energy. It creates a fairly decent Feather Marble when the mask is drawn, and is able to reach its maximum amount of "pure" Feather Marble (Will go into farther down). For his wind, it has the benefit of being able to create anywhere from a small to a very large Feather Marble, but it depends on how much time that Colin has to prepare for it, as it has the longest amount of time needed to charge to create the attack.
Effects:
Once the Feather Marble has finished being creative, it can take several paths.
» Melee Path:
In this form of the attack, Colin strikes with the Feather Marble, pushing it onto an opponent. It explodes outwards from his palm in a large sphere encircling the opponent, the energy trying to keep its balance as it begins entering into chaos. As it does so, it will either slice the opponent with the wind, feeling like swords constantly moving across the body, or burn them with the energy of Colin's zanpakto or hollow, similar to being in pool when a warm current goes by. However, there is no water, and it is an EXTREMELY warm current. The radius and strength of the attack are determined by the amount of energy within the Feather Marble. The greatest advantage of this attack is that it cannot simply be dodged by moving out of the way, as it is a melee attack.
» Speed Path:
In this path, Colin simply throws the Feather Marble. However, this is no normal toss. He pushes his hand forwards, manipulating the forces within the Feather Marble to shoot it forwards at a rapid pace. There are then two things that it will do from there. One, if it hits a surface and its field is shattered, it will break apart and have the same effect as making contact in Melee form. Two, Colin can time a certain wave of energy within the Feather Marble, making it detonate at an approximated point all around like in Melee form, trying to catch in the enemy and do damage.
» Force Path:
Colin can attempt to overcharge the Feather Marble, causing it to swell up immensely in size. This makes it so that it acts like when it explodes, but being held in Colin's hand and constantly getting larger, but at a moderate pace. While this has great power, it also has great disadvantages. Because of its sheer size, it takes quite a lot of energy to create and focus to maintain, more than normal. It is also quite slow, due to its mass. However, should it actually be broken by a force and explode, it will take out a good sized radius all around it, including Colin. That's why it is quite dangerous to use. It can also, technically, be thrown from the sky onto the ground, gravity affecting it and speeding it up as it hits, creating a large explosion of either cutting or burning, depending on its energy.
» "Mix":
Colin can also attempt to try and combine his available energies. He can fuse them with Zanpakto+Wind, Zanpakto+Hollow, or Hollow+Wind. For Zanpakto and Hollow being added with wind, there is a 50 percent chance of success. When this is used properly, it makes the attack more potent, making it feel like burning blades are constantly being pushed on the opponent in the explosion. However, for Zanpakto+Hollow, there is only a 30 percent chance of success. This is due to the opposing natures of his Zanpakto and Hollow, and they will only mix if Colin forces them to. When he mixes Zanpakto and Hollow together, the explosion size and the rate at which it enlarges exponentially; between 2 and 3 hundred percent higher than it was before. If he places all his energy while in joint Ress and Bankai, the mass of power would be large enough to destroy many city blocks.
» Second Technique: Breaking Point
Forming a very small RA Bomb on the tip of his finger, he then wraps energy around it, maintaining it in that shape until it hits a solid object. When it does, it will do one of two things. Firstly, it will mess with how that object was created, its very "Structure." For example, if he stabbed his finger into a boulder, it would crack everywhere, shattering and exploding outwards from where he had impacted, hitting its "Breaking Point." However, if it hits something that has special energy of its own, unnatural energy, then it will merely act like a miniature RA Bomb, exploding a very small amount. It takes very little energy to perform but quite a bit of focus to find the breaking point.
» Cooperation:
During his training, his spirits also came together. No longer does he need to force them to do anything, as they now work together, despite their differences. They have, for a better word, "Sync'd." So, they are able to communicate at will, as well as discuss and advise him freely, both of them desiring Colin's best interests.
» Master Rapido Avaces Control:
His Rapido Avaces skills have reached what appears to be a pinnacle: he is able to manipulate it effortlessly, as well as it generally working at peak efficiency, under all but the most extremely stressful circumstances, making him an master-level user of Rapido Avaces.
» Master of Rapido Avaces:
At this point, Colin's skill with Rapido Avaces would be difficult for even one of his students to parallel. The number of techniques he has managed to develop all on his own, the level of intensity which he can manipulate his energy, and especially the demonstration of Rumble Mode all display how far Colin has come in his development of the technique. It is his Magnum Opus in several ways; and while Colin would like to eventually be surpassed in his ability of it, it seems that he will have to wait for another day to have that happen.
I. Rumble Mode
» Rumble Avaces Appearance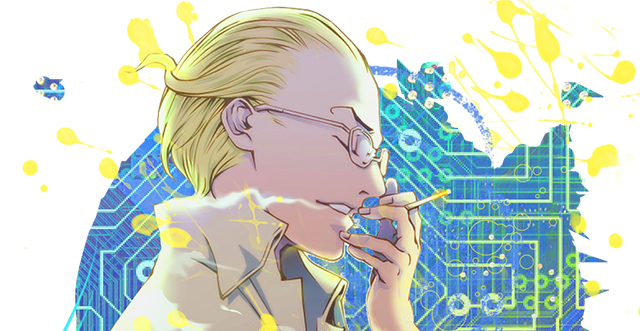 Now, this is a form that can ONLY be activated by use of Rumble Avaces, the energy around Colin which allows him to slow down or speed up his target. Essentially, this effect occurs when Colin has dragged in more wind energy then his body is supposed to be able to maintain, overloading his body from the massive amount of energy. This massive collection of energy begins to affect his body, and changes his basic appearance.
His hair shortens, the tips of it cut and made extremely thin, and changes to the Green color of his energy like when he enters bankai. His clothing is shredded and formed into a thin cloak that covers his torso, in addition to his pants becoming relaxed like pajamas. For such a form, his energy output is a grand total of… zero. This form gives out no energy, or battle prowess, or ANYTHING.
» Rumble Avaces Abilities
Basically, Rumble Mode is when Colin begins to truly draw in the outside power of his environment and send it into one thing. That's what it truly comes down to, although the specifics are a bit more picky then that general area. For example, he can only use momentum or wind-based attacks as fuel for this technique.
Essentially, this technique allows Colin to manipulate the momentum of things surrounding him. Everything within his spiritual pressure, whether it's a person, a thing, or even a process, he can speed it up using this ability. Now how exactly does this work?
Well, in the time that Colin has used Rapido Avaces, he has come to the understanding of how the very concept of momentum works, this concept that has been a part of his life more then anything else. This might also be called his Concept Control. His mind has become able to simultaneously read the momentum and basic speeds of everything in a two hundred radius around himself, a full control around his body that he watches at all times.
However, now, Colin is able to apply the fact of Rapido Avaces to other things. He calls this the Rumble Mode of Rapido Avaces, because it allows for a variety of things. It has two modes, one mode for slowing and another for acceleration, which he can alternate between at any time he desires.
When he is accelerating, his target begins to move wherever their current momentum at a variable speed faster, a speed which Colin is able to determine. This can have a variety of affects, whether it results in them over shooting, or possibly accidentally slamming into something, or otherwise throw them in a way that they aren't expecting. The energy for this is provided by Colin himself, who runs his energy around the opponent in the direction that they are currently going. His energy flows around their body, causing them to move faster and accelerate beyond their normal speed. This principle can also be applied to objects and attacks as well, essentially anything which uses speed as a determinant.
When he is decelerating, the way the technique is quite different. The acceleration has to go somewhere, and where it goes is into Colin's body. Basically, his energy goes around the target just like when accelerating it; however, in this case, his energy begins to move backwards, causing the target to slow down exponentially. Resisting it can be very difficult, although Colin cannot bring the opponent down to a full stop. This is because of the fact that the movement requires some motion, meaning that without motion it cannot gain anything.
However, the force that it resists has to go somewhere, as generally it causes a massive amount of wind. When this happens, the very air itself around the target slows it down, but the wind has to go somewhere as it follows the path of the energy. So, where it goes is normally into Colin's feet. It can go into other parts of his body, but his feet are his favorite place for the wind to go, because of his highly durable boots.
Now, what exactly does this ability DO? Put simply, it makes the target slow down or speed up, the same linear way they were before, and just cause their acceleration to be decreased. This effect can easily be resisted by the thing going faster or attempting to dispel the energy around it, but this in itself is also very difficult. The energy is meant to make things grow faster, meaning that it will only make attempts to dispel it increase or decrease in its own speed, unable to touch the force that is causing the acceleration or deceleration that they are being influenced by.
Lack of Energy
In this form, Colin completely loses all of his passive energy, meaning that to anything which detects energy he registers as completely zero. However, this is truly because all of his energy has changed, becoming Rumble energy. Rumble energy cannot be simply detected, as the purpose of rumble energy is not to passively exist. This means that while Colin seems to have no energy whatsoever, because of what he has activated he truly has access to far more energy than normal. Rumble energy has to have this property so that Colin can still use his absorption abilities with Rumble Avaces ,which allows him to still draw in energy, and use it for any process that he desires.
Rumble Wave
Whoever, there is also another new things that Colin can do when he activates his Rumble Mode, and that is the Rumble Wave. Basically, this turns Colin's energy into a disruptive wave, which shoots out in front of it, activating all of its properties on anything that it touches. Basically, what Rumble energy does is dispel. Just like it dispels itself to make it possible for him to carry all of his energy within him, it can be used on things outside of himself.
Whenever his energy makes contact with a foreign object, it disperse things. First off, it dispels the realm which it has the absolute greatest amount of effect on; speed. This energy causes momentum that it touches when manipulated by Colin in this way to be completely dispelled, making it so that object loses ALL of its momentum. It can no longer move at all.
Then, the attack begins to disperse the second thing as its priority; anything which alters time and space. Essentially, it blows a restoring wind on any changes to reality, time itself, and space that it touches, restoring the thing touched to how it was deemed to be originally. This means that Colin can restore things that were altered beyond logical sense or restore things to how they should be as is deemed by reality and existence itself. This also means that Rumble energy is immune to changes in existence because of its own traits, and that his attacks made out of Rumble energy can't be altered in this way. However, this priority when used on other things is not very effective, meaning that it can fail a good amount of the time.
The third property, however, is rather strong. This is the property that clears away foreign intervention within the area of space and time itself. This means that it can blow away things like demon magic, soul sorcery, sugiuran magic and Kidō by coming into contact with it. These things are dispelled in its wake, and will often blow away physical objects as well and send them flying away. This trait also gives one single benefit to Colin; the Fact of No Caging.
Fact of No Caging
This is the true ability of Rumble form that Colin uses. Basically, when he has arrived into Rumble form, it becomes impossible for him to be caged. The definition of "caged" refers ONLY to Colin himself, and doesn't apply to damages made to himself or natural damage that is done to him which makes him unable to move. However, it DOES make it so that things such as limiting his senses, simply do not effect him. This also includes things like trying to slow him down, or seal him in a box. If he is no longer able to move within a space, then he will move through it, no matter what that thing is. This is because of Colin's conceptual being as an Eagle, of freedom; he cannot be caged in and that desire has spread to the Rumble energy that makes up his form.
This ability also applies to things which try to slow down Colin's attacks that he fuels but perhaps not powers with Rumble energy, which means that things lie his Cero cannot be absorbed because of the fact that that would involve them being added to an opponent and caged along with their own energy, which isn't possible, which means that his energy cannot be absorbed. In addition, the Rumble energy cannot be altered by anyone else either ,because as per the laws of its existence it does not exist for others to manipulate.
Finally, Colin cannot be emotionally bound while he is in this state. If he decides to do something, he will do it, no matter how much he might be raging over it. As long as he has the obligation to fulfill something, even if his dearly beloved were to be captured, he would perform his task, freed from his own emotions. He still has his personality ,and may hate what his body is doing and deeply regret it later, but at that point in time he is not caged by the feelings that he has towards something and will perform as he needs to in order to fulfill his goals.
Finally, the ability also makes it so that Colin himself can no longer lose to his hollow and his hollow gains an EXTREMELY profound trait. Colin cannot lose to his hollow any longer, since that would imply that Colin himself is trapped by the hollow. On the other hand, his hollow, and even his ZAPNAKTOU, gain the ability that they can no longer be caged inside of Colin. This means that they can choose to freely enter and exit his body as well, although they will not choose to as they are not used to this particular sensation. This is why his Hollow and Zanpaktou can still be used despite the fact that Colin's energy has turned into the traits of Rumble. They maintain the connection they have with Colin's body by choice ,and link with him in order to use their associated abilities.
At the end ,there should be a notice of why Rumble energy exists in the first place. Colin's concept means that his body would have to release all of its energy at once so that it would be free and not caged inside of him. However, because of Rumble, this is no longer the case, as the energy isn't IN him anymore, it simply EXISTS for him to manipulate, which is what makes it such a unique energy type.
God of the Air
Colin also truly comes into his own as a manipulator of air. Although this trait he has obtained passively even while not in this form, it is while in this form that its true power comes into observation. Around his body and for a large distance around himself, Colin has full control of the air. This means he can manipulate the air in this space in any way he desires, and use it to his own effects. This is because his spirit finally matches that of air, and he has a more perfect synchronicity with it then any other air user could hope to obtain, because of his Fact of No Caging.
This concept makes his body emulate the fact of air into a perfect form; Air is made up of molecules that have been freed and move about as they please with no limitations. Colin while in this form has nothing holding him back, being completely un-caged from everything that could limit him, and in spirit becomes one with the air. In body, on the other hand… Well, Colin can now move so fast that his body literally joins the air particles, making it so that he can no longer seen while using minimal effort.
Rumble King
There is also the reason he places the energy into his feet. The energy that goes around his feet solidifies, becoming the shape that is truly converting the energy, a large cone at the front of Colin's toes with two slots on the bottom of his feet, like he's wearing skates that someone took the wheels out of. These things around his feet act as Colin's new wings while in this form.
Now, there may be a question as to "why" as Colin still wears all of his wings when he goes into a form just like normal. However, these boots give the benefit of taking in ALL of the backdraft from what Colin does, including the wake of his own speed, collecting it and turning it into raw energy. These shoes are able to produce ANYTHING that Colin can normally, from his feathers, to cero, to making tornadoes, to developing a pair of wings, to creating a copy of Soringuiguru out of its tip, to sending out a burst of fire to self-cauterize, anything which Colin has these boots have, including a massive line on their outsides that looks like where it was sewn after a tear in reference to the scar that goes down the front of Colin's torso.