Cala Paracer

Established Member


Joined

: 2019-11-09


Posts

: 308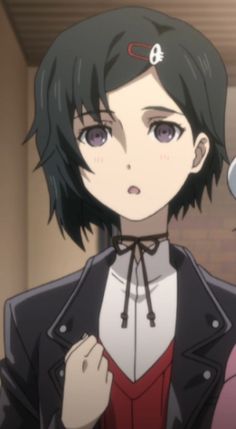 ------------------------------------------------------------------------------------------
Cala's first foray into the human world as an Arrancar was even more off-putting than the vague recollections they sometimes got of their first days in Hueco Mundo. One could almost say they had become accustomed to the endless nothingness, bleak atmosphere and constant danger. That was, as near as Cala could describe, their home. Thus when their first time setting foot back in the human world since originally becoming a Hollow brought them to a bright sky, a bustling city, the gentle lapping of the ocan-waves upon a non-endless expanse of sand.... Cala was entirely befuddled. Wide, lavender-hued eyes taking in the shimmer amber buildings like a child in a candy store. Each and every sight and sound mesmerizing and enthralling their senses, if not putting them a little on edge, as they fiddled softly with the skull-shaped hairpin atop their head.
It wasn't long, however, until Cala's tummy gave a rather loud, insisting rumble. The already-thin Arrancar patting their belly and looking around intently. Amid all the wondrous glamour and bustling activity the city presented Cala squinted with near-suspicion at the people all around. Well, not quite at the PEOPLE themselves, so much as Cala's perception of them. Not all too long ego Cala would have hungered for spiritual energy from them but now.... now Cala was utterly lost on what would satiate their hunger.
Blindly wandering the streets of Minatumi City Cala eventually came across... a smell. A smell that instinctively made their tummy rumble all over again and almost had Cala salivating on the spot. Following the heavenly, thick smell of food to a nearby restaurant, which Cala barely caught sight of the name of as they entered, before walking inside. Biting their lip Cala continued to let their senses carry them toward the heavenly aroma. Step by step, curious sniff after curious sniff, Cala did not even take the slightest notice of the ladies in uniform attempting to greet them and offer them a place to sit.
Instead Cala walked directly into the restaurant, past the employees at the front counter, and straight into the buffet area. Now while this would only raise an eyebrow or two from those who saw Cala completely ignore the staff, when Cala idly picked up a piece of chicken from the buffet in their hands and began to nibble on it while standing in the middle of the buffet.... that garnered quite a bit more attention.
It wasn't long before the waitresses had relayed work back to the manager about the customer who had wandered right into the buffet and, in the middle of nibbling on their third piece of chicken, Cala would be confronted by a rather rotund man in a suit that looked as if it were too tight in almost every place imaginable. The man stood there, beside Cala, for a silent moment. His arms crossed and tapping his foot, waiting for Cala to acknowledge their wrongdoing and speak to him. Cala, meanwhile, simply picked up another piece of food and continued to nibble away, completely oblivious.
This seemed to aggravate the man as he loudly cleared his throat and raised a questioning eyebrow at Cala. Who, blinking cluelessly, turned to see him and gasped softly. "Oh. I am sorry. Were you wanting some?" Cala, without waiting for the man to respond, take a couple of tiny steps to the side to give him room. This only made the large man's eye twitch. "Listen kid, you DO know you can't just do that? Right? Look at everyone else in the place, then look at yourself, see if you can tell me what's wrong."
Cala, blinking wide eyes at the man, glanced about at all the people chatting and eating their food, with their plates and silverware, seated at a table, and turned back to the man. A soft, pink flush gracing their pale cheeks as they nodded sheepishly. "Oh.... I am sorry." For a brief moment the man gave a not-at-all-happy smile, and nodded, only for Cala to pick up a plate and begin to put food on it. "I wasn't using this food holder...." The man, to his credit, facepalmed rather calmly before his voice rose a gruff growl as he hissed "No! Not the bloody, fucking plate!"
Cala winced at the man's rough tone, dropping the food they had been holding and raised their plate almost like an impromptu shield between them and the man as he fumed. His face growing red and sweaty, his eyes glaring down at Cala before he began to reach for the Arrancar's slim wrist. "Alright, that's it, I'm going to have to ask you to leave..."
darkfunnel

Seasoned Member


Joined

: 2016-01-31


Posts

: 1891


Age

: 25


Location

: Uhmm... not sure...

Member Info


Platinum Points

:


(128100/999999)




Tiers

:
Song: Funkyard - By: Arrowhead & Zentra - Word Count: N/A


Today was quite the nice day, truth be told. Nothing too bad to give Ari quite the reason to have a bad idea. So, this was why the demon decided to, instead of trying to cook her own meal at the moment, she decided to stop by a local cafe. Sure, she hadn't been there, nor had she seen the manager or anyone else that may question her about food or all that. Simply put, Ari never really met with anyone that was going to give her any single bit of trouble. However, it seemed like someone else was causing a bit of trouble; maybe on accident.

Soon, Ari had entered the restaurant and stumbled upon quite the spectacle. It appeared that an Arrancar girl, at least they looked female, was eating straight from the buffet. Arianda hummed as she watched, choosing not to intervene; not just yet. However, it seemed like a nearby waiter, or waitress, had reported the incident and the Manager came a running. Well, more walking than running. Seemingly, he was trying to keep his cool; attempting to convince the Arrancar of the problem here. It was when that, the man decided to reach for her; Ari was just simply there.

Arianda, in the blink of an eye, had moved to be next to the man as she put a hand on his left shoulder; smiling warmly. However, despite any height differences or anything, the man may get a feeling that toying with Ari would not end well. So, she held him back from touching Cala as she defended the woman.

"Don't worry, I'll pay for her~ She'll be with me. Does that solve the issue, Mr. Manager? After all, the girl looks devastatingly hungry; I do not wish for her to starve. I'm a good friend of the Mayor, you see; I'm sure dear Ulv would agree."

Arianda was, in truth, being quite jovial in her tone and mannerisms; but one look at those silver eyes would tell the truth. She was a little angry that the man was going to put hand on a woman without Cala's permission; and she was also mad that he did not realize the situation based on how she simply grabbed food from the buffet. She was hungry, starving, Ari may not be able to hear her stomach growl; but based on the food she grabbed, and the quantity. So, to state simply, those silver eyes were boring holes, figuratively, into the man's skull; daring him to give her a reason to get pissed at him for real. However, if the matter was settled, Arianda would get food along with Cala and then take her to a table; allowing the two to eat in privacy and, hopefully, without the bother of a portly Manager.

After getting to their table, if nothing bad arose, Arianda would smile at Cala and extend a hand towards her; offering to shake hands or at least greet her in some manner.

"Sorry about that Manager. I'm Arianda Vael, by the way. May I ask what your name is~?"

Cala Paracer

Established Member


Joined

: 2019-11-09


Posts

: 308

Cala had just happened to peek around the plate held in front of them when a girl, rather short even compared to Cala, all but appeared from thin air to put their hand on the man's shoulder. Just a split second before his large, pudgy hand clasped down on Cala's wrist. The man was, to put it mildly, much more surprised by this than Cala was. Though both of them could definitely be called 'shocked' without it being untrue. To say that they were the same kind of shocked, however, was entirely untrue. Cala, on one hand, was trying to figure out what this 'pay' term was supposed to mean while the manager, a Mr. Oudon if his name-tag meant anything, began to sweat even more profusely as he stared down at the slight girl.
Blubbering for a brief moment or two, trying to scrounge up something to say as a retort to what was not even a thinly-veiled threat to his job, Mr. Oudon struggled to think straight before he swallowed thickly. Pulling a thick, embroidered kerchief from his pocket he feverishly dabbed at this forehead with it before retracting his hand back from Cala. Who blinked in surprise. When Mr. Oudon spoke his voice was hoarse and faltering with worry "U-Ulv-..... No no that won't be necessary Miss..." With that eloquent sentence said the rotund man would scurry away like a scolded dog trying to maintain it's pride while Cala would stare at Ari in wonder. Fumbling along behind the short woman with shuffling, uncertain steps as she seemed to want Cala to follow her.
At this point more than a few of the other patrons stared at the two, and Cala couldn't help but hunch their shoulders at the deluge of attention. Something about it making them feel highly uncomfortable. After sitting down more than a little sheepishly across from Ari Cala would give her a smile, blink at her extended hand, and stare at it in confusion before answering in a tone somewhere between vacant, confused and sheepish. "My name i-is umm... Cala." Even as they spoke Cala would continue to stare at Ari's outstretched hand before looking from the woman's silver eyes, to her hand, and back. Completely confused as to what to do, the only thing that Cala could think was that Ari was demanding some of Cala's food since she helped. Thus Cala blushed a soft, pink hue in embarrassment, ducked their head slightly and timidly picked up a chicken wing before placing it in Ari's waiting palm.
darkfunnel

Seasoned Member


Joined

: 2016-01-31


Posts

: 1891


Age

: 25


Location

: Uhmm... not sure...

Member Info


Platinum Points

:


(128100/999999)




Tiers

:
Song: Funkyard - By: Arrowhead & Zentra - Word Count: N/A


Luckily, things had defused without much issue. The man, Mr. Oudon or whatever it was, seemed to immediately get nervous at hearing Ulv's name; and, for some reason, at seeing Ari herself. Simply put, he either knew who Ari was, or just knew that Ulv's name was enough to spook him. Regardless, she may not like using her pull with Ulv as such... However, in a time where someone needs a helping hand; she will not simply ignore them. So, as soon as they were seated, and everything was all said and done; Ari could not help but blink in surprise as Cala, a nice name, handed her a piece of... chicken.

Maybe she didn't understand what a handshake was.

"N-No, I don't want your chicken... You don't need to thank me, I promise. Sorry, I should've been more clear with that... Here, take this back; it's your food, not mine. Eat up~"

Arianda gave Cala a warm smile before returning the chicken wing to the girl's hand. Truly, she had a good idea that Cala was very knew to mannerisms of this world; or at least when it came to interacting with other beings. Arianda hummed as she ate slowly, pondering the energy of the woman before her; and finally, with a swallow, decided to speak to her again.

"Cala is a nice name~ But, tell me, what brings you to Minatumi harbor, Cala~?"

At the moment, Ari was mostly curious. She had no idea who this girl was, at least Ari assumed she was a girl judging by her figure and face, and what she was doing in a place like Minatumi. At least, she must have been considered safe to let in. However, Ari still had to wonder what she was doing here. Clearly, she was hungry; especially judging by why she came to a restaurant. But, what she was doing in Minatumi, well, simply wandering in wasn't a bad answer. However, Arianda did wish to know. Frankly, she also wanted to help Cala understand a bit more about the world. After all, it would be difficult for her to do much in this world when she did not understand anything she came across. Ari's hope was that, through her assistance, the Arrancar women would at least know what currency was; maybe, a bit more too.

However, that was likely for after Ari found out a bit about her; at least enough to understand whatever predicament Cala could be in.

Cala Paracer

Established Member


Joined

: 2019-11-09


Posts

: 308


Cala was incredibly embarrassed as Ari handed back the chicken, feeling rather foolish for thinking what they had. Thankfully Ari gave a kind, beautiful smile, and Cala's nerves were put a lot more at ease. Though they did raise the chicken in front of their face to almost hide behind it and nibble at it. Cala was a bit surprised when Ari asked them why they were... well.... where they were. To be entirely honest Cala had not really thought about it themselves. So that is simply what they said. "W-Well umm.... actually I don't... really know. There was a... portal... opening that appeared in Hueco Mundo. It felt familiar. I was the only Hollow nearby when it opened so... I decided to investigate and.. I wound up here."

Cala would glance around briefly, as if once again taking in their surroundings for the very first time all over again. Then looked back at Ari, their food all but forgotten as they seemed to all but stare through her. "This is... I-I guess... where I was born?" Cala would shiver then look down, their slender hands tensing together softly before they gave a meek little shrug. "Maybe a part of me just wanted to see it again.... I dunno...." Cala then sighed and looked up at Ari before trying to be kind in return, a small smile not quite reaching Cala's eyes as they reassured Ari. "B-But you are the sweetest person I've met s-so far!"


darkfunnel

Seasoned Member


Joined

: 2016-01-31


Posts

: 1891


Age

: 25


Location

: Uhmm... not sure...

Member Info


Platinum Points

:


(128100/999999)




Tiers

:
Song: Funkyard - By: Arrowhead & Zentra - Word Count: N/A


Indeed, Ari was kind, and she wished to help the girl. However, Cala seemed surprisingly uneasy. Frankly, if Arianda didn't know anything about Arrancar, Hollow, and all that; she may not believe the woman. But, where did she mean by where she was born? Here in Minatumi, or just here in the living world? Frankly, that answer was likely an interesting one. Ari did not wish to pry, however; so she simply smiled and nodded at her.

"Knowing the place you are born is a good thing, after all. Gives you a point of origin of sorts; hopefully one that isn't bad."

Arianda nodded softly before she looked at Cala's smile; her eyes not showing the smile. Arianda gave a small smile in return, lifting a hand up to the girl's cheek and gently caressing it; almost as if it was a strange, motherly, instinct. Albeit, she certainly was not Cala's mother.

"When you smile, do try to let it reach your eyes, Cala; a smile's sincerity can be completely undermined if your eyes do not show the same joy."

She gave her another smile after speaking, withdrawing her hand as she gave another warm, likely a little brilliant, smile. The demon had a lot of things to be happy about. Maybe Cala didn't. Of course, Ari couldn't just fix every single being's problems. No, in fact, she was only able to help those in the immediate vicinity of herself. Hopefully, she would be able to help this girl. Arianda hummed for a few moments before she set her food aside; anything that remained on it forgotten as she gave Cala another smile.

"Well I'm glad you think I'm sweet, Cala~ So, eat up alright? Then we can walk around town after you are done; maybe see if you can find anything you recognize. Sound good?"

Cala Paracer

Established Member


Joined

: 2019-11-09


Posts

: 308


Cala almost nodded in response to Ari's confirmed words before they tensed as Ari's hand came up to their cheek. Caressing it softly. The skin impeccably smooth and soft under her hand and Cala simply stared at Ari. Unmoving and unsure of how to react as Ari spoke to them in a calm voice. Telling Cala about smiles and eyes, sincerity and joy. As Ari gave her own beaming smile it was all Cala could do to give a tiny hiccup of embarrassment. Their features flushed and their cheek tingling softly where Ari's hand had been. Without so much as a conscious thought Cala brought their own hand up to touch the spot Ari had placed their hand, seeming very confused for a moment. Though Ari's words quickly snapped them out of their confusion.

Giving a tiny jump of surprise, being lost in their thoughts as they were, Cala nodded to Ari's words without really processing them. All Cala could really focus on was the odd, fluttery feeling in the pit of their tummy. Some sort of weird tingling that matched the feeling in their cheek. It was warm, but stinging, like a thousand tiny hot needles peppered into their gut. But somehow.... it was also nice. It radiated that warmth out to Cala's ribs, above and below, and Cala clutched at their stomach softly. Completely perplexed by this newfound emotion.

Slowly pushing their plate away Cala glanced up at Ari, having been staring at their food for a good few seconds, before they nodded quickly. "I-I'm okay. I'm... I'm ready to look around some...." Cala couldn't help but give Ari a small, confused pout. H-Had.... Had Ari's eyes always been so... bright? Warm? Cala shook their head, biting their lip as that warm feeling in their stomach only spread further and Cala softly rubbed their thighs together as the sensation traveled down their thin legs.



darkfunnel

Seasoned Member


Joined

: 2016-01-31


Posts

: 1891


Age

: 25


Location

: Uhmm... not sure...

Member Info


Platinum Points

:


(128100/999999)




Tiers

:
Wed Dec 04, 2019 11:53 am
Song: Funkyard - By: Arrowhead & Zentra - Word Count: N/A


This Cala girl, guy?, whichever; they were certainly interesting. While Ari was completely convinced that this being before her was feminine, due to their very female qualities, a shred of a doubt was still held in the demon's mind. After all, there were beings like Ari; who could change genders and switch genitals at the drop of the dime. Hell, it was even easier for a demon to be both but neither; or even an Apache attack helicopter. How? It's better not to ask. Regardless, the demon was simply puzzled. At least, she was before she was brought out of her own reprieve to Cala speaking to Ari; something about ready to look around. Of course, she did notice offhand how the girl reacted to her touch and even her sight; She seemed so nervous... In the back of Ari's head, she could only hope that this wasn't another case of someone suddenly falling for her. Even so, it was still flattering.

With a smile that all too easily spread to her eyes, Arianda stood up from the table; a water approaching with a receipt. She took the paper, surveying it before she beckoned for Cala to follow her; walking up to the register where she paid for their meal and then moved towards the door. She even saw the same manager who, despite everything, still kept a close eye on the two of them. She only let out a soft chuckle as she exited the restaurant with Cala. Soon the demon extended a hand towards Cala.

"Take my hand~ It'll be much easier for me to stop while you look around this way; and it'll be hard for crowds to separate us. If that sounds fine, then cmon~ I'm sure there's a lot of places you want to see. Afterwards, we can relax at my house~"

Arianda gave Cala another one of those warm smiles; probably making the girl even more nervous. Of course, Ari wasn't exactly doing this all on purpose. Yes, the smiles were purposeful, but it was not her intent to make Cala nervous; at least if that was the sensation she felt from the girl. Then again, it could be so intermingled with other feelings it may be hard to tell. Regardless, Arianda waited for her answer; to see what the girl would do. She also really wanted to see where Cala would take her in Minatumi or elsewhere.

Cala Paracer

Established Member


Joined

: 2019-11-09


Posts

: 308

Cala looked to and fro before standing and following Ari sheepishly through the restaurant, only to shuffle so that Ari was between themselves and the manager as Cala spotted the rotund man. Who still seemeed to watch them with no small amount of suspicion in his beady eyes. Cala ducked their head, watching Ari pay for their lunch with confusion written plainly on their features. While Cala understood the transaction in principle... well.... being told something once by someone you hardly knew was a far cry from living and breathing a lifestyle for their entire existence like Cala had.

As they left the restaurant Cala paused as Ari stopped, extended their hand, and explained their reasoning for offering it to begin with. Cala blinked, then nodded, and gently took Ari's hand. Cala's skin was.... well... not cold... but not warm either. Their skin, even their palms which were universally rougher than the rest of someone's hand, were just as impeccably smooth as the rest of their skin. It was... unnatural but, likely, not entirely unpleasant. Compared to Cala, no doubt, Ari would feel very, very warm. Which was... pleasant. As for as Minatumi was concerned Cala was..... all but overwhelmed with the hustle and bustle of Minatumi. It was so... so different from Hueco-Mundo!

Casting their gaze about furtively, Cala would begin to numbly walks through the streets of the city. Lavender eyes sparkling with childish delight and wonder at some of the more extravagant sights before they gasped. Spying a very large, very sparkly, very FLASHY arcade. Blinking at the extravagant display Cala would turn to Ari and ask softly. "W-What umm... What is that place? Is... Is that where everyone fights? It looks like an arena of some sort...."


Permissions in this forum:
You
cannot
reply to topics in this forum