Slayer

Thicc Boi


Joined

: 2016-10-29


Posts

: 694


Age

: 20


Location

: The Dance Floor

Member Info


Platinum Points

:


(7900/999999)




Tiers

: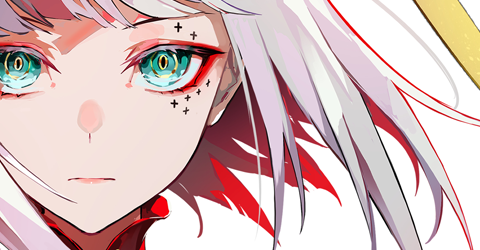 INFORMATION DOSSIER
○ Name: Alary Lumikki
○ Alias': Elven Gem, Angel Project 301, Angel of Lies
○ Age: ???
○ Gender: Female
○ Race: Altered Human

○ Affiliation: N/A

○ Alignment: Lawful Evil
○ Marital Status: Single
○ Nationality: Icelandic/Elven
○ Sexual Orientation: Asexual

○ Height: 5'4"
○ Weight: 120 lbs
○ Hair Colour: White
○ Eye Colour: Red







PERSONALITY
Alary is a husk of her former self acts like a robot, a weapon that she was made to be. When given a task, she tends to give an affirmative or negative--even her speech devoid of personality. However, even under the cold exterior, she does have a semblance of a person in there. Alary is aloof, often missing directions because she was focused on something completely irrelevant. There's a weird fixation with children and the sanctity of life that she has, ironic given the fact that she's often directed to kill things against her will.
Also, weirdly enough, she is obsessed with her appearance. Specifically, her hair.
BACKGROUND INFORMATION
Alary was bron as an Elven Princess. The Elves are a group of people that live in a freakishly large forest all over the Scandanavian areas. Different countries have different forests which are homes to different kind of elves, with Alary being specifically from the Icelandic Elves, otherwise known as Ice Elves. Anyways, the Ice Elves follow a matriarchy system, so as a princess she was born in high regard. Things were expected of her, and Alary more than often delivered. At some point during her teen years, her mother died, forcing Alary into the position of Queen.
As queen, Alary started the measure of opening up her forest to outsiders, something unprecedented. This was mainly driven by her curiosity, born from the fact that she had little to no idea what the world beyond the forest was like. Her mother, contrary to her, was actually incredibly xenophobic, something that was passed down with tradition. This wasn't instilled into Alary, for some weird reason. Anyways, naively she left forest and was kidnapped.
That was 4 years ago. Since then, Alary's been altered by a science group in Sardinia, Italy, against her own will. Her captors changed her in ways previously thought impossible, in hopes of surpassing and replacing the need for things such as Phantom Tech. Currently, she is stationed in the same lab where she was tested on. Went her entire life wanting to leave her jail, just to be put into another one.
POWERS AND ABILITIES
Stolen Truth
: Alary, being a successful product of the Angel Project, has been genetically modified to be able to access and tamper with reality through a method known as The Root. However, since this was an ability artificially created and man-made, there are stark differences in how it works compared to what it was modeled after. Where those who were given this ability by Truth could use it in its totality, the artificial version of it is much, much weaker to the point where they could only affect themselves, or at least in the first iteration of the Fake Angels.
Angel of Lies: The antithesis to the Angels of Truth, Alary controls the reality of her being at any given moment, making her quite the annoying enemy to fight.

The crux of this ability relies purely on self-confidence as whatever Alary views the state of her body to be in, is the state that it actually is. For example, if she starts to feel weak or ineffective then she'll start to gradually lose her power. On the flip side, if she feels like she's fighting the best she ever has, then her skills may even rise above what they normally are. This ability can also be used to heal, as long as she doesn't notice the injury beforehand. So in the case of healing, if she loses an arm then as long as she doesn't try to move it she can regain her arm in a short period of time following. On the flip side, small and shallow cuts tend to be wholly ineffective against her as her Willpower just blocks her from feeling those, to begin with.

Healing takes a round to go into effect.
Skill raises fluctuate from Untrained to Elite.
Will Skills cannot be changed through this ability.
Elvish Bladedancing
: A sword fighting style exclusive to the Forest of Elves from Iceland. Notable for it's high levels of dexterity and the short amount of time that the wielder ever actually holds a weapon, Bladedancing is not only meant to mesmerize but confuse opponents as well.
As far as it goes, Alary is one of the few who have hit the second-highest rank of Bladedancing in her hometown, meaning that she's just short of being considered a master of it. Specifically, her branch of dancing uses two swords as a way to keep her hands free but weapons are readily available.
Skills to Kill:
Alary in her current existence was made a weapon, something that she shares in common with most, if not all other Fake Angels.
Alary specifically was made to act as a defense against any sort of stronger force. While not the strongest of the project, she was equipped with knowledge of basic Zanjutsu, Hakuda, and Quincy Spells to know what to expect. There were also some other combat programs loaded into her, but nothing in a major sense.
PURPOSE
Alary exists as a combat NPC to act as an obstacle to both Saisei and V in a thread in which I will be taking control of. Besides that initial first thread, I don't expect to see this character be used again. And if they are, then a rework of the abilities would need to be in order for them to live on-site as a constant character.
The app itself exists as a way for the two characters to have an example of what they will be up against as well as allowing them to use their thread towards an upgrade.
SKILL SHEETS AND INFORMATION
General Skills
Durability: Advanced

General Speed: Advanced

Strength: Elite

Martial Skill: Elite

High-Spec Human Sheet
Power Control: Adept

Physical Augmentation: Adept

Spiritual Adaptation: Adept

Mediumship: Adept

Will Skills
Willpower/Determination: Advanced

Mental Deduction: Beginner

Focus: Adept

Locke

Seasoned Member


Joined

: 2021-03-13


Posts

: 1150


Age

: 26


Location

: UK

Member Info


Platinum Points

:


(0/0)




Tiers

:
[mod]
Angel of Lies
Skill raises fluctuate from Untrained to Elite.
Which skill? This is also not reflected in her skill sheet?
[/mod]
Slayer

Thicc Boi


Joined

: 2016-10-29


Posts

: 694


Age

: 20


Location

: The Dance Floor

Member Info


Platinum Points

:


(7900/999999)




Tiers

:
Reworded from "increase stats" to "increase skills" since it seems like that was lost in translation. The ability has the power of changing herself in totality, including buffing and the whatnot.
Locke

Seasoned Member


Joined

: 2021-03-13


Posts

: 1150


Age

: 26


Location

: UK

Member Info


Platinum Points

:


(0/0)




Tiers

:
Mon Apr 25, 2022 10:58 am
[mod]So all her skills can fluctuate between Untrained and Elite and it wholly depends on how she is feeling in the moment?

Also, does the healing scale with Willpower then? How does this work if her Willpower fluctuates? [/mod]
Slayer

Thicc Boi


Joined

: 2016-10-29


Posts

: 694


Age

: 20


Location

: The Dance Floor

Member Info


Platinum Points

:


(7900/999999)




Tiers

:
Tue Apr 26, 2022 10:49 pm
Clarified the will skills. And yes, that is how the ability works. At the end of the day it is a staff-run npc for a mini event that probably won't see the light of day outside of a thread or two. If the concerns are on whether or not it's balanced, it won't last long and I don't intend to abuse it. Not to mention she already has to skills at cap, so if anything it could and would be a detriment for the ability.
Locke

Seasoned Member


Joined

: 2021-03-13


Posts

: 1150


Age

: 26


Location

: UK

Member Info


Platinum Points

:


(0/0)




Tiers

:
Mon May 09, 2022 11:54 am
[mod]
Hazard RanksPower:
C
Influence:
F
Resources:
C
Comments/Notes:
Nice angle
Tier:
2-4
Hazard Rating:
C
NPC Approved
[/mod]
Permissions in this forum:
You
cannot
reply to topics in this forum