Grand

Established Member


Joined

: 2011-03-25


Posts

: 196


Age

: 28


Location

: Under your bed

Member Info


Platinum Points

:


(0/0)




Tiers

:
During his nap, Kano dremt something soon not to be forgotten. the scenery was quite grassy, a huge plain with some hills filled with the lushouse emerald grean grass leaving no brown dirt in sight. the stars twinkled brightly and filled the sky in vast quantaties, and a large blue moon shown itself over the hilly field. it was large and mesmorising, it seemd just in reach. Upon the hill was a white figure. Down on all fours, and a glowing moon crest on his forhead. the eyes glew like the sea, and its fure was so pure, it was even whiter than snow. the site of this beast was truley magnificent.It word a red tinted tooth that hung from its neck. "so you finaly decided to visit" it spoke with such fluidity and calmingness. its voice was quite deep, yet when it spoke its mouth made no movment. It hopped off the hill towards Kano with a single smooth bound.

"O...Okami?" he spoke with abit of confusion, last time he was in a place such as this he was met by his inner demonic hallow, the nightmares still haunt him. his bloodthirst was beyond any hallow that he has met. "h..how am i here" kano was confused and lost in his own world. he had no idea how he even got here, or even why he is here.

"fool" the wolf said quietly as he came up to Kano. " I brought you here. you have to watch out, you were forced to fight your inner hallow quite earlier than intended. He still has great power, and you only defeated him by luck"

"so im gonna have to fight him again" asked Kano. he seemed worried in his voice, for he did not want to relive that nightmarish event.

"you tell me" Okami said as he pointed his noes up at the gaint blue moon.

Withine the move a ghostly image appeared as if it were a crystall ball. the image was his inner hallow. the golden blonde hair, peircing neon blue eyes, claws extending from his hands and a blood lust smile filled the moon, and sent shudders to Kanos spine. "toldya id be your nightmare" said this demonic feeling man. "And next time, you wont be so lucky to be contained."the figure slowly faided with a demented laugh.

Kano shot up from his bed sweating with a heavy pant just as a loud rumble with a lightning strike nearby shot throught lightining up Kano's room. "c...c...crap" he siad, with his voice filled in fear.

__________________
"We're being your balls untill you grow some."(Nickcca/ June 25, 2011. 5:48pm)
Archived as no posts on here have been made recently also, Grand left.
__________________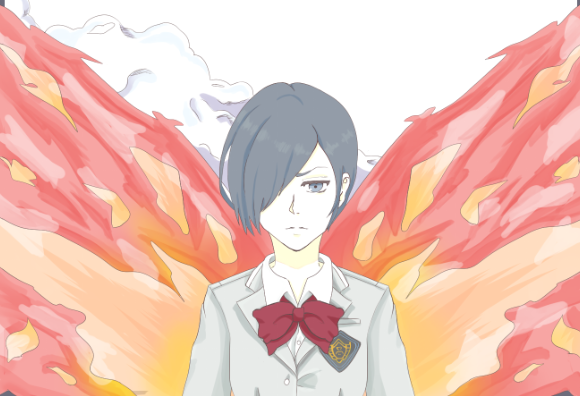 Hon Hon Baguette.
Permissions in this forum:
You
cannot
reply to topics in this forum