Chao

Queen Of The Sands


Joined

: 2010-06-03


Posts

: 3419


Age

: 28

Member Info


Platinum Points

:


(60/100)




Tiers

:
| | . A S H L E I . C L I X X . | |
~ I was left with nothing and had to sruvive in the sands alone just as a child... Now, I have everything... and nobody will take that away from me... ~
Spoiler:
-------------------------------------------------------
Ashlei really didn't like the look of this guy and what he was saying proved her response valid. He talked of that annoying fever again which actually made Ashlei chuckle a little bit. She held her hand up to her mouth in a posh gesture and laughed. "Well I'm sure were perfectly capable of looking after a girl with a cold..." However one phrase spoken by the man got under her skin. His slave? Her Pet? Stealing? "You have to be joking... She is my pet, so to call her your slave, well I call that stealing..."
Ashlei chuckled again at how she just turned his own words against him. Not like it would do much, but the first time Miyuki met with Ashlei only yesterday, Miyuki made no references to every having connections. "I was told that she had no friends, family or guardians..." Ashlei found this piece of information funny. Why would Miyuki lie to her? Especially since she classed her as a friend back when they met in the forest. That was when the order to Midknight was issued to capture the girl. Seeing how weak she was when Miku was being attacked by two others, Ashlei decided it best if Miku brought her back... Those were her true intentions...
Ashlei may be a cold and somewhat heartless ruler of the hollows, but she had a soft side nevertheless. Otherwise she wouldn't favour strawberry sundaes or care for her mother. That was the old Ashlei before Rihiku left her side and she came crashing down to reality. THAT Ashlei is gone... She is more than that now...
"Midknight, Do not worry about this guy... I really don't think he would dare take another step clsoer to me..." Ashlei's hand was clenched and her reitsu signs were starting to show. He may not show the signs of a fight, but he will be asking for one if he does anything else...
-------------------------------------------------------
| | . M i k u . M i d k n i g h t . Z a t s u n e . | |
~ I stand for my lady and for the ones I love. Stand in my way or theirs, and you will never see the light of day again ~
Spoiler:
-------------------------------------------------------
Miku held onto Miyuki tight. She didn't want her to go... but she started to wonder why. Matthew brought up a good point. Why did Midknight, the bane and ruin of Las Noches want to protect such a weak little girl? Even Miku didn't know exactly why. If Ashlei was cold and heartless, Miku was cold and soulless. She had no meaning in life if she hadn't followed Ashlei. Miku looked down at Miyuki with the thoughts running through her mind. Miyuki was crying again and her temperature was rising. Her fever was coming back so Miku looked up at Ashlei to make sure that Matthew guy was nowhere near them.
She then looked back down when she could confirm the fact he wasn't near. Miyuki looked so distraught it almost brought Miku to tears. Why?... why did Miku protect her so much? Miku knew the answer...
"I want to protect her... to finally give me meaning in life... Just following my lady Ashlei won't make me any more than an unwanted Death Machine... Im so happy I could have someone to consider me more than a killer, and more of a friend."
Miku hugged Miyuki harder. She really meant what she said. The girl was a loner, she had no friends and didn't even know how to act around them. She didn't even know she could cry until today. But the only pain was the thought of losing her new friend. If Miyuki went, Miku would follow. If Miyuki was to be in danger, Miku would be there to give her life for her. It's just the way her protective nature was going.
She had finally found more meaning... Ashlei nodded as she said those words... Even her Lady understood Miku's confinement... SHe didn't want to be alone... not anymore...
-------------------------------------------------------
---------------------------------------
"My name is Miyuki Santoru. I am sixteen years of age and my favourite hobby in my spare time is to cook."
Miyuki Santoru
スターボンバルディア
---------------------------------------
Small pieces of sweat dropped from the girl's face as her breathing had increased from the rise in her temperature. She knew that this would happen, but within the time Miyuki really thought of Miku as a sister. Her crystal green looked up at Miku sadly, being hugged harder almost as if it could make her pass out, but it didn't.
The girl hated it, if she went she'd hurt Miku..And from what Miku just said, she'd given her a reason to live. She just didn't want Miku to Ashlei to suffer if she stayed. She was human, nothing more and their job was what it was. Currently, both of them had changed in front of her own eyes. But she didn't know what caused that. She didn't even consider that.
"M-miku...chan.."
The girl said quietly, the tone of her voice shaking.
"I can't bear to see you like this anymore...I don't want to loose you..you mean everything to me...Your like a sister to me Miku-chan..."
Her voice was barely heard but she still managed to speak what may be the most important words so far to the little girl. Her tears fell from her face more of her emotions than her fever now.
"Please let me go...I don't want you to suffer because of me...I'm sorry Miku-Chan...I'm sorry..."
The girl hid her face in Miku's shoulder, the tears escaping from her eyes. Would she loose a friend? If that had to be, she wanted to do what was right. She needed Miku to be how she was before.
Everyone had a reason to live, whether they were human, espada, arrancar, demon or whatever the breed. And if they feel empty inside, if they feel depressed outside then the reason was yet to be found. She wanted Miku like before.. But with memories of their friendship. Atleast...they would give her a reason to live, a true reason. With no regret and with no empty feeling looming over her for eternity. She just wanted Miku to be happy. Not cause pain for others. Others that weren't meant to even mix with Humans..
__________________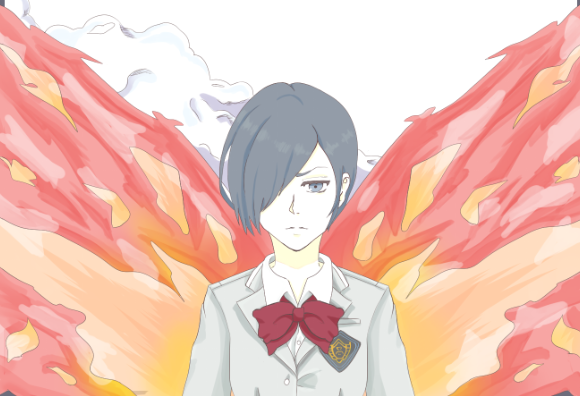 Hon Hon Baguette.
Majestic Moose

Head of Internal Affairs

Joined

: 2010-07-10


Posts

: 1015


Age

: 33


Location

: Even I don't know...

Member Info


Platinum Points

:


(0/0)




Tiers

:
---------------------------------------
"There is no such thing as purity, as there is a swell of darkness within everyone's hearts. My only job is to remove the laws of man, and return all to their dark nature..."
Demon Lord Dark Matthew Hinote
たそがれの保護者の吸血鬼
---------------------------------------
The agression was rising within the atmosphere. Ashlei seemed to not understand that Matthew had taken Miyuki under his Corruption prior to their meeting and that she believed Matthew was a secondary effect. The incomprehention was a tad off, and Matthew would have to go from here on alert. The next steps here seem to be weighed to a internal biased favor that would make Matthew in an unfavorable position. While he was sure a fight would be nothing too risky, he didn't want one as that would complicate relations between the two organizations. Yes, Matthew knew that the bond between Demons and the Espada was weak, but the fact was, Matthew needed the Espada to stay on this term, because if favoratism was displayed, especially for the Demon God, it would be unfavorable in Matthew's favor in the end. Fact was, he needed his little Princess, and even though he got the data for his test, he can't have her going just yet...
"Stealing, Miss Clixx, is when someone takes something that was already obtained. Miyuki is my little slave, as I am not a Parent, friend, or Guardian, so the child never lied to you. Either way, I'll be taking her back now..."
Her illness was moving further into conflict where soon, he would have to make a force attempt to take Miyuki as to care for her illness. He can't have such a possibility come to order when it comes to such manners as these. It was even more difficult that Ashlei made her deadly intent positive in this matter as she flared her Rietsu. This was going to be bad for Miyuki as Matthew can stant up to Ashlei easily, but Miyuki was far weaker and would need to get to safety and away from this obvious lift of selfishness. These acts will indeed leave poorly for the child, and Matthew will need to act now as a matter of fact. Miku, behind Ashlei was holding Miyuki which made things a tad difficult, but not impossible. This was in the end just going to make everything all the more difficult...
His eyes began to glow red...
He began to quietly speak to himself...
'Ashlei, White Queen D4...'
He then looked to Miku and Miyuki as well and quietly spoke to himself...
'Miku, White Knight D6... Miyuki, Black Rook C6..."
A grin entered his face as it would seem from those angles, Miyuki was protected on all sides and would indeed make for a perfect snatch and whatnot. This was to be flawless and quick, as to get Miyuki to safety as quick as possible in which to nurture to her needs and return her to Sharu and April as quick as possible in which to provide medical care...
The Pieces Were In Place
'Me... Black Queen D3, move to A6...'
Matthew smiled as it would seem, it was time to end the game and put his opponent into check and finish the game as best as possible. To do so only required one thing to be done first, as Matthew removed both his hands from his pockets. The light from the hallway was proving to be annoying, as Matthew's right hand swept across his body swiftly, making a shadow shoot from the wall from behind the door and shut it quickly, as the room filled with darkness. Closing his eyes, there was no illumination, as Matthew was no longer in his position, as he moved instantly to a flanking position on Miyuki's right. Throwing his hands wide, the darkness between Miku and Miyuki manifested, as it expanded in an instant, forcing Miyuki from Miku's grip at an alarming speed, throwing Miyuki in Matthew's direction. Due to the speed of the seperation, and the flank in which Matthew took, it would be impossible to intercept as Matthew reduced Miku's reaction time from being pushed back and moving forwards, and Ashlei wouldn't be able to deduct the movement of Miyuki from there being no reitsu used in this. Instead, she would need to best guess Miyuki's trajectory due to her lack of Rietsu control, and with that it was everywhere, being as she was an unstable child due to the effects of the fever.
Opening the black portal into the Dark Realm behind him, he took Miyuki flying towards him as the exit as she flew in. Matthew looking back before entering silently apologized for his brash actions as he had no other choice. He didn't wish to waiver the tready between the Espada and the Sin Fall, but this had to be done. If anything, this little experiment might have actually helped in his cause with effects to the organizations. Fact is though, he didn't want to do this, but had to...
Walking through the portal, it closed behind him, leaving no such trace of Miyuki or Matthew, as now the two were in the Realm of Shadows, only accessable by those who weild the Dark Arts, such as the Caliga breed of Demon...
--Matthew and Miyuki exit thread--
---------------------------------------
Chao

Queen Of The Sands


Joined

: 2010-06-03


Posts

: 3419


Age

: 28

Member Info


Platinum Points

:


(60/100)




Tiers

:
| | . A S H L E I . C L I X X . | | | . M i k u . M i d k n i g h t . Z a t s u n e . | |
-------------------------------------------------------
Everything happened so quickly, but both girls gave exactly opposite reactions to one another. Miku was shot back from Miyuki and their grip disappeared with Miyuki's swift thievery. Ashlei however, just stood in the center of the room with her arms folded and doing little but watch as the room went blank and the signs of nothing just did as they pleased. Ashlei didn't know what was happening but she could take a wild guess. After everything had happened, Miku was sitting on the floor behind Ashlei facing the direction of where the portal to the darkness realm closed. She couldn't believe what had just happened and just how easily it was conducted. Miku stumbled to her feet and dashed over to where the portal was but found it long gone. She looked up, down and all around for any sign of a way to follow but she found nothing. Falling to her knee's Miku began to cry.
Ashlei on the other hand did not do anything. She just stood in the middle of the room with the same expression on her face with her arms folded. What she was thinking at that moment was the effectiveness in how he just did that and how Ashlei herself couldn't do anything to stop it. A moment of self loathing collected in her mind about how useless she was in defending both her underling and her new friend, but that soon parted as she saw a new opening for the future. Ashlei turned around and walked to the door, opening it to let the light come back into the room. Ashlei then stood beside Miku of whom was still crying a waterfall all over herself and the ground. Ashlei didn't even look at her. How could she even stomach watching this? She had to do something...
"Midknight, Forget that girl. She is useless to me now and Is only going to bring you more painful memories." Miku didn't look up nor say a word. She did however stop crying. The tears were down her cheeks and dampened her clothing but she was now perfectly silent. "Midknight, You are my slave just as Miyuki is to that wretched man... Do you understand the way things work in life?" Miku listened, and listened well. Ashlei awaited an answer, but didn't get the one she expected. Suddenly as though something snapped in Miku's loyal mind, Miku dashed right into Ashlei, held her arm up to her throat and slammed the girl into the opposing wall causing it to crack from top to bottom in all directions. Miku then screamed at her master.
"HOW CAN YOU EXPECT ME TO SIT BACK AND WATCH THIS???" Ashlei didn't look injured at all and Miku started pouring a river out of her eyes again as she held her master up to a wall by her neck. " Iv'e never... had someone... I can... call a friend.... never.... NEVER!!!" But all of a sudden, Ashlei retaliated. The girl was fed up of Midknights sudden emotional personality change. Her reitsu was flaring wildly as Miku suddenly realised she was in danger. The girl was correct. The wall opposite the two girls suddenly exploded and destroyed the opposing house as Miku flew out backwards through the sky. In mid launch, Miku coughed up a puddle of red that landed on her leg as she moved back through the air. Ashlei had grabbed her by the neck herself and done exactly the same thing to her underling, but with massive force.
Ashlei Sonido right up to where Miku was and grabbed her leg. "WHERE IS THE MIKU THAT I NURTURED MYSELF? GIVE HER BACK TO ME!!!!!!!!!" And with that, Ashlei swung Miku around by her leg, and sonido down to the ground with one hugely destructive drive into the ground like swinging a baseball bat at solid pavement as hard as one can. Ashlei wanted her heartless monster back... not a walking wreck...
[TO BE CONTINUED]
-------------------------------------------------------
Chao

Queen Of The Sands


Joined

: 2010-06-03


Posts

: 3419


Age

: 28

Member Info


Platinum Points

:


(60/100)




Tiers

:
| | . A S H L E I . C L I X X . | | | . M i k u . M i d k n i g h t . Z a t s u n e . | |

-------------------------------------------------------
Everything had gone horribly wrong. The plans conducted by Ashlei Clixx were moving perfectly until a factor that she hadn't predicted got in the way of her experiment with Miku, her Superior Espada Guard. Matthew Hinote was that mysterious factor and used his forceful techniques to rid the third member of the three girls: Miyuki. Miku Zatsune had been given the orders the previous day to bring Miyuki into Espada custody to become their new Guinea pig but as she followed the test, Miku and Ashlei both realised just how much of an asset she was to them. Ashlei found her incredibly interesting where Miku found that she loved the girl. However when Miyuki was taken from the two by her 'master' things started to rapidly change into a violent atmosphere as Miku rushed Ashlei up against the wall and screamed in despair. Ashlei however, saw that Miku had started to lose her hollow side and was becoming just like Miyuki was. So, Ashlei took it into her own hands...

Returning the favour, Ashlei grabbed a hold of Miku's arm and pushed her back. Miku stumbled a little and just as she gained her footing once more, Ashlei was directly in her face with her arm up to Miku's neck and dashed forwards into the opposing wall of the dark Victorian house. Miku hit the wall hard, but not at the speed Miku had furiously attacked Ashlei, but about 5 times faster. Miku hit the solid bricks, and immediately went through them causing the wall to detonate outwards with powerful force. Ashlei let go of the girl with a sort of throwing motion to send Miku skyward to avoid hitting anything else but the force of Ashlei's attack caused the wall of the opposite house to fall down. She chuckled to herself about this, but quickly gathered her new position by Sonido right up to the now airborne Miku. The girl had been zooming backwards with a long trail of blood falling from her mouth. Her rib cage had literally been crushed into her organs but this wouldn't stop the girl from retaliating. Miku bent forwards to get a look mat Ashlei but gasped instead of actually doing anything. Ashlei grabbed Miku's right leg and yanked her out of her skyward direction. "WHERE IS THE MIKU THAT I NURTERED? GIVE HER BACK TO ME!"

Ashlei swung hard, pulling Miku out of the air and was accompanied by the deathly girls hallowed screams. Ashlei then took the full force of her swing down to ground level as though she was using Miku as a giant baseball bat she wanted to break onto the pavement. The two girls hit the ground, and the entire road was uplifted from their collision. Ashlei dashed backwards out of the flying debris and rubble to see where Miku may have moved to, but her Reitsu signs did not move. However, they did change all of a sudden. The sounds of a mental scream echoed across the city as black and pink Reitsu blasted in all directions from Miku. Ashlei had to lift her arm above her face to stop herself from getting dust in her eyes but that was all she cared about defending from. She knew all about Miku and things were going to get very ugly now.

The dust had barely lifted when all of a sudden, a green and black chain shot from Miku. Ashlei didn't foretell this move as the arrow tip of the chain dug into her held up arm. Ashlei twitched slightly upon having this weapon stab her in the arm, but she wasn't worried until a decay effect was placed throughout her entire body through it. Ashlei couldn't move from this! She stood there with a painful feeling going through her entire body which almost made her wail in pain if it wasn't for her stubborn attitude towards this battle that had occurred. "Tch... Midknight... you do realise your attacking your Lady!" The dust had subsided now to reveal the girl that was standing there, covered in her own blood, bruises and barely standing. However, her hair had gone a perfect white, her right arm was covered in chains and her left hand held a deadly black and white blade of the devil. Two red streaks from her eyes down to her chin were constantly pouring a mixture of tears, grief and blood.

"Ashlei... Please get out of my way... I need to follow her... I need her..." Miku's head tilted slightly to show her perfectly emotionless eyes as though she was possessed. Ashlei looked at the girl with keen eyes. THIS was the Miku she had created and now she was going to use it against her master? This isn't going to be outlived. Ashlei grabbed the chain and pulled the arrow tip out of her arm to stop the pain. She did however yell as she ripped it out of her skin and her own blood splattered to the ground. "You have made a grave mistake today Midknight..." Just then, the air went dead silent as the two girls sized each other up. Then out of nowhere, Ashlei started to emit gigantic amounts of Reitsu that filled the streets with a red colour. The Arrancar that lived around here looked out of their windows and doors to see the two most powerful Arrancar in Hueco Mundo about to have a potentially massive battle. Realising this, the crowds of Arrancar that lived her fled their houses as the red Reitsu began to envelope some of them and cause them to collapse from her Reitsu levels. "MIDKNIGHT! THIS WILL BE YOUR UNDOING YOU STUPID GIRL!"

Ashlei's Reitsu reached their max for this level of powers and as it did, a large explosion of Reitsu enveloped Ashlei herself making it impossible to see the girl. Then after a few seconds of deadly winds that spiralled like a hurricane around Ashlei, she was complete. The girl walked out of her Reitsu cocoon with a sudden power burst. Ashlei felt overwhelming, even to Miku which made the deathly girl feel very nervous and frightened. Ashlei's hair had gone back, her teeth fanged and her tail split into three sickled weapons. Four crucifixes hovered around her body, all with a long blade extending from them which was her zanpakuto. Ashlei had entered her Resserecion state as well as Miku had. The combination of blood red Reitsu and jet black Reitsu now filled the streets as Miku gathered her own powers to counteract the pressure her Master was emitting. "Ugh... her power... I can feel it all over me... But... but I can't give up now..."

Here is where the fight truly began. Miku was the first to make a move as she dashed forwards with a Sonido to appear right before her Master and swung upwards with her sword. Ashlei however, merely hopped backwards and one of her floating blades blocked for her. The other three, made instant dashes through Miku and sliced both her arms and the side of her face. Miku fell backwards and was followed by Ashlei quickly where the girl placed her boot right into Miku's chest and sending her flying back. Miku kept her footing though and stood up still with her arms crossed over her chest. The instant Ashlei kicked Miku blocked and didn't go back as far. This made Ashlei smile as her underling really was the anti-Ashlei. That didn't mean Miku was going to win...

Ashlei appeared before Miku again but in mid dash, noticed that Miku had launched her chains right forwards at her and they suddenly circled the Cero Espada. "STAY AWAY FROM ME!" Miku's creamed as the chains shrunk inwards and grabbed Ashlei in mid dash. Ashlei was shocked at how she was just grabbed out of a rapid movement but was also happy to see Miku hold her own. "You're doing well Midknight..." But Miku didn't want to hear this. Instead, she screamed at her master again. "DON'T TALK TO ME LIKE IM A LITTLE GIRL!" With that said Miku swung herself around and yanked the chain, pulling Ashlei with it across the sky. Similar to how Ashlei had thrown Miku into the ground earlier, Miku pulled Ashlei into the air above her and forcefully threw her Master into a nearby building causing her to go through the roof and the second floor. Miku pulled her chain back and stood with her hands on her knees. She was exhausted and could barely stand as her Resserecion didn't fully heal her. She knew very well that Ashlei would survive that attack as she was her Master and didn't expect her to go down that easily. Miku was right...

"Hello Midkngiht..." Miku looked up suddenly in fear to see Ashlei about an inch away from her. Miku stood up straight and raised her arm to block against anything but wasn't fast enough. Ashlei placed her fist into Miku's jaw at a blinding speed and just as she did so, grabbed one of Miku's pig tails to stop her from going anywhere. Miku was flying sideways by her hair and as she came round, Ashlei spun her own body and grabbed Miku by the face. "GROW UP MIDKNIGHT!" And right there and then, Ashlei slammed Miku right into the floor by her head, uplifting even more road.

The debris was shot into the air again but this time, Ashlei decided to walk away instead of stay. The girls Resserecion disappeared into the wind as her hair returned to its usual red colour and her tails grew back into one and hid back within her dress as they had before the fight had started. Ashlei had decided. "Midknight, this is the end. Get out of my sight..." But Miku had a different idea. Miku's Resserecion had not gone, and out of the smoke and dust, Miku dashed once again with the same kind of attack as before. Launching herself at Ashlei, the girl desperately tried to stop her from walking away. Miku's chains shot forwards to grab Ashlei and when she got close, Miku swung downwards across Ashlei's back causing blood to shoot into the air and the Cero Espada to be caught in the girls decaying chains.

Ashlei had no expected this retaliation so late into their little game. She didn't yell as she was struck but more groaned in pain and turned her head to see Miku still standing but barely as though her legs could give way any moment. The chains wrapped around the Cero Espada and kept her in place but because Miku was still in her Resserecion state, Miku was the one with the upper hand and could keep Ashlei in check. As Ashlei looked at her underling with a massive wound to her back, dripping with blood, she had to ask her question after Miku took a small lunge backwards to keep some distance. "Why Midknight? What... did you see in that girl that I did not? Something... that would make you turn... against me?" Miku stood in a very weak position but still had the force to keep Ashlei in one place. Miku then started to slowly limp forwards towards Ashlei, groaning at each painful step, wiping the blood from her forehead and spoke. "Everything I have... you gave to me..." Ashlei looked puzzled. What was this she was saying? "Of course I did... So why are you doing this?" Miku walked ever closer with that limp. Amazingly, she just dashed into Ashlei a moment ago but now she could barely walk straight. "Because... You gave me everything except... what I really wanted..."

Ashlei didn't look confused now. In fact, she looked a little dumbfounded. "Heh... so this is the... girl that I... created?" Miku stopped walking. Something was wrong. Ashlei stopped speaking as though she was mortally wounded before and didn't look like she was struggling to break free. She knew something Miku didn't. Suddenly though, the chains around Ashlei just disappeared into thin air, along with her black and silver sword and her white hair returned to their black state. Miku's Resserecion had worn off which was a terrible sign. As soon as Ashlei realised Miku was at her limit, she put up a false front to make it seem like Miku had won. Ashlei disappeared suddenly and Miku stumbled backwards as she now knew her master was about to put her in the red. Miku took two steps back before she tripped over her own weight and landed hard on her back. Ashlei quickly appeared on top of the girl and held down her arms. Miku however, tried to retaliate again. "G...g...g...get off.... get off me!... please.... I'm sorry! I'm sorry!... I'm sorry for... Defying you... Please!"

Ashlei had heard enough. Her prime guard was in this kind of a mess for absolutely trivial reasons. Miku couldn't even form sentences as her entire body was shaking. Ashlei thought for a moment before deciding on the next course of action. Ashlei reached to her thighs and pulled two Crucifixes out from straps she had on her legs. Pulling the bottom off each one, she revealed a blade and then looked at Miku. "Midknight, this will be your undoing..." Miku couldn't speak nor move. Her eyes looked around furiously in all directions for some kind of escape but all she saw were the blades, Ashlei's bloody face and the dark night sky. Ashlei knew that she was probably screaming inside, but this had to be done and seeing as she was pretty much paralysed it was the perfect time to do so. Ashlei lifted the two blades above her head, and in a swift movement, slammed both blades through Miku's biceps and pinning her to the floor.

Suddenly, Miku's voice and movement returned as she opened her mouth to scream. However she had little time to do so as Ashlei swiftly removed two move blades from her arms that were hidden beneath her sleeves. Miku was a moment away from screaming as two more blades pierced her lower legs to keep those in place too. From there, Miku couldn't scream. Her mouth was open but no noise came out. She could move her body but every inch she tried to move and struggle caused more pain and blood to spurt out of her new wounds. Ashlei moved back so she was lying on top of Miku and so she could see her face. Ashlei did not smile, but kept a perfectly emotionless face as she gazed into Miku's now pale eyes. She looked kind of funny with her mouth and eyes wide open, no blinking but no noise that Ashlei actually expected. However next to occur would be true pain.

Ashlei sat there for a moment and looked at Miku. She knew what she was doing to her and knew exactly how this was going to end. But Ashlei needed her death machine back and couldn't wait any longer. Ashlei waited still for Miku's body to calm down. She needed to at least get a sentence out of the girl so Ashlei continuously tapped her on the cheek asking her the same question: "What is your name?" After about 3 minutes had passed, Miku managed to squeeze out an answer underneath her dying breath.

"M...m...Miku....Zatsune...." Ashlei looked at her with a disappointed look. She raised her hand, and violently slapped Miku across the face. "Wrong... What is your name?" Miku didn't understand. Her eyes were streaming tears and her body had completely stopped responding except for her mouth and eyes. "WHAT IS YOUR NAME?" Miku could only think of one answer Ashlei wanted to hear but she didn't give in to say it. "Miku....Zatsune..."
Ashlei sat back up instead of being hunched over the girl and looked to the sky. "I can't believe this... Forgive me Midknight... but I... have... to do this!" Ashlei wanted to hear Miku say her codename as it was the link between the two. Ashlei have her that codename and if she wasn't going to say it, then she needed to force it out of her. But Miku wouldn't claim to be called Midknight today. Miyuki called her Miku... Miku was how she wanted to stay. But she didn't know that Ashlei was going to follow up with something like she did.

Ashlei sprung back down like before but this time held her right hand over Miku's face and her left beside Miku's ear to hold herself up and hold Miku's head in place if she moved it. "MIDKNIGHT! YOU HAVE DEFYED YOUR LADY AND FOR THIS, YOU SHALL BE PUNISHED TO THE FULLEST!" Ashlei then shot her hand downwards towards the scared stiff girl as sweat trickled down both girls foreheads at what Ashlei was doing. Ashlei's soft fingers tickled the socket of Miku's right eye before suddenly puncturing her eye. With one fierce movement, Ashlei reached beneath her eye, and yanked it clean out. Miku couldn't give much of an expression after that as her entire face was now covered in blood and Ashlei's arm up to her elbow was also drenched. Miku did however, scream louder than ever before. All of Hueco Mundo would be able to hear the wailing cries of this desperate girl as Ashlei threw her now removed eye across the road. Ashlei then bent down once more with her bloody hand and did exactly the same to Miku's left eye. Fingers in, under the eye, and then one powerful yank to remove the entire thing and cause even more blood to come gushing from her.

Miku continued to scream and couldn't stop as the pain was so intense it could kill her. The girl wouldn't stop screaming as she even started to move her body and making the wounds in her arms and legs bigger from her struggling. Ashlei stood above the girl, now dripping in the blood that Miku poured out and looked down at the now blind girl. Ashlei herself had tears rolling down her cheeks but it's not certain if Miku was crying or not as her face was covered in red. "Midknight... you were such a good girl for me... but now... You aren't fit to stand beside me..." Ashlei bent down and yanked out each of her four blades, one after the other as the girl still screamed her life away. Ashlei stepped back from the girl and looked from a meter distance. "Midknight... I want you as a last favour, to find that Miyuki girl and Matthew... find them... and kill them..." Miku could easily hear what Ashlei was saying even though she was screaming. Something about Ashlei's command made it feel like time had stopped so Miku could hear what was being said.

Ashlei had to make sure Miku was left with this. "Miyuki is the one that has done this to you! If she never existed, you wouldn't be laying there blind. IF SHE NEVER BETRAYED YOU THEN MAYBE YOU WOULD BE SAVEABLE... BUT SHE ABANDONED YOU! FIND HER AND KILL HER!" Ashlei screamed this order back to Miku who was still wailing on the floor, but had her screams drowned out by a mouthful of blood turning her yells into gurgles. Ashlei turned to her side and flicked her wrist to open a gargantuan. "This will take you to the living world. You won't find her here. Go there, and hunt that girl down..." Ashlei then walked over to Miku and lifted her in her arms. She knew the girl was in critical condition but she would not die from something like this. Just as she went to lift Miku, she tore a part of her sleeve off revealing one of her crucifixes and used the torn material to cover Miku's eyes. It was wrapped around her eyes like a bandage to stop any more bleeding and then she lifted the girl and walked over to the Gargantua. "I'm so sorry Midknight... but you will just be too much of a distraction if you're going to act like this towards me. Return to Hueco Mundo, but only after you have killed Miyuki. Until then, I hope you can find a path that will take you further than if you stayed here with me. I can't afford to be using an unstable pawn in my game. This is goodbye... Midknight..."

After saying that, Ashlei held out her arms and pushed Miku through the gargantuan. Then with a quick flick, Ashlei dropped her onto the other side and closed the gargantuan behind her. Ashlei turned around and looked at where they had been fighting. There were upturned roads, destroyed buildings and a huge blood pool on the ground right in front of her. Ashlei folded her arms with a critical look of sadness on her face. "Fucking girl... how could this have happened..." Quickly, Ashlei went from this state into a full blown crying session. She held her hands up to her eyes and just cried. She had lost a valuable member... but she can't stay here... Miku didn't belong to Ashlei anymore. She was too much of a burden now with that sudden change. Ashlei had given the order, and Miku was going to fulfil it...

"Kill Miyuki..." These words ran through Miku's head over and over as she lay there lifeless under a bridge in Karakura. She was beaten, bloody and blind. Those words were going to lead Miku across her new way of life here...

-------------------------------------------------------
Chao

Queen Of The Sands


Joined

: 2010-06-03


Posts

: 3419


Age

: 28

Member Info


Platinum Points

:


(60/100)




Tiers

:
Permissions in this forum:
You
cannot
reply to topics in this forum