Ravana

Experienced Member


Joined

: 2010-06-05


Posts

: 613


Age

: 30

Member Info


Platinum Points

:


(0/0)




Tiers

:
Axel/Crimson ~ Hawaiian Volcano god ~ 1-3-
Yet another average day in Karakura City; sun shining, partial cloud cover, and mild temperature. Just because it was "the future" didn't mean that everything was gonna be much different. Well, in many other aspects the world was vastly different; but weather was not one of them. Neither was human nature; the will to survive and thrive no matter what the situation was something that never seemed to change about them. Of course, with today's modern technology survival wasn't nearly as hard as it used to be. In fact, one could argue that now was one of the safest times to be alive. Ironically, that person might have also been killed by a hollow. Either way, this world was what it was, nobody could change that. The only thing to do was to accept that, in the grand scheme of things, there really wasn't much that you could ever do to change the world around you. No one knew this better than Axel, also known as Crimson. Age 35, a chain smoker, and lover of alcohol and fighting; Axel was much more intelligent than anyone could guess from his appearance or vices. Having been through more than most 35 year old's, Axel had a different view on life than a lot of others. He was not an "emo", nor did he think that life was pointless, but Axel knew that making any real difference took a shit load of people and one hell of a long time. So, instead of living for some idea of "changing the world", Axel simply lived to do what he enjoyed. And today, he had a clear idea in mind of what to do.
Having the day off from running his restaurant, Axel had, of course, decided to go out to drink. Since most bars now-a-days were "smoke free", Axel didn't really do this as much as one would expect. One of the things that Axel hated were annoying anti-smoke activists. While he honestly wasn't expecting to run into any in a bar, he still disliked the fact that he had to put out his cigarette before entering. Of course, that didn't stop him from smoking on the way there. Yes, Axel had, as usual, a lit cigarette between his lips; inhaling the smoke deep into his lungs. Because of his powers, and how often he turned his body into magma, Axel suffered pretty much none of the adverse effects of smoking. Because of his punk-ish appearance, Axel got many stares as he walked, though he didn't give two shits about it. Axel was used to people looking at him as if he were "different", since they had been doing so all his life. In fact, Axel took a bit of pride in the fact that he could scare some people without having to do anything. This didn't mean that he was a bad person, he just found enjoyment in some different things.
Because he wasn't actually a "regular" at any bars, Axel had decided to go check out a place that one of his workers had suggested to him. Not only did they say it was a good place, but they had also mentioned something about a hot woman who seemed to run the place. While Axel was attracted to females, he didn't go about it like some other guys did. Honestly, Axel really didn't even try to go after a girl unless he actually felt something about her. Of course, he was still a man, and the fact that there was hot bartender did play into his decision a little. Luckily, the bar wasn't too hard to find, and as he approached the door, Axel let out a sigh. "Damn, haven't even finished this one" Axel said to himself, referring to his cigarette. Taking one last deep inhale, Axel took the cigarette away from his mouth and flicked it off to the side of the street. As he entered the bar, Axel had to admit that the place had a nice atmosphere; not so much "cheery", but a nice place to relax and grab a few beers. Walking up to the counter, Axel immediately noticed the bartender that his employee had mentioned. Fiery red hair, bright orange eyes, and admittedly quite the ample chest, Axel found himself agreeing with what his employee had told him. Of course, nothing really changed on Axel's face to hint that he was impressed by the female's looks; save for maybe a slightly raised eyebrow. "Hey there, I'll take a bottle of your best rum" Axel told the female bartender as he got to the bar, using a tone that was friendly for him. Of course, Axel didn't want to just leave it at that, so he decided to strike up a conversation. "So, what's your name beautiful?" Axel asked, actually meaning it when he called her beautiful. While this may not have been expected from looking at him, Axel was more of a straight forward guy, and if he thought a girl looked good, he had no problem letting them know that.
__________________
+Characters+Ravana Ichiro
~
Ex-Captain Vizard/Vizard Corps Co-leader
~0-3+
Toshizo Hijikata
~
The Demon Commander
~0-3+
Diablo Cortar
~
The Cutting Devil/Segunda Espada
~0-3-
Albert Wesker
~
Biohazard
~0-4++
Dracula Vlad Tepes
~
The Dark Lord
~0-4
Okita Souji
~
Sexy and I know it
~0-5+
Alfonso Gunter Reinhold
~
Evil Bastard
~W.I.P.
Hanako Ikezawa
~
Malignant Tragedy
~5-5*
Akemi★

Seasoned Member


Joined

: 2010-06-07


Posts

: 1138


Age

: 32


Location

: ~Anywhere~

Member Info


Platinum Points

:


(0/0)




Tiers

:
Mon Jun 06, 2011 12:33 am
A day like this? Hahahah, yeah no. There was only nice 69 degree AC going on all day and all night, not a wink of sleep nor anything new. The day; June 2nd, the one year mark in which her son killed himself in traffic. As for the new Future they were in? It was utter bullshit, If humans could live so long why the fuck was her very husband and even more stupid son buried in the backyard in the graveyard. No it was the fact that today technology was everything. Yet not a single cure for possibly powers in the humans who find themselves cursed with sure beauty and by god with unnatural abilities! These powers even cursed the dead son because Ikiro's daughter flanting herself in front a sweet innocent boy named Yuusuke, not Katsumi but Yuusuke. It was interested how the human finds one person who loves them greatly yet doesn't seem to find what they want in that human yet push them to aside to watch the flirting begin within another. Akito & Katsumi seemed like the perfect couple but Yuusuke saved her from possibly demons raiding the local forest one year ago… And INSTANTLY Yuusuke & Akito were the by god the most innocent couple yet to break the news; leaving Katsumi up for suicide. Now being about 29 years old now, Nia tried everything she could try to stop her son but he just did it… Right in front of Nia… She was even splattered in his blood. It was most saddest thing in the world; how love could possibly rip a man's soul right out of the body and into the trash. Now, today, Nia didn't do shit but her job. She could not care anymore as must he would think about his own mother when he killed himself.
Nia? Nia is that woman who would stare at the facts of life and tell you to shove it anyway or even every shape. To her, the liquor was beauty to ever soul to speak up the truth and to make them confess everything living thing. Fact one: Men are liars unless they pin you against the wall dead fucking serious. Fact two: Women are bitches, excluding herself sometimes. Fact Three: Behind every strong man, women will be there unless the guy is gay… then there will another man. Fact Four: Sex is magical tool to make everyone happy… Fact five: Love is not a game, Love will always fuck you over… and over and over again. Sixth Fact: Liquor is your best fucking friend in the world and it will listen to you none stop and so will the bartender. Final fact: Life is your bitch, you pimp it the way you want it or it will screw you over. Nia is truly one of those women who tend to mysterious, and you would not quite know her at all, if you think you do… She will sometimes turn around and mindfuck you with some random Scottish logic which would not make a lick of since. Nia loved red… Yet despite her fun side, she was a mother like figure. Everyday in the bar, where her own house one step way behind her, it was perfect; it was quiet during the day but at night time, Raves and everything you would not thing would happen… It looked something a strip club yet it had a dance floor with blinking neo colors flashing magically. Where her bar would be cleared with the right to left cleaning pattern that Nia tend to do with all the magical bottles behind on glass walls & shelf…
Now moving on; It was surely a slow day…
'No one is here…'
Nia thought as she sighed deeply as even the bouncers began to take a nap on the couches. During the day was never buzzing not even for a single hit. Nia herself was taking shots and it was even before one o clock. It was never weird as much as it was just simply boring. The female began to lean against her counter with her perfect sized breast just seeming so much bigger.. Her head tilt to the side as she released a yawn; suddenly those orange ember eyes began to glow warmly and snicker like that of a cat's began to grow bigger as a man began walk into the bar. His hair… Instantly chemical within her own body began to spark so did her interest in this one. He seemed… Inhuman or supreme compared to others. His aura… seemed smoky.. Which make the female even more curious about the lad. His approach to her was quite demand as the female just simply got into his face only possibly about five or six inches away. Those lips of her began to curl up as her orbs began to glow brightly. Her overflowing red locking curved out every single inch of her body happily... There was nothing really seemingly wrong besides her mood; hoping he might able to cure it...
"Well lad, we will get there once I get my payment of possibly a kiss or cash if you preferred. "
There was something odd, Nia's feeling. She wanted to stroke his head softly and pet it gentle then play with each piece of his hair. His eyes were like sea foam green which Nia could possibly watch all day in. Sure Nia was just play around before swinging around herself to get the best whiskey she had and shot glass for the lad. There before him; she would pour it in front of him with a smile. Though she waited for his reply to her.
"I am waiting. Payment first then Whiskey beyond your dreams.."
__________________
• ⁞ • ⁞ • ⁞ • ⁞ • ⁞ • Akemi's Character of The Month • ⁞ • ⁞ • ⁞ • ⁞ • ⁞ •
Emer McLoughlin's Theme
• ⁞ • ⁞ • ⁞ • ⁞ • ⁞ • ⁞ • ⁞ Other Goods ⁞ • ⁞ • ⁞ • ⁞ • ⁞ • ⁞ • ⁞ •
Ravana

Experienced Member


Joined

: 2010-06-05


Posts

: 613


Age

: 30

Member Info


Platinum Points

:


(0/0)




Tiers

:
Axel/Crimson ~ Hawaiian Volcano god ~ 1-3-
A grin crossed Axel's face at the females words. Not only was she attractive, but she had a fiery personality as well. Of course, this was a good thing for Axel. Being a little "different" himself, he wasn't as attracted to the "cute and innocent" types of girls that a lot of guys, whether or not they knew it, like. No, Axel preferred women who were more mature (not old) and had a stronger personality. Of course, Axel had noticed the slight signs of interest that the female bartender had showed towards him as he had entered, this letting him know that maybe he'd be able to have a little fun with her. "Well, as tempting of a bargain that is, I think I'll pay ya cash for the drink" he said with a grin, able to keep his cool even as her face was so close to his own. As he said this, Axel reached into his back pocket to pull out his black leather wallet; all the while keeping his eyes fixed on the beautiful woman. "I'll save the kiss for your tip" Axel added with a sly grin as he placed the money for the drink on the bar counter. While Axel suspected that the woman was joking with him, he was going to go with it. He could assume by her tone and body language that she probably would get a kick out of him going with the joke, but this was still just an assumption. While Axel may have had an affinity for reading some general traits of people, there really was no hard science behind it. The only things he really had to go off of were his personal experiences.
Having paid for his drink, Axel took the shot glass from the woman and brought it up to his mouth, the grin still present. In one quick motion, Axel had thrown down the shot (cause that's what it is called) and placed the glass back on the table. "It'll probably be easier if ya leave the bottle out on the counter; I'll just pay for the whole thing" he said, obviously intending to drink quite a bit here. While he wasn't an alcoholic, Axel had a ridiculously high alcohol tolerance, even when it came to hard liquors, and would be able to take the whole bottle without getting shitfaced drunk. "So, you still haven't told me your name beautiful" Axel said, confident grin on his face. Though Axel may have often been described as "anti-social", he was actually very confident when speaking, and it was honestly really hard to get him embarrassed. "Mine's Axel by the way, in case you were wondering" he added, though it was also to be polite by giving his own name. Granted, it would be hard to spot any of these polite gestures Axel did unless you were really looking for him. This isn't to say that he was rude, he just found subtle ways of showing that he was actually interested in keeping the conversation going. By now, Axel had pulled his credit card out of his wallet instead of more physical money, as it would be easier for payment to just use it. Luckily, his restaurant was quite popular, and managed to pull in quite a profit, so Axel was generally well off for a restaurant owner. Still, it wasn't like he was rich, he just had more money to spend because he still lived in a simple apartment. It wasn't that he couldn't afford a place of his own, Axel just didn't spend much time at home, so there was no real need to get a place of his own, Of course, this was liable to change if he ever got into a relationship that moved towards the stages of moving in together.
__________________
+Characters+Ravana Ichiro
~
Ex-Captain Vizard/Vizard Corps Co-leader
~0-3+
Toshizo Hijikata
~
The Demon Commander
~0-3+
Diablo Cortar
~
The Cutting Devil/Segunda Espada
~0-3-
Albert Wesker
~
Biohazard
~0-4++
Dracula Vlad Tepes
~
The Dark Lord
~0-4
Okita Souji
~
Sexy and I know it
~0-5+
Alfonso Gunter Reinhold
~
Evil Bastard
~W.I.P.
Hanako Ikezawa
~
Malignant Tragedy
~5-5*
ARCHIVE UPON AKEMI'S LEAVE
__________________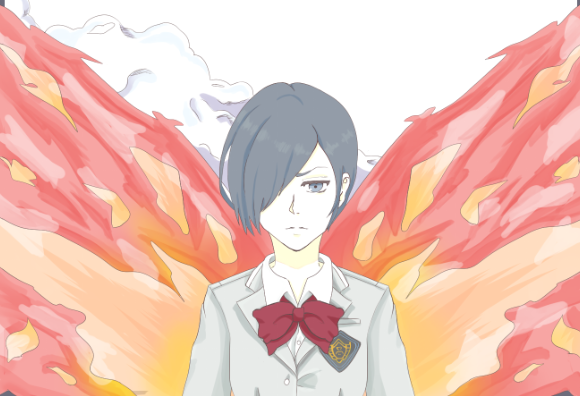 Hon Hon Baguette.
Permissions in this forum:
You
cannot
reply to topics in this forum