Mizuki Lilith
-The Succubus-

The young succubus was still in her shifter form, she stood in the fuma park, waiting for someone.She'll do something that can use free time waiting.She climbed up on the tree and sat down on the branch, looking all around the place.She stretched herself, leaning herself against the tree, also keeping her balance on the branch to prevent herself from falling off from it and have a rough landing.

"So boring... I might find someone and get their attention towards me.."

Even if she looked like a teenager, her soft, and cute voice of her was almost like a five years old girl.Even with a voice like that, she wasn't a childish one at all.Her beautiful face, glaring towards most people that walked past the tree from the branch, which made her wanted to do something towards them.She doesn't have the mood to do that and she decided to have a short, simple rest.She leaned against the tree, slowly falling asleep.But she still kept her balance from falling off.Once she completely fell asleep, she suddenly lost her balance and fell off from the tree.

Ravana

Experienced Member


Joined

: 2010-06-05


Posts

: 613


Age

: 30

Member Info


Platinum Points

:


(0/0)




Tiers

:
Axel ???~Hawaiian Volcano god~1-3+
"Fuck, I sleep way to damned late on my days off" Axel said groggily as he slammed the snooze button on his alarm clock; at least the one he had set up by the couch. Of course, Axel did actually own quite a nice bed, but since he usually worked and stayed out late, he simply just came to his apartment and crashed on the couch. As for why he was actually sleeping so late, well, that was a little obvious; he was taking the day off. Actively running your own restaurant, including even still cooking it it, cold become quite taxing, and even someone with Axel's stamina needed a day off very now and then. Letting out a lazy sigh, Axel picked himself up from off the couch and began to go about his morning routines; even though it was no longer morning. This, of curse, included showering, brushing his teeth, and changing his clothes. Ready to finally head out, Axel made sure to grab a full pack of cigarette's and his wallet, before quickly leaving his apartment. After having locked the door behind himself, Axel took no time in pulling a cigarette out of his pocket; and with the snap of his fingers, it was lit. "But, what the hell to do now?" he asked himself out loud, inhaling deeply on his cigarette. Of course, Axel knew that the his building would be empty for the most part this time of day; and even then, anyone would be too afraid to confront him on speaking to himself out loud.
Deciding it best to just wonder aimlessly, Axel did just that. Of course, he was more than used to the awkward looks he got from people based on his appearance and the way he held himself. He knew that most people were either too scared to approach him, or, in the case of some females, were too busy swooning over him. Honestly, Axel couldn't care less as to what others thought about him, and could sometimes be caught using his "intimidating" side to mess with people who would have otherwise pissed him off. Of course, Axel wasn't a complete asshole, and once ya got to know him (or more accurately, IF you got to know him), he was a bit of a nicer guy. Then again, since it actually took a bit of work for a stranger approaching him to get past Axel's rough exterior, this was not an easy task. Still, as Axel found his thoughts drifting to possible new dishes for his restaurant, he found his body subconsciously taking him towards Fuma park. To be honest, Axel wasn't really a "park kind of guy", but seeing as he had already decided to wonder aimlessly, he decided to just follow his feet.
As soon as he reached the park, the first thing he noticed, was that he was getting slightly more looks than usual, though most of them seemed to be aimed at his cigarette. Hell, he should have known that a park was the last place to come to find people who were more "pro smoking", but by now, he gave even less of a shit than before. And, since no one was brave enough to actually approach him and tell him to stop smoking, he at least wouldn't have to deal with that. Still, as he walked through the park, Axel began to sense something that seemed to be a little off. While his skills at actually detecting others was pretty good, he sometimes had trouble distinguishing between the different types of reiatsu. With his curiosity now piqued, Axel finally set a destination for himself, and went towards the peculiar sense. Of course, it didn't take him long to find the source, and as luck would have it, he got there just in time to see a young looking fall from a tree.
"Damn, is she really the one I sensed just now?"
he thought to himself before anything else. Of course, not being a complete asshole, he did actually approach the girl, and as he reached her, he outstretched his hand, offering to help her up. "Ya know, sleeping up in a tree is a dumb-ass idea if ya tend to roll around in your sleep" he said, his tone making him sound a little like a smart ass. Then again, that was just the way he usually communicated, so he really didn't pay any mind to what others might think of it; not that he would care. Now being close enough, Axel was able to get a good look at the girl, and he had to admit; she was pretty hot. Of course, Axel was the last person to be dumbstruck by a hot girl, and while he may have been attracted to her, it wasn't like he was gonna lose control and start trying to hump her leg. In fact, seemingly nothing changed in his facial expression or body language to even acknowledge that he thought this girl was hot.
__________________
+Characters+Ravana Ichiro
~
Ex-Captain Vizard/Vizard Corps Co-leader
~0-3+
Toshizo Hijikata
~
The Demon Commander
~0-3+
Diablo Cortar
~
The Cutting Devil/Segunda Espada
~0-3-
Albert Wesker
~
Biohazard
~0-4++
Dracula Vlad Tepes
~
The Dark Lord
~0-4
Okita Souji
~
Sexy and I know it
~0-5+
Alfonso Gunter Reinhold
~
Evil Bastard
~W.I.P.
Hanako Ikezawa
~
Malignant Tragedy
~5-5*
Mizuki Lilith
-The Succubus-

When Mizuki was about to fall onto the ground, she did fell onto the ground but not so rough.She woke up after having a soft land on the ground, she sees the male was offering his hand to help her up.She stood up wihout holding his hand, she would patted the dirt out from her.Which when she heard what he said now,

"Ya know, sleeping up in a tree is a dumb-ass idea if ya tend to roll around in your sleep"

That word just made her, quite not angry.She would look at the male's eyes, it seems that the male was taking a look of her, which she won't mind.When she looked into his eyes, she knows that the male looks like he was going to try to something but she couldn't care much about it.Even if the male didn't made any "Facial Expressions" or "Body Language", she could know what he was thinking when she looked into his eyes.The male might not notice that she was looking at him with her beautiful eyes, then she asked him a question with a cute tone.

"Who are you?".She asked him.

"I'm Mizuki Lilith, a suc-".She cutted off her word when she tried to introduce herself, when she changed into a lie.

"I'm Mizuki Lilith, a human, if you know~".When she said again, she winked towards the male.

She decided to take a single step away from the human male, she wasn't actually a human, she was actually a succubus but se was in her shifter appearance to hide her real identity.She decided to do something fun to him for a while.After that, she walked towards the male, looking to his eyes.She then turned around and looked away from the male.

Ravana

Experienced Member


Joined

: 2010-06-05


Posts

: 613


Age

: 30

Member Info


Platinum Points

:


(0/0)




Tiers

:
Axel ???~Hawaiian Volcano god~1-3+
So, the girl didn't accept his help in getting up eh? Then again, it wasn't as if this bothered Axel at all; he had merely offered to help her up cause he felt like it. As expected, the girl began to dust herself off, and Axel just stood there and waited till she was done. Now, don't mistake this for being "polite"; Axel simply wanted to see her reaction to his first comment. And, soon, he got his response. He couldn't help but let out a small laugh at the girl's not too pleased reaction; though she did well to cover it up. Still, Axel didn't really care how others reacted to his words, and this led to him speaking in a more blunt manner. Hell, while you might not like how he says it, Axel seemed to have a way of always speaking on what was directly the problem. Of course, in this case, it was just a simple statement he had spoken, neither really getting at any "issue", nor truly being said just to be an ass. Still, that slight...frustration was probably the best word, at his statement was short lived. While he had taken his time to look over her body, and did admit she was pretty hot, he was in no way "enchanted" by this girl, at least not by looks alone. While one may not have guessed it, Axel was actually not a shallow person; he actually needed for a girl he was attracted to to have a personality that he liked before really attempting anything. Of course, because this was actually more rare than Axel would have liked, most girls assumed that he only went for "really hot" girls.
Now, all this aside, Axel was actually able to catch the girl as she looked at him; and even noticed the...intensity with which they were, well, he could only assume studying him. This, of course, made Axel laugh a bit to himself; even if this girl somehow managed to "read" him, the only thing she would find is that he does not give a shit. Sure, he'd admit that she was hot, but if she had a bitchy personality, Axel wouldn't even take the time to hit on her. Then again, since he preferred women with a more "mature" personality, and since this girl looked to be only 16 and sounded even younger, chances are er personality wouldn't "win him over". Granted, since he could tell by the girl's reiatsu that she was at least not an ordinary human, there was a very good chance that she was older than she appeared. Of course, Axel wasn't paying these thoughts much mind, if any at all, as there was no use in trying to gauge this girl before she even spoke. As the girl asked his name, Axel sighed a bit and crossed his arms; it wasn't as if he was against giving his name, he just didn't know if this girl would end up pissing him off yet or not. "Eh, the name's Axel, no last name so don't ask about it, and I am the owner of the restaurant Pele's Passion" he said, giving his introduction. As for the last name part, it wasn't a difficult topic for Axel, nor was there any real reason behind it; he didn't have a last name, and asking him about it was just annoying.
With his introduction done, Axel listened to catch the girl's name, mainly just so he had something to call her. Although one may not have guessed it from his attitude or appearance, Axel was actually a very intelligent person. Because of this, Axel was easily able to catch...Mizuki's slip, a word that began with "suc". Of course, Axel was not fooled by this, and he now had enough to assume that the girl was some race other than a human; despite what she said. "Uhuh, sure, whatever ya say Mizuki" Axel responded, and obvious amount pf skepticism in his tone. While he was almost positive that she was not a human, Axel really didn't feel like going through the trouble of calling her bluff and let her believe what she may; though if she were smart enough to read his tone, she would have known that her little gig wasn't flying. As the girl, er, he should probably refer to her as Mizuki in his thoughts so as not to forget the name before he stopped caring, took a step away from him, Axel felt a bit relieved. It wasn't as if he felt that he was gonna try anything on/with her, he just didn't trust her enough to let her be too close to him. Of course, Mizuki's next act admittedly caught Axel off guard. Quickly, the girl walked straight up to him, almost touching him, and looked directly into his eyes. While it did catch him off guard, the act did not leave Axel flustered, though he was secretly hoping that this girl didn't have a bitchy personality.
"Goddamn, this chick is crazy"
Axel thought to himself. Of course, judging by her actions, and the way she turned away, Axel could tell that she had to have a "flirty" and mischievous personality. "The hell is your game exactly? You fall out of a tree and then try to seduce the first person who finds ya?" Axel asked. Unlike earlier, his tone didn't make him sound like an asshole, but was a bit more...well, playful is not the right word, but it is the closest description. While he probably could have guessed that those were Mizuki's intentions, his question really was meant more in a joking way.
__________________
+Characters+Ravana Ichiro
~
Ex-Captain Vizard/Vizard Corps Co-leader
~0-3+
Toshizo Hijikata
~
The Demon Commander
~0-3+
Diablo Cortar
~
The Cutting Devil/Segunda Espada
~0-3-
Albert Wesker
~
Biohazard
~0-4++
Dracula Vlad Tepes
~
The Dark Lord
~0-4
Okita Souji
~
Sexy and I know it
~0-5+
Alfonso Gunter Reinhold
~
Evil Bastard
~W.I.P.
Hanako Ikezawa
~
Malignant Tragedy
~5-5*
Mizuki Lilith
-The Succubus-

She stood there, and heard the male's introduction.So, the male's name was Axel wihout a last name.It was weird and she never heard someone wihout a last name.Seeing that the guy has no last name, she decided to be a little "nice" to him.At least her words would made him trust she was a human.It seems axel was okay about her lies of herself as a human.She smiled at axel and decided to be friends with him, in her thoughts, this guy is a loner.

She nodded.She would poke Axel's cheek, in a childish way.Then a word caught her attention, which was something that she doesn't like about it when someone said that kind of thing.

"The hell is your game exactly? You fall out of a tree and then try to seduce the first person who finds ya?"

Seduce the first person to finds her, she wouldn't do that.Unless she needed to.Since she doesn't have any mood to seduce any person today, she decided to be more "matured" person and a little bit more like a real "human".She coughed, she had her eyes closed and sighed.She then answered the male's question with a slightly deep voice.

"I have no intentions of seducing someone like you...".This is what she answered.

She turned around and avoids the male.She would had her hat on and walked away.Axel was a little bit good of learning such good things and knew she was not a human and she was actually an other race instead of a human.Since he was that good, she decided not to seduce this guy.Her matured voice makes her more like a real human, or maybe it wasn't.Her stomach suddenly growls and her face gets red.She ran away from the male and decides to buy some foods for herself.



__________________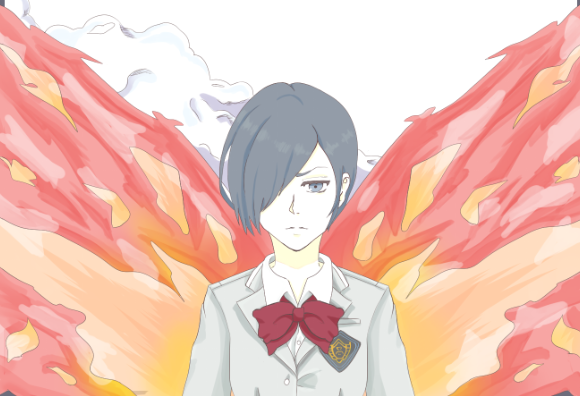 Hon Hon Baguette.
Permissions in this forum:
You
cannot
reply to topics in this forum