Iori

Veteran Member


November COTM 2011

:


Joined

: 2010-06-26


Posts

: 3621


Age

: 30


Location

: Planet Mercury

Member Info


Platinum Points

:


(0/0)




Tiers

:
|||Aya|||
Karakura Forest——
Such was, the location Aya had been leading herself to currently. It was a slightly dangerous area from the report's, a large dense and imposing forest area is what could be seen, with lots of trees of differing sizes and even differing shapes. Apart from this unforgiving forest, there was a lake that lead right into a wonderful river with water that was still surprisingly clean, even after 400 long years. However, she shouldn't proceed beyond this point. Her instinct's automatically told her, that this is where she should stop, lest she want to meet battle with the carnivorous beast's known as hollow's who fed on people, especially human's with a extra surplus of spiritual energy, something she possessed. While not perfect, Aya happens to be a great superhuman. Superb Sword skill, Enhanced Strength, Prolific Martial artist, she possesses all of these trait's, and does not aim for failure in any one of these field's. If these daunting factor's weren't scary enough, the fact that she possessed both spirtitual energy and chi, made her more of a fearsome warrior in combat. As one might say, she's beyond a level most normal human's would never reach no matter how hard they tried. Yet against all criticism, Aya trained her human skill's up to superhuman. Even before she acquired special abilities, that would later enhance them to even greater height's, that hitherto had yet to exist. She is certainly someone to be admired, even from an enemy's standpoint. For a man or woman who respect's hard work and compassion, and a person who has trained zealously, Aya stand's out like a wonderful battle goddess with a heart of gold, no less. But there was nothing else that needed to be said about her, what was her intention of coming to this forest?
Simple. Training. Aya was never one to stop training, even if she had reached the desired level. For her, there was no full capacity, if there was even an extra sword technique or special ability that could be learned, she would dazzle and amaze her spectator's. She had always been a woman to train with a madman's zeal, ever harder and ever stronger, never backing down from failure. Failure was something that happened to anyone, so why would Aya feel inferior? Failure needed to happen, in order to bring out one's true potential. For if one were to never fail in life, why, they would never reach the stages Aya has in her own time. Aya was a woman who knew she had faults as a woman and a warrior and accepted them in a positive light. Maybe this was what had allowed her to progress throughout life without breaking stride. Aya sighed deeply, as she slowly walked through the inner workings of the forest. Nothing too ominous seemed to be creeping around here just yet. Therefore, this would now become a suitable training place for Aya to practice her sword techniques and the stances needed to unleash their true power. For any martial art's, there is always a stance, a critical stance that allow's techniques to be performed with ease. Consider Bajiquan. It is a martial art that focuses purely on precise and no-holds bar blow's, that one might call dirty and unfair. A art of carnage and explosive movement's, it is a form of chinese kenpo that is in the upper echelon of skill's found in warrior's of today, and of the past. What allows it to achieve such glory? One will say that it all start's from the horse stance. For one to perfect the horse stance, it require's rigorous if not arduous, stamina and patience. If one lack's such patience, they will never be able to enjoy the full fruit of this martial art's curriculum. By that regard, this isn't the only style of kung-fu, one needs to use the horse stance.
It is even found in Japanese martial art's and in some cases, it is just as critical to use in Japan as it is in china. But right now, we are talking about hand to hand martial arts. For Aya's preferred art, we look to the art of swordsmanship. There are a few style's Aya possesses. Iaido, Iaijutsu, Kenjutsu, all of these are wonderful art's, not one of them useless in battle. However, what allow's them to achieve perfection? one will say it starts from using a theory in martial art's, that confer's to both swordsmanship and hand to hand combat. "Go-no-sen". Three chances of victory dependent on instantaneous reaction. Not only that, it goad's the opponent into preparation for their own strike, when you've barely even completed your own. This is the window, that allow's you to take victory with your three chances. All of them are used in different situation's, during battle. Let's consider that an opponent aim's to attack you first, instead of waiting for his attack as one might think would be the logical idea , you seize that moment of vulnerability and strike him down. Since he will have already admitted to his attack, he cannot possibly counter or come up with a proper method of blocking especially with a swordsman of Aya's standing. Basically, "go no sen" means to respond to an attack -- to counterattack. Someone attacks you and in response, you block (or do perform another technique). First the attack and then the response. There is a delay. However, this is only one part of the strategy that Go-no-sen employs. For the next two, one should still keep "Go-no-sen" Steady within their mind, as thinking of anything else will result in losing one's composure during battle.
Next up, is "Sen-No-Sen". This mean's that someone will attack, once they attack you counter at the same time, with a technique of your own. As stated before, not many opponent's exist who can instantly recover from an attack in mid course, and surely none of them can pull back in time enough to survive a sword or mighty fist blow that can smash one's head into an irreconcilable pulp. The beauty of 'Sen-No-Sen' is that it is best used within the hand's of instantaneous fighter's. People with instant-reaction and split second maneuverability will come to greatly enjoy this part of the tactical curriculum. Even against the ethereal warrior's of today, there is a law one cannot overcome. If you aim to attack, and the opponent set's out a trap, you cannot instantly come up with a strategy in order to pull you out of the bump, into you're given enough time to properly plan out how you got into your predicament. 'Sen-no-Sen' Utilizes that law to the fullest extent. There is also a case, where the user of the three tactical techniques, feigns exhaustion or pretend's to have their attention elsewhere. In this case the opponent will hesitate in wonder, or at the very least take his chance to attack you. In that split-second, you strike him down, countering his attack with a powerful technique of your own. This is the second chance of victory, now we bring things down to the last. Which is simply 'Sen'. Taking 'Sen' can be said to be the ultimate union of offense and defense. While similar to "Go-no-Sen" in that you begin by inviting your enemy's attack, your intent is to defeat the attack before it occurs. Few things are more difficult. Unlike "Go-no-sen" and 'Sen-no-sen', which show themselves clearly, Taking 'Sen' Depends on your ability to catch the nigh-imperceptible signs that your enemy is about to attack. These range from barely visible, to things such as a slight lean forward or a shift of the eyes, to things as minute as a change in breathing. No matter the sign, detecting it is far from simple. And even if you think you've spotted, a single misjudgment can result in you surrendering "Go-no-sen" to the opponent.
Even if you succeed in this, the fact that you are striking after he signal's his attack, means that you have ceded some time to the enemy. Moreover, in any battle, whether against bowman, swordsmen, or gunmen, once you make that simple mistake, death make's it's way upon you like a ravenous gale. To win under the circumstances of 'Sen' means that your attack is exceedingly quicker then their own. If you are the same speed, the only thing you could wish for is a mutual death. For all three of these tactical chances, one should not wait for the opponent to exhaust themselves or cause them to become impatient. It's not like the opponent's stamina will expire before your's, so why not take these chances? One must not wait for them to happen, but rather, they must be made to happen. Isn't their beauty in success, of which you took within your own hand's? This is what Aya's strategy is based on as a swordsman. She is a warrior who can utilize these instant-reaction during battle, and in some cases, can effectively gauge the opponent's intent. In close combat, it is most prolific. In long ranged battle's, it isn't possible to sense intent from a long range. However, if you happen to be closer, you can at least sense that the bowman plan's on shooting his arrow's, if that's the case, Aya can easily charge toward them using 'Harmonic Step' Which is not unlike that of a Shinigami's Shunpo.
Well, enough with explanation's, Aya's already in her destined location. The center of the forest is an ideal training spot. it's not like a gymnasium that Aya prefer's to go to, but it still retain's enough space in order to imagine the situation. She slowly began to stretch her arm's out, working out any kink's in her body. After that, Aya's next plan of action is to unsheathe her sword and begin training. This sword was no simple sword, but her ceremonial sacred blade, Reiki. It is sword that was passed down through many generation's in Aya's family. As the successor, mastering this blade is beneficial to the land and to the user. "...Hm..." Before she decided to train, she instead decided on sitting in a Japanese style, as her knee's were placed neatly on the pristine piece of ground she chose, while her back was arched straight her, her face full of calm composure. In order to train, one must take in the environment and all it has to offer. Yet why couldn't she shake the premonition that she would be fighting today? It didn't seem like that much of a ominous thought right now, yet it was lingering within her mind. The least she could do right now, is to only wait and see what await's her today. Can't be anything too bad, right?
__________________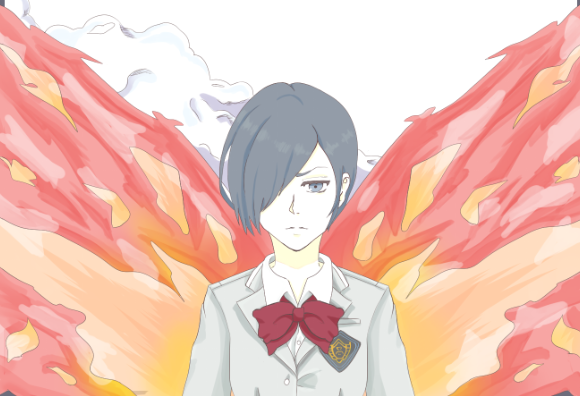 Hon Hon Baguette.
Iori

Veteran Member


November COTM 2011

:


Joined

: 2010-06-26


Posts

: 3621


Age

: 30


Location

: Planet Mercury

Member Info


Platinum Points

:


(0/0)




Tiers

:
Moving back to Karakura forest, gonna make this a thread for me and raiki, and delete Gin's Apollo post.
||Tsukuyomi||

The Dark Enforcer


Joined

: 2011-03-14


Posts

: 427


Location

: Seireitei

Member Info


Platinum Points

:


(0/0)




Tiers

:
Blade

The Hybrid King


Joined

: 2011-06-06


Posts

: 2556


Age

: 25

Member Info


Platinum Points

:


(10015/100000)




Tiers

:
Un-Archived, hopefully Agito will be posting soon, if he or raiki forgot about the thread, I'll notify them.
Iori

Veteran Member


November COTM 2011

:


Joined

: 2010-06-26


Posts

: 3621


Age

: 30


Location

: Planet Mercury

Member Info


Platinum Points

:


(0/0)




Tiers

:
Thu Mar 22, 2012 10:18 am
Thu Mar 22, 2012 10:29 am
E M B L E M † Q U E E N
A
nna
M
ariah
I
ramasha
Off Key...720p~!

Anna was once again wondering around without James. Aiming to find a calm place in the forest, she set out on her walk while smiling the entire time. He brilliant smile was heartwarming to all that saw her during which Anna's very presence gave a soothing feel to the area. Even the plants around her seemed to relax as she walked slowly past them, the tree's seemingly becoming greener on thier leaves as if saying 'Thank You' to her. Though during this little walk, animals flocked to her wanting to play. Anna sat below a tree with a few of the locals and started to pet the white fur of all the bunnies.

The flapping of wings was heard as Anna turned her head to see a raven whose feathers shined with s metallic sheen land on her left shoulder, only to peck at little Anna's neck. It seemed it was intrigued by the necklace she wore. Its golden etching were in truth, embedded into her skin as a mount for the crystal on her collarbone(1). Anna smiled at the raven and patted its small head lightly, the raven cawing in content as she did so.

The rabbits jumped away as Anna shifted position and began to stand. Pushing on her knee with her hands to help her stand. The Raven stayed on her shoulder as she began to walk further into the forest, eventually coming across a long brown haired female in priestess robes holding what seemed to be.. a katana? Seeing the blade, Anna's Seishin Buki appeared on her waste in the form of Chalkrams as she hid behind a tall tree south east of hte woman, hoping she would be safe.





1 - Inferring that it is a Cruxis Crystal, though while not approved she has one. But not officially until its approved.
Permissions in this forum:
You
cannot
reply to topics in this forum