Bolexle

Starter Member


Joined

: 2011-08-29


Posts

: 7

Member Info


Platinum Points

:


(0/0)




Tiers

:
These types of nights were a nice break
from the usual. No patrols of shinigami in the area, no hollows to
distract from the cool darkness. Just Alex, an empty rooftop, and his
thoughts. His mind was a swirl of painful memories and clouded
judgements, his subconscious questioning his every decision, from the
major choices he had made to the small insignificant ones. But who
was Alex to say the decisions were insignificant? Perhaps the slight
shift in weight all those years ago could have sent to man to a
different death, cause a chain reaction that would have taken him out
of this situation.




It did not matter now though. Alex was
resigned to his fate. He was a monster, an uncontrollable beast who
had killed his comrades in a fit of anger. Not that he had been the
one in control of his body, but it was his fault nonetheless. He had
seen the warning signs, noticed the slight hints of insanity creeping
into his mind long before, and he did nothing. All out of some stupid
idea that if he asked for help he was admitting that he was crippled.
He had been foolish, and he would pay for his idiocy for the rest of
his life.




What are you moping about, you
fuckin' retard? This life is great, no worries no cares! And no
fuckin' piece of shit shinigami all over the place trying to tell you
what to do. You should be thanking me you son of a bitch!




Ah, the source of all Alex's problems.
The hollow that had nested itself inside of Alex when it had devoured
a part of his soul. When he had let his anger reign free, the hollow
had taken over, killed many men that Alex had called comrades. He
hated the beast, and he needed him, as he knew that the only thing
keeping himself from turning himself in was the nagging voice of the
hollow, constantly reminding him that he would kill more shinigami if
Alex got caught.





To be honest, Alex did not really mind
this new life. The other vizards were kind enough, and seemed happy
to teach him how to control the beast, something he could do fairly
easily now. Still, they were so akin to shinigami that it made Alex
long for his quarters in the Omnitsukido. He had a simple life back
then, and now it was overly complicated and painful.




A small scream was heard from the alley
to Alex's right, and he slowly got up from his sitting position to
see what it was. Sure enough, a woman was being attacked by two men
in the alley. One had a knife against her throat while the other
seemed to be looking under her dress. Was she hiding jewelry under
there? No matter, it didn't really interest Alex what women kept
under their clothes. That was their own business, not his, and
definitely not these two mens' either.




Alex jumped down silently from the
rooftop, landing crouched behind the two men. In an instant, his
blades were through their thighs, and he quickly removed them and
stabbed again through the men's ribcages, purposefully missing all
major organs and blood vessels so they would survive until the cops
showed up. He then nodded to the woman and shunpoed back onto the
rooftop, sitting down again. What a way to ruin a perfect
night. he thought as he wiped his blades onto his coat, not
caring if it covered the dark brown leather in blood. It was already
almost a murky red thanks to that habit.
Dai

'Dat Bishie


Joined

: 2010-11-07


Posts

: 1550


Age

: 29


Location

: New Zealand

Member Info


Platinum Points

:


(10/100)




Tiers

:
~S E T S U D A N~
~Y O R Y O~
----------------------------------------------------------------------------------------------
THE LUCKLESS - 2-1+
SEIREI KOHAKU
"One day... I will prove that I can do it..."
----------------------------------------------------------------------------------------------
YOUR MOVE
A longsword glinted in the light of the moon high above the head of the violet-haired man, staring out over the rooftops with a cool and calm gaze, closing his eyes for a second and stepping forwards, letting his head lean into the wind before him. His lips pursed slightly, he could only let the air blow past him, his hair whipping backwards slightly and cooling him down as well. He was Setsudan Yoryo, the almost-Colonel of the Vizard Corps Melee Division. It was rare for him to be out like this, patrolling the area with an impudent eye. His zanpakuto was not suited to the normal fights of the world, and so he rarely came out here at night to look around. It was useless to one with a weapon such as his, was it not? Instead, he preferred to relegate himself to the Vizard Corps, training with his blade and preparing himself mentally for what he knew was to come soon enough. As a Colonel, he had a group of men that followed his world, and as a member of the Vizard Corps itself, he still had to follow the word of their leader. For reasons such as that, he was out here, looking around as if the world was his oyster, and his palm was outstretched.
"What a strange night this is..." Smiling to himself, he disappeared with a loud boom, a result of his own Sonido Explosivo at work; before rushing across other buildings. He felt the Reiatsu of another Vizard nearby, or at least he though that he did. The man's feet pounded across the earth now, and he reached the place where he had felt the feeling from. He was greeted with men on the ground, in pools of their own blood. Hm. It seemed that someone had been here... Stepping forwards towards them, his longsword came down to the men as they groaned and cried out for help, blood sputtering out. They were not long for this world. Were they in pain, or just laying there? He did not know, but he would not instigate their death. Moving with another Sonido Explosivo, he appeared on a rooftop near them, turning around and blinking as he spotted a shadow under the moonlight. Not missing a beat, the man spoke out, "You there... was it you? The men below?" He would check first. See if this man was a threat. He had no wish to dirty his zanpakuto today, however.
Bolexle

Starter Member


Joined

: 2011-08-29


Posts

: 7

Member Info


Platinum Points

:


(0/0)




Tiers

:
Fri Oct 07, 2011 10:13 am
Alex felt the presence of another
vizard from a mile away, coming quickly towards him. He did not move,
however, as he recognized the distinct reitsu signature that the man
exuded. He was one of the superiors in the vizard corps, and although
Alex did not know his name he knew that he was an ally. So he sat and
waited as the man first checked the two still living bodies on the
ground below and sonidoed onto the rooftop. Rather loudly, at that.
What a useless movement ability, it was so loud that people would
hear you coming for miles. It removes all chance of a sneak attack.




The man asked him about the two bodies
on the ground, and by the questioning sound of his voice, he did not
seem to recognize Alex at all. In fact, the tone sounded almost
threatening. Of course, the man had not seen what the humans had been
about to do, he jsut saw two bodies and a mysterious robed vizard
standing nearby. Damned his lack of mouth, if he could just explain
the situation this could all be resolved painlessly. Instead, Alex
felt like his night was about to get even more annoying.




Alex moved to his feet quickly and with
purpose, his well trained body flowing into his standing form. Alex
had always been acrobatic in nature, and it showed with even the most
subtle of movements. He shook his head in utter defeat; there was no
way to get out of this situation without running or fighting. So,
with a small nod of his head towards the other vizard, Alex
catapulted into a backflip, falling from the edge of the building and
latching onto it with the claws on his gloves. He then pushed off,
falling from the building into a roll on the ground.





In a matter of seconds, Alex was
winding through the backstreets and alleyways of downtown Karakura,
his steps perfectly silent and his reitsu bottled so tightly that
only a captain could sense it. He did not risk using Shunpo as the
noise it made gave him away and the reitsu released was traceable.
After a few quick turns and dives, he turned a corned and jumped,
grabbing onto the fire escape and launching himself higher so he
could flip his legs over the handrail.




He made his way up the small steps
quickly, launching himself from flight to flight using pure arm
strength. When he reached the rooftop he dove and rolled behind an
extruding air vent, hoping to hide behind it while the other vizard
passed by. He blended in with the dark shadows as well as he could
and made his body as small as possible. Hopefully he could get out of
this mess without confrontation and then introduce himself to the man
at the vizard corps base so he would know Alex was a friend.
Hizaki Yuudeshi
-The Vizard-


"I will let you know that i am a worthy opponent and a strong one!"
- Hizaki Yuudeshi

--------------------------------------------------------------------------------------------------------------------------------------------------------------------
--------------------------------------------------------------------------------------------------------------------------------------------------------------------


[-H I Z A K I - Y U U D E S H I-]
[-S T A R T - P O S T I N G-]
A Vizard stood at his current position, a guy who stands 5 feet 9 inches tall.A short black hair that most people could have.The person happens to be Lieutenant Colonel of the Internal Affairs. Wind blows as his black-colored eyes began to twitch because of the wind blowing towards his direction.He rubs his own fingers until his fingers gets warm.He would feel a great reiatsu just nearby from his current location now, a presence of a vizard like him.It was already night time and there are still people wondering around the streets.
"Its such a strange night having a person in the streets. Hoping that person doesn't cause troubles..."


His eyes widened, another presence of a vizard. What's wrong anyway? He decided to take a look since he felt those two great reiatsu.Hizaki heard those cops are coming, and he did not know what happened.When he arrived to the place where he heard the siren, two mens were laying on the ground, bleeding.He would see a shadow began to move, and he looked up. Nothing was there. He decided to shunpo up there but no one was found.He unsheath his own zanpakuto, to search the man that attacked the two mens that he was found wounded. Maybe that person was a threat, or maybe he wasn't.He runs around the rooftop until the person was found.
[-E N D - P O S T-]
__________________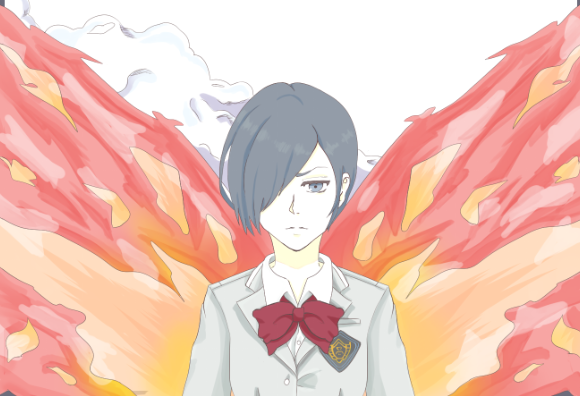 Hon Hon Baguette.
Permissions in this forum:
You
cannot
reply to topics in this forum