JJ

Rower of Rock. And Souls.


Joined

: 2011-03-03


Posts

: 5174


Age

: 26


Location

: , Location, Location!

Member Info


Platinum Points

:


(20650/20000)




Tiers

:
☨ Katana Broadshield☨
__________________________
☨The Unliving Blade☨

____________________________________________________
☨Basic Info☨

____________________________________________________

Name: Katana Broadshield
Age: 1200
Gender: Female

Shifter Appearance: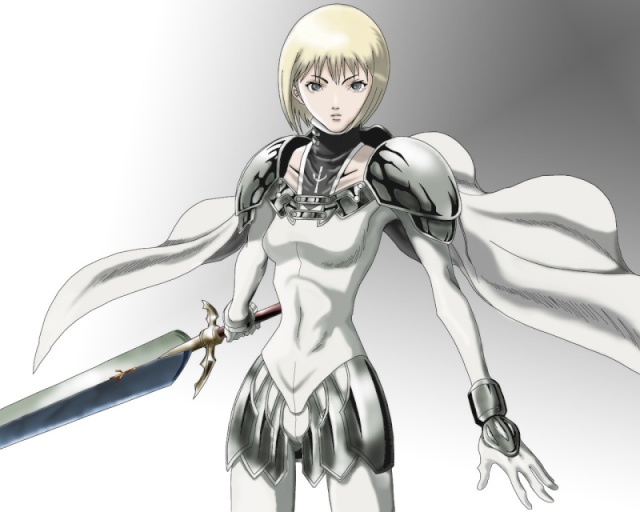 In her shifter appearance, that is to say, her normal one, she takes the form of a girl in her late-teenage years, covered in a white, skin tight armor. She wears her hair at chin length up to the sides of her face, and has it reaching down to just above her eyes on her face. It is a kind of dirty-blond, not very well kept, and it shifts with her head as she moves, swishing along like a chime. Her eyes are bright silver and piercing, looking as if they are a blade that stares right into your soul. They never blink. Ever. If she gets dirt in her eye, she will simply ignore it until the wind blows it off, as she will feel no agitation from it.

She has a small nose that lifts up just a bit at the end, her mouth on almost on the bottom on her face, making her eyes stand out even more. Her eyebrows are consistently set in a hard downward line, fierce and striking. She gives off a radiance of confidence, ferocity, and power in the way she walks, making large steps that are very hard for a person to ignore. Her voice is flat and and ringing, clear as a bell and yet almost distant, even when speaking from up close.

She has very thin limbs, as well as a thin neck. On her elbows, knees, shoulders, and waist, she has special metal guards that act as clips that hold her armor (read: power suppressors) in place. On her hands she has a sturdy pair of metal gloves, although the hands are made of a very thin silvery material, allowing her a perfect grip on the hilt of her blades. On her wrists are what seem to be two small shields, that go from the base of her wrists to allow full flexibility of the hands, to the outside of the forearm, octagonal shields that are constantly awash in a whispy, black-fire like substance. Past her shoulders, and ending at the base of her neck, her skin is exposed, allowing out the only power along with her face that she needs in ordinary combat.

Around her neck is a black veil, that connects from her breastplate to her back piece, with a collar in the middle of it that extends from the base of her neck to her chin, (read: Human-Form Sustainer) ending in a silver lining around her the base of her chin. Around her feet she wears strong metal boots, the body armor that she wears all around her body extending like socks around the feet before the boots, allowing them to make a CLANK sound whenever she steps on stone or wood floors with them. She is quite tall as well, topping out at 5'11''. All in all, she is a fairly dominant figure, and just the sound of her voice with her intimidating figure will occasionally scare off enemies.

On either side of her, she has two ebony black sheathes. One is quite large, and holds a broadsword. This broadsword seems to be made of the same black wispy-flame like substance of the shields, with sharp ends on both sides of the blades. There is a guard that curls up in four directions from the blade, making four curling snake figures from the hilt of the sword above her grip. The blade extends out for 5 feet, despite the fact that the sheathe is only 4 feet in length. The sheathe is only its home, and has been adjusted to be able to store the extra foot in length. It widens out past the four bending snakes to 6 inches in width, before ending in a sharp point on the other end after gradually sloping towards it.

On the other side of her waist, a much slenderer sheathe lies. It is curved, giving a good idea of what is within it. Within it is a katana, 4 feet in length, with such a curve on it that the end of it looks like a scythe. In fact, the curve is bladed as well, meaning that it could really rip someones head off like a cleaver. It is made of the same material as the broadsword and shields are, and looks for all intents in purposes like a katana.
True Appearance: Her true appearance will be explained further on below.

____________________________________________________

☨Personality☨

____________________________________________________

Personality:
Sssslice: It is clear from the way she holds herself; her voice, her posture, merely looking at her face, it is extremely obvious that she is a warrior. Extremely focused, very dedicated to the task, she performs anything she is attempting to do with perfect accuracy. To her, no sound is more perfect that the one of her sword going over an opponent's flesh. In fact, whenever she does make a slash or attempt to cut an opponent, she visibly says "Sssslice…." Softly, as if to her, that is experiencing life itself once more, the tender separation of skin and the flow of blood from a body sending roars of things like artificial life through her body. It is the most passionate thing that she shows in her line of work. However, she does not allow this to distract her from her goal, only seeing it as a bonus to her work.

Friendship: She does not exactly understand the concept of friendship… however, she considers other demons, as well as arrancar in shadow fall, to be her friends. This means that she will try basic conversation at times, if only to understand more about them. However, she may become unresponsive or slow if the person begins talking about things other than the answer, or gives a lengthy speech about how they were born when she asks them about their birthday. She doesn't see these details as very essential, and will try to consciously attempt to block them out. This isn't her focusing, this is her very much so focusing on not focusing.

To-the-point: She will always complete her mission. Or die. For her, there exists no gray. There is black, or white. Either you are her enemy, or her ally. Bystanders don't exist in her mind; she will not purposely go after them, but nor will she care what she does if they get in her way. She talks in a similar manner, always to the point. Beating around the bush with her is no use; she will simply ask you what you think you are doing and then proceed to force you for information, if necessary. She does not care for waiting around, if she feels that she could finish someone off faster or complete a job better in her unsealed state, she will do it without hesitation.

Motherly Nature: However… Towards the other Banshees, she is quite different. She sees the others as a group of lost children, who need taking care of. If they need a kind word, she will oblige. If they need some help, she will oblige. This is a leftover trait from when she existed as a weapon; she feels the need to help her wielders in any way she possibly can. The only… odd thing about it is that the same hard stare that she constantly keeps on her face remains exactly the same, even when she is trying to comfort someone or giving them advice. However, you better watch out if you severely hurt one of them in her presence. She will act much like a mother bear… and that is one strong… mother bear…

Fatherly Nature: However… just as she sees herself as their mother of sorts, she also somewhat feels like their father. If she feels their training is lacking or that they are not fully exerting themselves, she will come down hard on them, train with them, force them to become better for themselves and the Banshee Force. Similarly, if she feels that they may grow from something, even if it excruciating torture, she will not interfere with it. However, in some situations, whether she acts like a mother or a father depends on the situations. In the end, she simply sees herself as a parent figure for these poor girls.

____________________________________________________

☨Background☨

____________________________________________________

History
Blood. Death.

So much death. So much destruction. A weapon needed to be brought into existence. A weapon of Death. One which could take in Death's Energy, and change and adapt as a result of it.

Those were the only things that Katana ever knew. Even when she first became aware of it, that was all she knew. The intricate, beloved claymore of the wandering swordsman. It wasn't always the same swordsman. She passed from warrior to warrior, fighting alongside him, feeling his strength along with her own. Those were the only feelings the knew. The cold pleasure of opening another, of killing, and the strong grip of another, supporting her and using her to their own end. In the end, their strength always well as well, although there was still yet another to come and retrieve her, continuing in her use.

In reality, she was a mere sword. That is all that the being as Katana Broadshield was when she first existed. Gradually, she began to understand her own consciousness, and after each owner, she learned more about battle and human nature. She desired to form herself in their image, and finally, the blood and the desires of all the ones that she had taken upon herself blossomed. She had been left on a battlefield, waiting as she always did, waiting for the next one who would come along to take her and use her. However, she felt different this time. It was a new feeling… anticipation. She began to glow, and her entire being changed, being completely enveloped in a dark energy. From this energy, the sword began to gradually change, leaving only Katana, unclothed and not understanding.

This time, when a swordsman came along for her, the swordsman only found a young woman sitting among a battlefield of blood. He took her in, knowing how hard it was to survive alone and figuring that she would most likely have some use. However, he was quite different than the other swordsman she had met before… for instance, like his one edged, curved blade…

He clothed her, and taught her human ways. Or, at least, human ways from his point of view. From his point of view, Katana learned how to use her body to defend herself. She learned the ways of human war, and its brutality. The man lived on the edge of all these things, as they were able to constantly observe what war was like from the outside in. He taught her how to see her goals, as nothing but something that must be completed as soon as possible. He gave her, a blank slate, the notion that there was no gray area, only black, only white, only life, only death. However, she still retained the feelings and memories as a blade, and even discussed these with the man. And while the man trusted her in all things, there was only one with which he would not. That was the gracious control over a blade of her own. That was the only thing that truly troubled her about traveling with him. He carried two swords with him, and yet hunted and ate only using one. Every night, she would ask to use the other blade, and every night, he would tell her no. He would not tell her what the blade was, or why he carried it if he never used it.

They both knew that she had come from a sword; that she was no human. That she had even appeared on a blood-soaked battlefield, all alone. They both knew that she had an inhuman amount of strength, as she was able to gather firewood with her bare hands. Her speed was similar, able to catch even rabbits in a single motion. And still, he refused her permission to touch the blade on his back. They traveled together for several years, he teaching her of every horror that existed in battle, war, and life. She took it all in, with her staring silver eyes, remembering it all. They never participated in battle themselves, and whenever they were attacked, he allowed her to handle it with her bare hands as training.

However, as the years passed, the man began to get old. He got older, and older, while Katana remained exactly the same. She had had no name at this point, and the man was beginning to find that he could move around less and less. So it was, fifty years after they had begun to travel with one another, that he called her over to speak with him before it was time for sleep. He told her about his blade, as he had done several times, showing it to her. Then, he brought out the other blade, much to Katana's excitement. She saw as the man ran his finger along the inside of the extremely deep curve, drawing a drop of blood as he did so, Katana understanding what made this blade so very special. The man explained what it was: A demonic blade, given to him by a demon to protect. However, now that he had become so old, he realized he was becoming too weak to be its proper guardian.

He slowly set it before Katana, and she reached her hands out for it. He told her how she hadn't been ready, and probably still wasn't ready, but he knew what she was. She nodded, picking up the blade, realizing herself what she truly was. The man looked at her, telling her just one word. "Katana." He said, as she lowered the blade through his neck, taking his other sword as well, leaving the severed head in the ground, giving off a noise like "sssslice…" as she did so…

Her eyes went from a dull gray to a bright silver from that day onwards. She took place in every conflict she could fine, perfecting her skills, becoming a demon of battle as she killed and drew blood for years, and years, and years. She continued with this pattern, learning more about herself, forming her own weapon as well as converting the Katana that was given to her into her own energy. She eventually realized that her own energy had begun to kill her opponents, before she even got to train with them. So, she added a special to her armor, making it so that her power was suppressed. This allowed her to keep training, to keep growing…

Eventually, she discovered something. She could kill other demons, and it made her feel… stronger. She wasn't sure exactly why, but she proceeded to advance her power, hunting demons and humans equally. She hunted them without mercy, without so much as a hint of loss or pain. Limbs were hacked off? She finished off the demon, then reattached them with her energy. It was by this manner that she began to realize that there was something… more, to her.

Several hundred years passed. Her strength grew and grew, her face becoming extremely plain, her body immensely thin. However…. One day, during her travels, she encountered something quite different than normal. A single man, tending to a fire. She had drawn her blade, fully intent on killing him when she suddenly stopped, feeling as if all her energy was gone. The man had clapped his hands, smiling, explaining to her what she was. He then explained who he was, how she had come across that sword, what it had done to her, and what she should do from here. He told her to wait for a sign… something far out of the ordinary… before he vanished from her presence. That left a human man, terrified and shaking, as Katana's energy began returning…

A few more years passed, as Katana began to truly understand what the sword was to her and what she really was, learning that she could indeed return to her normal state. It wasn't long before she felt it: something VERY out of the ordinary. It was an… energy… and it felt as if… it were calling her… She followed it, and found Mana Mana waiting for her. From then on, she has followed with the demons, even becoming the Fourth Banshee in the new organization Shadow Fall…
____________________________________________________

☨Powers☨

____________________________________________________

Natural Abilities: She has access to all of the natural demon abilities, except for one thing: She cannot use Za Koa in Demon Spells, as is her weakness from being a sword.

Za Koa Core: Za Koa Core is stated to be an energy enhancer and is often used to help augment the powers of demons. In fact, it is crucial to some of their Possessive Drives when it comes to maintaining a more enhanced and controlled version of their release forms. And it can be utilized to help further increase the potency of their magic, possessive powers or racial abilities.

This energy enhancing racial is made possible by the fact that demons have a natural connection to a hidden sub-realm within the demon world that hosts a core of sacred demon energy. It was forged from a large cluster of energy from the demon race's creator with a mixture of its power and death. However, it has grown to be much more than that throughout the hundreds of millions of years it has exist.

Demon energy is described to be possessive and aggressive in nature, so to sustain it's existence, this creation of sacred demon energy known as Za Koa has fed off the demon realm in the way of taking energy from long since deceased demons, prayers and even other realms by agents of Za Koa that have acted out its will. And, considering there are tens of billions of demons that exist, that is a tall order to fill and requires a high amount of energy to sustain and distribute.

With that said, however, demons are NOT forced to use this trait. Some outright have disconnected this link from their bodies as they do not care for it based around the fact not all demons praise their creator. As there is a strong lore around this power that states Deveta (the demon god ICly) forged this and other demons reject it out of a desire to grow on their own power. So it is up to the demon in question to determine if they want to invest in their skill, but it can be of great beneficial use for those that do decide to embrace it.

Lack of Za Koa Core
Katana does not have access to power from a Za Koa Core. Because of her nature as a weapon, she does not have access to Za Koa itself, meaning that she is not able to develop power or use as a source of energy what most demons do from Za Koa.

Demon Magic [Possessive Magic: Among demon kind, it is often debated that this is perhaps one of their strongest assets that they possess. This is because the primary focus of their magic is that they must bring their own inner element of possession out into the material world around them. And, when they bring this element out, they must adhere to it and are restricted to releasing elements related to their possession theme out with it. In exchange, they are allowed to have as many free-form spells as they desire with their demonic magic.

An illustration of this in practice will be used with The Danava Discord. Mana Asthavon possesses an ability that allows her to enforce her possessive element of madness on the world around her. And, since she is consumed by this element, her Possessive Magic is confined to having varying magical effects which are restricted to anything that allows her to destabilize, unhinge or otherwise make the world around her unstable. Therefore, she could create monsters from her magic the destabilize the world around her, produce spells which can cause the destabilization of particles around her to induce disintegration, attempt to influence the minds of NPC's around her with spells that make them mad and so on and so forth.

The general theme with their magic is that is unlimited and free-form, but only within the confines of what their possessive theme stands for. If Mana attempted to use something which induces order in the world, she could attempt to use it, but it would greatly damage her or the attack wouldn't work period even with her grand mastery in demonic magic. Therefore, even with some of the preset spells that exist for demons, they will be forced to add their own possessive element into it.

Lack of Magic
Katana is extraordinarily weak at using demon magic, of all varieties. This is a result of her lack of a Za Koa core; while she is able to utilize some effects thanks to her Death Energy, she is not able to wield Za Koa in order to bring out magical effects into the world around her.

Possessive Augment: Possessive Augment is one of the key elements that make the physical might of demons rather difficult to deal with. This is because the bodies of most demons are possessing the energy from the world around them passively in varying volumes. They then store this energy within themselves, digest it and convert it into the fuel needed to help them create a physical boost in power. As a result, they can create Possessive Augment which deals with the elements of possessive body manipulation and speed in which their energy movs in their body.

As unlike other races that depend on things like shunpo, Hierro or hakuda; a demon's Possessive Augment houses all of their body manipulation and speed in one skill. And, what makes it different is that they can have some control over all these elements, but they most pick which element of their physical attributes will be their major focus. Thus, depending on their level of skill, they can have varying degrees of control and mastery of these attributes.


Possessive Shifting: Possessive Shifting deals with a demon's ability to shapeshift their body. In essence, the higher your possessive augment is, the more grandiose these shifts can become. On the lower end of this spectrum, one will often only be able to do minor things such as cosmetic changes (hair color, height adjustment, assuming other identities etc), where on the highest end of the spectrum you have demon's like Mana who are able to perform sub-atomic manipulation of their bodies to create regeneration based abilities and not need a physical form with organs and such.


Possessive Movement: Possessive Movement is the demon's ability to otherwise generate speed. If they specialize in this, then they will often begin to focus on creating techniques, abilities and systems which serve to augment every aspect of their speed. This can range from techniques that allow for sudden burst of movement that enhances their natural speed, the capacity to make their attacks release much faster (I.E. if a demon spell is naturally slow moving, they can use possessive movement to possess the momentum and increase it's speed while it's being created), creating sustained movement of speed and so on and so forth


Possessive Influence: Possessive Influence is a demon's ability to possess elements in the world around them through the medium of their energy. Since they are a race that thrives on both inner and outward possession that is related to their power, it makes sense that this thematic extended to their racial skills in this matter. As with this skill a demon can begin to understand how the world functions around them, increase their senses, consume energy and otherwise manipulate the existence around them with this skill.

Katana's Possessive Influence manifests itself within her raw skill. When she picks up a new weapon, that is different than one of her own, her body begins to break it down. This effect triggers against most types of martial weapons; ranged weapons are unaffected. Additionally, if the material is made out of something particularly hard, it is possible it will take longer for Katana to break it down so that she can absorb it. The more of the weapon her body takes in and breaks down, the more proficient she becomes with it, up to the limit of a relatively skilled person of that weapon. However, if she cannot break the weapon down at all, she does not receive this skill buff. Additionally, the more broken down a weapon is, the more brittle it becomes.

This expression of her Possessive Influence has no effect on weapons which are 'alive', or have any sense of conscious. She would not recognize such a thing as a weapon.

Unique Abilities:

Possessive Power: Swordsmanship
Katana's Possessive Drive is towards her swordsmanship. Due to her stagnated relationship with Za Koa, she has only the drive relating to her origin as a weapon. What this Possessive Drive enables Katana to do is view her entire body as if it were a weapon. She is able to easily visualize herself and attacks coming toward her as weapons in battle. Similarly, her swordsmanship receives a rather substantial boost from this Possessive Power, as is further explained down below.

Master Swordsman: She is, and always will be, a master swordsman. The broadsword that she carries in one hand, and the Katana she holds in a third, as well as the shield she holds in her mouth, are comparable to a bodily extension of her being. Because of this, her speed and strength are immense, allowing her to use her weapons in any manner that she could possibly see fit. Her flexibility is also quite high due to around the make-up of her body and her very nature, allowing her to get her swords almost anywhere her body with great ease.

Master Hand-to-Hand: Due to her immense strength and good level of defense and speed, she learned to use her hands and feet in combat quite well. Her fists are known to be able to crumple sheer steel, her kicks throwing cars up into the stratosphere. This also means she is quite used to reacting to people attacking her, which is the other reason she became good at physical combat: self-defense.

闇のスラッシュ (Yami no surasshu; Darkness Slash): The black energy that constantly lines around Katana's blades and shields are able to concentrate on the sharp edge of the blade when it is slashing forwards, It launches a wave of black energy, as large as the amount of momentum that Katana puts into it. So, if she swings down her broadsword, it would create a huge wave. On the other hand, if she made several small slashes right in front of herself with her katana, it would fire off several small slashes of dark-colored energy. So, its length, width, and power are determined by how much energy she puts into the attack and how much momentum the sword has.

When this dark-colored energy hits something solid, it stops where it hits, exploding out twice its length and width, making a large slash shaped explosion that slams into the enemy and tries to singe and burn the skin of the effected, as well as explosive damage. The damage that this attack performs would be comparable to a typical Cero blast, and as the size grows, the amount of destructive force it delivers increases as well.

非リビングブレード法 (Hi ribinguburēdo-hō; Unliving Blade Technique): Her blade techniques are unlike any other fighting style that uses swords: as she uses a broadsword and a katana. The flow and rhythm that she uses with these blades is also very strange, making it hard for an opponent to decide exactly how she is going to strike. What truly makes it unique is that fact that it is extremely difficult to read what she is doing, due to the Unliving Blade Technique.

How she performs the Unliving Blade, exactly, is by releasing all (read: a freaking ton) of her power into one or both arms. The energy does not leave her body, however I does power her arm(s) for a few moments. This makes it so that the arm can reach unbelievable speeds and reach, just from how the arm moves. Because of all the energy around the arm, it is difficult to read its energy, as well as its speed are the traits that make up why it is very special. For example, she could activate Unliving Blade and then slash outwards. It would appear as if the only thing different was that her hand vanished. However, she really made such a dense amount of energy around the arm as it slashed, combined with its speed, that the opponent was unable to notice, leaving a mark on their chest. It can be seen if the user has extremely good eyesight, and will take equally good reflexes and speed to react in time. While it may use up next to zero energy (only the energy needed to move the arm in that motion), she can only do it up to 4 times in a post, and only 2 times consecutively. That means she can also use it in both arms at once 2 times per post. If she uses it more than that, it will fail and leave her arm extremely exhausted.

イージス艦の保護 (Ījisu-kan no hogo; Aegis Protection): The shields that she has on either wrist are also awash with flames, and have a high defensive capacity. However, they can be broken, and when they are, they take one post before Katana's energy restores them to their original state. However, the shields' energy has one other ability: expansion. The energy can expand out in the shape of the shields, taking a large amount of energy with it to remain at its level of defense, blocking medium-high level attacks in a wider area than before. For example, a cero from a being of the same tier would likely be stopped in its tracks by one of these shields. However, a second attack of as similar magnitude would not only shatter the shields, but likely leave Katana vulnerable vulnerable to damage pouring in through them. However, while Katana is using these enlarged shields, she cannot move from the spot.

While the shields are small, they tend to be rather effective at dealing with physical attacks. While the shields can be bent by individuals of greater strength than Katana rather easily, it is difficult to completely overwhelm them all at once while the opponent has a similar level of strength. They do eventually break down and shatter, however.

Strength of Champions: Her strength… is beyond human comprehension. She could easily pick up houses without a sweat, push flying cars away from herself with a single hand, not to mention perfectly handling her broadsword with only one hand. She is one of the strongest of the banshees in terms of raw strength, as is her nature.

____________________________________________________

☨Adjustable Demon States☨

____________________________________________________
Form X2

Possessive Drive Appearance: In Form X2, the black armor that covers her body goes up in flame, before covering her again, but only as fire.

Possessive Drive Benefits:

ブレードの鎧 (Burēdo no yoroi; Armor of the Blades): Her armor is ablaze constantly around her; it literally IS her skin, acting like a skin tight suit. However, it is treated as though the same flames are still awash around her body to any other physical force that touches her. However, things like normal weapons, such as swords and spears, are still able to get past it, and it is also possible to still punch or damage her with hand to hand, as long as the attacker's skin is tough enough and they can endure the flaming pain that you will receive from hitting it. However, this is its greatest weakness: if the opponent is wearing gloves, then she can do NOTHING against hand-to-hand type attacks, and the armor will only act as a small amount of resistance to the person punching at her, as the flames are able to sense the flesh, but not affect it. (It should also be noted that for every individual piece of armor that she removes, 10% of her Form X2 is released into her body for use. So, she can either remove them individually or all at once to enter this form. The only benefit of using it bit by bit is that it is good for warming up, as well as allowing her immediate access once she releases it, as opposed to a brief lull while she releases.)

This armor essentially works as her first layer of defense. It forms her energy into a burning aura that covers her body, affecting flesh that touches it directly, but having no effect on tools or flesh wrapped in cloth.

Deeper Well of Power: In this form, her power is completely unrestrained, other than the collar on her neck, and her true power spews forth from within her, extremely dense. Her Possessive Drive towards her swordsmanship grows immensely, the level of energy she is able to wield with her blades rising greatly. This same energy releases the other limits placed on her body by her armor, releasing her speed and power. In this state, she could walk up to a building, vanish using the Demon's Flash Step, and reappear on its other side, seeming exactly the same as before. However, as she did so, she had drawn her broadsword from its sheathe, hefted it back, moved forwards, slashed into the building, and sheathed the blade as she reappeared. The result would be the building behind her collapsing, where she slashed the building all across it would be slashed perfectly across the slashed area, causing it to topple and fall, like a large tree.


DE Class: Her normal energy feels as if it could only be 3rd class at top. However, when she releases her power X2, it is revealed that she is really 2nd class.

DE Powers:
Necromancy: Her most used Death Energy power, she has a specialty of using necromancy. She is quite skilled with it, having had much practice since it became available to her. In her sealed state, she only has the ability to bring back humans, and unpowered ones at that. However, she can maintain quite a few of them in her sealed form, which is what makes them quite dangerous, as she will bring them back long enough to fight, and then abandon them when their purpose leaves her, grabbing the next wave and sending them forwards, attempting to overpower the enemy through sheer numbers or to act as a distraction. The special nature of her Control of the Deceased is that the ones that she brings back tend to have a very large well of strength, like berserker zombies.

In Form X2, her true ability with DE is also released, allowing her to act at her true level of 2 class. In Form X2, she can bring back things more than ordinary humans, as long as they are within her limits. Usually, within her limits is relevant to the person she is summoning, as she won't summon things that are near, on, or above her own power, as she doesn't wish to lose control of herself. However, she can bring back several if she so desires, but only focus her energies through one or two of them, causing them to act while the others stand around like meat shields, or run around like normal humans. She doesn't have to fill them with power, but she must be in Form X2 to bring back higher leveled persons to fight.

While in her Death Queen's Blade form, she is no longer in control of this ability, persay. To be more precise, it is similar to her body acting like a game controller. The person wielding her sends messages to her about what they want through their DE Field to her DE Field, allowing her to instantly receive orders from whoever is using her at the time. However, while in this blade form, she must actually make a mark on the body of the one who is slotted to be brought back, as any other method will not work.

Age Reversal: Her age reversal is extremely potent, as it goes along with her necromancy. In fact, it is one of her strongest DE Abilities, as she must be able to use it to be able to perform Necro Squadron. It is also due to this that while she may remain young, she isn't exactly pretty, as using it as well as any other kind of DE causes the veins of her face to greatly pop out while she is in Humanoid/X2 Form. However, while in sealed, she has about the same amount of power with it as she does Necromancy, only being able to repair the bodies of normal humans. However, she only uses this ability on the dead, and does not attempt to bother messing it with something that is still living.

When released, this skills abilities also greatly increase compared to what they were before. In this form, she is able to use it to heal minor and medium level wounds fairly easily. However, even in this state, she still will not use it to decay and destroy an opponent's body. However, in this state, she has something quite special: The ability to reverse the age of objects. Or, more specifically, weapons. She is the ultimate weapon repair smith due to this trait, as she is able to revive the weapons of fallen comrades and fix discarded weapons and use them in battle. So, if she snapped someone's spear, and they through it past her at the ground, she could surround it with her death energy by touching all the pieces with her field, reversing its age and restoring it to its original state. Then, she would grab the spear, spinning around and throwing it at the one who had abandoned it before.

In Death Queen's Blade form, this is what allows her sword state to restore fallen bodies before slashing them to revive them. Similarly, the one who is wielding her can slash themselves with her, and she will be able to use a part of her power to attempt to heal her wielder.

Death Barrier: In Sealed State, her death barrier is fairly weak. Its greatest advantage as far as defense goes is that it enhances the armor she wears, making it extremely tough and durable. It is because of this that most opponents will underestimate her defense, and yet find that her armor is much tougher than it looks.

In Released, she is very durable, her death energy field becoming another layer of defense to compensate for her armor leaving, her only way of defense. This means that if she were attacked by someone holy in this state, she would be in quite a lot of trouble.

In Death Queen's Blade form, she uses the property to make herself extremely durable, almost indestructible as her energy is in such a concentrated form around herself. She can also lend a small amount of her DE Barrier to her wielder, enhancing their DE Barrier.

DE Merge Appearance: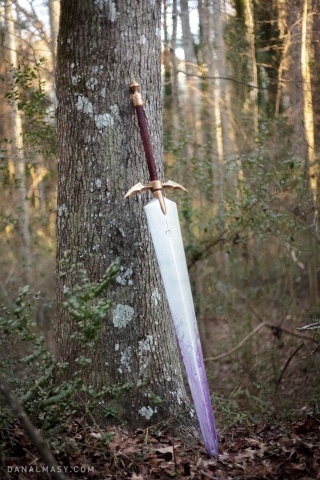 Death Queen's Blade: When she releases from her DE Merge, the collar on her neck begins burning. It completely dissipates, her body becoming shrouded in DE Energy as well as her own, causing her body to become completely covered in a dark aura. Where she was, only a large, silver claymore remains.

The sword is really Katana. This state is meant to assist the other Banshees; as it is similar to two of them working in perfect coordination. While in Death Queen's Blade form, she can freely communicate with the one wielding her, able to give advice and just talk to the one who's DE Field is on her hilt. In this state, she is able to freely use her DE Force as well, allowing her to use her skills as stated above. In this form, if another other than the one she intends to use her tries to wield her, she will completely suppress her abilities, forcing herself to become nothing more than a normal claymore, until she releases her power once more.

If she turns into DQB Form while she is sealed, she still has the ability to unseal, or have her wielder unseal her, as she will have a cloth covering her hilt that can be removed, or that she can remove herself. As a sword, she is also able to use her immense strength as well as whatever the Banshee working with her is using, allowing even physically weak wielders to be able to deal massive damage. After she enters DQB Form, she must be in it for at least 4 posts; although she can stay in it for an indefinite amount of time. If, somehow, she is broken while in DQB, then she returns to her armored self, unconscious, her body having reformed through her DE Force. That means that if she has no DE Force left in her DE Field…. She will die.
Berserk State Appearance: In her berserker state, she merely returns to her armored self, armor and collar returned. One of the two changes is that her sheathes and blades are missing. The other is… She is holding her claymore...

Berserk Enhancements:

In this state, her strength becomes absolutely ludicrous. She will chop up entire buildings, a being complete of rage, doing whatever she can to destroy whatever she is aiming to destroy. Dead bodies of weak beings or powerless humans around her are sub-consciously brought back to life for the length of her Berserk State, attacking at random with their huge strength at whatever they can, causing extreme amounts of chaos. The amount of energy that she gives off is enough to destroy most things that she stands on, creating craters where she touches down. This also enhances her DE Barrier, making her very hard to damage, as well as increasing her rate of regeneration. This state lasts for four posts, and once it is over, she returns to her claymore state, stuck there for the rest of the thread that she is in, only a claymore, nothing more, nothing less, until the thread has ended. That means that if the claymore is broken in this state, she dies.

Berserk Details:

There is only one thing that truly will drive her into Berserk State. That is when a Banshee who is wielding her, or just another Banshee, takes so much damage that they are either about to die or do die. If they are near-death, she may be able to hold back going into Berserk. If they are killed… she gives in completely to it. The enemy that did that to the Banshee, or even their allies, will feel her rage, trying to completely destroy them. She would rip an opponent to shreds, beating their head repeatedly against the ground, turning it into a bloody pulp, trying to make them feel absolutely as much pain as is physically possible before they die.

____________________________________________________

☨Skill Sheet☨

____________________________________________________
Demon Skills

Za Koa Core:

Posessive Magic:

Possessive Augment:

Possessive Influence:




General Skills
Durability: Advanced
General Speed: Advanced
Strength: Master
Weapon Skill: Master


DE Control
Semi-Immortal Capacity: Advanced
Breakdown Skill: Beginner
Necromancy Strength: Master
DE Barrier: Advanced

__________________

____________________________________________________

☨Role Play Sample☨
____________________________________________________

Role Play Sample: Katana could hardly believe this was happening. What…? How could they find me…? She wondered, her eyes darting from side to side, gritting her teeth. She grabbed onto the sheathes at her side, the blades in front of her in an instant as the black-dressed shinigami pressed onto her swords with his own claymore. She simply stared at him, her silver eyes wide and staring, as she refused to move a single inch, standing completely straight against her opponent. Her arms suddenly rippled as the shinigami's eyes widened, leaping back as her hands seemed to blur.

"Sssslice…" She spoke softly, moving her katana to one side in a rapid motion, throwing off a small amount of the blood that was now covering the blade. Her eyes never left the man as she watched him look down at himself, poking the wound on his right shoulder that she had just made. Her face remained that same blank nature as she watched him bring up a finger, a drop of blood on the tip, as he began to smile. What does he think he's doing…? She wondered, still waiting for him to make the next move. Her blades were held at her sides, her own strength keeping her completely balanced, her eyes dashing from side to side on the bottom of the lids as she checked to make sure both shields were still alright as well. She widened her eyes even more than normal as she watched him place the drop on the tip of his claymore, pressing the blood onto the blade hard with his finger.

She tensed up, leaning forwards a small amount as she felt it. Something's up… he's not normal…! She thought, taking a step forwards. She felt a strange energy as she slammed both swords downwards onto his head, or trying to. She felt the force behind the man's arms as he lifted his claymore, a strength that hadn't been there before. She widened her eyes a bit as she felt a resistance, and then herself thrown up into the air. She gritted her teeth, her wide eyes still staring as she saw him jump out in front of her as she was knocked back onto the ground. She flipped the broadsword around in her hand, grabbing the hilt once more as it slammed into the ground. She curved the katana upwards, bending her body. She supported herself with her strength on the hilt of her broadsword, trying to stab upwards like catching a fish. She gave a tsk as she watched him vanish from the katana, right as it was about to make contact.

She increased the force on the hand on her katana, dropping the blade a bit to change its direction of pointing and regripping the hilt as it slammed into the ground as well, right next to the broadsword. Using them together, she held herself up, swinging forwards with both legs and letting herself down as she watched the man reappear between both blades, a surprised look on his face as her feet made contact with his chest. She pushed downwards, pushing him onto the ground, holding him there with her hands still gripping the sword hilts and her feet on his chest. She gripped the swords tighter, releasing Yami no surasshu. The energy on the blades exploded, releasing the swords from the ground as she brought them up on the man's shoulders, cutting them with a "ssslice…", a very small grin on her face as she felt the skin through the blades separate, allowing the damaging blades entry to deal damage, blood flowing around the blades.

The man gave a shout, charging a great amount of energy in his mouth, then releasing it. She gave a shout as it slammed into her, flipping around after the blast had made contact with her armor, wincing as she skidded along the ground, the hand gripping her katana on the ground to slow her down, both feet firmly on the ground. She looked up as she stopped, seeing the man right in front of her, his claymore lifted high above his head. She lifted up her right arm, the shield colliding with the claymore. She felt the wispy material shield beginning to crack as her left hand grabbed onto the armor on her left elbow, ripping it off. Instantly, her right forearm became covered in dark wispy material, as she pressed hard against the man, breaking the shield as she pushed the claymore to the right side. As she moved it, she brought around the left arm, having moved it to her left side and then up. It traveled downwards, using the opening caused by the blade being pushed to Katana's left side. "SSssssslice." She said, her grin widening as the curved blade slid on his shoulder, breaking it apart as a spew of blood flew onto her upper body. She ran her tongue around her upper lip, feeling the warm blood as it slid down her tongue, down her throat… before spitting it back out. Talk about disgusting… I was right… he's got demon of some sort in him. she thought, only really tasting the blood to see if she had been right.

She brought back her gloved fist, pushing it forwards as the man recovered, smashing the fist into his face as he was knocked back. He fell back onto the ground as she brought up her broadsword, holding the sword over the demons chest, standing past his feet. She felt as the blade went through his chest, her eyes fully open.

"SSSSSSSSSSSSSSSSSSSSSSSSSSSsssssssssssslice…"

She hissed softly as it pierced through his heart, holding him onto the ground as she raised the katana, releasing her grip on the broadsword. She walked over behind the shinigami's head, getting onto one knee on his left side. She held up his head, placing the back edge of her blade behind it. She smiled widely, a perverse sight on her face, as she brought up the back of the extremely curved blade. The shuluck of the skulls separation from the body couldn't even be heard over the hissing she was giving off, holding up his head as she felt with his death the force going into her DE Field. Her eyes closed back down to their normal sight, her mouth returning to a small line on her face, the front of her body covered still in dried blood. "Ssslicing… done…" She spoke plainly, grabbing the broadsword in his chest and ripping it out, giving off a small laugh as she did, putting the two blades back into their sheathes, not even bothering to get any of the blood off, as the very flames themselves had already burned it.

She didn't even look back at the dead man on the forest floor, who was missing his head and covered in blood, as she kept walking, continuing on her mission, her footsteps making a quiet Thimp, thump as she walked along the forest's floor…



__________________
Believe nothing, no matter where you read it or who has said it, not even if I have said it, unless it agrees with your own reason and your own common sense.
- Buddha
Will Skills
Willpower/Determination: Advanced

Mental Deduction: Advanced

Pain Endurance: Master

Focus: Master

Application Checklist
Name [x]

Appropriate Age [x]

Gender [x]

Appearance Present [x]

Appearance Described in Appropriate Length OR Picture is Visible [-]

Appearance is Not Claimed [x]

10 sentences for personality [x]

History is of appropriate length [x]

Powers are not Godmod/Overpowered [x]

Powers are described reasonably enough [x]

Application/RP Sample is not in First Person [x]

Skills are not filled in (Omit if a Hollow)[x]

RP Sample Present (Omit if this is not the first character) [x]

RP Sample is 10 sentences [x]



Comments/Notes: Approving her for 2nd Class DE User
Tier: 0-3+
__________________
JJ

Rower of Rock. And Souls.


Joined

: 2011-03-03


Posts

: 5174


Age

: 26


Location

: , Location, Location!

Member Info


Platinum Points

:


(20650/20000)




Tiers

:
____________________________________________________

☨Skill Sheet☨

____________________________________________________

Racial Skills
Za Koa Skill: Advanced
Demon Magic: Beginner
Shadow Movement:Advanced
Akuma Kyōdo: Master


General Skills
Durability: Advanced
General Speed: Advanced
Strength: Master
Weapon Skill: Master


DE Control
Semi-Immortal Capacity: Advanced
Breakdown Skill: Beginner
Necromancy Strength: Master
DE Barrier: Advanced

__________________
Believe nothing, no matter where you read it or who has said it, not even if I have said it, unless it agrees with your own reason and your own common sense.
- Buddha
JJ

Rower of Rock. And Souls.


Joined

: 2011-03-03


Posts

: 5174


Age

: 26


Location

: , Location, Location!

Member Info


Platinum Points

:


(20650/20000)




Tiers

:
This is being moved to archives.
Thank you very much for your service over the years.
If you are ever needed again, you shall be re-summoned once more and moved back to Approved Applications.
Until then, sleep well, my dear friend. Thank you for the good times and for having put up with me for so very, very long.
Katana.. you are currently not truly seeing any activity, at all, of any kind. You have relationships with your daughters, and if you are ever needed for them again I shall retrieve you... but until such a time, thank you for being such a deadly blade, and being my first character to be approved at a high tier. You are the only remaining member of the original Banshee Force, and now that group, I believe, has come to very little... so goodnight, and thank you for serving your Queen so faithfully over the years.
__________________
Believe nothing, no matter where you read it or who has said it, not even if I have said it, unless it agrees with your own reason and your own common sense.
- Buddha
Sat Feb 23, 2019 11:23 pm
[adm]Unarchiving and moving for review for NPC.
[/adm]
__________________
Henrex

Tor'uk


Joined

: 2016-01-20


Posts

: 4080


Age

: 22

Member Info


Platinum Points

:


(419100/999999)




Tiers

:
Application Checklist
Name [X]

Appropriate Age [X]

Gender [X]

Appearance Present [X]

Appearance Described in Appropriate Length OR Picture is Visible [X]

Appearance is Not Claimed [X]

10 sentences for personality [X]

History is of appropriate length [X]

Powers are not Godmod/Overpowered [X]

Powers are described reasonably enough [X]

Application/RP Sample is not in First Person [X]

Skills are not filled in (Omit if a Hollow)[X]

RP Sample Present (Omit if this is not the first character) [X]

RP Sample is 10 sentences [X]

Will Skills
Willpower/Determination: Elite

Mental Deduction: Advanced

Focus: Elite



Comments/Notes: All issues have been taken care of in DMs on Discord. While I do see the work put into the app and the work on site, I do not feel comfortable approving this at 0-3+. So, I'll be dropping her tier.
Tier: 1-5
Rawk

Knight of the Two Swords


Joined

: 2017-05-11


Posts

: 6143


Age

: 27


Location

: The beach :)

Member Info


Platinum Points

:


(16000/1)




Tiers

:
[adm]Archiving for inactivity. Please speak to staff if you would like this unarchived.[/adm]
Permissions in this forum:
You
cannot
reply to topics in this forum