zetsurin

Seasoned Member


Joined

: 2012-03-22


Posts

: 1090


Age

: 28

Member Info


Platinum Points

:


(13000/99999)




Tiers

:
mizuchi was walking the desert with a sick feeling in her body. Sentes mizuchi is a Adjuchas she much eat to keep control over her body or else she will revert to a menos grande. Mizuchi was here for one thing to hunt. Her large body walking the barren plans of Hueco Mundo. She feels some thing coming close to her. she must try her best to subdue this hollow her free will may depend on it.
Elendril

Established Member


Joined

: 2011-02-12


Posts

: 451


Age

: 26

Member Info


Platinum Points

:


(0/0)




Tiers

:
l Gaara of the Sand l 1-1+
Gaara silently moved through the dessert of Hueco Mundo. Gaara could barley be heard, as he moved through the sand. As Gaara was one who tended to be use to the sand of the places. As the sand tended to bother most people, as the sand got all over them. Though the sand did not really bother Gaara, as he was one with the sand. Easily being able to control the sand as though it was a part of his body Gaara just let it be. But as Gaara walked he could feel the presence of another person around him in Hueco Mundo. Though Gaara could not put his mind on whom this person was. As Gaara could not recognize the spirit pressure, especially since it was too low. Not being of average power level Gaara would read here in Hueco Mundo. Since Gaara had always been told to eradicate the weak hollows and Arrancar. And though Gaara had never been one to really care about the small fries of Hueco Mundo, he figured that it would be a perfect time to do so. So Gaara would start to silently make his way to where the spirits pressure what coming from.
As Gaara neared the spirit pressure he would start to think of his plan to eradicate the low level hollow that he was nearing. Since Gaara was sure that he would be able to finish the battle that he was about to start. As Gaara was sure that the hollow with such a low level would most likely not be able to handle Gaara especially if Gaara where to go full power. But Gaara still wanted to be cautious. Since there was still the possibility of the hollow just trying to hide his real spirit pressure so that someone like Gaara would just try and attack them. But right now Gaara could care less about all of this. As he was just not in a good mood and felt the need to fight no matter how strong the opponent was. Though Gaara did wish for a stronger opponent the only one near him that he could sense was weak. So Gaara figured that he would just have to deal with what he was given. Since Gaara could not just walk all around Hueco Mundo trying to find a strong opponent to fight. As Gaara knew that beggars could not be choosers.
So as Gaara neared his new target he would start to feel the sand around his target as they were in the dessert of Hueco Mundo. A place that could make Gaara a very deadly opponent. As Gaara's powers was increased when he had more sand to use for his attacks. And Hueco Mundo was a place filled with sand for Gaara to use for his attacks. As Gaara would come from behind his enemy being behind what looked like a girl. Gaara would waive his right hand up and clutch it into a fist, as he had the sand around her come up and start to cover her body in what Gaara called a sand coffin. This would be one of Gaara's most deadly attacks, as Gaara was able to use the sand to crush the bodies of his opponents. As the sand would start to try and cover the girl Gaara would then use his Sonido To Appear in front of the hollow with a bala in his left hand aimed right at the face of the hollow. As Gaara figured that If the girl was not fast enough to dodge the bala to the face it would be the end of the fight.
zetsurin

Seasoned Member


Joined

: 2012-03-22


Posts

: 1090


Age

: 28

Member Info


Platinum Points

:


(13000/99999)




Tiers

:
mizuchi's body was in cased in sand by a Arrancar. She was fearful for her life this man was strong and was not planning on letting her leave here alive . .. Her heart was racing the fear of death tacking over her mind. Mizuchi's body trembling uncontrollably. " no ... not yet i cant die yet....i got to fight ... I need to FIGHT or ill DiE!"

mizuchi cry's out from inside the sand. The large dragon like hollow Feeling her self come off the ground and floating in the air .She had to think how cant I get out? what cud i do?..mizuchi mizuchi can feel him building energy up. was he going to use a full Cero? no she was to weak compared to him.. He would use a bala. mizuchi had no time she must act not or it would all be over.

mizuchi releesed to her 0# form. Sentes 0# was much smaller her hole body would now be where just her chest was before the sand was all around her. mizuchi trys to use a "form Cero" to punch thru the sand " if this works she would follow up whit a "winds of fire. in hopes of turning the sand to glass around them as mizuchi would fly at him to try to stab him with her claws in a blind rage. If she hit him her claws would brake due to Gaara's power being so much grater than hers.

there was little hope for her. not much she could do. if this failed she would die. the Arrancar was strong.. tho he mite kill her she idealizes his powers. wishing that she had that kinda power her self.
Elendril

Established Member


Joined

: 2011-02-12


Posts

: 451


Age

: 26

Member Info


Platinum Points

:


(0/0)




Tiers

:
Gaara would notice the girl shrink as he would shoot a bala at her face. This would surprise Gaara, as the girl had managed to avoid his attack like a pro. But the girl hollow still did not manage to avoid Gaara's sand which she was now trapped in. And this was all that Gaara needed. Since the cero that that girl had tried to fire through the sand had failed miserably. The sand would then form all around the body of the girl start to squeeze her to her bones would start to pop.

Though Gaara did leave a slight air whole for the girl so that she would not suffocate. As Gaara had not planned on killing the girl just yet. Since he wanted to see if the girl could be of some use to him. As Shadow fell could use some help now that Gaara thought about it. As now that the Arrancar and Sin fall had joined forces. And made the Shadow fell it was always good for them to get no members into the group especially hollow like this one that they could practically build from the ground up so that they could become even better assets to the group.


JJ

Rower of Rock. And Souls.


Joined

: 2011-03-03


Posts

: 5174


Age

: 25


Location

: , Location, Location!

Member Info


Platinum Points

:


(20650/20000)




Tiers

:
As the sand began to harden around the mouth of the dragon, the air around the great hollow's sand-encrusted form began to shiver slightly. Suddenly, great lines appeared all in the sand, as if it had just been cut multiple times. The sand broke, losing the control over it that it had as the hollow became freed.

Standing in front of the hollow was a strange man. There was a smile on his face and a jump in his stride as he took off the body that was on top of his own, throwing it behind him. He wasn't sure if a normal gigai would be able to work, but it was the best thing that he could find as his eyes glanced up at the man before him. His white hair moved slowly on his face as he held up a hand above his other, cupped hand, marshmallows suddenly falling from above into it.

He lifted the marshmallows to his face, opening his mouth wide as he put them in, chewing them, standing in between the two of them. He pointed a single finger at the arrancar before him, a smile on his face from lip to lip. He opened his mouth once more, announcing before them.

"Sunny Sangsue, at your service. Can I ask you why you are tormenting this young lady?"
__________________
Believe nothing, no matter where you read it or who has said it, not even if I have said it, unless it agrees with your own reason and your own common sense.
- Buddha
zetsurin

Seasoned Member


Joined

: 2012-03-22


Posts

: 1090


Age

: 28

Member Info


Platinum Points

:


(13000/99999)




Tiers

:
Mizuchi was confused ...
Mizuchi was sure she was going to die. What was this man? .... he was not a hollow clearly nor human nor was he a Shinigami... and why would he help her... y would he possibly save a weakling like her ? Mizuchi thinking: it's a trap.. yes a trap ... no why would he cut me out to trap me him self? 3 of Mizuchi's ribs, her left arm and leg was broke even berthing was hard. Did he want to kill her him self? yes that must be it .... flash's in her mind of 2 lions fighting over injured-pray. Mizuchi was rendered speechless... trying her best to think of some thing she could do.

the only thing she could think of was hopefully they would get focused on each other. if that happen maybe she could sneak away..Mizuchi was staring at the two men ....she was in sure even if she could run... how far can she get like this .. but it was the only thing she could think of and the only hope she could see in her mind. Mizuchi gets into the gigai tho she was un-trusting of the man who gave it to her. she had little option in it. her own body was at its limits.
Elendril

Established Member


Joined

: 2011-02-12


Posts

: 451


Age

: 26

Member Info


Platinum Points

:


(0/0)




Tiers

:
Gaara stood silent wondering what the hell was going on as the strange man appeared. As this man had managed to destroy the sand coffin around the girl, which was something not easy. Since Gaara's sand was even able to stand up to the attacks of captain level Zanpakutō. Though Gaara had not even started using his real sand from his Zanpakutō. So destroying the regular sand of Hueco Mundo was not hard. But Gaara figured he had to give the many credit as the man was close to his very own power level though Gaara still trumped him by a decent amount. So Gaara figured this would get very interesting soon enough. As now there was someone of Gaara's power level near him for him to fight. And if Gaara was luck the man would actually be able to give Gaara a actual fight. Since a fight had been what Gaara had been itching for the whole time since he had came back to Hueco Mundo, his home. A place that Gaara somewhat had an advantage over a lot. As sand gave Gaara his power and lucky for him Hueco Mundo was a place that was very full of sand.

The strange man would then turn to Gaara and state his name, as well as ask Gaara why he was tormenting this lady. This would make Gaara chuckle a little bit, as he would look at the man who had just made the comment and state. "Hollow like this cannot yet be identified as male or female yet. As they have not developed yet enough. And unless your eyes are fucked up all you should see is a hollow looking dragon. So I ask where the hell you got the idea of this being a woman even if she is actually a woman. Since I doubt you have the ability to just since women out, and if you do then I will have to slightly tile my head in respect to you." After finishing his statement Gaara would go silent as he waited to see what this man had to say. As Gaara had lost all of his will to kill for the moment right now, as he even had the idea of bringing this hollow to shadow Fall. Since Gaara figured that the hollow could be of some use to the group even if she was of weak power.

Since Gaara figured that Amos and or Tindera could always just do experiments on a low level hollow like this. And if they failed then they could just put it out of its misery. Since there would be no other reason for Amos or Tindera to just keep the hollow as a pet. Since Gaara figured that that was not their style. Though Gaara knew that he could never be too sure with what Tindera and Amos do especially Tindera. But Gaara figured all that was beside the point. No he just needed to figure out how this scene was going to play out now. As Gaara was not one hundred percent sure, if he should start preparing for a battle. As Gaara had no idea who this strange man by the name of Sunny was. Or who this man was affiliated with, or against. Since not a lot of people liked the Espada. And Gaara was one who was very loyal to his fellow Espada. But Gaara figured that for now that he would just wait and see what the guy had to say. As this was his first time every meeting the guy, and right now he felt letting him walk away un harmed was the best idea.



JJ

Rower of Rock. And Souls.


Joined

: 2011-03-03


Posts

: 5174


Age

: 25


Location

: , Location, Location!

Member Info


Platinum Points

:


(20650/20000)




Tiers

: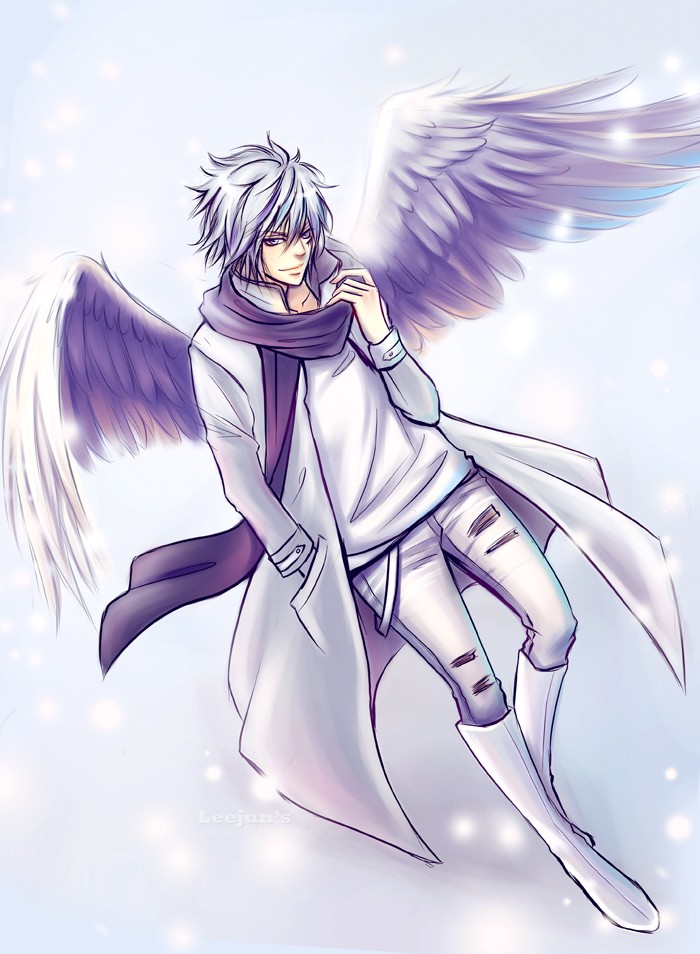 Sunny Sangsue
Death
Hope



Lien?


Sunny merely chuckled at the man's challenge.

"Oh, you have no idea. When you've had to find a drunk girl as aany times as I, you get able to tell their kind pretty easily. Not to mention, you can bet your last sand drip that if she was male, we both would know." He explained, before glancing behind him again. "That, and the fact that I brought a girl gigai. So, that would have been kind of awkward if she turned out to be a male." HE explained, before turning around to face the gigai that was laying on the ground, with the hollow inside of it.

"Now listen. You won't be able to move yet; for one thing, this gigai isn't made for a hollow's soul. It'll give you a bit of protection and a more manageable shape: however, unless I make a certain thing for you, it'll slowly start to decay from you being a hollow. So just sit tight, okay?" He asked, titling his head slightly to the left as he smiled, his eyes closed, the mark of the Maitre Lien on his cheek raising up in the smile. He pressed back down on his feet, standing up straight again as he turned to face Gaara. He opened his eyes again, although a small smile still remained on his face as he spoke again.

"In either case, you've just beaten on a girl TO THE EXTREME. AND MAN, DOES THAT PISS ME OFF." Sunny said, his wild nature beginning to come out as he punched his right fist into his open left palm, pulling back the fist as he revealed how he had destroyed the sand coffin. Long, metallic claws seemed to grow from his knuckles, the source being his open palm. Then he opened up his right hand, punching in with his left hand, repeating the process. He didn't even need to state the name of the Lien as he then reached a hand up to his face, gripping his hairline and pulling down.

As he did so, a mask shot down from his face, hitting at the end of his chin. It was completely flat and void of markings: except for the eyeholes. However, there was one special thing about it… It was glowing. In Sunny's rainbow aura. So it's colors were constantly shifting and swirling as Sunny looked at his opponent, glancing behind himself briefly as the seal that he had just set appeared around the girl, a triangle barrier Lien that would protect her from most attacks, even if she was unable to move. Sunny merely watched his opponent, waiting to see if he would make the first move, glancing down at the ground.

From the looks of things, he controls sand. In which case, I'm definitely at a disadvantage. He thought, looking all around himself. There were two large boulders nearby, and Sunny considered going over to them. However, he knew any movement right now would be most likely prevented, so he only kept up his watch of his opponent, waiting to see what he would do…



Pride
Magic[/i]
__________________
Believe nothing, no matter where you read it or who has said it, not even if I have said it, unless it agrees with your own reason and your own common sense.
- Buddha
zetsurin

Seasoned Member


Joined

: 2012-03-22


Posts

: 1090


Age

: 28

Member Info


Platinum Points

:


(13000/99999)




Tiers

:
the hollow layed in the gigai..Not knowing she would be unable to move till after she got in it this was the first time she had seen a gigai let alone using one. ... This man he smiled at me...He is risking his own life to help me..Why would he do this. Mizuchi's eyes start to water...

as the light tear falls down her face she cant help but think. ( I was treated like i was nothing win i was alive .... as a hollow most see me as a monster nothing more.. this man he thinks of me as a real person. she keeps staring at the men wounding .. hoping for a good out come.
Elendril

Established Member


Joined

: 2011-02-12


Posts

: 451


Age

: 26

Member Info


Platinum Points

:


(0/0)




Tiers

:
Mon Apr 16, 2012 10:16 pm
Gaara watched as the assumed girl hollow would get in the gigai. This was something that Gaara thought as a little stupid of the hollow. As they would not only have their powers restricted, but had no idea who this man was that they had just sided with. Since there was no idea of who this man was, and if he was good or evil. And since a lot of people come to Hueco Mundo to hunt low level hollows like this it was no telling why this man had shown up to save this hollow.

As he could just want to take this hollow for his own personal reason. Though Gaara could care less all about that, as he just figured that the hollow would do better in Shadow Fall. Since they would have the chance to have his strength increased and train with stronger hollows and Arrancar. Though Gaara knew that he could not force the hollow to come with him to shadow fell, though he figured that the hollow would like it. Since Shadow Fall would be a great person for a hollow to grow stronger at. Especially since a lot of the higher ups in Hueco Mundo had left.

Gaara also laughed at how the boy was getting on to him for attacking women. Something that he said he did not like. As all that went down the boy would also pull down a mask and seem to get ready for battle. Though Gaara had no intention of battle right now, but if it was a battle the man wanted Gaara would give him one. Since Gaara was not just going to back down to some strange boy that had decided to randomly show up and stop him from testing the strengths of this hollow.

Gaara would then look at the boy, and start to laugh. Gaara would then say. "If it is a fight that you want it is a fight I can give you. Though you do realize that this barley a women but just a hollow. Something that your people and many others kill just for fun of it. So why are you saying it? Plus I have plans for this hollow that could help it become just as strong as me. Though this Hollow is not so bright to come to go into a gigai of a random person like yourself no offense".

"But why are you even here in the lands of Hueco Mundo. As this is the home of Arrancar and hollows. And only justified reason that I can see of you being here is that you yourself are on a hunt for low level hollows. Though do not feel bad as it is natural for a lot of people to come here just for those very same reasons. But then again those people do not try and pretend that they are saving someone like I think you are doing. But then again I could be wrong and you are just here for the view of this great dessert. But I high doubt that. So I ask why you are truly here in the lands of Hueco Mundo"



Permissions in this forum:
You
cannot
reply to topics in this forum
Who is online?
In total there are
18
users online :: 0 Registered, 0 Hidden and 18 Guests
None
Top posting users this month
Top posting users this week