JJ

Rower of Rock. And Souls.


Joined

: 2011-03-03


Posts

: 5174


Age

: 25


Location

: , Location, Location!

Member Info


Platinum Points

:


(20650/20000)




Tiers

: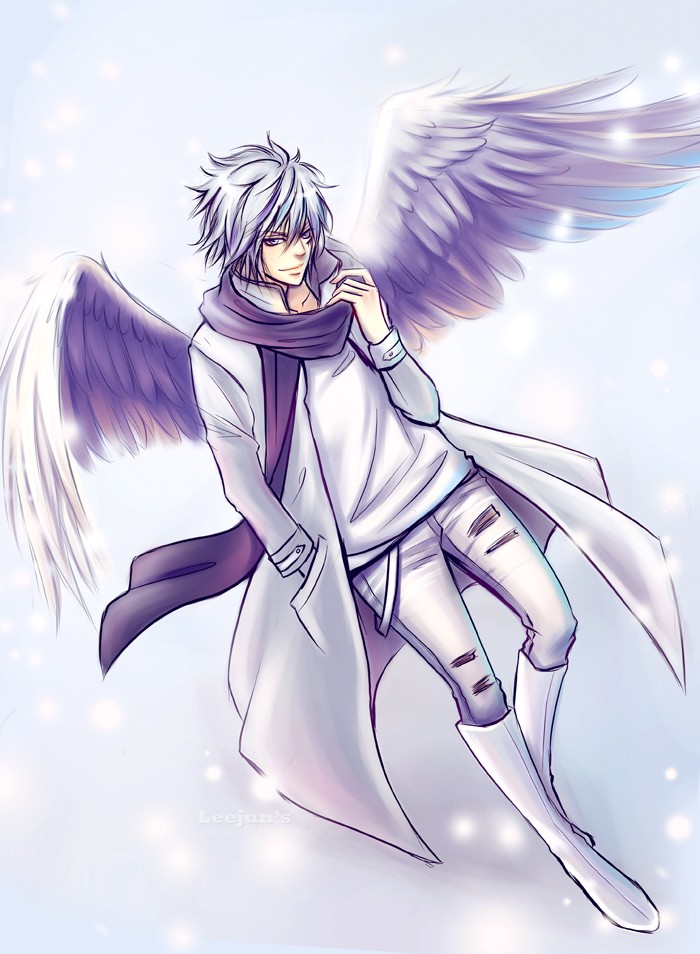 Sunny Sangsue
Death
Hope



Lien?

Sunny laughed as he began to hear the man speak, awaiting him to finish so that he could interject. Heh. He's pretty arrogant… but I still can't let him get away with what he did.

"You're right. It IS a fight that I want; I'm pretty pissed off right now. Mostly because of YOU. And even if it IS a hollow… She's still a woman. And a man should treat a woman with respect." He stopped before realizing what exactly the man had really said.

"ME AND MY PEOPLE? What people? I am SUNNY SANGSUE, a Sangsue. You've never seen ANYTHING like me before, I assure you. And you know NOTHING about my people. Outcasts, disturbed, lost… Those are my people. And why would someone who desires to help someone do such things to them. I would rather as a bug crawl under the pedestrians bag than be sprayed by the gas of an exterminator." He answered in reply, keping his tongue in check as he listened to Gaara's next slew of words.

"The only justified reason? Is that REALLY what you believe? You fatalist. No, it is NOT the only reason. In fact, if you must know, I'm here to train myself. I mean, just look around here, this is nowheres-ville right proper. Best place in the world to just sit and meditate, if you conceal yourself right. And pretend…? I never pretend. This life is too extreme for us to pretend. So, with you left with those words… I think I'll up the challenge level a bit, shall I?" He asked almost mockingly as he brought his right hand up to the side of his mask, resting his thumb on the strange material that made up his mask. As he did so, a clear white line appeared over where he had moved his thumb, leaving him with a small smile on his face as all around him he became consumed with the strange rainbow energy. He held up his right hand, bringing up his left, the left hand's palm pointing straight up to the sky. He moved his palm towards his right hand as his hand became a blur, making lines on the inside of his left palm. Then he opened up his right hand, doing the same with his left.

"Now it's my turn. Why would any hollow attack another? Being a Sangsue, I was a mod soul first; I was originally made to fight hollows. So I know that the only reason you would do that is if you were planning on consuming her. Otherwise, you could just have easily have knocked her out, or made her an offer. Honestly, even if she wouldn't listen to that, you didn't have to harm her when you put her in that hold. However…. The sounds of bones cracking…. Especially the bones of someone that you, as an arrancar, should rightly be protecting. Well…. Lets just reaffirm the fact that you PISS ME OFF, if you DIDN'T HEAR ME THE FIRST TIME!"

He cried ot, holding up his right hand up to the sky, throwing it downwards now to the ground. All around his hand, water began to form, swirling around it. Then, all in front of Sunny shot a great torrent of water, slamming outwards in a gigantic wave. It shot right at Gaara, going several feet higher than his head. Sunny vanished with a twirl, reappearing behind the arrancar, feeling the slosh, slosh Of his feet on the soaked ground. His right foot stepped down in a pivot and bent slightly, as Sunny's other arm came up. It shot right at Gaara, trying to hit him dead on with the iron claws, covered in Sunny's reiatsu. Sunny brought up his right arm as he slammed Gaara, shooting the claws right at his opponents skull.

Then he leapt back, seeming to sail through the air as he held up his left hand, holding onto the left arm with his right hand. His hand flashed and sparked, before it shot out a gigantic wave of energy, Hadō 88 in size. If it missed Gaara, it would merely go past him and slam into the rock behind him. In any case, Sunny's eyes kept moving, kept searching, making sure nothing was going to assault him. He briefly glanced back at the girl in her box to his right side.

"He's wrong. Do not be afraid; I am a friend, and I won't let him keep attacking you. Alright?" He asked cheeriy,, the corners of his lips rising up in an almost-smile as he watched the girl for a few moments, before turning back to face his opponent. "Seriously, dude. You must not have any girls in your life, ya'know? Otherwise you'd be pretty worried about now that they could find out how you treated this on, if she was a hollow or not a hollow. I personally know that I'd get capped in the face by Aivee if I tried any BS like that. In other words, YOU SUCK." Sunny finished , brazen to the extreme. It was quite obvious that he was still angered, although perhaps not as badly as before.



Pride
Magic
__________________
Believe nothing, no matter where you read it or who has said it, not even if I have said it, unless it agrees with your own reason and your own common sense.
- Buddha
zetsurin

Seasoned Member


Joined

: 2012-03-22


Posts

: 1090


Age

: 28

Member Info


Platinum Points

:


(13000/99999)




Tiers

:
mizuchi lies on the ground with garras words ringing in her head..mizuchi was thinking. He is right...in this gigai I cant even move.. i... I have no way to protect my self. but i could not really do that before ether ......there is nothing i can due. mizuchi try's moving her arm .. but she can't get it to even budge.

sunny's words tho kind give mizuchi a strange feeling. his essence the way he looks at he the way he talks to her...it's like as if he seen her as a normal girl...but why ? why now ? hollows are corrupt spirits... why try to save her? .. she can't doue nothing but lay and watch this two men start to fight ... there spiritual pressure being so much grater than her's. making her feel weak as if she is going to pass out
Elendril

Established Member


Joined

: 2011-02-12


Posts

: 451


Age

: 26

Member Info


Platinum Points

:


(0/0)




Tiers

:
Tue Apr 24, 2012 10:38 pm


Gaara would take a big breath as he finished his speech waiting to see what would come after. As he figured that the strange boy would most likely not like the fact that Gaara had just tried and convince the low level hollow to believe that this strange man had only saved her so that he could kill her himself. And if the hollow would even start to believe this for a second then Gaara had accomplished his goal. As this boy was saving a pointless creature at this point. Since most hollow this low in power level were used as practice dummies for those training their powers.

But by the looks of this hollow was not even at a power level suitable for that. Though if Gaara was sable to bring her to someone like Amos or Tindera. They would be able to experiment on her and increase her powers so that she could become a good asset to Shadow Fall. Though right now Gaara just needed to work on getting her back to the Shadow Fall base so that Amos or Tindera can start their experiments on her. Then maybe she would be of some use to Gaara and the others of Shadow Fall.

But for now Gaara would listen to the boy speaking. Firs the boy would go on about a fight this Gaara did not pay much mind to as Gaara did not care about it. The boy would the answer about how Gaara knows nothing about his people, and that he had never seen anything like him. This would make Gaara get a smirk on his face, as he could care less about what he knew about the boys race.

He would then also go on about how Gaara was doing the situation all wrong and how he would rather be a bug. He would then talk about how his race came from a race that was made to kill hollow. This would bring even more question to Gaara. Since if your ancestors were made to kill hollows then why would you work o save them. As it just seemed like he was forgetting the point of his ancestor race. Though the fact that the boy said Gaara wanted to eat the girl to consume her power is what really made Gaara laugh. As he was a Arrancar and they did not eat hollows to become stronger only hollows did that.

But Gaara could not expect the boy to know that as he did not seem that smart in Gaara's books. The boy would also state that he sought Hueco Mundo as the perfect place for him to train as it was disserted. This would make Gaara chuckle. As he knew for a fact that this place was not disserted. Though a lot of the high level Arrancar had left the place, their where still many hollows and Arrancar in this place just as strong as Gaara, some maybe even stronger. Though all that did not matter much as it was beside the point of what Gaara was thinking about.

Gaara would then see as the boy started to focus energy in his hand, this would make Gaara himself prepare for his own defense and counter attack. Since if the boy was preparing to attack him, then Gaara needed to prepare himself. And so as the boy gathered his energy, Gaara would start to focus his energy in all of the sand around them, and as soon as the boy would let the wave start to come at Gaara, he would use the sand around them to lift himself up into the sky. This would allow Gaara to float two meters off the ground, as he would look at the boy and say "You have a lot of wrong info my friend"



__________________
Permissions in this forum:
You
cannot
reply to topics in this forum
Who is online?
In total there are
10
users online :: 0 Registered, 0 Hidden and 10 Guests
None
Top posting users this month
Top posting users this week