» Soul State Evolution Stage 1 Appearance:
The Class System has Varying appearances.
» Soul State Evolution Stage 1 Abilities:
Class System
Len doesn't have normal Soul States. He has... classes. Changing between classes takes a post to do, and each class has its own unique abilities. These abilities cannot stack upon one another after he has switched classes, but he can still use his natural abilities just fine.
Warrior Appearance: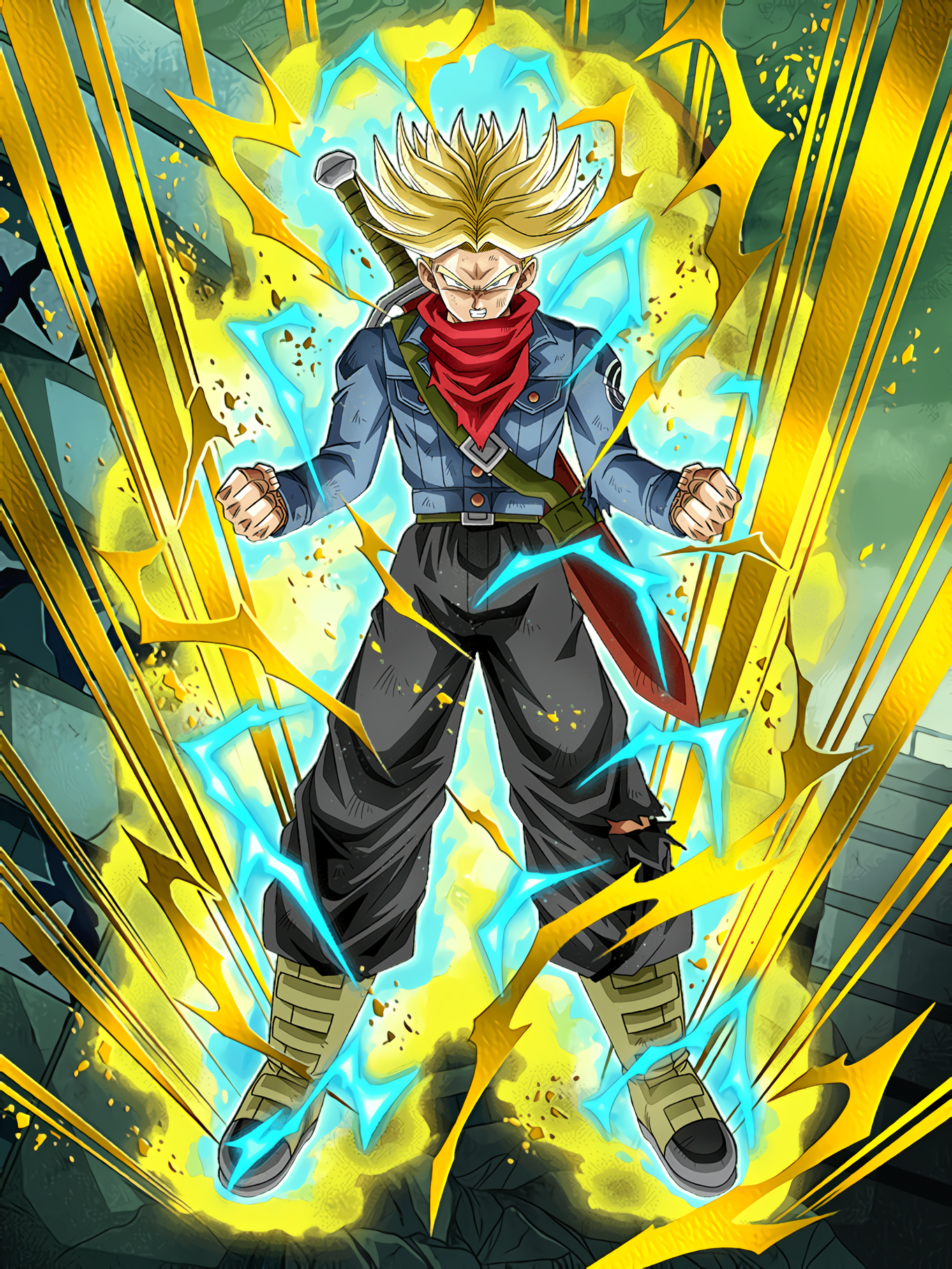 Typically, his clothing when he goes into this form includes a denim jacket, baggy black pants, and a black undershirt. His hair rises up from his head, becoming grouped together and spiky on the top of his head, except for a single strand that goes downwards. His eyes change from their normal blue to a pure-green color, almost turquoise-ish in appearance. He places Deathrender onto the sheathe on his back with a strap, and keeps Goldrender, the smaller sword, on his side. He wears a blue belt with an orange clip as well. His muscles are much more defined in this state, in fact, he really IS muscular. Not gaudily so, but enough to show that he is quite tough and not to be easily messed with. He also wears a pair of pointed yellow boots.
Warrior Abilities:
Immense Battle Aura
His Aura, gold in color, shows just how much pure, golden-colored energy he has in this form. This is actually his natural color, created by his own body; so its main ability is releasing the latent power within him. For one thing, his aura is so strong that standing on the ground while calling on his energy will cause the very ground beneath him to crack and split apart. He can also release a burst of it around himself to blow back his opponents, as well as a variety of other uses.
Pure Flight
He can use his energy to sustain himself in the air, maintaining himself as if he were weightless and able to fly around. It takes very little for him to maintain himself and do combat with enemies energy-wise. However, he can shoot himself out in a burst of speed by releasing just a bit more energy, and this is best used when he is flying over large distances.
Energy Attacks
His sheer amount of energy in this state can be made into many things. Whether they be large beam-like blasts, short and rapid bursts, large bomb-like attacks, or anything else he can think of, his energy tends to be quite effective in its explosive size and power. In addition, his power supply is restored by Goldrender, meaning he can go quite a while before he is completely out.
Muscle Mass and Speed
His muscle mass also significantly increases in this state, far beyond that of a humans. He is able to effortlessly toss cars and could even pull out a good sized house out of the ground with enough effort. However, he doesn't completely look the part. He also has a large amount of speed because of this, able to vanish from normal human sight from how fast he can move.
Burning Attack
However, he does have one signature energy attack. With this attack, he uses his impressive speed to burst fire moving his hands, 300 times in the space of 4 seconds. These hand-movements are mirror images of one another, and happen all over in front of his chest and face. What he is doing is cooling off his hands as a massive amount of his energy collects into them. Then he points both hands out before him, finishing the charging as his enhanced muscles feel as if they are ripped out from the extreme amount of energy and he cries out the name of the attack.
From his hands fires a sphere of energy. This sphere, however, has small spike-like bits of energy sticking out of it, evidence to how much sheer power it has. When it hits the ground, it explodes, so large that it consumes the area for 200 feet around it, creating a massive crater where it used to be. This usually leaves Len drained, energy-wise, for the rest of that post and the post after. However, he can still use his speed and muscle mass along with his blades against his opponent.
Kamehameha
Placing both hands behind his back on one side, Len closes his eyes, as roughly half of the energy that this form gives him charges between his two hands, as the energy is pulled from his body, becoming more and more dense between his hands. Then, once the attack is fully charged, he throws both hands forwards, opening his hands wide as the attack blasts out from his palms at his opponent. The blast's range and size vary for how much energy Len has gained from this form; however, at its weakest strength, that being enough to blast away a small house. However, after using it, his arms fall to his sides and can't be used for a post. If he uses it twice in a thread, he is pushed out of Gold Len and his class system is Sealed for the rest of the thread.
Colors of the King: This form's power… is truly in its intimidation. Or rather, through the act of intimidation. That is… it is very difficult to explain. Basically, through an act of extreme intimidation, he is able to fire a large bolt of "Force" onto the consciousness of his opponent. The Force overloads the consciousness, attempting to send it into unconsciousness. If that fails, it also causes other effects to happen as would happen if a person suddenly was driven into overdrive and then stopped.
So, if Warrior Len opens an eye wide, as he takes a single step towards his opponent, his posture acting like he will crush his foe, a burst of his energy as this "Force" would fly out, pulsating from Len's body in most directions. However, he could also attempt to focus it on that one target, a considerably more difficult task to accomplish, but possible. The Force slams into the opponent, overloading their consciousness. Now, they are able to mostly resist the unconsciousness of it, but as the force passes, they find they have a blinding headache, their senses feeling overwhelmed as they were able to suddenly reach a high peak and then have it desert them having them overloaded for a moment and then nothing, their balance impeded by a similar effect, which could make standing difficult for them.
However, for the most part, the Colors of the King only effect those that are of equal or lower tier to Len's own (which is most.) Those that are higher than his own will feel a minor headache, and perhaps some balance issues; but outside of this, they will be fine for the most part. Those that are of basic human level will almost always be knocked out instantly from this effect, unless their Focus or Determination/Willpower is of adept level or higher. In fact, most beings with less than adept Focus or Willpower that are weaker than Len tend to be knocked out by this effect. Otherwise, the weaker the opponent is, the more this will effect them.
Furthermore, it takes quite a lot of energy to activate Colors of the King. Len can be left gasping and breathing for air just to have it effect a small room of teenage humans into unconsciousness, so this is not a very easy ability for Len to utilize. However, it has another interesting ability. Any reishi that is effect by the Colors of the King is supercharged with energy, for better or for worse. So, the farther that the Colors of the King have to travel before they hit their target, the less effective it tends to be.
Goldslasher: His blade is literally, Freddie (Deathrender) and Goldrender fused together. It is quite an… interesting sword. For one thing, it applies its tripling effect to Len's body permanently while he is in this form, meaning that he can drop the sword or even have it taken; and he will still be the only recipient of its effect. In addition, Goldrender's suctioning ability now occurs whenever he moves his body; as his entire body gradually draws in small amounts of the reishi around him, refilling his energy supplies and allowing him to fight to the limits of his body.
However, those are not all that Goldslasher does. In addition, it now has the strange habit… of lighting on fire. This is fairly basic fire, red in color. Whatever it strikes into, it both cuts and attempts to burn. The fire is roughly two thousand degrees Fahrenheit, enough to keep the blade alight past its hilt, and not easily go out. However, there is one very, very interesting property about the sword. How well it can burn, while it is underwater. As long as Len has the will to keep it going, this flame will never go out. It will even increase in temperature as much as it needs to sot that it will keep burning. This means that even attempts to diminish and destroy that single flame… increase its power. However… it is also a tell tale sign of when Len has been broken. When he snaps, the flame goes out completely, in addition to his very body no longer working, as all the fight goes out of it.
There is one other interesting fact about the flame. If Len's determination should return to him after the flame has gone out… Well; for one thing, the tripling effect? It becomes a five times increase to most all of his abilities; he can take quite a few hits, deal a large amount of damage, move at higher rates, and react much faster than before. In addition, the flame around Goldslasher will burn twice as bright and hot as before. So, if he is fighting on a team, it is usually best for someone to revive his will if they can.
Axe Spree: When Warrior Len is active, in both of his hands he gains the ability to make axes. These axes are quite unique in appearance; for one thing, they are completely bright orange. They have a handle with a strange button on it's bottom that when pressed, turns the axe's handle into a circular interface that goes around Len's wrist. From here he can move his arm in circles, causing the axe to spin around quite quickly. Then, he can throw his arm forwards, causing the now spinning axe to fly out. This not only increases the axe's range and speed, but also causes it to gain a strange effect. If it hits into an enemy, or even if it doesn't, it bounces off of where they were before and pops right back over to Len, allowing him to catch it again and keep it spinning.
Axe Generation: He is able to form his reiatsu into his axes, so even if one is broken or he loses it, or just needs another, he can activate this ability. By focusing his energy into the palm of his hand, he can shoot out the handle of an axe. From there, the axe seems almost as if it blossoms out from the hilt, before Len grips it in his hand. These taSke very little energy to create, but the axe's sharpness is determined by how much energy Len has left. As his energy goes down, the sharpness of his axes decreases, until finally when he reaches zero his axes go completely dull.
Spinning Axes: By charging up his energy in an axe, causing it to glow bright orange, he can use a special kind of attack. This time, when he charges the axe up before throwing it at his opponent, as he's spinning it around his arm, a large orange disk of energy appears around his arm. This disk is extremely sharp, and just one could level the peak of a mountain. He can only throw up to two of these per post; when they are thrown, they spin around with the axe acting as the center piece of the disk. As such, he can throw then, and have them spin around his spinning axes as they go towards their target, before hitting it and releasing all the energy and bouncing back to Len.
Massive Strength; This Len is incredibly strong physically. His arms and legs look like a lumber jack's; very strong and quite durable. In reality, he is supernaturally strong, able to lift up to two thousand pounds with one arm. He can also take a cero directly and come back from it with only mild damages.
Melee Combat Expert: Warrior Len is highly skilled in hand to hand combat; his reflexes become top notch, as well as his reaction speed and his ingenuity. His combat style tends to rely on breathing to calm the entire body, before firing out and decimating the opponent with strong hand to hand blows to knock them back unawares.
Interspacial Warp: Whenever Warrior Len punches or kicks something, if he chooses, it gains a large yellow star-shaped mark, roughly 2 inches long along its surface. That is, as long as they thing is alive; if it is dead or lacks a soul, it will not be able to form. However, otherwise, whenever Warrior Len hits the same place twice on an opponent, right where that star is, a strange phenomenon occurs. All around their body, a large yellow colored star appears, with a small amount of Brown covering the opponents body. Then, Warrior Len utters a five word phrase. It doesn't matter what the words are; however, there must be five of them in total. It should be noted that if the opponent or being moves while Len is saying this, the star will move right along with them. Then, Warrior Len's special ability activates. The star seems to bend and warp towards the brown colored opponent in the center, going swirlier and swirlier as space is distorted. Then, the opponent vanishes, before reappearing in some random place in New Jersey. Note that any space-distortion type abilities that the opponents use will disturb this attack; however, otherwise the only way to stop it is to prevent Len from saying those 5 words. If you can't do either of those... Well, New Jersey's not that nice of a place these days anyway. It's interesting to note that exactly twelve seconds after the star appears, Warrior Len falls completely unconscious, unable to move for an entire day. This is why he is reluctant to actually hit anyone with this ability. That also means that if the opponent manages to stop him saying the words, Warrior Len falls completely helpless. When Warrior Len goes unconscious, every star he has created vanishes as he returns to his unclassed state.
Soldier Appearance
In this form, Len's appearance changes dramatically. His eyes change to a much, much darker shade of blue, and his hairs turn completely black. They also elongate, as his hair reaches down past his shoulders in length. If he has the time to, he will often tie the hair but for a strand on either side into a pony tail on the back of his head. The hairs in front of his face allow just enough to him to see, but his hair has the consistency of a mop.
Most of the time, when he enters this form, he's wearing an extremely professional attire. His entire outfit is black and white in color. His attire consists of a suit jacket with a very high collar; a design-inserted button on his right chest, as well as a star-shaped insignia within the design that goes around his shoulder and side that connects on the button. His suit jacket is zipped halfway, revealing the plain white undershirt he wears beneath it. In this state, he tends to be extremely serious and gets his job done the best way he can. However, he is still the same positive and determined individual he was before, no matter how he looks. He keeps Freddie on its sheathe on his right side; Freddie has changed a good bit as well in this state, see below. Goldrender he keeps at his right side, using a loop in his jacket to hold it perfectly in place. His suit jacket extends down to the bottom of his black pants. He wears durable, black professional boots that can move through most surfaces. On his hands he wears black gloves as well; so the only part of his body that is revealed in this form is his face.
Soldier Abilities
Mugen Mode: Mugen Freddie
Appearance: When Len enters Soldier Len Form, his blade Freddie… evolves, for lack of a better word. It transforms, the entire blade turning black. The sheathe that holds it turns black as well, black as night, black as cold, hard obsidian. In fact; the sheathe now has the hardness and weight of actual obsidian. After the entire blade has gone black, it adds some white lines. These white lines are fairly intricate. Around the top of the hilt, there is a solid white line going around it; however, it dips on the blade's right and left sides to make a curve before returning back to the top of the blade. However, at the tip of these curves a line extends from the curve; this line goes all the way around the hilt and back up to the line at the top of the hilt on the other side. Another line goes around near the base of the hilt, same as the top; although it lacks curves. Then, on the top and bottom of the blade, there is one more line that goes around it from top to bottom, also stopping where the lines are. The hilt is the same thickness as the sheathe is; and the blade that extends out of it is about a centimeter thinner than it; with a slight curve and a sharp tip.
Overall… this makes it so that two sides of the hilt have a cross on them. And on the left and right sides… a cross on a pillar. This is the new form of Freddie; Mugen Freddie, or just Mugen for short.
Abilities
Mugen Boost: Freddie's potential has been released to its limit in this state; it increases Len's, and ONLY Len's, power and speed by six times. Anyone else who wields Mugen will find that their power and speed only triples; like normal. However, if Len releases his grip on the blade, its boost is lost with it until he grabs back the blade. However; the blade itself is also improved. It is much, much sharper; able to even cut through Seki Seki stone by moving through the reishi like a Seele Schnider would do if Len had his focus at the max. It is also extremely tough in its durability; it would take the force of more than a Gran Rey Cero to shatter THIS particular blade.
However, it's not only in the areas of force and battle that it improves. It also increases two of Len's natural abilities. The first is his swordsmanship. He understands much more about swordsmanship and how swords and other blades work and maneuver in this state, his reflexes hyperactive . His own swordsmanship is quite improved as well; as he is able to maneuver on the level of most experts. However, this knowledge of swordsmanship is exclusive to Warrior Len; when he changes out of it, only what he has naturally learned can be applied.
However, Mugen gives him something to help with that as well. The thing that it also boosts… is understanding and comprehension. This allows him to learn, and to understand, how things work at a rapid rate. This can increase the effectiveness of his training in almost any area by roughly ten to twenty times; as long as he does the good, hard work, he'll see much higher benefits to his own natural body as long as he trains in Soldier Form. It allows him to do such things as learning techniques that would take him an unimaginable amount of time in something that can be accomplished naturally, as long as he has the determination and drive to work for them.
Mugen Flight: Mugen is naturally attracted to being in Len's grip; indeed, it is only able to be in this state BECAUSE of Len. So, whenever he calls on it, either mentally or physically, the hilt of the blade will seek out his energy signature. Specifically, it will search out the energy concentration that is his right palm, and it will fly directly for that palm, laying itself like it has sticky paper to it. This can also make it rather difficult to separate Mugen from Len accidentally.
Mugen Spears: Unlike many other black blades… this one does NOT SHOOT GIANT WAVES OF BLACK ENERGY. Instead… it shoots them out as spears. Len is able to concentrate his dark-golden energy from this state into the blade itself, before swinging it. He mentally commands Mugen to discharge the energy. The size of the spears differs, depending on how much energy he puts into it; but at his current state he can fire off about four per post, as he has the energy to create 20 feet of Mugen Spears before he needs to wait for his energy to catch back up to him. The Spears are really shaped and appear very similar to Mugen itself; totally black in color, and looking as if they have sword-like ends. This is the first part of Mugen Evolution, as is explained below, and comes with the original form of Mugen.
Mugen Reformation: The Mugen Freddie, now linked completely to Len's energy, is able to use Len's energy to restore itself after being broken, once per thread. As long as Len has the hilt, it can be reformed. However, Len is unable to use anything energy related during the post he has to reform it; and it always costs the same amount. This is due to the fact that the blade restores itself by running a System Check of sorts, forcing the blade to be like its normal state. That is the other thing about the blade; no matter what form it's in, when it is broken the hilt fires out of the Mugen and races for Len's hand. If it breaks more than once in a thread, it cannot be reformed until that thread has ended.
Madness of the Sword: The blade that Soldier Len wields is... strange, to say the least. For one thing, it has a unique property of being able to bend in any direction for 50 feet total. In essence, this means that the blade could extend forwards ten feet, then bend and shoot up ten feet, go right ten feet, go left ten feet, and down ten feet until it reaches its total. Every bit of the blade is sharp; it can cut most defenses of Len's level of power or less. However, the blade must always remain constant in its flow. It is very difficult to break the blade; however, if the blade is broken, it loses its length from the broken point up to the tip while Soldier Len is in use during the thread.
Zombie Nature: While he is in this form, his body is... strange. He doesn't get any defensive traits; however, he has a special trait that as long as he can maintain this form, he cannot completely "die". Unless, that is, his entire body is completely destroyed. Or, alternatively, his body COMPLETELY runs out of energy. Interestingly enough, he is able to heal himself in two ways, despite his complete lack of defense. In fact, it is due to how little energy he puts into defense that he is able to use this property.
As it is, the first way of healing his body is reattachment. This takes next to no energy; and is also very effective against blade wielders, as long as he is fast enough to get his limb back before they try to destroy it. This way of healing reveals the biggest weakness of depending on Zombie Nature, and it's a doozy. If Len doesn't get back his pieces, the enemy can easily destroy them, and cause Len to have to use the second method. In addition, this means that an extremely large blast could potentially kill Len, if it were strong enough to destroy his entire body.
However, there is also the second way of regeneration. As it is, whenever a piece of his body the size of a nail or more is removed from him, it creates a "link" back to his own energy; essentially, he has the sum total of his energy simultaneously existing in his own body, and his patches of removed skin. This means that if his entire left side is completely blown away, for a decent sum of energy he can bring it back. In addition, if his opponent destroys his entire body but for his left leg, his entire body can shoot up from his left leg back to normal with only a tiny bit of energy lost, the energy that had been in the link. However, there is a cost to this; once he regenerates a piece of his body, the other pieces disintegrate into dust, as they lose their connection to him. So, while this form can be tricky at first, if the opponent is extremely aggressive, then in normal combat Len would be completely screwed.
However, in addition to his regeneration, Zombie Nature also does one other thing. It removes his body's natural limiters, thinking that he is dead; as such, he is able to lift up to 1800 pounds by himself, for example, as well as reach running speeds of up to 800 miles per hour, although he can sometimes lose pieces by going too fast
Mugen Aura: All around Len's body, a very dark-gold aura appears. It is similar to the one in his Soldier Form; however, this one doesn't crack the ground or emit any force. Indeed, all this aura does… is increase the durability of Len's body to supernatural levels. With this, he is able to make it through things such as cero reasonably well, and even stand his ground against reiatsu sharpened swords.
Mugen Evolution: Mugen has an extremely unique property.. Infinity. Its shape can shift and change from experience, it can create new effects, it can do almost anything that one could imagine… if they go through the battle scars that it uses as "Experience Points". Every time the user of Mugen experiences pain, that experience is coded and remembered by the blade. The blade is then able to unlock some of following abilities, by spending the Experience Points. Each small cut is worth one Experience Point; a deep cut or explosion damage is worth three points; an extreme wound, such as a sword slash across his entire chest, is worth five points; a mortal wound is worth ten points; and a complete loss of a body part is worth twenty points. He doesn't really know or get to pick which things are unlocked, they just are at random intervals. There will be a space in his template to keep track of how many Experience Points he has.
Demon Call
Cost: 40 Experience Points
Effect: Summoning
Explanation: This skill is an… interesting one. For one thing, it can only be used once per thread. This ability actually activates when Len throws away his sheathe after drawing Mugen Freddie. The sheathe itself begins to shift and morph, until it turns into something like a large cat, with wide eyes, pointed ears.. And sharp, obsidian-tough claws. This cat-like being charges into any of Len's foes it desires, as it is a wild beast of its own accord. However, it will never attack Len. Its main purpose is to distract Len's opponents, and allow him to hit them with his swordsmanship. This is a passive ability, and when the cat-like being is destroyed, it stays that way until the thread is over.
M - Mystic Feather
Cost: 50 Experience Points
Effect: Offensive
Explanation: This turns Mugen… into… for a lack of a better word; a stream of feathers. The feathers are all connected, end to end, up to the hilt, which is the only thing that is not a feather. These feathers expand and contract; when fully contracted, they form the regular Mugen. Each feather has the cutting potential of a sword; and when Len slashes with it, he can extend the feathers, ripping on and hitting from a distance his opponents. This is a passive effect; however, it can only be used while Mugen is a weapon with a hilt in Len's hands.
U - Unyielding Spear
Cost: 20 Experience Points
Effect: Offensive
Explanation: This is a slight form-change for Mugen. Basically, the tip straightens out, and the blade itself thins out from the hilt, ending in a straight point, like a black tooth pick on one end and a sword hilt on the other.
G - Ginormous Mystery
Cost: 40 Experience Points
Effect: Offensive
Explanation: This is a rather… strange form of Mugen. Mugen itself morphs into
Variable Crow
Cost: 80 Experience Points
Effect: Transformation
Explanation: Mugen itself shifts and changes; becoming what definitely looks like a crow. Its body is purely black, but for the tips of its wings and its eyes; which are both chalk-white in color. However.. This bird is special. It is controlled by Len's mind; and he can see through its eyes. Therefore, he is able to use it for a lookout, to search for information, or witness things he normally couldn't. However, that is not the crow's only ability. When it prostrates itself and allows Len to grip its tail feathers, it becomes any kind of weapon that Len can imagine. However, the effect s of the weapon will be the same as that of normal Mugen; it won't gain any new abilities from the shifting. So, it could turn back to normal, become a spear, a hammer, nunchucks, anything that he could imagine and desire for it to shift to, as long as he can think of how he's going to use it as a weapon. Hell, it could even turn into an anvil. This ability can be activated any time, and it takes as much to break Mugen as it normally does.
Black Mist
Cost: 20 Experience Points
Effect: Support
Explanation: This ability is powered by taking in reishi in the air around it into the sword. After two posts of charging (So he must have it released for AT LEAST two posts before he can use it.) Len can slam the blade down onto the ground. From all around the blade, a giant, dense black fog shoots up all around him. This fog is equivalent to total darkness; it doesn't let any light through it whatsoever, unless the light is being forced more than usual into it. As such, not even the normal output of reishi that a person gives off, unless it is a FREAKISH amount, will be able to be sensed within the fog as it stays around the user's body. The smoke goes out for 200 feet from the center of where the sword hits, and acts as a smokescreen, normally for Len to escape.
Energy Sensitivity
Cost: 40 Experience Points
Effect: Defensive
Explanation: Basically, this bonus grants Len the basic ability to sense energy. It allows him to tell generally what type of metaphysical energy it is, where it's coming from, the general strength of it, just the basic ability to sense energy that many beings have.
Master Chef
Cost: 5 Experience Points
Effect: Support
Explanation: In this state, Len has the capabilities to be a master chef, with using Mugen's cutting ability. What this ability does is simply give Len the knowledge of what he needs to do to be an excellent chef in every way. He is able to cook with almost any materials given to him, and he can make delicious meals… and absolutely terrible lunches, if he doesn't like you. Not to mention; he makes a pretty mean boxed lunch. (And the fact that Soldier Len wearing an apron… is just LULZY.)
Black Seeds
Cost: 200 Experience Points
Effect: Offensive
Explanation: Mugen itself… breaks apart. Nothing but the hilt remains from this technique, as all of the black blade… turns into helicopter-seeds. Black helicopter seeds with dark-gold outlines. The sides of these seeds are all as sharp as a blade, and they are guided by the hilt in Len's hand. So, he can use them like an expanding sword, guiding them with his hilt as he smashes them into an enemy, trying to rip them to shreds. He can also close his eyes, making him unable to move, as he guides the seeds directly with his mind to do things with the seeds that he couldn't wielding a sword and using a sword's movements. However, again, while he does this he is vulnerable as he is unable to move.
Dual Mugen
Cost: 100 Experience Points
Effect: Offensive
Explanation: This ability causes Mugen… to literally split. This creates two blades; each of them having the same shape as the original Mugen. However, each one only has half of the white marks from the hilt on it. This is quite a special effect; it effectively splits the power of Mugen into two entities. For example, each one multiplies the speed and power by three times; so even if he loses one of them, the blow to his changed speed and power is not so great. Each one also takes less energy to reform; and he can reform a blade two times. However, each of them can only take about 75% as much damage as Mugen's normal capacity, and he still can only shoot as many Mugen Spears. In addition, any evolutionary effects are split 50% between the two swords; and any that generate exactly 1 thing from them will result in two things of half size and effectiveness.
Swirling Blossoms
Cost: 60 Experience Points
Effect: Offensive
Explanation: These are similar to mines, in a way. From the blade's tip, using his energy, Len is able to generate a lotus blossom. This lotus blossom sticks to any surface it makes contact with. However, whenever it is made contact with by anything other than Mugen, it explodes violently, firing a blast the force of a cero out all around it for 12 feet. He can make roughly 5 of these lotus-mines per post.
M-Mexicans
Cost: 200 Experience Points
Effect: Mexicans
Explanation: This ability is quite unique. It summons up 200 Mexicans behind the user. They are all named Jose, and each have the exact same body type, being on the bigger side, but with quite strong legs. However, they are only normal humans. When they are hit, yes they bleed and yes they die. However, after they lose body parts, those body parts turn back into fuel for Mugen that shoots back into it; being the same black-gold energy used to create them. Until all the Mexicans have been killed, Len is unable to move after he has activated M-Mexicans.
U-Underslip
Cost: 50 Experience Points
Effect: Offensive
Explanation: This, in effect, turns Mugen into a retractable whip. The blade becomes loose and whippable, like cloth, but it keeps its hardness and its sharpness. Len is able to whip it out at his foes, striking them from a distance by extending Mugen from its hilt, which is the only part that stays the same. He can also cause it to become like a tentacle, moving it with his mind and extending it and striking with it in many ways.
G-Garganta
Cost: 100 Experience Points
Effect: Support
Explanation: This is quite interesting; it physically allows Mugen to rip open a garganta by cutting it. However, it is only able to create these once per post as long as the exit is within 50 feet of the user. Otherwise, it can only be used once per thread to make it act like an actual, full-scale garganta. This means he can apply it like others would apply a garganta as well, using the hole to strike through, travel with, and etc.
E-Electric
Cost: 300 Experience Points
Effect: Offensive
Explanation: This runs through Mugen with the power of electricity. Any time that it connects with an opponent while this passive effect is activated, it sends up to 2,000,000 volts of electricity through its target, singing whatever it made contact with and giving the victim a very nasty shock. In addition, it should be noted that while this is in use, the blade becomes enveloped with black-gold lightning, like an aura, so it is plain for the enemy to see what he will do if it hits them. He can maintain the lightning for two of his posts before he needs to rest the lightning for another two. It should also be noted that in exchange for only firing one of them that post, he can fire off a Mugen Spear infused with this electricity. Again, it would be covered with the electricity as well.
N-Nose Hair
Cost: 500 Experience Points
Effect: Offensive
Explanation: This gives Len access to the most secret, most powerful technique ever created by an ancient race. This technique is known as the Super Fist of the Nose Hair. Len's nose hairs extend to over 10 feet in length, and he is able to manipulate them with his mind, using them to beat his enemies like they are whips, cut the nose hairs off and use them like ropes, or just using them to jump rope. Whatever.
Final Evolution
Cost: All other Evolutions Unlocked.
Effect: Black-Gold Len
Explanation: This ability unlocks a new form; as it fuses together Mugen and Goldrender, creating a new form, Black-Gold Len. However, as he knows nothing about this form, or that this final evolution exists, it is unknown what it does at present. In other words, it exists, and yet it does not; will be completely be filled out if/when evolution is completed.
Priest Appearance:
Priest Abilities:
Smoke Change: Priest Len's body is... special. It consists of a special kind of silver smoke; that is to say that if someone were to shoot a bullet at him, the bullet would phase right through him and lave a hole in his body. He doesn't feel pain while he is in Priest Len; however, he does have a large weakness. Whenever he is in human form of his hardened smoke and someone hits him, he feels twice as much pain as he would normally. Alternately, anyone who uses wind based powers or wind attacks to separate his smoke from himself also greatly damages him; as he experiences pain as he makes the smoke come back together again after it has been attempted to being blown away from himself. So merely disturbing the air around his smoke can harm him; a fast enough sword slash would hurt him for example. In addition, he can change any part of his body that he desires into smoke whenever he wants, or harden his body parts from any place in the smoke. However, he couldn't have, say, three arms hardened from the smoke; he can only form what is his total body mass. In addition, the smoke is translucent; things can pass through it, but it will go away from anything that tries to stand in it. His smoke must all remain within a fifty foot radius of his center point, however, which is the place where his pelvis was when he enters smoke form or just is there.
Smoke Dodge: His smoke has a unique property that allows it to PROPEL him like a rocket firing off whenever he desires it to. This means that he can change his feet into smoke and use it to push himself rocketing forwards; or alternately, fire a punch off with a trail of smoke that shoots it and high speed at his opponents. This takes very little energy for him to use; in fact this whole form is fairly energy efficient.
Smoke Snake: He can form the smoke of his limbs into a large snake-like creature, that shoots out at his opponents and either rams them over, bites at them, or merely grabs them and moves them around. The smoke around the snake's mouth is solid and will grab at the enemy however it can, a pressing weight from all sides that manipulates them. The snake can manipulate up to 400 pounds of weight and move it around.
Smoke Fist: Due to the interesting nature of his smoke, he can dissolve all four limbs at once and move his torso towards his opponent. Then, his attacks begin spawning out of the smoke all over, hitting the opponent in impossible and unexpected ways.
Reiatsu Signature: His reiatsu in this state... is zero. He doesn't expend any reiatsu while in this state, and it is effectively neutralized within his smoke. So, while he is in this smoky state, he is undetectable by reiatsu sensing and can only be found using ones five senses. In other words... don't end up in a creepy fog with him as your opponent...
Arrancar Energy: A relation to Arrancar energy. As in, if the target accepts, Len is able to sync his own energy into that of an arrancar that he is currently making contact with. And as long as the arrancar accepts, Len can then add energy to them or take it out, reducing their overall reiatsu signature by a large amount. However, if the target is much stronger than Len, being in 1 tier or higher, they will have more energy than he can completely take in, so he will only be able to take a fraction out of them. He can sync this energy to his own, thus erasing the Arrancar's signature from it. He can also add his own energy to the target Arrancar's; again, only as long as he has their permission. If the arrancar declines the process at any time, it automatically stops. This is an interesting ability; as long as the target is 2 tier or less, a steady supply of Len's energy can even take the place of getting the energy an arrancar needs from devouring souls, making it possible for them to sustain themselves as long as they have enough willpower. However, if he gives the arrancar too much energy, it's possible he could faint from lack of energy. And if he takes too much, he could randomly start firing off energy blasts without meaning to, which can lead to some bad situations. Any time that arrancar energy enters his body, it is automatically synced to his own, so he cannot use it for any arrancar-related abilities whatsoever.
White Mage: Priest Len is, above all else, a healer. A medic, if you would. His own body is still of olympic quality; as such, he is not completely defenseless. This form is not meant for combat, but rather as a method of support for Len's allies. His energy can be channeled on the surface of his body, OR shot out in blasts of energy. Note that when they enter sphere form, he alone cannot reabsorb them.
Heal: The primary use of Len's energy while in this form is healing people and objects. His energy, after circulating through his body, goes into whatever it touches, softening the pieces that it makes contact with and duplicating their cells, healing up the place that they contact with. However, as such, this also has an inherent drawback; the tougher the skin of the person being worked on, the more Priest Len Energy is required to heal them. So, healing an arrancar's hierro would take much more energy than healing a simple hollow's weak skin. It takes as much energy to heal a wound as it takes to cause that wound as well; so in the end, it is proportional.
Conduit: Priest Len's energy is... unique. If there is nothing to be healed, the energy slips into the targets energy stream. That is, if the target accepts it. IF not, the energy spurts out, becoming a translucent floating sphere of white energy, that can apply either Conduit or Heal to whatever touches it. Conduit acts kind of like a fingerprint sleeve; the energy itself is totally blank, and as soon as it makes contact with another energy, it takes on its form, matching the energy completely. That also means that if a being fires their energy at the energy while it is in sphere mode, the sphere will turn into their energy type. This allows Len to restore the energy of his allies, making it so that they can fight more than they would be able to otherwise.
Barrier: In addition to Conduit and Heal, he can use his energy in sphere mode for one other use. This ability activates either by Len leaping in a sphere of his own energy, or by generating a sphere of it around his own body. As soon as it is touched, or he generates it from his whole body, it becomes unable to be influenced by other energies or able to heal things. This ability causes the energy to become a sort of "filter" for outside energy. This means that if it is hit with a small energy blast, the barrier will fully resist it, causing it to explode on its shell. However, this also means that against someone who can fight physically, it has no effect, as solid objects that have some sort of flesh CAN go through the barrier. This is also interesting due to the fact that if, for example, an opponent crated a large ball of flesh and threw an energy attack behind it, the barrier wouldn't be able to stop it, and Len and whoever else was within the sphere would be harmed. The sphere can block with no damage attacks that would not be able to match Len's tier of power, up to 1-3 tier level attacks. Note that if he changes classes, the sphere's do not disperse, unless they are in Barrier; then they disperse.
Life Turn: This is a unique way of using the White Mage energy. By holding his hands over the head of a someone who has lost brain function, IE death, in the last minute. Len must completely concentrate on the person whose head is in between his hands; a distraction of ANY kind can disrupt this. This causes his energy to literally enter the dead person's skull; and then, with 70% of Len's energy, he creates a spark in the targets mind. This spark has a 33% chance of relighting brain activity, placing the body back to life, at least for a while. However, this only returns the brain to normal function; if the body is not healed, there is a good chance that the person will die again. So, all in all, this technique only has about a 20% chance of actually working, and Len faints immediately after using it.
Rapid Energy Restoration: Every three posts of his own, Priest Len's entire body goes through a Potential Release. This is where a large field of white fires out from his body; this is really his energy grabbing onto reishi in the air. Then, he drags it all towards himself, completely restoring his energy back to 100%. However, if he is unconscious, it takes five posts from the unconsciousness before he can wake up again.
Animal Intake: He has the ability to take in the DNA of anything that meets his requirements into his body, storing it away within Priest's form. Then, whenever he desires, he can activate this DNA in different parts of his body. The requirements are simple. First, the subject MUST live in the realm of the living. Second, it CANNOT have a higher mental capacity then Len himself. Last, he CANNOT use parts that he doesn't have the part to connect to from the animal; so for instance, if he copied a male seahorse, he couldn't have their tail due to not having the organs required to connect to them. This is made much simpler to understand with the following example. So if Priest Len pet a brown haired cat, he could acquire its sample of DNA and lock it within Priest Len's mind. Then, if he was thrown off the edge of a cliff and hanging on with his bare hands, he could shift his bare hands into brown cat paws with very long nails, the paws as large as his hand was, and grip onto the edge of the cliff tighter. Now, there are some other things with this. First, the amount of animals he can store the DNA of caps off at fifty different ones. Second, he CAN mix and match parts of animals, just not in the same place; such as having cat claws and hippo feet simultaneously.
Animals Currently Acquired:
Brown Cat (Sassy)
-End-
» Soul State Evolution Stage 2 Appearance: (Optional. Leave blank if you do not want powers.)

» Soul State Evolution Stage 2 Abilities: (Optional. Leave blank if you do not want powers.)

» Soul State Evolution Stage 3 Appearance: (Optional. This will be at least 1 to 0 tier level characters, however. You may fill this out, but the app will ultimately be up to the staff member who reviews it)

» Soul State Evolution Stage 3 Abilities: (Optional. Leave blank if you do not want powers.)
_____________________________