Sat Sep 01, 2012 11:27 pm


The way the small boy, Rin Okumura had seen the world before meeting Shirou Emiya had been changed since that one night where his life was saved. The world really wasn't as much of a bad place as he had thought it was. Although, still oblivious to the fact that there were other different types of powerful people that were still out there creating havoc in different places, the boy was more focused on repaying his thanks to that of Shirou.
The two had moved in to a small house tucked away in the depths of a forest, sat still by a peaceful lake. Rin liked it there, to get away from the noisy center of Karakura, the drunks every night, the fights, the morning rushes to sales for the markets and other stores. A place like this allowed his mind at ease and he only hoped it did the same for Shirou. They hadn't been here for long so he didn't want to explore any further than past the lake. Although, of course he knew his way to the city and back which was possibly why he was gone for most parts of each day. He wanted Shirou to get on with his business and didn't want to seem like he was dragging him down too much.

Today, the brink of sunrise escaped in through the gaps of each leaf to shine down towards the lake, reflecting it's beautiful colours towards the windows of the building. Causing Rin to wake up, what time was it? Six? No the sun was out, the birds were chirping their songs it must have been around Eight. He slowly sat up in his comfortable bed, it felt nice to be in something so comfortable. He wished he could sleep all day like how he used to years back, just being the lazy boy he was but he had things to do. Looking around the room, he quickly walked over towards the small kitchen, making a small pot of ramen for breakfast for both him and Shirou whilst being careful not to wake up his friend. It was only a light meal for him, so no special seasoning was added, it really was just chicken ramen to be quite honest. Something fast, tasty but boring.

Once finished, Rin did his own duty of the cleaning up. Guzzling down his delightful breakfast within a matter of minutes, straight after, placing a flat plate over Shirou's bowl to keep the taste and warmth inside so it was fresh by the time Shirou had woken up. His own bowl had warmed the boy up, since they were by a lake, it was quite cold in the mornings but by mid day, Karakura's summer warmth had taken over even the forest. Making the lake that lovely luke warm temperature to fish or swim in.
"Ahhhn~" A soft sound of a yawn escaped Rin's mouth whilst he made his way to the door, slipping on his shoes. He decided to go on yet another walk, only this time exploring the other side of the lake. He didn't know how much he could always make his way back here just by a familiar smell, maybe it was the last escaping scents of the food that had been cooked or perhaps it was the smell of the wood from the house? He didn't know, he was just happy he didn't get lost. Placing a note down on the table to mark where he was going, he opened the door, closing it behind him before stepping out in to the depths of the forest, using the stepping stones from the lake to guide his way to a new adventure. He wondered, wondered what today may possibly bring.



Iori

Veteran Member


November COTM 2011

:


Joined

: 2010-06-26


Posts

: 3446


Age

: 30


Location

: Planet Mercury

Member Info


Platinum Points

:


(0/0)




Tiers

:

Shirou's morning was rather quiet, especially without having his new companion, Rin to wake him up. Needless to say, it took Shirou longer to awaken from his slumber than it did for Rin. Of course, that was not to say Shirou was a heavy sleeper, far from it. But it was also clear that he had grown accustomed to Rin waking him up like a personal alarm clock. As such, when he did wake up, Shirou furrowed his brow in confusion. "Rin...? Are you awake?" Curiously rising from his bed, Shirou quickly dressed himself and walked towards the kitchen, taking a whiff of the chicken ramen Rin had prepared, Shirou walked towards the table and made quick work of the breakfast. Judging by how Shirou knew he didn't make breakfast last night, the young hero had surmised that Rin went out in search of adventure. That was fine. Shirou was much the same way, himself. Stretching his arms out before yawning, Shirou got off all of the morning rust and quickly ran outside, taking care to lock the door. Hoping to catch up to Rin, he said, "Oi, Rin! Don't get too far without your fri- i mean brother, alright!?" He said playfully, hoping the boy would hear him before he got too far. He cared a lot for Rin, and would hate if anything bad happened to him, especially after the promise he made to him at the pub on that special night.... the night he promised he take care of Rin.
The crisp sound of a few fallen leaves on the ground brought back a nostalgic feeling to Rin from back in the Autumn, when old life wilted to be bought back only months after that all fresh and brand new. Rin placed his hands just inches from his mouth, breathing on to them to warm them up from the cold breeze. Although being out in the cold most of the time before the recent events, he should be used to it but as a street-kid, your only aim is to survive and find warmth when there is cold.

"I wonder if Shirou-san has woken up yet..." He whispered to himself, not exactly sure what he was looking for. The scenery was pleasant, just looking from the high branches of the trees you could see how the nature had each other to live through cold mornings such as this one. The small birds about to begin their lives laid quietly in their nests, curled up with each other to pass on the warmth whilst their elders would go off in hopes to catch the morning's meal.

Rin continued to look behind him after a stretched walk. He didn't want to travel too far despite the fact how much he wanted to explore where he lived for now but at the same time, he was paranoid about something happening to Shirou. Of course it would be the other way around but what if Shirou started a fire by accident or broke his leg. Thinking of all the simple things made a shiver go down the spine of the boy. He was fully aware that the area was supposed to be safe, away from the downtown part of Karakura, away from all the trouble that went on every day. It was just him and Shirou, right?

"Oi, Rin! Don't get too far without your fri- i mean brother, alright!?"

Rin jumped a little, hearing a familiar raised voice from behind. Turning quickly, he smiled at Shirou calling him his brother. The feeling of having a brother was still growing on him, he was unsure whether to call Shirou by his name still or to call him 'nii-san'. "Haii~ Morning!" He grinned happily, staying to wait for Shirou by a tree whist shading his eyes from the sun.
Iori

Veteran Member


November COTM 2011

:


Joined

: 2010-06-26


Posts

: 3446


Age

: 30


Location

: Planet Mercury

Member Info


Platinum Points

:


(0/0)




Tiers

:


"There you are. I thought I almost lost you, considering the size of this place, "Shirou said with a chuckle, as he finally caught up to Rin, using a short route inside the forest to reach him. Since their arrival here, Shirou had spent most of his time surveying the forest and the many possible locations one could travel. He was not a mountain man, so getting accustomed to such a life was far from easy, but the best thing was, he had someone to live with. Rin Okumura; the young man he had encountered one special night – was quite the kind young man, once you trudged through his tough and anti-social demeanor. He could be a bit stubborn, but that meant nothing to Shirou. The two had truly become as close as brothers in such a short time. Their bond wasn't breaking anytime soon. Taking a long stretch, Shirou gazed about the forest, curious as to what Rin planned on doing. "Were you looking for adventure?" Although Shirou had quite the resume of unfortunate events in his life, he was somewhat of an adventurer himself. He loved what the world had to offer and never wasted a single time taking at least one journey. Bearing that in mind, what would hurt today? If there was adventure to be had, he would join it. "We might be able to go fishing, if you'd like. Or maybe a spar would suit your fancy? I'm open to suggestions." Shirou stood beside Rin, surveying the forest as he awaited Rin's answer to today's objective.



"There you are. I thought I almost lost you, considering the size of this place."

The thought of being lost was one that hadn't really visited Rin's mind. Being so new to his surroundings, he wanted to explore as much as he could. He had no idea how big this forest was or whether anyone else lived here but he was sure there wasn't much danger to get in to as long as one would stay down the beaten path. He was full aware he could only travel off the path in to the other places when Shirou was with him which only fueled Rin's adventurous head with excitement.

Shirou was just like an older brother to him, but since Rin hadn't really known any of his real family. He felt like this was how brothers were supposed to be like. Shirou looked incredibly young so his own believes were that there wasn't much in their age gap, maybe a few years?

"Were you looking for adventure?"

He snapped out of his thoughts in a second, "Oh, eh, Yes..." He smiled as he began to walk slowly down the beaten path.

"We might be able to go fishing, if you'd like."

Fishing? Rin hadn't really been fishing before, he had heard of it. "But don't you sit there for hoursssss waiting for a thing to bite the bait." Rin whined, something like that didn't suit his taste at that time. He frowned slightly, "I can't swim..." He whispered to himself after thinking of what would happen if he fell in from the fish's strong grasp.

"Or maybe a spar would suit your fancy? I'm open to suggestions.""


"I want to try something new a-and besides you'll beat me in the spars..." He mumbled, looking away with embarassament. Of course he had no clue just how strong Shirou was but since he was just a young lad, he always felt as if they were to spar then the small amount of determination at the start of them would help win. But he was probably wrong. "Then again...I guess spars aren't really to be won....." Rin quickly spoke, trying to regain any of his dignity he had left. He quickly smiled, "Okay! I'll spar you!" Rin hadn't really been in a fight before, the closet he had was probably back when... He shook any thoughts that lay haunting his mind, happy to do an activity with his brother.[/center]

__________________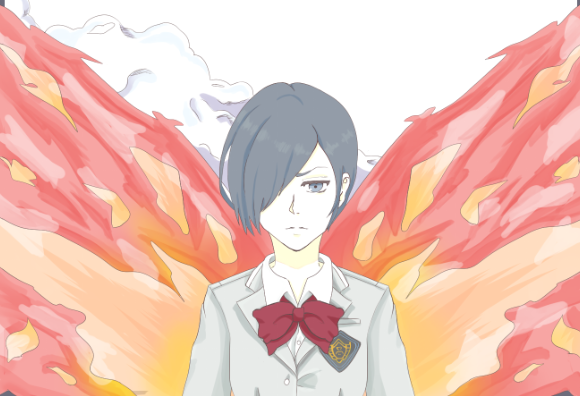 Hon Hon Baguette.
Iori

Veteran Member


November COTM 2011

:


Joined

: 2010-06-26


Posts

: 3446


Age

: 30


Location

: Planet Mercury

Member Info


Platinum Points

:


(0/0)




Tiers

:
Sun Feb 03, 2013 11:03 pm

"A Spar sounds good. You have to remember, they're meant for improvement, not whether you win or lose. A loss is a good tool for growth, especially coming from a novice fighter like myself, heh. "

Even though Shirou had improved over these long months, he still felt himself a novice. He was very modest, so such a perception was to be expected. Nevertheless, he was not a warrior to be revered for his talents. His most defining trait was his bravery and undying willpower. No matter how dire his situation was, he could never find it in himself to give up. His persistence no doubt angered the ones who cared for him most, but it was the biggest part of why he had survived to this day. Some called him foolish, and others called him, a hero.

And now this young man standing before him… called him brother, or so he wished. Shirou's fondness for Rin had grown in no time. He saw in this young man a passion for life; the burning desire to succeed no matter the odds. As long as he was beside Shirou, Rin had nothing to worry about. As he would so many others, the Hero of Justice would protect his brother with his very life.

"Now…i guess the best way to train is to start with basics. Let's see how you fair against me in close quarters combat. "

Taking a defensive martial arts stance, Shirou positioned himself a few meters away from Rin. Readying himself for the impending spar, he said, "Alright, ready whenever you are!"




"A Spar sounds good. You have to remember, they're meant for improvement, not whether you win or lose. A loss is a good tool for growth, especially coming from a novice fighter like myself, heh. "

Of course, Rin didn't believe that for a second. His older brother looked to of trained in some form for ages now and could probably beat the boy with his hands tied behind his back. But nevertheless, Shirou was indeed true. Even though Rin could land a punch, that's not even saying how he didn't even know the basics of true fighting. But it was always good to know something in case the two were in danger at all within the future.

"I think you're being too harsh on yourself." Rin grinned happily, watching Shirou go in to a defensive state. Shirou really was like a role model to Rin. But then, that's how big brothers were, right? The smallest of them would always look up to the big brother and hope to one day be as perfect as thought them of.

"Now…I guess the best way to train is to start with basics. Let's see how you fair against me in close quarters combat. "

Rin nodded, "Alright Nii-san!" He wanted to overcome his silly little fear of calling someone who was just like a brother to him, a brother. He just hoped that Shirou didn't mind. Perhaps, Rin felt a sudden boost of confidence when he addressed Emiya like that. Perhaps because of their close bond now that developed in such a short time, something that Rin had never been able to do before.

Not really sure how to approach at first, Rin pondered for a while but after a few seconds, the boy went straight in to a punch towards Shirou's stomach in some shred of hope that he didn't actually hit him - hurting his older brother was something he never wanted to do. Even in a friendly spar such as this one but he guessed if he didn't take things like such seriously at times, especially if the situation of a fight against an enemy was a real one, then it could be his life the one at stake.

Iori

Veteran Member


November COTM 2011

:


Joined

: 2010-06-26


Posts

: 3446


Age

: 30


Location

: Planet Mercury

Member Info


Platinum Points

:


(0/0)




Tiers

:

Rin's first attack to initiate this spar was a punch. Shirou was impressed, but he could sense the hesitation behind it. That was acceptable. He did not want to hurt Shirou, or cause him harm, and Emiya felt much the same way. And so, using his defensive stance, he quickly lunged forward with his right arm grabbing Rin's punching hand, only to execute a small palm strike towards his chest, knocking him back a few meters. Shirou grinned, enjoying the adrenaline that was burning inside his body.

The passion of the spar was quickly overtaking him. Unwilling to go easy on Rin, Shirou went in to attack this time, executed 2 punches towards his shoulders. Were those to fail, he'd execute a barrage of powerful yet minimal-force kicks in order to show Rin that even though this was a spar, he still had to treat it as though it were a life or death battle…

if Rin were ever to travel out on his own and find himself in danger, Shirou had to be prepared for every outcome. He did not want Rin to suffer anymore than he already has, and as he promised, he would protect the young boy with the world. He could tell that he had potential power besides what he was working with now, but he wasn't going to intrude upon what powers Rin possessed, even if he knew anything about him. Either way, all that mattered right now was today's momentous spar. Who would be the victor?


Mon Feb 04, 2013 12:20 pm


As he thought, Emiya had sensed the hesitation beyond Rin's attack and straight after it, Rin was knocked back a few feet from the blow to his chest. It seemed that Shirou really was skilled, he had known exactly what to do whilst the young boy hadn't even contemplated on what he would do next or how he would block any upcoming attacks. But even so, the two were having fun and that's all that mattered - Shirou seemed to be enjoying himself and Rin was happy to see that in Shirou.

The firmness of the grass beneath them allowed for fast movement, it wasn't too wet from the rain a while back which meant that it was just the right weather for most activities. The flowing of the lake near to them gave the area some sort of relaxation to their ears - making it feel like nothing could truly hurt them. It was as if it were their own little dream world. Not only that but the breath of fresh air every morning like this one would enlighten Rin. Even though he was curious about every other place, He really did love it here.

Once regaining his balance, Shirou had immediately gone in for the attack meaning Rin had only split seconds to try and get ready for anything. Two fast punches were being aimed towards the boy's shoulders which led to Rin trying to dodge but instead he had a go at copying Shirou's movement from before, in attempt to grab one of the punches aimed towards his shoulders but quickly retracting his hand on impact in a slight form of pain and aiming to move just inches away from the second punch in aim to dodge. "ng..." It was much more powerful than his own one that had started off the spar.

Following up from that, Shirou sent a minimal barrage of kicks towards Rin which were enough in power to make Rin fall to the ground and land on his back. How could Shirou call himself a novice at a level like this? Maybe it was the fact that Rin was still new to everything but it'd make at least him think how Shirou would do if if he had to fight someone of similar strength to Shirou, almost like an exact clone.

"Ow..." Rin winced from just the few grazes on his knees and elbows. Quickly getting back to his feet and brushing the dirt off him. " D: < I wasn't ready! " The boy was quick to some way to regain any dignity he had lost. It was hard to study any weaknesses that his brother may have, his stance seemed to look perfect to Rin and his hesitated punch from earlier was easily seen through and grasped.

He took a deep breath whilst the breeze visited them again, trying to plan out what he could do next. The spar was based on close combat so he had either the option to block, dodge or attack. He had to overcome his hesitation sooner or later after all, he thought to himself before deciding to go in for another attack, this time swinging a round house kick with his right left to Shirou's side. A look of determination fighting against his fear. If he were to dodge the attack then Rin would try to follow it up with a punch using his left fist which was aimed to his stomach.

"Shirou..." Rin asked suddenly, "Do people spar to fight those big scary things?" The big scary things were linked to the Hollows. He had seen plenty before but had always kept his distance. It was strange, how some couldn't see them and how they would disappear out of the blue. It looked as if they were something that came out of a manga of some sort but maybe he was imagining it. He'd feel stupid if his older brother had no idea what he was talking about after all so he had tried to not bring it up until now, when it started bugging him the most.

Iori

Veteran Member


November COTM 2011

:


Joined

: 2010-06-26


Posts

: 3446


Age

: 30


Location

: Planet Mercury

Member Info


Platinum Points

:


(0/0)




Tiers

:

Chuckling at Rin's animated reaction towards his attacks, Shirou once again resumed another stance. In all actuality, Shirou was no master at the art of close quarters combat. He had never experienced formal training in the way of kung-fu nor was he blessed with a mentor. Much of his entire life he was only taught the basics of fighting, proceeding forward in life with that and nothing else. Indeed, compared to the world at large, Shirou was a novice. In spite of such mediocrity, Shirou used his weaknesses to elevate himself to a new level. As surely as the sun would rise, nothing would deter him in his quest for improvement, and nothing would make him more happier than to experience such a path with his brother, Rin okumura. Preparing himself for Rin's next attack, Shirou firmly planted both of his feet within the grass, awaiting his ever hesitant brother's attack. No sooner than Shirou prepared himself, the young man quickly executed a round house kick, catching him off guard. Shirou felt the smarting sensation of impact, stumbling back ever so slightly. A punch with Rin's left hand followed suit, catching him straight in his stomach. Impressed by his younger sibling's second attack, Shirou stopped immediately upon hearing his question. He couldn't fight and talk at the same time, and so he decided to answer Rin's question. "Well... not all people spar to fight those things. From what i know, beings known as Shinigami are sent here to fight those ravenous monsters. it is usually difficult to fight a hollow as a normal human, so most run away or request help as quickly as possible. Either way, as i said earlier, a spar is almost always used for sport, not war. There are some who use spars in order to train for it, but for the general populous, we fight to improve and for fun. " Shirou was no stranger to hollows, having fought his fair share during his time on earth. He despised anyone who would openly hurt others, and they were huge offenders. Nonetheless, it didn't hurt to tell Rin everything he knew, lest danger befall this young man.

"Do you wanna know anything else?"


Permissions in this forum:
You
cannot
reply to topics in this forum
Who is online?
In total there are
20
users online :: 2 Registered, 0 Hidden and 18 Guests
Henrex
,
Rawk
Top posting users this month
Top posting users this week